You are currently browsing the monthly archive for September 2018.
Dietrich Bonhoeffer, a 20th-century Christian martyr, said, "When we give our lives to Jesus Christ, He bids us come and die." Bonhoeffer termed this idea, "costly grace": costly because it costs a person their life, and it is true grace, not cheap grace, because it gives a person the only true life there is.
In our Scripture, Jesus asks his disciples, "Who do you say that I am?" Is Jesus just another man? Is He Elijah? Is He John the Baptist?
In your life, who is Jesus? Is He a good Bubba that we think of only as a friend in need? Or is He the Risen Lord, whose Holy Spirit lovingly washes away our sins?
Peter answers for the disciples, and us too, and says, "You are the Christ!"
This is a high-water mark in the ministry of Jesus in the Gospel of Mark. Jesus receives Peter's affirmation that He has been leading the disciples toward throughout his ministry. Moving into today's Scripture, the disciples have gotten to a point where they can take the next step, which is the moment where Jesus begins to reveal to the disciples that He is going to be persecuted, suffer and die, and then rise again after three days.
As it can be with us, so it was for the disciples. The idea that Jesus would be persecuted and killed is so outrageous that they again, look to their spokesman, Peter, to say something about it to Jesus. I can just hear Peter saying to Jesus, "What are you talking about!? No way will you do that to us!"
At this point, I want us to become Peter for just a moment.
"We must be ready to allow ourselves to be interrupted by God."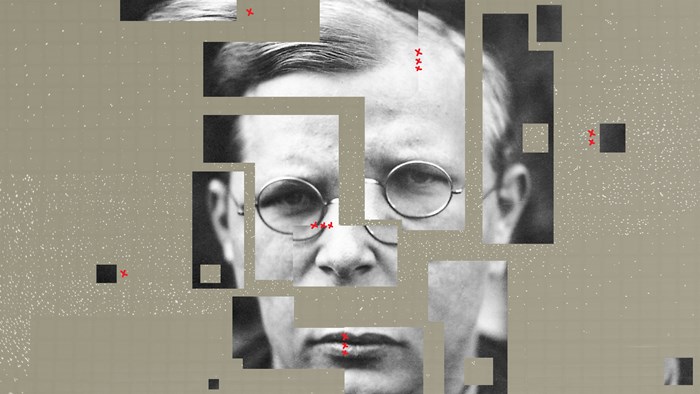 Image: CT Illustration
We Americans have fashioned many Dietrich Bonhoeffers for ourselves in the decades since the German theologian was put to death at the Flossenbürg concentration camp in 1945. In The Battle for Bonhoeffer: Debating Discipleship in the Age of Trump, Rhodes College professor Stephen R. Haynes offers a survey of the varied interpretations of that remarkable man, excavating the ways his name and legacy have been used—and too often misused—in American public discourse. Haynes holds up a mirror and asks, "Who do we need Bonhoeffer to be? And how is this need affected by the way 'we' define ourselves and the threats we face?" In other words, the battle is not really for Bonhoeffer, and the image in the mirror is our own.
Of course, with words like "battle" and "age of Trump" right there on the cover, this book crosses territory rich in minefields. Like an embedded journalist feverishly filing stories from the front, Haynes writes knowing that he cannot fully account for all the Bonhoeffer-ing happening around him, especially in our undulating political times. But because Bonhoeffer is employed for all kinds of ends in American political discourse, and his legacy used to burnish others' public profiles, Haynes balances a commitment to the protocols of the academy with a burden of responsibility to speak directly to our current political moment.
History and Hagiography
In the first part of the book, Haynes recounts the history of Bonhoeffer's reception by the American public through sketches he amassed in his 2004 volume The Bonhoeffer Phenomenon. He revisits and updates those earlier types, including the liberal, the radical, the evangelical, and the universal Bonhoeffer. To these Haynes adds a new sketch—the "populist Bonhoeffer." (More on this later.) Most illuminating for me was Haynes's discussion about Jewish evaluations of Bonhoeffer's legacy, especially that he has been reviewed by Yad Vashem (Israel's Holocaust memorial) and refused recognition as a "righteous Gentile," a term reserved for those who took extraordinary personal risk to save Jews.
Haynes devotes a full chapter to the history of how American evangelicals have received Bonhoeffer. While they tend to be familiar with the pastor's devotional writings (like The Cost of Discipleship or Life Together), Bonhoeffer's university lectures, sermons, and his later prison letters (where, for instance, he mulls over his idea of "religionless Christianity") presented real obstacles for evangelicals in the late 20th century. These theological concerns faded, however, as his life story became more widely known, feeding a steadily growing focus on his resistance work against the Nazis. Evangelicals creatively engaged his story in documentary films, an award-winning radio drama, and even a Christian romance novel in which, writes Haynes, "Bonhoeffer serves as the main character's spiritual inspiration."
Having sought himself to make Bonhoeffer's life and thought accessible to general readers—with Lori Brandt Hale, he co-authored the Bonhoeffer edition of the Armchair Theologian series—Haynes acknowledges value in some of the quirky ways Bonhoeffer's life has been interpreted for American evangelical audiences. Although he prefers history to hagiography, naming certain popular treatments with that derisive term, his posture is not one of an arrogant academic trying to raise the guild's drawbridge from storming peasants.
Bonhoeffer's name gained an even wider dissemination in American political discourse, Haynes notes, following the terror attacks of 9/11 and the growth of the internet as a means of communication. Politicians, public theologians, and other cultural leaders drew on Bonhoeffer with greater frequency, and urgency, in the post-9/11 national debate. Bonhoeffer was invoked both in support of and in opposition to the 2003 war with Iraq. Critics of the war referred to him again as the war continued far longer than the Bush administration anticipated. Online media elevated Bonhoeffer to a wider range of Americans. (And now, in the age of social media, misattributed quotes are often superimposed on photographs of his face, which are then traded as virtue-signaling currency.) For wherever Bonhoeffer stands as an imagined brother-in-arms for one's side, the other side is, well, Hitler.
In August of this year, 69-year-old Mark J. Bird, a sociology professor intentionally shot himself in the arm as- he says- a protest against the president. In so doing, he violated a number of laws and local ordinances such as carrying a concealed weapon without a permit, discharging a firearm in a prohibited location, and possibly endangering students.
The Las Vegas Review Journal reported that Bird had taped a $100 bill to the mirror of the bathroom with a note that read, "for the janitor." That's nice, and while it's good that he did take the time to think about the trouble he was causing the cleanup crew- he did not think of the damage he was doing to the anti-gun rights cause.
Namely, by bringing a gun onto a college campus and using it within deadly range of students and faculty while violating a handful of laws, Bird proved conclusively that gun control laws do not work.
It's unclear how the sociology teacher believed that shooting himself in the arm would hurt Donald Trump. At present it might be sufficient to say that the man had a clear case of Trump Derangement Syndrome; a satirical condition that appears to be more real and less satirical with each passing news cycle.
The professor joined the college staff in 1993. He was an emeritus member of the faculty according to Richard Lake, a college spokesman. This coming Fall season, Bird was not slated to teach any classes. As yet, the school has not taken any disciplinary action against the professor, and they do not have any plans to.
One student called emergency services when professor Bird was seen stumbling out of the bathroom bleeding and staggering. The professor fell to the floor where he was later collected by emergency medical personnel.
Other students reported hearing what they called a loud noise, though a .22 caliber shot report from inside a well-insulated lavatory would almost certainly not be terribly loud. One employee of the college told police that he had tried to hold Bird's hand and comfort him while others worked to stop the blood gushing from his wound.
During the interim before the authorities could arrive, Bird told the people surrounding him there on the floor that he had done this to himself in order to protest the Trump administration. The incident took place at 8:15 am and the campus was declared safe at 9:00 am that morning. A campus-wide alert informed students that the gun had been sequestered and was in the control of authorities.
The faculty president Robert Manis said, "They never really told the students much about it except that it was resolved on the actual day of the shooting. When you don't give the full details, then rumors go crazy. It's unfortunate because it made the students and faculty very afraid and allowed rumors to proliferate."
The college president, Federico Zaragoza released a statement that was published in the college newsletter, saying "I appreciate all of the expressions of concern and interest, and I pledge to keep everyone updated should the situation change." A typical information-free administrative statement.
Further details about Bird's mental health and his motivations have not been pursued by the press either local or national. But this is clearly another expression of the increasingly violent nature of the anti-Trump movement. The story has not gone beyond local Los Vegas papers and it is highly unlikely to reach national media.
It's been over a month now since Steve Carter, the lead teaching pastor of Willow Creek,
resigned unexpectedly
. On Sunday, August 5, 2018 while he was supposed to be onstage at Willow Creek's main campus in South Barrington, Illinois, Carter was backstage throwing up. Afterward, he drove home and typed out his resignation letter. Carter recently granted his first interview since resigning, in which he shares a little more about his decision to leave.
"Pat's story was pretty brave," Carter told Religious News Service. "I thought, what's the brave thing I am supposed to do?" Pat Baranowski served as Bill Hybel's assistant for over eight years. When the New York Times published her story on August 5, which included allegations of sexual harassment by Hybels, that was the straw that broke the camel's back for Carter. He could no longer serve in a position of leadership at a church that was initially averse and then woefully slow to respond to allegations of sexual harassment involving Hybels.
The church and its leaders had been dealing with the fallout of an article published in the Chicago Tribune in March, in which multiple women shared their own allegations against Hybels and his alleged sexual misconduct and harassment. Carter had even stood on stage when Hybels denounced the allegations as false and described them as an attempt to ruin his legacy. Now, Carter seriously regrets the agreement with Hybels that his physical presence implied.
He also regrets being on stage for any of the "family meetings" (meetings hosted by the elder board of Willow Creek, designed to communicate to the congregation) that occurred after the Chicago Tribune article broke. Carter wrote in a blog post titled "An Apology" what he believes the church leadership should have done at those meetings: "I believe now that what our church needed initially was to practice transparency and repentance, to grieve, and to reflect on what Jesus was inviting us into and to listen to the Holy Spirit." Carter also apologized for not doing more to "prevent the hurtful statements that were made" about the women who brought allegations forward.
Steve Carter Moves Forward
The mantra Carter is repeating through this process of moving on from Willow is "Grieve. Breathe. Receive." RNS reports instead of rushing into a new assignment, Carter is "focusing on his own spirituality and asking God what he should do next."
Before his resignation, Carter had a book in the works with publisher David C. Cook. That book, the topic of which was to be about his leadership role at Willow, has been sidelined. Carter is now working on another project with David C. Cook titled Everything to Lose: Doing the Right Thing When the Stakes Are High. The book will be released in November and will focus on the reasons he left Willow.
According to the interview with RNS, Carter has also been reaching out to the women who have brought allegations against Hybels. He and his wife, Sarah, have also started a GoFundMe campaign called "We believe you." The campaign is raising money (the goal is $50,000) to create a counseling scholarship program for "those who have been abused and shamed at the hands of churches and clergy." The campaign description says 100 percent of the funds raised will go to pay for counseling for those seeking help healing from sexual and power abuse.
"We are not to simply bandage the wounds of victims beneath the wheels of injustice, we are to drive a spoke into the wheel itself."
"The great masquerade of evil has played havoc with all our ethical concepts. For evil to appear disguised as light, charity, historical necessity or social justice is quite bewildering to anyone brought up on our traditional ethical concepts, while for the Christian who bases his life on the Bible, it merely confirms the fundamental wickedness of evil."
~ Dietrich Bonhoeffer, Letters and Papers from Prison
I know, I know, some of us Christians believe that we are only pointing our gay and lesbian friends to the miraculous. To the power of God to make all things and them new. Well-meaning believers, in an effort to encourage or cast vision to their same-sex attracted (SSA) friends or family, preach this gospel often. This gospel is not the good news of Jesus however, but another gospel. A gospel that I call "the heterosexual gospel."
The heterosexual gospel is one that encourages SSA men and women to come to Jesus so that they can be straight, or it says that coming to Jesus ensures that they will be sexually attracted to the opposite sex. The ways in which this "gospel" is preached are much subtler than I've made it out to be. It usually sounds like, "I know you're struggling with being gay. I can promise you, if you give your life to Jesus, he will completely deliver you from those desires because he loves you." Or, "I know a guy that used to be gay and now he's married. Jesus will do the same for you if you trust him."
How Not to Use My Story
People have often used my story to point others to what they believe should be the immediate fruit of their repentance. I was a lesbian who came to Jesus and eventually ended up married to a man, giving birth to two daughters. According to them, I am living happily ever after in a state of heterosexual bliss.
Clearly, my life as it is now may have its share of blessings, but it has been far from blissful. And even though God may have called me in particular to marriage, that doesn't mean he's called everyone to it in general. My marriage, with all of its difficulties and beauty, is glorious to God because it is a picture of God's gospel (Ephesians 5:32). But it is not the ultimate glory. Christ is. That is what makes "the heterosexual gospel" so problematic. It tends to put more emphasis on marriage as the goal of the Christian life than on knowing Jesus.
Exchanging One Idol for Another
When the gospel is presented as "Come to Jesus to be straight," instead of "Come to Jesus to be made right with God," we shouldn't be surprised when people won't come to Jesus at all. If he is not the aim of their repentance, then he will not be believed as the ultimate aim of their faith. They will only exchange one idol for another and believe themselves to be Christian because of it.
What the gay community needs to hear is not that God will make them straight, but that Christ can make them his. In this age, they may never be "straight" (for lack of better words), but they can be holy (1 Corinthians 1:30). We must remind others (and ourselves) that Christ is ultimately calling them to himself — to know Christ, love Christ, serve Christ, honor Christ, and exalt Christ forever.