Jesus' Call to Discipleship Sheds Light on Him and Us at Epiphany-tide
February 24, 2020 in America, Bonhoeffer for the Twenty-First Century, Bonhoeffer Quotes, Costly Grace, dietrich bonhoeffer, Discipleship | Tags: blog about dietrich bonhoeffer, bonhoefferblog, cost of discipleship, dietrich bonhoeffer, discipleship, James Tissot, patheos, Paul Louis Metzger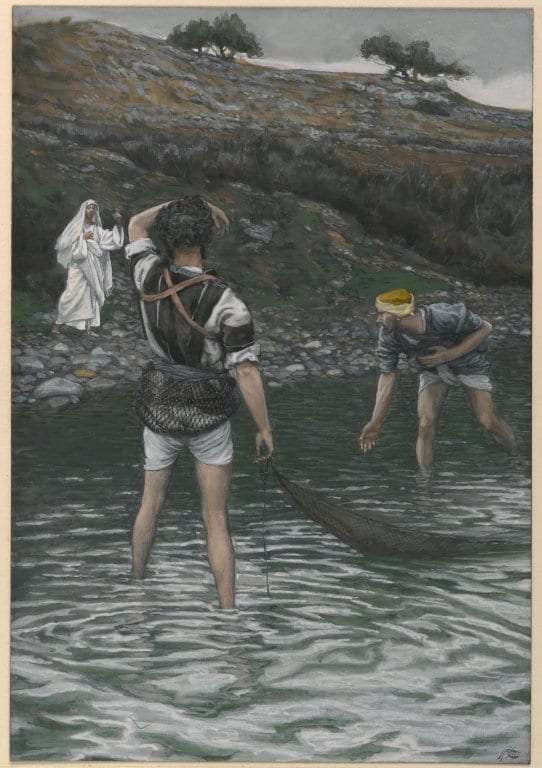 Jesus' call to discipleship and our responses to that call shed light on him and on us at any time of the year, including Epiphany-tide. The prior entry on Epiphany-tide focused on the revelation of Jesus' call of his first disciples. Here we highlight briefly the nature of that call and the appropriate response.
In Discipleship, Dietrich Bonhoeffer writes about "simple obedience." Jesus "demanded voluntary poverty of the rich young man." The man's "only choices were obedience or disobedience." Jesus' call is never a wish or a plea, but a command. As with Matthew the tax collector and Peter the fisherman, Jesus' call was/is total: "They were supposed to leave everything and follow him." Bonhoeffer goes on:
Only one thing was demanded in each of these cases. That was their entrusting themselves to the word of Jesus Christ, believing it to be a stronger foundation than all the securities of the world. The forces that wanted to get between the word of Jesus and obedience were just as great back then as they are today. Reason objected; Conscience, responsibility, piety, even the law and the principle of Scripture intervened to inhibit this most extreme, this lawless "enthusiasm." Jesus' call broke through all of this and mandated obedience. It was God's own word. Simple obedience was required.
What does Jesus' simple though staggering call say about him? What did these individuals' responses say about them? The call and responses shed light on the respective parties.