You are currently browsing the monthly archive for May 2020.
WHILE BONHOEFFER'S CONTEXT OF PERSECUTION IS FAR REMOVED FROM OUR CONTEXT OF SOCIAL DISTANCING AND SELF-ISOLATION, OUR INABILITY TO GATHER PROVIDES US WITH A FRESH LENS TO CONSIDER HIS WORDS.
By Ben Purves • May 5, 2020
"It is grace, nothing but grace, that we are allowed to live in community with Christian brethren."—Dietrich Bonhoeffer, Life Together
As COVID-19 has prevented us from gathering together for worship, I was reminded of Bonhoeffer's meditations on the value of fellowship.
Bonhoeffer's classic on Christian community was written during a time when the Confessing Church had been scattered under the Nazi regime. As religious freedom evaporated in Germany, Bonhoeffer trained pastors at an illegal seminary in Finkenwalde. Life Together records many of his thoughts from his time of fellowship there.
While Bonhoeffer's context of persecution is far removed from our context of social distancing and self-isolation, our inability to gather provides us with a fresh lens to consider his words. 
With that in mind, I invite you to read the excerpts from Life Together below, and I encourage you to read this book in its entirety during these unusual days apart. From these excerpts, following are four precepts. 
1. Every gathering of the local church is a gift of God's grace.
Bonhoefer writes:
So between the death of Christ and the Last Day it is only by a gracious anticipation of the last things that Christians are privileged to live in visible fellowship with other Christians. It is by the grace of God that a congregation is permitted to gather visibly in this world to share God's Word and sacrament.

Not all Christians receive this blessing. The imprisoned, the sick, the scattered lonely, the proclaimers of the Gospel in heathen lands stand alone. They know that visible fellowship is a blessing. They remember, as the Psalmist did, how they went 'with the multitude . . . to the house of God, with the voice of joy and praise, with a multitude that kept holyday' (Ps. 424). (pp19-20)
Whenever we gather together as a church, we receive a gift from our gracious God. Every gathering of the saints provides a taste of the greater reality of heaven, and we look forward to the day when all the saints will be together with our Lord forever.
Consider Hebrews 12:22-24:
But you have come to Mount Zion and to the city of the living God, the heavenly Jerusalem, and to innumerable angels in festal gathering, and to the assembly of the firstborn who are enrolled in heaven, and to God, the judge of all, and to the spirits of the righteous made perfect, and to Jesus, the mediator of a new covenant, and to the sprinkled blood that speaks a better word than the blood of Abel.
Gathering together with our family of faith is a blessing that becomes all the more apparent when the gift is taken away. Let us prize the grace we have been given in our fellowship, and look forward to the day when we can know it again.
2. The scattered look forward with faith.
When we must worship alone, we remember that our union with Christ and our fellowship with the Spirit is not dependent upon our geography. We look to the heavenly fellowship of Hebrews 12:22-24, and know by faith that we worship God with the saints of all the ages.
Those who are unable to enjoy the gift of gathering with brothers and sisters should take heart, for as God gives trials to scattered saints, he refines and reassures his people of their inheritance (1 Pet 1:1-9).
Bonhoeffer writes about those who must worship alone:
But they remain alone in far countries, a scattered seed according to God's will. Yet what is denied them as an actual experience they seize upon more fervently in faith. Thus the exiled disciple of the Lord, John the Apocalyptist, celebrates in the loneliness of Patmos the heavenly worship with his congregations 'in the Spirit on the Lord's day' (Rev. 1.10). He sees the seven candlesticks, his congregations, the seven stars, the angels of the congregations, and in the midst and above it all the Son of Man, Jesus Christ, in all the splendour of the resurrection. He strengthens and fortifies him by his Word. This is the heavenly fellowship, shared by the exile on the day of his Lord's resurrection. (p20)
Throughout history, the church's weekly rhythm has been one of gathering and scattering. We gather on the Lord's Day to celebrate our risen Lord, and we are scattered throughout the week, carrying the gospel to our workplaces and neighborhoods. We regather the following Lord's Day, and continue this rhythm of life.
This rhythm of gathering and scattering serves as a parable. As we are scattered during the week, we are reminded that we are in exile. As we are regathered, we are reminded of the future day when all the saints will be gathered to worship the Lord forever.
For as long as the church experiences this prolonged season of being scattered, we must trust the wisdom and will of our Sovereign Lord, and seek all the more to take refuge in his Word. If persecution and suffering does not remove one from the love of God (Rom 8:31-39), neither will social distancing and stay-at-home orders in these days of COVID-19.
3. We experience the love and presence of God through one another in Christ.
Do you feel grief or loneliness in this season? It is right to feel a sense of loss. Two-dimensional fellowship through technology is a gift, as was Paul's ability to send and receive letters from prison. However, it is innately unsatisfying as we were created to be physically present with one another.
Bonhoeffer elaborates on this as he describes the blessing of physical presence with other believers:
The believer therefore lauds the Creator, the Redeemer, God, Father, Son and Holy Spirit, for the bodily presence of a brother. The prisoner, the sick person, the Christian in exile sees in the companionship of a fellow Christian a physical sign of the gracious presence of the triune God. Visitor and visited in loneliness recognize in each other the Christ who is present in the body; they receive and meet each other as one meets the Lord, in reverence, humility, and joy. They receive each other's benedictions as the benediction of the Lord Jesus Christ. But if there is so much blessing and joy even in a single encounter of brother with brother, how inexhaustible are the riches that open up for those who by God's will are privileged to live in the daily fellowship of life with other Christians! (p20)
God's grace calls us to assemble together to sit under the preaching of the Word, to recognize brothers and sisters through baptism, to confess Christ together at the Lord's Table, to lift up our voices and sing, and to give and receive ministry within our church family as we are built up to become more like Jesus.
As we assemble together as the body of Christ on the Lord's Day, we encounter Christ in his Word and in his people. We know the love of Christ through one another as we serve as his hands and feet. Our gatherings are an incredible gift for us to treasure. It is right for us to desire to be face-to-face with each other. Consider the apostles' great desire to be present with the church (1 Thess 2:18; 3:17, 2 John 12, 3 John 14).
In these days of waiting, many of us will feel the weight of loneliness and the emotions and temptations that accompany feelings of isolation. Let the brokenness of this world lead us to prayer. May we be faithful to pray for one another. May we not be distant with our words, but let us use the communication tools we have to encourage one another.
4. Let us praise God for this grace.
In today's age of individualism, far too many professing Christians see the gathering of the church as an optional activity, and many others are content with "internet church." Even for those who are faithful to gather, the weekly blessing of assembling together is easily taken for granted.
---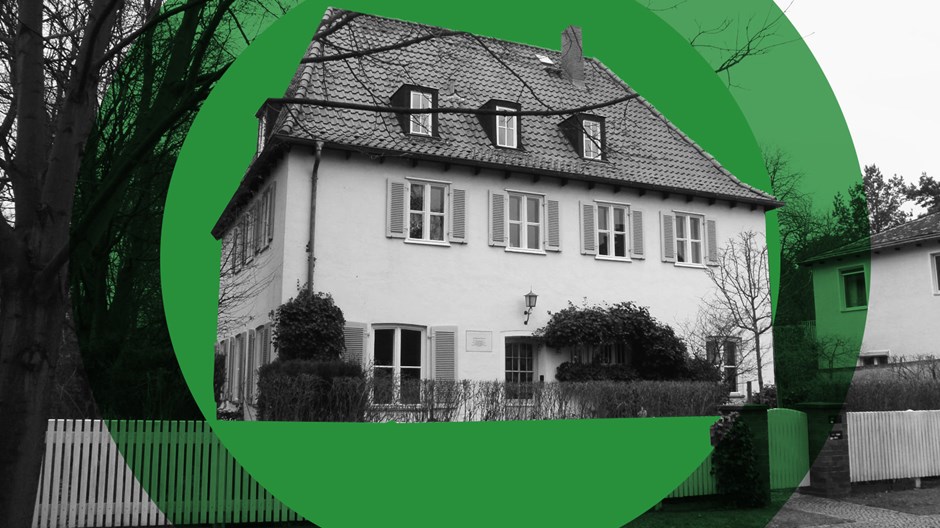 Laura Fabrycky and her husband and three children moved to Berlin in 2016. From there, she watched the American presidential election in dismay. "Something seemed to have snapped in our hyperpolarized and tribal politics that could not be easily put back together," she writes in the introduction to Keys to Bonhoeffer's Haus: Exploring the World and Wisdom of Dietrich Bonhoeffer. And though her book is unlikely to repair our factious political scene, it may serve to unite and inspire Christians struggling to find a faithful stance within it.
Keys to Bonhoeffer's Haus is not primarily a biography, although it's rich with biographical information. Fabrycky knows her stuff. For three years she served as a volunteer tour guide in the Bonhoeffer house, immersing herself in study, interviews, and explorations of the ethics and events surrounding the rise and fall of Nazi Germany.
As Fabrycky leads us through the rooms of Bonhoeffer's large house, she presents stories from her family's own attempts to make sense of a foreign land. In one chapter, she moves seamlessly from a survey of Germany's history and the evolution of the concept of citizenship to her family's visit to Colonial Williamsburg, where two actors hold a lively debate on religious freedom. She takes us to her daughter's harsh, mandatory bike-safety training to examine her own instinct to yield to authoritarianism. We see her struggling to love a cranky neighbor who disapproves of her gardening skills.
In all of this, she reminds us of the fuller definition of politics: "civic housekeeping," by which she means "the hard, often boring work of living a common life" and the practice of neighbor-love "expressed in pothole filling and road paving, trash collecting, and pollution solving, compromise and deliberation, justice and restoration." Even in times of societal disorder, we cannot avoid our housekeeping responsibilities.
For the rest of the review…
Bonhoeffer would have seen this pandemic as an opportunity to reorder our priorities, says Will van der Hart
I was reading a segment of Dietrich Bonhoeffer's book Life Together in the garden this week. He says, "We must be ready to allow ourselves to be interrupted by God. God will be constantly crossing our paths and canceling our plans…"
Bonhoeffer's own life was interrupted by the second world war and then cut desperately short in Flossenbürg concentration camp.
I realize that I have been feeling as much anxiety about the interruption of my plans as I have been about getting physically sick. My life up to this point has been so diarised, every moment has been allocated to work, family, or charity. I even have a stock email about bookings needing to be made six months or more ahead of time! I have been so busy doing what my schedule dictates that I have not considered the divine interruptions God has been offering me.
When I am feeling unsettled, I often return to the most familiar stories of scripture. Like an old friend, their wisdom is comfortable and obvious. I was settling into Luke 10; The Good Samaritan and noticed that the characters in the story were all "going down the same road" (v31): In the same way, we are often living with automatic assumptions and priorities, particularly around success and failure. We plan our lives accordingly.
Catastrophe struck in the form of robbers (but it could have been a pandemic), who left the man "half-dead". Then a priest and a Levite walked past the broken body of the beaten man. I guess that they epitomize so much of what is being shaken collectively and individually right now: It wasn't their problem; he was a diversion that they weren't willing to take.
Bonhoeffer's point is not that we simply "hear the divine interruptions" but that we "allow ourselves to be interrupted". While sitting in the garden I was surprised by the volume of the birdsong and wondered if it was unusual. Then I realized that this is probably the first time in a few years that I have been still enough to hear it: God is always speaking, but we aren't often listening.
I am wondering now if I am finally willing to hear, but it isn't comfortable! Like many anxiety sufferers, I have become addicted to activity and scheduling in order to distract myself from my worries. My busyness is a product of culture, ambition, and illness, not something that is easily broken on a whim. Yet I feel that it must break, not just for the sake of my living attentively, but so that I might live more compassionately.
The Samaritan had every cultural and social excuse not to attend to the wounded man. Yet, he allowed himself to be interrupted. No doubt he had a schedule and worthy plans, but he expended his resources of time and compassion in response to God's directing.
This interruption to life is an opportunity to reorder our priorities so that we might be more able and willing to hear.
So how are you doing, really?
It's a question I ask friends, leaders, family and myself more and more.
Last week, once again, we learned about a mega-church pastor who appears to have taken his own life. Although I didn't know Darrin Patrick personally, my heart aches for him, his wife and children and the many friends who knew him well that I also know.
I can't imagine the pain that those who knew Darrin well are going through, and my prayers and heart go up for them and out to them.
And as you probably know, tragically, we've seen a number of suicides of well-known and well-loved pastors, many of them really young, in the last few years.
I saw many people who knew Darrin talk about having just spoken with him recently, texting and emailing days before he died.
It often seems that leaders don't show immediate signals about how deep their struggle really is.
I'm familiar with the dark struggle of leadership.
The struggle, obviously, doesn't always end in suicide, but it does often end in discouragement, defeat and even quitting leadership because of the pressure.
So in this post, I'll take you into some of my own struggles and share 5 things that I realize today that I didn't always know about leadership. These insights have helped me sort through what I'm feeling and experiencing and helped me discern where the next path might be.
Whether you're struggling with suicide, or if you're just feeling isolated, unheard or misunderstood in leadership, I hope this post helps.
If you have the most remote question in your mind about your will to live, or if you are suicidal, please stop reading this post and call 911 or, in the US, call the National Suicide Prevention Lifeline, available 24 hours a day at 800-273-8255 or text HOME to 741741 to reach the Crisis Text Line (in Canada call 1.833.456.4566.)
Although I don't regularly struggle with depression (I did suffer a deep bout of it in 2006), and I'm not a counselor, I do know the daily struggle of leadership. I can empathize with how dark it feels sometimes.
And that's our common connection point. Almost any leader knows the deep struggle of leadership. You don't have to be in it long to know how dark or difficult it can get.
I hope this post feels like hope and help to you.
MY OWN SUICIDAL SEASON
Although I write about leadership all the time, it's difficult for me to write about leadership and suicide, in part because it's a desperately complex subject, and in part because I don't even like to admit I was there a number of years ago myself.
The way I got to my suicidal season was through burnout. And the worst part of my burnout in the summer of 2006 was a season when I thought that ending it was the most logical and least painful way out.
Let me say it again before we dive into more words and my attempt at some insights: maybe you think the only way through your pain is to end it. It's not.
In my last book, I have an entire section on burnout and how to overcome it, but I only gave five paragraphs to my battle with suicidal thoughts.
Honestly, I was just too terrified/embarrassed/ashamed to write more.
The fact that I entertained thoughts about ending my life still comes as a surprise to many people who follow me online, and to some of my friends and people who know me personally. It's just so hard to talk about.
But it happened.
I tell the whole burnout story in my book  Didn't See It Coming, and here's an excerpt from the book about my own personal suicidal season:
My situation grew even darker than all that. Over a decade later, I still can't believe I'm going to write this next section. Part of me doesn't even want to admit this portion of the story is true. But it is, and I know this is an aspect of the experience far too many people can identify with.
By late summer, I began to think the best way to get through this burnout was to not go through it. Because hope had died for me in those months, I began to wonder whether that should be my preferred option as well.
For the first time in my life, I began to seriously think that suicide was the best option. If I had lost hope, was no good to anyone, couldn't perform what I was expected to do, and was causing all kinds of pain to others (a conclusion that wasn't coming from a place of objectivity), then perhaps the best solution was to be no more.
By God's grace, I've never owned any weapons. If I did, I shudder to think about what I might have done to myself in a weak moment. I'm not terribly coordinated or technically skilled, so I figured a kitchen knife would probably result in me doing things horribly wrong. In my mind, my preferred path was to take my speeding car into a concrete bridge support and end things that way.
I don't know how close I came to doing it. I'm far from an expert at determining how serious a threat like that is. Although I never undid my seat belt and never sped up far past the limit as a bridge approached, I do know the thought of ending it that way became a false friend to me, a strange and perverse source of comfort. And, in a twisted way, maybe a way of getting back at a God and a life I felt were letting me down.
As I look back now, over a decade later, on how I felt at that time, it seems like it was someone else who struggled with those thoughts. It's amazing how an episode like this can play with your mind, but that's exactly what burnout does: it messes with your thinking.
Its arena is your thought life, and burnout can be a merciless, savage beast. I'm so grateful I didn't listen to those voices, but I share this in case you might be hearing something similar.
Do the people you love a favor: Don't listen. Don't give in. Don't give up. The negative voices are lying. That's not who you are, and that is definitely not the solution, even though some days it can feel like it is.
Looking back on that now, there's still so much shame and stigma mixed with gratitude that I didn't listen to the voices in my head that were telling me the only way out was out.
I can't tell you how grateful I am I didn't listen.