You are currently browsing the category archive for the 'America' category.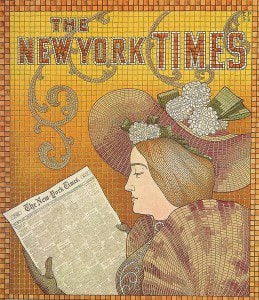 The New York Times just published one of the more rough-handed pieces we've yet seen regarding "gay Christianity." In "Bigotry, the Bible and the Lessons of Indiana," opinion writer Frank Bruni takes the gloves off and seeks to bully Christians into caving on homosexuality. The column is frank, direct, and brutalizing.
Let's consider five takeaways from this striking article.
1. Here's what Bruni believes opposition to "gay Christianity" is based in: raw prejudice. He says as much:
But in the end, the continued view of gays, lesbians and bisexuals as sinners is a decision. It's a choice. It prioritizes scattered passages of ancient texts over all that has been learned since — as if time had stood still, as if the advances of science and knowledge meant nothing.

It disregards the degree to which all writings reflect the biases and blind spots of their authors, cultures and eras.

It ignores the extent to which interpretation is subjective, debatable.
The lack of self-awareness here takes your breath away. Apparently, Christians cannot see their "biases and blind spots," but Bruni can. Here's one example of a "blind spot" he might be missing: he claims all "interpretation is subjective" and "debatable" even as he presents his viewpoint as authoritative. Though he shames Christians for their hermeneutical simple-mindedness, he turns around and makes precisely the error he has just accused us of.
Editorialist, heal thyself.
2. We also note Bruni's comments on doctrinal formation, which reduces in his mind to "scattered passages of ancient texts." Speaking of "blind spots" once more, this is the fallacy of "chronological snobbery," as C. S. Lewis called it. Simply because a teaching is old means it's outmoded. This apparently does not apply to pagan sexuality, however, which is the framework by which our secular culture now operates. I'm not sure what to think of "scattered texts"–if "scattered" means something like "homosexuality is condemned in no uncertain terms in both the Old Testament and the New Testament," then Bruni is more accurate than he knows.
The collective witness of the Bible, spread across diverse genres and eras, is indeed unified that homosexual desire and behavior is sinful (see Genesis 19; Leviticus 18:22; Deuteronomy 23:17-18; Romans 1:26-27; 1 Corinthians 6:9; 1 Timothy 1:10). Beyond the clear teaching of these inerrant texts, homosexuality, as my colleague Jim Hamilton pointed out in his excellent chapter in God and the Gay Christian?, fits nowhere in the storyline of the Bible. Marriage is instituted by God between Adam and Eve (Gen. 2:18-25), affirmed by Jesus himself in crystal-clear teaching (Matt. 19:3-6), and ultimately points to the covenantal love between Christ and his cruciform people (Eph. 5:22-33).
Both exegetically and theologically, the Scripture is unmistakably clear: homosexuality does not owe to the good design of God, but to the corruption of the flesh. You could call this witness "scattered," I suppose. You could also call it "overwhelming."
3. It turns out that Bruni is not only here to correct us, however. He comes as an angel of freedom. He speaks to us in the verdant tones of "religious freedom," which he helpfully defines as follows: "freeing religions and religious people from prejudices that they needn't cling to and can indeed jettison, much as they've jettisoned other aspects of their faith's history, rightly bowing to the enlightenments of modernity." Here it is: your 2015 version of religious liberty. In years past, this concept meant something like "the opportunity to obey your conscience without prejudice." Now, it means "the golden opportunity to believe what secular elites tell you to believe."
We have reverted, really and truly, to the conditions that led the Puritans and Pilgrims to brave death and come to America four centuries ago. Our worship is now compelled and instructed, just as in days past. But we are not dealing with a state church, or at least not an established one. We are dealing with a cultural intelligentsia that offers us a grand bargain: we can give up our sexual ethics and be just fine, or we can hold onto them and be smashed into conformity. It's really this stark: the Bible should be "rightly bowing"–Bruni's actual phrase!–to secular rationalism. In other words, we have an authority, and it is not Scripture. It is the culture.
Religious people, according to Bruni, cling to their faith. Now, the time has come. We should give it all away. Like slavery and gender roles–"other aspects of their faith's history"–we should simply relinquish views that the culture now finds wanting. This is rich stuff. Christianity offered women far more agency than secular Greco-Roman culture did. Christianity over the centuries has ennobled women, protected them from male predation, and given them a key place in the kingdom. Christianity overcame slavery, slavery that pagan cultures practiced without batting an eye.
It is lamentably true that far too many Christians embraced the racist and sexist beliefs of secular culture in the past. But it was not Voltaire and Rousseau who championed the abolitionist cause. It was William Wilberforce and William Lloyd Garrison and Jonathan Edwards, Jr. It is not the secular elite who now protect women from the ravages of the Sexual Revolution, with men openly preying on women. It is the church, even the imperfect church, that preaches the gospel and gospel ethics, which overcome both racism and sexism to render the people of God one body, the body of Christ.
The church has never been perfect. But did the church unleash genocide on the world, as secularism did through leaders like Stalin, Hitler, Mao, and Pol Pot? It most certainly did not. Secular authoritarianism has brought great evil and suffering to people. The church, though imperfect, has brought gospel hope, ethical enlightenment, and social justice to untold numbers of people. Bruni ignores and even erases this in his piece.
4. Bruni waves his hand and thereby dismisses all believers who hold to complementarian convictions. He quotes exactly one obscure pastor to ground this rather audacious claim:
"In the United States, we have abandoned the idea that women are second-class, inferior and subordinate to men, but the Bible clearly teaches that," said Jimmy Creech, a former United Methodist pastor who was removed from ministry in the church after he performed a same-sex marriage ceremony in 1999. "We have said: That's a part of the culture and history of the Bible. That is not appropriate for us today."

And we could say the same about the idea that men and women in loving same-sex relationships are doing something wrong.
This point amuses me. It's as if there are no denominations with, say, 40,000 local churches that adhere to robust complementarian principles. You'd think the Southern Baptists just got raptured by a secular editorialist. It's as if the PCA and the conservative Anglicans and Methodists and Pentecostals and hundreds of other groups simply have no voice. Why? Because Jimmy Creech says so, and Frank Bruni has cited him.
This is telling material. The secular left, more than many evangelicals, understands the indissoluble connection between complementarity and exclusively heterosexual marriage. If you give up the first, you swing the door open wide to give up the second. I say this to fellow evangelicals: Bruni is exactly right in this connection. Giving up complementarity means denying both Scripture and natural design. This shift opens the door to embracing transgenderism, homosexual orientation and marriage, and polyamory. There is no other backstop. There is no other iron wall against raw pagan sexuality.
Complementarianism–represented institutionally by CBMW, cbmw.org, the organization I lead–is the last line of defense against the secularist sexualism. There's nothing else to arrest this cultural momentum. Bruni quotes same-sex-affirming ethicist David Gushee along these lines: "Conservative Christian religion is the last bulwark against full acceptance of L.G.B.T. people," Gushee said." Gushee is quite right. So, I ask my fellow Christians: is complementarity bad? Should we downplay it? Should we problematize it, sigh deeply, and wish we didn't have to hold it?
Or, should we own it, love it, receive it as good, and see it as the outworking of a gospel worldview?
5. Bruni closes with a peroration worthy of a fiery homiletician. There is one option for Christians, and that is to embrace homosexuality or else: 
Creech and Mitchell Gold, a prominent furniture maker and gay philanthropist, founded an advocacy group, Faith in America, which aims to mitigate the damage done to L.G.B.T. people by what it calls "religion-based bigotry."

Gold told me that church leaders must be made "to take homosexuality off the sin list."

His commandment is worthy — and warranted. All of us, no matter our religious traditions, should know better than to tell gay people that they're an offense. And that's precisely what the florists and bakers who want to turn them away are saying to them.
So here it is. "Church leaders must be made" to stop seeing "gay Christianity" as sinful. This is a "warranted commandment," according to Bruni, who states this baldly without reference to any source, authority, text, or tradition. He's quoted the tiny handful of "Christian" theologians who affirm homosexuality, albeit without so much as a whisper of a reference to the tens of thousands of scholars, exegetes, theologians, pastors, and leaders who do not affirm it.
It's quite strange to expect people to conform to your morals because you quoted a book they don't read
The way some Christian churches and other organizations pay their speakers, it makes me embarrassed to be a member of the same faith.
A friend of mine is a gifted staff worker with a well-known Christian organization on a university campus. He is married with three young children and works hard and long at his job. Frequently, he is asked to speak at churches' youth retreats or special events sponsored by other groups. Rarely is he paid well for what is, in fact, overtime work—for audiences other than the one that pays his regular salary.
One weekend, he left his family to speak at a retreat for more than 100 young people, each of whom paid to go away to a well-furnished camp for three days. My friend gave four talks and participated in a question-and-answer session—a typical and demanding schedule. But his work didn't end there, of course. Retreat speakers are "on call" all weekend for impromptu counseling, offering advice over mealtimes and modeling what they preach on the volleyball court or around the campfire. Make no mistake: There is very little relaxing in that role, however restful the retreat might be for everyone else.
An isolated and extreme example? Not at all. Every professional Christian speaker has stories like these.So at the end of this tiring weekend, at the close of the Sunday luncheon, the leader of the group thanked him profusely at the front of the dining hall (he had gone over very well). Then he tossed the speaker a T-shirt emblazoned with the group's logo while everyone clapped. It took my friend several minutes to realize that this shirt was his total payment for the weekend's work. He got in his car, without even a check for gasoline, and headed back to his waiting family.
A widely respected author was asked to headline a fundraising banquet for a women's organization. She prepared a talk on the subject requested, left her husband and children at home, drove herself in the family car across the city to the site of the meal, chatted with her tablemates, and then delivered her speech. Again, it was apparent from the applause and the warm remarks that greeted her when she took her seat that she had done her job well.
The evening ended, and the speaker was saying her goodbyes. The convenor then appeared in a gush of appreciation. "Your talk was just excellent," she said. "Exactly what we wanted. Thank you so much for coming!" Then, by way of payment, she grandly swept her arm over the room and said, "Just help yourself to one of the table centerpieces."
We Christians have two problems in this regard. One might be remedied by an article such as this one. The other can be fixed only by the Holy Spirit.
The former problem is that most people who invite speakers are not themselves professional speakers and so honestly don't know how much is involved in doing this work well. So let's price it out straightforwardly and consider whether we pay people properly in the light of this analysis.
A speaker first has to receive the invitation, work with the inviter to clarify and agree upon terms (usually this takes correspondence back and forth), and confirm the date. Then the speaker has to prepare the talk. Sometimes, a speaker can pull a prepared text out of a file, but usually at least some fresh preparation is necessary to fit the talk to this particular group and its context. (And let's remember that the speaker at some time did indeed have to prepare this talk from scratch, so the inviting group does have a share in the responsibility for that preparation since they will be benefiting from it.) The speaker concludes her preparation by printing out her notes and perhaps also prepares a photocopied outline or overhead slides or PowerPoint presentation for the benefit of the group.
Next, the speaker must make her travel arrangements and then actually travel. Most of this time is not productive: Airports and airplanes are not designed to aid serious work (unless the inviting group springs for first-class seats and airport lounges—an uncommon practice), and driving one's car is almost entirely useless time.
The speaker arrives and then has to wait for her particular slot. She finally gives her presentation, waits for everything to conclude and returns home. If she is out of town, normally she will have to spend at least one night in a hotel room, probably sleeping badly in a strange bed and, again, spending time in transit that is largely unproductive.
Count up all of those hours. Not just the forty minutes she actually spoke at the banquet, or the four hours she was actually in front of the microphone during a weekend conference, but the many, many hours spent in the service of the inviting group from start to finish. Divide those hours into the honorarium, assuming her costs are covered (as they sometimes aren't—for shame!), and you have the true wage the group paid her.
One speaker I know was asked to speak at a weekend conference requiring of her three plenary talks plus a couple of panel sessions. She would have to travel by plane for several hours and leave her family behind. The honorarium she was offered? Expenses plus $300. Her husband heard of it and replied with a rueful smile, "I'll pay you three hundred bucks to stay home with us."
Here's yet another way to look at it. A speaker was asked to give the four major speeches at the annual meeting of a national Christian organization. He was also asked to come two days earlier than the staff meeting in order to address the national board twice. In return, he was offered travel expenses and accommodation for himself and his wife at the group's posh conference center—of which they were extremely proud.
So the speaker asked for an honorarium of $2000 for the five days he would be away plus all of the time he would spend in preparation for this large responsibility. The group's president immediately withdrew the invitation, saying he was charging too much. Is this good stewardship by a Christian nonprofit corporation? Or is it something else?
One wonders about the "something else" when one looks closer to home and examines the typical honoraria given to preachers who fill pulpits when pastors are on vacation. Most churches now pay $100 or so, although I know of many, including both mainline and smaller evangelical congregations, who still pay less.
Let us ask ourselves, before God, how we can justify paying a guest preacher a mere hundred bucks. He has to accept the invitation and get clear on his various duties from the person who invites him. He has to prepare the sermon—again, even if he is going to preach one he has preached before, he still has to decide upon which one to preach and then prepare to preach it well on this occasion. He has to travel to our church and take his place with the other worship leaders. He has to preach the sermon and greet people afterward. Then he has to drive home.
Time it out, and it's likely ten hours or more that he has invested in our church. We offer him a hundred dollars, and that works out to ten bucks an hour—a little more than minimum wage. He has to pay all of the taxes on that, so now he's taking home between fifty and sixty dollars. Is that what we think our preachers are worth?
Let's look at this from another angle. The average congregation isn't large, so let's suppose that about 200 people are to hear that sermon. By offering the preacher even $150 (which is more than most churches pay), we're saying that his sermon is worth less than a dollar for each person who hears it.
The notion, however, that spiritual or theological or other "Christian" expertise should not be paid for is utterly foreign to the Bible.
A megachurch is a unique breeding ground for a RSWL—he probably couldn't survive in a smaller ministry. A typical church music director is a busy guy or girl who schedules volunteers, conducts rehearsals, writes charts, arranges music, and plans Christmas and Easter events. Some megachurch RSWLs surprisingly can't even read music, let alone create a chord chart.
So why are they hired?
They often don't have musical training or organization skills, but they look and sound good on stage. This will blow some of your minds—I know of one RSWL who makes about 100K a year by going to a weekly staff meeting and picking out six songs for the praise set.
That's it.
He has a full staff who does his work for him—making charts and tracks, scheduling volunteers, and even leading rehearsals. This type of RSWL could only exist at a megachurch—he'd be helpless if he had to do everything himself in a smaller ministry.
The RSWL unfortunately tends to inherit bad habits from his secular counterparts.
A famous rock star making millions from his music can afford to be self-absorbed and narcissistic—it even enhances his mystique. Narcissism doesn't go over so well in a church, and people start resenting the guy. A Google search on the subject showed me it's a growing topic among fed-up churchgoers.
Here are some thoughts I found on a blog by a disgusted person about their RSWL that sum up what congregations are thinking:
Worship leaders are like reality TV stars: They're regular people with a disproportionate sense of self because people are looking at them. They're rock stars without the fame or talent … or money (all things that redeem rock star behavior). But ultimately, it's the disparity that kills me. So many of them are spiritually/emotionally/socially immature, but just because they can sing, they're placed on this ridiculous pedestal.
One megachurch claims their narcissistic RSWL is to blame for an attendance drop of almost one-third (at least until they fired the guy—attendance is on the way up again).
For the rest of the post…
Dr. Jim Garlow has traveled the world imparting to global leaders the powerful truth that God's Word provides instructions for every area of life, including government.
In a recent interview with My Faith Votes, Dr. Jim Garlow, Founder and CEO of Well Versed, provided some great takeaways for us to bring biblical change to our spheres of influence.
1. Is America headed in the right direction?
"According to a Barna study from 2013, 90% of pastors acknowledge that the Bible speaks to the cultural, political, and social issues of the day. But ask those same pastors if they have or would speak on those issues, 90% said no. Therein lies the problem.
"It's really up to the church if the nation heads in the right direction. The problem is not the progressives and the liberals, it's not the baby killers and it's not the LGBTQ, the real problem is the pastors of America and the churches of America — will they rise to the occasion? So, I'm answering your question with an 'if.' That's what will determine whether or not this nation can be saved or not."
2. When you look at the culture and assess where things are headed, what concerns you the most?
"The absence of the understanding of the word of God and the lack of capacity to apply it. 92% of the people in the pew do not have a biblical worldview. What worldview do they have then? They have a secular worldview. If you go to millennials, you are down to only 4% having a biblical worldview.
"Those are really jolting numbers. Everyone is responsible to study the word and become a careful steward of the word, but where is the primary source of the word? It should be from the pulpit, from the church."
3. We've come out of a hyper election season with a record number of dollars spent and record turnout. How can Christians continue to take bold steps to change culture?
"Number one, care. Care about the nation. Care about what's happening in the community. We operate under this myth that the way things are are the way things are going to stay. That is not true.
"Cultures come and cultures go. Nations come and nations go. All the great nations that once existed never thought they would be done, but they ended, every one of them. America is not going to last forever. And we can bring it to a painstaking close by simply defaulting and not showing up for the game.
"For example, the reason we know the stories of Shadrach, Meshach, and Abednego? They were bold!
"The reason we know the story of Dietrich Bonhoeffer? He was bold! Everybody likes to preach about him, it's time to start acting like him. April 9, 1945, Bonhoeffer was stripped of his clothes in the German cold air and hung by a piano wire — killed. Why do we remember Dietrich Bonhoeffer? Was it because he had the largest church? Was the most popular guy? No. Wrote a bestseller? No. Had a big radio and TV ministry? No. We remember him because he stood for truth.
These scandals stand alongside abuses by prominent male church officials that have occurred in independent Christian communities, such as Harvest Bible Chapel, Willow Creek Community Churchand Mars Hill Church.
Such scandals have led to widespread doubts about church officials and institutions. And this is not for the first time. As a scholar of early Christianity, I know that in the fourth century, Christian churches in North Africa faced a similar crisis of trust in their leaders.
Known as the Donatist controversy, it caused a schism that lasted for centuries and offers a parallel for thinking about the impact of these crises on contemporary Christian communities today.
Traitors during Christian persecution
Christians in the Roman Empire occasionally experienced periods of imperial persecution. These periods were often memorialized in Christian tradition through stories of famous martyrdoms. The stories often portrayed Christians as courageous and virtuous in the face of imperial violence.
The most infamous period of persecution occurred in the early fourth century A.D. Spearheaded by the emperor Diocletian, it was also the final imperially sponsored persecution of Christian communities.
While persecutions were sporadic, local and rare, they often put difficult choices before Christian clergy and laity.
Some renounced Christianity. Others handed over sacred books or church property and outed fellow Christians to the authorities. Christians called the latter "traditores," a Latin term meaning "those who handed over," the root of the word "traitor."
Whether and how to welcome such traditores back into Christian communities after the persecutions was a topic of intense debate among Christians.
Traditores were considered to have betrayed their communities to save themselves. This sense of betrayal was particularly felt with respect to clergy members who had become traditores.
The issue came to a head in A.D. 311 in North Africa when Caecilian, the bishop of Carthage, became embroiled in controversy after it was alleged that one or more of the bishops who presided at his consecration had been traditores.
In the eyes of many Christians in North Africa, Caecilian's virtues did not matter. The presence of a traditor among those who ordained him invalidated his ordination.
The Donatist schism
Caecilian was supported politically and financially by the imperial administration. Caecilian's opponents pressed their case in regional councils and before local magistrates.
They even appealed to the Emperor Constantine, who wrote in a letter to the Vicar of Africa in A.D. 314 that he had grown tired of receiving requests from Caecilian's opponents.
They brought charges, which ultimately proved to be false, against Felix of Aptunga, one of the bishops that had ordained Caecilian. Charges against other bishops soon followed.
In A.D. 313, Donatus was consecrated bishop of Carthage and became the leading voice of Caecilian's opponents. These "Donatists," as they came to be called, created their own massive network of churches that stood in opposition to those allied with Caecilian and the Roman state.
Constantine soon grew fed up with the Donatists and the schism that they had created in the church. From A.D. 316-321, Constantine used the force of the state to coerce the Donatists back into the fold.
Constantine's attempts to intervene led to violence that resulted in the deaths of Donatist Christians. His intervention did little to end the schism. Constantine soon gave up state-sponsored persecution of the Donatists.
In A.D. 346, the Emperor Constans, who succeeded Constantine, tried again to end the schism. His agents used imperial funds to woo clergy back, but also used violence. Macarius, one of Constans's agents, led a campaign of suppression, in which Christians killed other fellow Christians.
Macarius became infamous among Donatist communities. The Donatists considered those who died to be martyrs. These martyrs and their memory were celebrated by Donatist communities.
Donatus was said to have questioned the very role of the emperor in the controversy, saying, "What has the emperor to do with the church?"
By the fifth century, Donatist churches were thriving and sparring with Catholics. And Donatist churches remained active in North Africa until the Islamic conquests of the seventh century.
Donatist beliefs
The Donatists believed the sins of traditores risked the salvation of individual members and the health of the community.
"How," they asked, "could sacraments administered by an offending priest be recognized by a holy God?" And if those sacraments were not effective, the salvation of the individual and the community were at risk. For the Donatists, only sacraments performed by uncompromised clergy were effective.
In their attempts to respond to Donatist critique, the Catholic Church settled on a strategy developed by Augustine, an influential fifth-century Catholic bishop in North Africa.
Augustine, who describes the sparring between Donatists and Catholics in his writings, argued that the sacraments were effective regardless of the morality of the clergy involved – a church doctrine known as "ex opere operato." He said that as the sacraments were the work of Christ, they did not depend on the moral character of the officiating priest.
What can be learned today
Today, in the face of the sex abuse crisis, contemporary Christian communities find themselves asking questions about institutions that condoned, hid and promoted abusive clergy.
This might be a moment to revisit the Donatist critique. They created their own churches because they feared not only for the efficacy of the sacraments but also for the character of a church that made it too easy for traditores to continue to remain leaders.
Widespread sexual abuse by Christian clergy represents a very different crisis from that faced by the betrayal of the traditores.
However, I believe the Donatists offer a lesson for Christian communities…
by Bill Leonard
In our better moments of spiritual self-awareness, we Christians are forced to acknowledge our capacity for actions and ideas that shatter an individual and collective "witness" as followers of Jesus. It's been like that from the start. Judas Iscariot betrayed him with a kiss. After declaring absolute loyalty, Simon Peter denied Jesus three times: "I never knew the man." The brothers James and John, perhaps anticipating the Prosperity Gospel, demanded "the best seats" in the coming kingdom. In every era of its history, certain Christian individuals and institutions have compelled an "orthodoxy" from others they refused to require of themselves. Dietrich Bonhoeffer called that kind of gospel cheap grace.
In The Cost of Discipleship (1937), Bonhoeffer called us all to account, warning:
Cheap grace is the deadly enemy of our Church. We are fighting to-day for costly grace. . . . Cheap grace means grace as a doctrine, a principle, a system. It means forgiveness of sins proclaimed as a general truth, the love of God taught as the Christian "conception" of God. An intellectual assent to that idea is held to be of itself sufficient to remission of sins. The Church which holds the correct doctrine of grace has, ipso facto, a part in that grace. In such a Church the world finds a cheap covering for its sins; no contrition is required, still less any real desire to be delivered from sin. Cheap grace therefore amounts to a denial of the living Word of God, in fact, a denial of the Incarnation of the Word of God (emphasis mine).
I returned to Bonhoeffer's admonition after reading a heartrending series of articles recently published in the Fort Worth Star-Telegram regarding years of sexual abuse perpetrated by various "Independent Fundamentalist Baptist" ministers, individuals often protected and "moved on" by their pastoral supervisors or church constituencies.
"Underneath it all is a powerful emphasis on ministerial authority, with pastor-figures as 'God's anointed' whose leadership is not to be questioned."
After months of research, a group of Star-Telegram investigative reporters documented "at least 412 allegations of sexual misconduct in 187 Independent Fundamentalist Baptist churches and their affiliated institutions" based in 40 states and Canada. Their study suggests that some 168 "church leaders" were accused or convicted of sex crimes against children, with as many as 45 of them continuing in ministry after being identified. The articles detail occasions when women and children were sexually molested by pastoral figures who were then moved on to other churches or church-related ministries. The accusers, almost all females, were often ignored, doubted or blamed for enticing the men.
The Independent Fundamentalist Baptist (IFB) movement has its origins in the 1920s and the infamous "Fundamentalist-Modernist Controversy" that divided American Protestants around issues of biblical authority, creationism, "new science" and the nature of Christian orthodoxy. By the 1950s, the movement claimed some of the country's largest congregations, many begun as "church start-ups," others through schism with older Baptist denominations. Although asserting their autonomy as free-standing congregations, most IFB churches participate in certain loose "fellowships," Bible colleges and evangelism programs.
For the rest of the post…