You are currently browsing the category archive for the 'Bonhoeffer Quotes' category.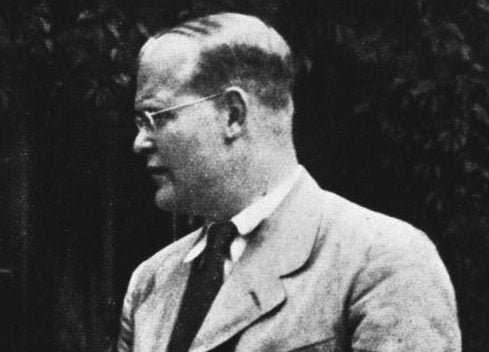 The great preacher, writer, theologian and witness to the faith, Dietrich Bonhoeffer,was executed on April 9, 1945, just days before the Nazi camp where he was held, Flossenbürg, was liberated. He was 39.
Here's what happened: 
On 4 April 1945, the diaries of Admiral Wilhelm Canaris, head of the Abwehr, were discovered, and in a rage upon reading them, Hitler ordered that the Abwehr conspirators [those who had plotted for Hitler's assassination] be destroyed. Bonhoeffer was led away just as he concluded his final Sunday service and asked an English prisoner, Payne Best, to remember him to Bishop George Bell of Chichester if he should ever reach his home: "This is the end—for me the beginning of life."

Bonhoeffer was condemned to death on 8 April 1945 by SS judge Otto Thorbeck at a drumhead court-martial without witnesses, records of proceedings or a defense in Flossenbürg concentration camp.  He was executed there by hanging at dawn on 9 April 1945, just two weeks before soldiers from the United States 90th and 97th Infantry Divisions liberated the camp,  three weeks before the Soviet capture of Berlin and a month before the surrender of Nazi Germany.

Bonhoeffer was stripped of his clothing and led naked into the execution yard where he was hanged, along with fellow conspirators Admiral Wilhelm Canaris, Canaris's deputy General Hans Oster, military jurist General Karl Sack, General Friedrich von Rabenau, businessman Theodor Strünck, and German resistance fighter Ludwig Gehre.

Eberhard Bethge, a student and friend of Bonhoeffer's, writes of a man who saw the execution: "I saw Pastor Bonhoeffer… kneeling on the floor praying fervently to God. I was most deeply moved by the way this lovable man prayed, so devout and so certain that God heard his prayer…In the almost fifty years that I worked as a doctor, I have hardly ever seen a man die so entirely submissive to the will of God."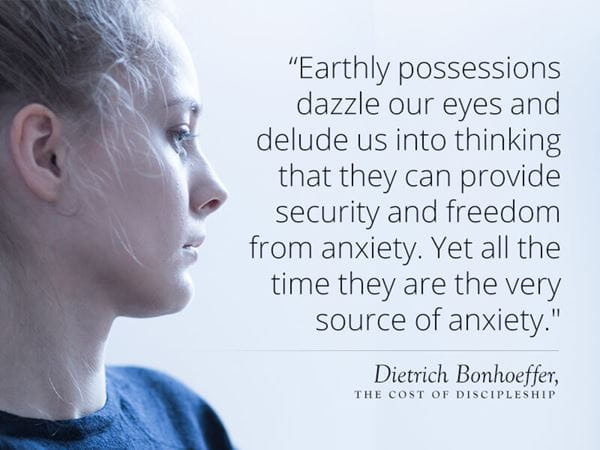 "We pray for the big things and forget to give thanks for the ordinary, small (and really yet not small) gifts"
"We must be ready to allow ourselves to be interrupted by God."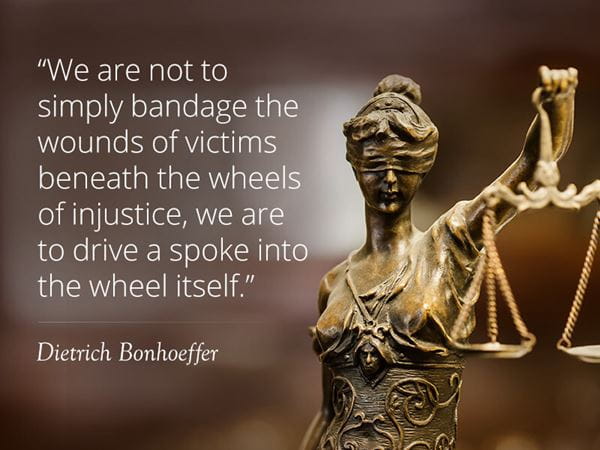 by Bill Leonard
In our better moments of spiritual self-awareness, we Christians are forced to acknowledge our capacity for actions and ideas that shatter an individual and collective "witness" as followers of Jesus. It's been like that from the start. Judas Iscariot betrayed him with a kiss. After declaring absolute loyalty, Simon Peter denied Jesus three times: "I never knew the man." The brothers James and John, perhaps anticipating the Prosperity Gospel, demanded "the best seats" in the coming kingdom. In every era of its history, certain Christian individuals and institutions have compelled an "orthodoxy" from others they refused to require of themselves. Dietrich Bonhoeffer called that kind of gospel cheap grace.
In The Cost of Discipleship (1937), Bonhoeffer called us all to account, warning:
Cheap grace is the deadly enemy of our Church. We are fighting to-day for costly grace. . . . Cheap grace means grace as a doctrine, a principle, a system. It means forgiveness of sins proclaimed as a general truth, the love of God taught as the Christian "conception" of God. An intellectual assent to that idea is held to be of itself sufficient to remission of sins. The Church which holds the correct doctrine of grace has, ipso facto, a part in that grace. In such a Church the world finds a cheap covering for its sins; no contrition is required, still less any real desire to be delivered from sin. Cheap grace therefore amounts to a denial of the living Word of God, in fact, a denial of the Incarnation of the Word of God (emphasis mine).
I returned to Bonhoeffer's admonition after reading a heartrending series of articles recently published in the Fort Worth Star-Telegram regarding years of sexual abuse perpetrated by various "Independent Fundamentalist Baptist" ministers, individuals often protected and "moved on" by their pastoral supervisors or church constituencies.
"Underneath it all is a powerful emphasis on ministerial authority, with pastor-figures as 'God's anointed' whose leadership is not to be questioned."
After months of research, a group of Star-Telegram investigative reporters documented "at least 412 allegations of sexual misconduct in 187 Independent Fundamentalist Baptist churches and their affiliated institutions" based in 40 states and Canada. Their study suggests that some 168 "church leaders" were accused or convicted of sex crimes against children, with as many as 45 of them continuing in ministry after being identified. The articles detail occasions when women and children were sexually molested by pastoral figures who were then moved on to other churches or church-related ministries. The accusers, almost all females, were often ignored, doubted or blamed for enticing the men.
The Independent Fundamentalist Baptist (IFB) movement has its origins in the 1920s and the infamous "Fundamentalist-Modernist Controversy" that divided American Protestants around issues of biblical authority, creationism, "new science" and the nature of Christian orthodoxy. By the 1950s, the movement claimed some of the country's largest congregations, many begun as "church start-ups," others through schism with older Baptist denominations. Although asserting their autonomy as free-standing congregations, most IFB churches participate in certain loose "fellowships," Bible colleges and evangelism programs.
For the rest of the post…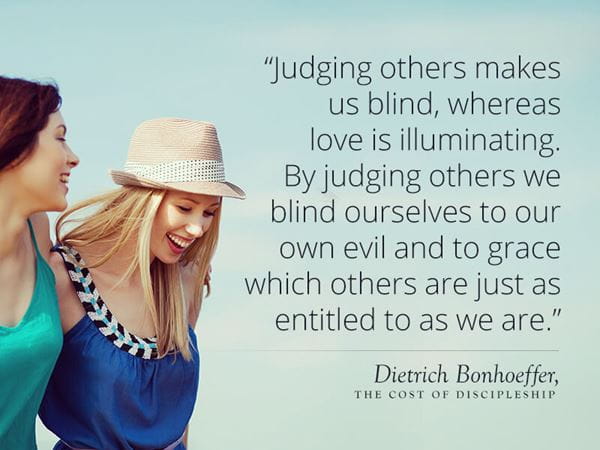 We must learn to regard people less in the light of what they do or omit to do, and more in the light of what they suffer.