You are currently browsing the category archive for the 'Bonhoeffer Quotes' category.
WHILE BONHOEFFER'S CONTEXT OF PERSECUTION IS FAR REMOVED FROM OUR CONTEXT OF SOCIAL DISTANCING AND SELF-ISOLATION, OUR INABILITY TO GATHER PROVIDES US WITH A FRESH LENS TO CONSIDER HIS WORDS.
By Ben Purves • May 5, 2020
"It is grace, nothing but grace, that we are allowed to live in community with Christian brethren."—Dietrich Bonhoeffer, Life Together
As COVID-19 has prevented us from gathering together for worship, I was reminded of Bonhoeffer's meditations on the value of fellowship.
Bonhoeffer's classic on Christian community was written during a time when the Confessing Church had been scattered under the Nazi regime. As religious freedom evaporated in Germany, Bonhoeffer trained pastors at an illegal seminary in Finkenwalde. Life Together records many of his thoughts from his time of fellowship there.
While Bonhoeffer's context of persecution is far removed from our context of social distancing and self-isolation, our inability to gather provides us with a fresh lens to consider his words. 
With that in mind, I invite you to read the excerpts from Life Together below, and I encourage you to read this book in its entirety during these unusual days apart. From these excerpts, following are four precepts. 
1. Every gathering of the local church is a gift of God's grace.
Bonhoefer writes:
So between the death of Christ and the Last Day it is only by a gracious anticipation of the last things that Christians are privileged to live in visible fellowship with other Christians. It is by the grace of God that a congregation is permitted to gather visibly in this world to share God's Word and sacrament.

Not all Christians receive this blessing. The imprisoned, the sick, the scattered lonely, the proclaimers of the Gospel in heathen lands stand alone. They know that visible fellowship is a blessing. They remember, as the Psalmist did, how they went 'with the multitude . . . to the house of God, with the voice of joy and praise, with a multitude that kept holyday' (Ps. 424). (pp19-20)
Whenever we gather together as a church, we receive a gift from our gracious God. Every gathering of the saints provides a taste of the greater reality of heaven, and we look forward to the day when all the saints will be together with our Lord forever.
Consider Hebrews 12:22-24:
But you have come to Mount Zion and to the city of the living God, the heavenly Jerusalem, and to innumerable angels in festal gathering, and to the assembly of the firstborn who are enrolled in heaven, and to God, the judge of all, and to the spirits of the righteous made perfect, and to Jesus, the mediator of a new covenant, and to the sprinkled blood that speaks a better word than the blood of Abel.
Gathering together with our family of faith is a blessing that becomes all the more apparent when the gift is taken away. Let us prize the grace we have been given in our fellowship, and look forward to the day when we can know it again.
2. The scattered look forward with faith.
When we must worship alone, we remember that our union with Christ and our fellowship with the Spirit is not dependent upon our geography. We look to the heavenly fellowship of Hebrews 12:22-24, and know by faith that we worship God with the saints of all the ages.
Those who are unable to enjoy the gift of gathering with brothers and sisters should take heart, for as God gives trials to scattered saints, he refines and reassures his people of their inheritance (1 Pet 1:1-9).
Bonhoeffer writes about those who must worship alone:
But they remain alone in far countries, a scattered seed according to God's will. Yet what is denied them as an actual experience they seize upon more fervently in faith. Thus the exiled disciple of the Lord, John the Apocalyptist, celebrates in the loneliness of Patmos the heavenly worship with his congregations 'in the Spirit on the Lord's day' (Rev. 1.10). He sees the seven candlesticks, his congregations, the seven stars, the angels of the congregations, and in the midst and above it all the Son of Man, Jesus Christ, in all the splendour of the resurrection. He strengthens and fortifies him by his Word. This is the heavenly fellowship, shared by the exile on the day of his Lord's resurrection. (p20)
Throughout history, the church's weekly rhythm has been one of gathering and scattering. We gather on the Lord's Day to celebrate our risen Lord, and we are scattered throughout the week, carrying the gospel to our workplaces and neighborhoods. We regather the following Lord's Day, and continue this rhythm of life.
This rhythm of gathering and scattering serves as a parable. As we are scattered during the week, we are reminded that we are in exile. As we are regathered, we are reminded of the future day when all the saints will be gathered to worship the Lord forever.
For as long as the church experiences this prolonged season of being scattered, we must trust the wisdom and will of our Sovereign Lord, and seek all the more to take refuge in his Word. If persecution and suffering does not remove one from the love of God (Rom 8:31-39), neither will social distancing and stay-at-home orders in these days of COVID-19.
3. We experience the love and presence of God through one another in Christ.
Do you feel grief or loneliness in this season? It is right to feel a sense of loss. Two-dimensional fellowship through technology is a gift, as was Paul's ability to send and receive letters from prison. However, it is innately unsatisfying as we were created to be physically present with one another.
Bonhoeffer elaborates on this as he describes the blessing of physical presence with other believers:
The believer therefore lauds the Creator, the Redeemer, God, Father, Son and Holy Spirit, for the bodily presence of a brother. The prisoner, the sick person, the Christian in exile sees in the companionship of a fellow Christian a physical sign of the gracious presence of the triune God. Visitor and visited in loneliness recognize in each other the Christ who is present in the body; they receive and meet each other as one meets the Lord, in reverence, humility, and joy. They receive each other's benedictions as the benediction of the Lord Jesus Christ. But if there is so much blessing and joy even in a single encounter of brother with brother, how inexhaustible are the riches that open up for those who by God's will are privileged to live in the daily fellowship of life with other Christians! (p20)
God's grace calls us to assemble together to sit under the preaching of the Word, to recognize brothers and sisters through baptism, to confess Christ together at the Lord's Table, to lift up our voices and sing, and to give and receive ministry within our church family as we are built up to become more like Jesus.
As we assemble together as the body of Christ on the Lord's Day, we encounter Christ in his Word and in his people. We know the love of Christ through one another as we serve as his hands and feet. Our gatherings are an incredible gift for us to treasure. It is right for us to desire to be face-to-face with each other. Consider the apostles' great desire to be present with the church (1 Thess 2:18; 3:17, 2 John 12, 3 John 14).
In these days of waiting, many of us will feel the weight of loneliness and the emotions and temptations that accompany feelings of isolation. Let the brokenness of this world lead us to prayer. May we be faithful to pray for one another. May we not be distant with our words, but let us use the communication tools we have to encourage one another.
4. Let us praise God for this grace.
In today's age of individualism, far too many professing Christians see the gathering of the church as an optional activity, and many others are content with "internet church." Even for those who are faithful to gather, the weekly blessing of assembling together is easily taken for granted.
April 9 will be the 75th anniversary of the death of Dietrich Bonhoeffer, a Lutheran pastor who led German resistance. As the Allies were closing in on Nazi Germany, Hitler ordered Bonhoeffer's execution and he was hanged at the age of 39.
Fighting Fear in Uncertain Times – Annie Holmquist
Recently a friend asked me, "What's it like over there?"
"Pretty quiet," I replied. "Rainy. Normal. Looking out the window, life seems fine."
It's when one looks away from the peaceful window scene and begins looking at headlines that the sky seems to be falling. Whether it's the threat of viruses, the implosion of the stock market, a potential job loss, or even the next election, fear creeps in quickly.
How do we handle that fear? Do we dismiss it entirely and become flippant in our response to life's challenges? Do we yield to it, hunkering down and putting the Y2K preppers of yore to shame?
It's a delicate balancing act, particularly when we are facing the unknown. Yet we are not the first to wrestle with the reality of fear, nor will we be the last.
Take Dietrich Bonhoeffer. A German theologian and pastor in the 1930s, Bonhoeffer became famous for resisting the Nazi regime and for his role in an attempted assassination of Hitler, actions for which he paid the ultimate price.
The winds of change were beginning to roar in early 1933. Hitler's rise to German Chancellor, the burning of the Reichstag, and the rise of the Third Reich were fast approaching. Bonhoeffer likely sensed the fear these changes caused and sought to comfort his congregation, describing the warning signs and dangers that fear brings:
1. Fear Destroys
Fear gnaws away at the inmost being of a person. "It hollows out their insides, until their resistance and strength are spent and they suddenly break down," Bonhoeffer explained. It also destroys their connections to God and others that are vital in the face of need and danger.
2. Fear Mocks
When a person is in the grip of fear, "fear leers" at that person, blasting him with mocking words:
Here we are all by our­selves, you and I, now I'm showing you my true face. And anyone who has seen naked fear revealed, who has been its victim in terrifying loneliness— fear of an important decision; fear of a heavy stroke of fate, losing one's job, an illness; fear of a vice that one can no longer resist, to which one is enslaved; fear of disgrace; fear of another person; fear of dying—that per­son knows that fear is only one of the faces of evil itself, one form by which the world, at enmity with God, grasps for someone.
3. Fear Weakens
"Fear takes away a person's humanity," Bonhoeffer explains, distorting him and taking away his dignity. "This is not what the creature made by God looks like—this per­son belongs to the devil, this enslaved, broken-down, sick creature."
In the age of Trump, the life and works of Dietrich Bonhoeffer are often used to justify the removal of President Donald Trump from office. President Trump (yes, he is my President. So was Barack Obama!) generates both hate for him or love for him. I struggle with some of his tweets and statements. I don't hate him. To compare him to Hitler is silly. And to compare those who voted for him (I did and will again) to those who mindlessly fell under the curse of Hitler is just as silly. Hitler was a monster who was responsible for over 60 million deaths! Anyway, here is yet another attempt to use Dietrich Bonhoeffer to try to get rid of Trump. Blessings to all! ~ Bryan
Here is how the statement, obtained exclusively by Sojourners, begins:
As grateful recipients, and now custodians, of the theological, ethical, and political legacy of the German pastor-theologian and Nazi resister Dietrich Bonhoeffer, we believe all persons of faith and conscience should prayerfully consider whether our democracy can endure a second term under the presidency of Donald Trump. We believe it cannot. In 2017, we issued a statement expressing our grave concerns about the rise in hateful rhetoric and violence, the rise in deep divisions and distrust in our country, and the weakening of respectful public discourse ushered in by the election of Donald Trump. We articulated the need for Christians to engage in honest and courageous theological reflection in the face of the threat posed by his leadership. Over the last three years, the need for such discernment has grown more urgent.
The statement starts where any Christian statement in a time like this should — by evaluating a political regime by the standards of the gospel — how their governance affects those on the margins of society. They say:
A hallmark of Dietrich Bonhoeffer's legacy is his insistence that we see the great events of world history from "the view from below" (1942). That is, he urges us to see from the perspective of those who suffer. The policies of the Trump administration both threaten and disempower the most vulnerable members of our society, including people of color, members of the LGBTQ communities, Muslims and other religious minorities, immigrants, refugees, the poor, the marginally employed, and the unemployed. Moreover, Donald Trump has now taken ill-advised military action that raises the specter of war. One of the greatest lessons learned from the history of the Christian churches during Germany's Third Reich is that it is crucial to respond to threats to human life, integrity, and community when they first appear, and to continue to challenge them.
The signers of this statement are not megachurch pastors, powerful leaders of religious institutions, or influential figures to whom the media typically pays attention. Rather they identify themselves, "As Bonhoeffer scholars, religious leaders, and confessing Christians," who have "a special responsibility to name crises and discern responsible actions of resistance and healing."
And this is the significant and sobering conclusion the Bonhoeffer Society leaders have reached:
We believe that one crucial step in this reckoning is ending Donald Trump's presidency.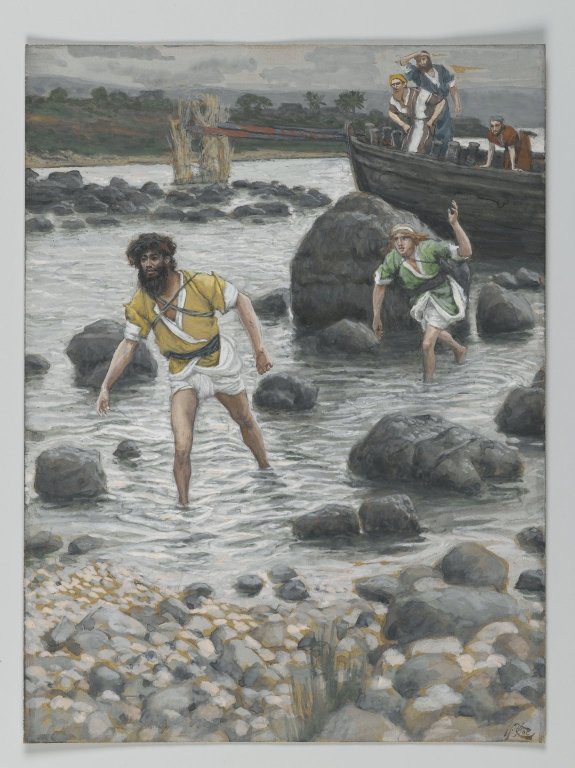 Ordinary Time in the Christian calendar is not about ordinary and ho-hum events, but about the ordering of Christian existence according to Jesus' life and teaching above and beyond the Advent and Christmas, Lenten and Easter seasons. This blog post will reflect on what such ordering involves and how important it is for Jesus to order our lives throughout the year, including Ordinary Time.
Before we go further, let's consider more carefully the meaning of Ordinary Time. Here is what one helpful article explains about Ordinary Time:
Because the term ordinary in English most often means something that's not special or distinctive, many people think that Ordinary Time refers to parts of the calendar of the Catholic Church that are unimportant. Even though the season of Ordinary Time makes up most of the liturgical year in the Catholic Church, the fact that Ordinary Time refers to those periods that fall outside of the major liturgical seasons reinforces this impression. Yet Ordinary Time is far from unimportant or uninteresting.

Ordinary Time is called "ordinary" not because it is common but simply because the weeks of Ordinary Time are numbered. The Latin word ordinalis, which refers to numbers in a series, stems from the Latin word ordo, from which we get the English word order. Thus, the numbered weeks of Ordinary Time, in fact, represent the ordered life of the Church—the period in which we live our lives neither in feasting (as in the Christmas and Easter seasons) or in more severe penance (as in Advent and Lent), but in watchfulness and expectation of the Second Coming of Christ.
There is no better way to live in watchfulness and expectation for Jesus' second coming than to submit to Jesus in ordering our steps according to his life and teaching presented during his first coming. So, as we proceed, let's ask: what's involved in Jesus ordering our steps during Ordinary Time? The answer: total trust and obedience.
Jesus calls us. The question we must ask ourselves during any season of the year, including Ordinary Time is: will we follow? Are there strings attached—like fishing nets—to our decision as to whether and how far and in what manner we will follow?
Consider Jesus' first recorded encounter with his first disciples in Matthew chapter 4. Notice that for Peter and Andrew, James and John, there were no strings attached to their determination when Jesus beckoned. They left everything to follow him, illustrated by leaving their nets, their boat(s), and father(s) (Matthew 4:18-22). At the outset of Jesus' ministry in which he calls people to repent for the kingdom of heaven is at hand (Matthew 4:17), we find him calling his first disciples. Notice their response:
While walking by the Sea of Galilee, he saw two brothers, Simon (who is called Peter) and Andrew his brother, casting a net into the sea, for they were fishermen. And he said to them, "Follow me, and I will make you fishers of men." Immediately they left their nets and followed him. And going on from there he saw two other brothers, James the son of Zebedee and John his brother, in the boat with Zebedee their father, mending their nets, and he called them. Immediately they left the boat and their father and followed him. (Matthew 4:18-22; ESV)
The disciples leave behind their allegiances to their families and their fishing businesses, the only way of life they had likely ever known, to become Jesus' apprentices in his work of fishing for people. These four knew nothing of the path laid out before them, only Jesus' call to follow. They followed unreservedly, no strings or nets attached. The only thing that they were attached to was Jesus' word in a spirit of total trust and obedience. I find such a response refreshing, though shocking and staggering given the all-too-human impulse in our day to hedge our bets, keep our relational options open, and play the perpetual cynic.
From the get go, Jesus' call is a call to die—to die to the old order of life, all they had ever known, to live anew according to his way of being. Thus, we find resonance with what Dietrich Bonhoeffer asserts in his volume on discipleship: "The cross is not the end of a pious, happy life. Instead, it stands at the beginning of community with Jesus Christ. Whenever Christ calls us, his call leads us to death" (Bonhoeffer, Discipleship, Bonhoeffer Works, page 87). While Jesus' disciples certainly did not understand all that stood before them on the path ahead, they certainly understood that their past was dead to them in living in accordance with Jesus' future for them. Thus, there should have been no real surprise when Jesus exclaims later in the same gospel: "If anyone would come after me, let him deny himself and take up his cross and follow me" (Matthew 16:24; ESV).
A few pages later in
Discipleship
, we find Bonhoeffer quoting Martin Luther who urges us to "submerge" ourselves in a "lack of understanding" to gain Jesus' understanding (page 91). Again, total trust and obedience in the face of death to new life is required. This requires unlearning to learn anew from Jesus.