You are currently browsing the category archive for the 'Bonhoeffer Resources' category.
As a small boy he (Dietrich) once a attacked a weaker classmate, whose mother expressed the grace suspicion that perhaps the Bonhoeffer children had been raised to be anti-Semitic. Dietrich's mother replied that that her son could not have heard of such a thing in her house. As someone capable of such violence, he was later particularly and carefully concerned about treating those in weaker positions considerately, and instilling self-confidence in them.    
~ Eberhard Bethge, Dietrich Bonhoeffer: A Biography (Revised Edition); Chapter 1: Childhood and Youth: 1906-1923, 19.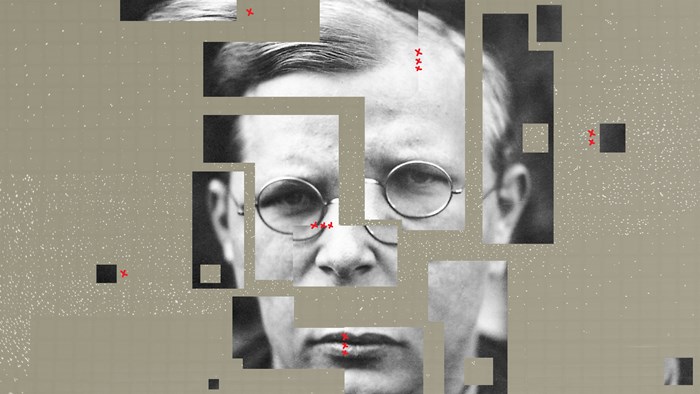 Image: CT Illustration
We Americans have fashioned many Dietrich Bonhoeffers for ourselves in the decades since the German theologian was put to death at the Flossenbürg concentration camp in 1945. In The Battle for Bonhoeffer: Debating Discipleship in the Age of Trump, Rhodes College professor Stephen R. Haynes offers a survey of the varied interpretations of that remarkable man, excavating the ways his name and legacy have been used—and too often misused—in American public discourse. Haynes holds up a mirror and asks, "Who do we need Bonhoeffer to be? And how is this need affected by the way 'we' define ourselves and the threats we face?" In other words, the battle is not really for Bonhoeffer, and the image in the mirror is our own.
Of course, with words like "battle" and "age of Trump" right there on the cover, this book crosses territory rich in minefields. Like an embedded journalist feverishly filing stories from the front, Haynes writes knowing that he cannot fully account for all the Bonhoeffer-ing happening around him, especially in our undulating political times. But because Bonhoeffer is employed for all kinds of ends in American political discourse, and his legacy used to burnish others' public profiles, Haynes balances a commitment to the protocols of the academy with a burden of responsibility to speak directly to our current political moment.
History and Hagiography
In the first part of the book, Haynes recounts the history of Bonhoeffer's reception by the American public through sketches he amassed in his 2004 volume The Bonhoeffer Phenomenon. He revisits and updates those earlier types, including the liberal, the radical, the evangelical, and the universal Bonhoeffer. To these Haynes adds a new sketch—the "populist Bonhoeffer." (More on this later.) Most illuminating for me was Haynes's discussion about Jewish evaluations of Bonhoeffer's legacy, especially that he has been reviewed by Yad Vashem (Israel's Holocaust memorial) and refused recognition as a "righteous Gentile," a term reserved for those who took extraordinary personal risk to save Jews.
Haynes devotes a full chapter to the history of how American evangelicals have received Bonhoeffer. While they tend to be familiar with the pastor's devotional writings (like The Cost of Discipleship or Life Together), Bonhoeffer's university lectures, sermons, and his later prison letters (where, for instance, he mulls over his idea of "religionless Christianity") presented real obstacles for evangelicals in the late 20th century. These theological concerns faded, however, as his life story became more widely known, feeding a steadily growing focus on his resistance work against the Nazis. Evangelicals creatively engaged his story in documentary films, an award-winning radio drama, and even a Christian romance novel in which, writes Haynes, "Bonhoeffer serves as the main character's spiritual inspiration."
Having sought himself to make Bonhoeffer's life and thought accessible to general readers—with Lori Brandt Hale, he co-authored the Bonhoeffer edition of the Armchair Theologian series—Haynes acknowledges value in some of the quirky ways Bonhoeffer's life has been interpreted for American evangelical audiences. Although he prefers history to hagiography, naming certain popular treatments with that derisive term, his posture is not one of an arrogant academic trying to raise the guild's drawbridge from storming peasants.
Bonhoeffer's name gained an even wider dissemination in American political discourse, Haynes notes, following the terror attacks of 9/11 and the growth of the internet as a means of communication. Politicians, public theologians, and other cultural leaders drew on Bonhoeffer with greater frequency, and urgency, in the post-9/11 national debate. Bonhoeffer was invoked both in support of and in opposition to the 2003 war with Iraq. Critics of the war referred to him again as the war continued far longer than the Bush administration anticipated. Online media elevated Bonhoeffer to a wider range of Americans. (And now, in the age of social media, misattributed quotes are often superimposed on photographs of his face, which are then traded as virtue-signaling currency.) For wherever Bonhoeffer stands as an imagined brother-in-arms for one's side, the other side is, well, Hitler.
"The prayers of the psalms and the reading of the Scriptures should be followed by the singing together of a hymn, this being the voice of the Church, praising, thanking, and praying. "Sing unto the Lord a new song," the Psalter enjoins us again and again. It is the Christ-hymn, new every morning, that the family fellowship strikes up at the beginning of the day, the hymn that is sung by the whole Church of God on earth and in heaven, and in which we are summoned to join." 
~ Dietrich Bonhoeffer, Life Together, 57.
"It might be asked further: How shall we ever help a Christian brother and set him straight in his difficulty and doubt, if not with God's own Word? All our own words quickly fail. But he who like a good "householder…bringeth forth out of his treasure things new and old" (Matt. 13.52), he who can speak out of the abundance of God's Word, the wealth of directions, admonitions, and consolations of the Scriptures will be through God's Word to drive out demons and help his brother. There we leave it. "Because from childhood thou hast known the holy scriptures, they are able to instruct you unto salvation" (II Tim. 3.15, Luther's tr.). 
~ Dietrich Bonhoeffer, Life Together, 55
What does it mean to call Dietrich Bonhoeffer an apocalyptic ethicist or theologian? Philip Ziegler, in his new important study on apocalytpic theology, Militant Grace: The Apocalyptic Turn and the Future of Christian Theology, contends against the grain that Bonhoeffer (=DB) was an apocalyptic ethicist.
Is Bonhoeffer's moral theology apocalyptic? This question is unsettled from L front to back. The texts that constitute Bonhoeffer's Ethics are unsteady though well-worked fragments of the actual theological ethics he hoped to write. More unsettled still is the meaning of "apocalyptic," whose popular and scholarly valences are as many as they are divergent and contested. Even if one could steady the question, prospects for a positive answer appear remote. Readers of the Ethics have not been led to the idea of "apocalyptic": quite the opposite. One possible exception here is Larry Rasmussen, who does associate Bonhoeffer with apocalyptic eschatology. Yet even he considers the association forced: turning to apocalyptic means diverging from Bonhoeffer, who was "almost immunized" against such an eschatological perspective by Lutheran confessional and German academic traditions, says Rasmussen." [SMcK: Criticism of Rasmussen was clear on this very point.]
Undeterred in going against the grain of DB scholarship, which is formidable, Ziegler says,
I want to argue that in draft upon draft of his Ethics manuscript, Bonhoeffer is definitely working out a theological ethic whose intent is to conform to the contours of Paul's apocalyptic gospel.
He is undeterred because of the rise of apocalyptic Pauline theology that fits more with Barthianism (and some would say is Barthianism) and therefore with DB.
The Plot to Kill Hitler; Dietrich Bonhoeffer: Pastor, Spy, Unlikely Hero by Patricia McCormick; HarperCollins, 192 pages, $18.99. Ages 8 and up.
…

Patricia McCormick, a two-time National Book Award finalist, tells the fascinating true story of the German pastor and theologian who was executed for his role in the plot to kill Hitler in this suspenseful, beautifully written and meticulously researched book. McCormick paints a vivid picture of "a big rambunctious family," a happy household of eight children, in a home in Breslau, the family's pet goat with free run of the house. Dietrich was the dreamer in a family of overachievers (his father was a psychiatrist, his oldest brother a genius at physics).
The death of his brother Walter in World War I was the driving force in Dietrich's interest in theology and big questions about Christianity and the meaning of life. McCormick offers a clear explanation of Bonhoeffer's theology and his belief that the church was not a building or a dead institution but a living force for good in the world, a belief that would later involve him – despite his pacifist beliefs – in the conspiracy to kill Hitler.
McCormick brilliantly combines the "big picture" historic and political backdrop with the anecdotal, as Bonhoeffer struggles in vain to convince his fellow Lutheran pastors of the threat posed by Adolf Hitler and then his role in establishing the breakaway Confessing Church. A particularly interesting chapter documents Bonhoeffer's study at Union Theological Seminary in New York and his friendship with African-American classmate Frank Fisher, who took the young German to the Abyssinian Baptist Church in Harlem. (McCormick notes that Winston Churchill, alerted to the possibility of an effective plot against Hitler, dismissed Bonhoeffer with "I see no reason whatever to encourage this pestilent priest.")
"Innumerable times a whole Christian community has broken down because it had sprung from a wish dream. The serious Christian, set down for the first time in a  Christian community, is likely to bring with him a very definite idea of what Christian life should be and try to realize it. But God's grace  speedily shatters such dreams." 
By present-day standards the Bonhoeffer household was conducted on an inconceivably lavish scale; but, at the same time, the parents strongly disliked personal boasting or pretension. Money was never discussed in front of the children. The country house in Wolfelsgrund was spacious and airy, but its furnishings were Spartan; later, after they have moved to Berlin, the family's summer home in Friedrichsbrunn was wired for electricity only in autumn of 1943.  If one of the children dropped a toy on the dirty floor of the railway compartment on the way to the country, their mother was capable was dropping it straight out of the window, but suggestions for improving amenities in the country were ignored. There was never any question of fashionable extravagance, either in dress or in the home.   
~ Eberhard Bethge, Dietrich Bonhoeffer: A Biography (Revised Edition); Chapter 1: Childhood and Youth: 1906-1923, 16.
(Father) Karl Bonhoeffer was not often in the forefront of his children's lives. His study and consulting room were out of bounds to them. Despite the many demands on him as a university teacher and consulting physician, however, he never missed the family meals. These were rather ceremonial occasions. The children's table manners were strictly supervised, and they were expected to speak only when asked about the events of the day. It was generally their mother who decided which situations in their lives should be brought to their father's notice. 
~ Eberhard Bethge, Dietrich Bonhoeffer: A Biography (Revised Edition); Chapter 1: Childhood and Youth: 1906-1923, 15.