You are currently browsing the category archive for the 'Bonhoeffer Reviews' category.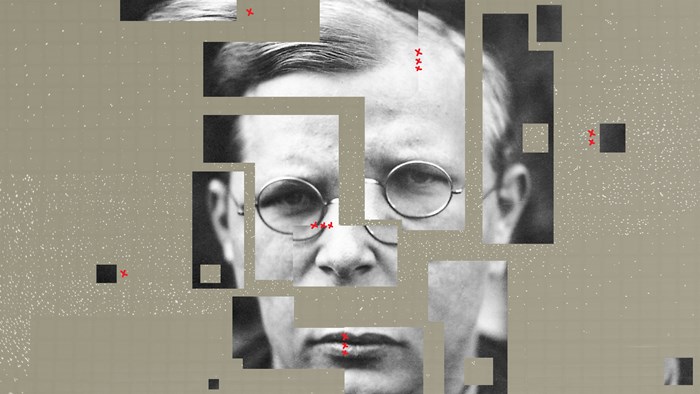 Image: CT Illustration
We Americans have fashioned many Dietrich Bonhoeffers for ourselves in the decades since the German theologian was put to death at the Flossenbürg concentration camp in 1945. In The Battle for Bonhoeffer: Debating Discipleship in the Age of Trump, Rhodes College professor Stephen R. Haynes offers a survey of the varied interpretations of that remarkable man, excavating the ways his name and legacy have been used—and too often misused—in American public discourse. Haynes holds up a mirror and asks, "Who do we need Bonhoeffer to be? And how is this need affected by the way 'we' define ourselves and the threats we face?" In other words, the battle is not really for Bonhoeffer, and the image in the mirror is our own.
Of course, with words like "battle" and "age of Trump" right there on the cover, this book crosses territory rich in minefields. Like an embedded journalist feverishly filing stories from the front, Haynes writes knowing that he cannot fully account for all the Bonhoeffer-ing happening around him, especially in our undulating political times. But because Bonhoeffer is employed for all kinds of ends in American political discourse, and his legacy used to burnish others' public profiles, Haynes balances a commitment to the protocols of the academy with a burden of responsibility to speak directly to our current political moment.
History and Hagiography
In the first part of the book, Haynes recounts the history of Bonhoeffer's reception by the American public through sketches he amassed in his 2004 volume The Bonhoeffer Phenomenon. He revisits and updates those earlier types, including the liberal, the radical, the evangelical, and the universal Bonhoeffer. To these Haynes adds a new sketch—the "populist Bonhoeffer." (More on this later.) Most illuminating for me was Haynes's discussion about Jewish evaluations of Bonhoeffer's legacy, especially that he has been reviewed by Yad Vashem (Israel's Holocaust memorial) and refused recognition as a "righteous Gentile," a term reserved for those who took extraordinary personal risk to save Jews.
Haynes devotes a full chapter to the history of how American evangelicals have received Bonhoeffer. While they tend to be familiar with the pastor's devotional writings (like The Cost of Discipleship or Life Together), Bonhoeffer's university lectures, sermons, and his later prison letters (where, for instance, he mulls over his idea of "religionless Christianity") presented real obstacles for evangelicals in the late 20th century. These theological concerns faded, however, as his life story became more widely known, feeding a steadily growing focus on his resistance work against the Nazis. Evangelicals creatively engaged his story in documentary films, an award-winning radio drama, and even a Christian romance novel in which, writes Haynes, "Bonhoeffer serves as the main character's spiritual inspiration."
Having sought himself to make Bonhoeffer's life and thought accessible to general readers—with Lori Brandt Hale, he co-authored the Bonhoeffer edition of the Armchair Theologian series—Haynes acknowledges value in some of the quirky ways Bonhoeffer's life has been interpreted for American evangelical audiences. Although he prefers history to hagiography, naming certain popular treatments with that derisive term, his posture is not one of an arrogant academic trying to raise the guild's drawbridge from storming peasants.
Bonhoeffer's name gained an even wider dissemination in American political discourse, Haynes notes, following the terror attacks of 9/11 and the growth of the internet as a means of communication. Politicians, public theologians, and other cultural leaders drew on Bonhoeffer with greater frequency, and urgency, in the post-9/11 national debate. Bonhoeffer was invoked both in support of and in opposition to the 2003 war with Iraq. Critics of the war referred to him again as the war continued far longer than the Bush administration anticipated. Online media elevated Bonhoeffer to a wider range of Americans. (And now, in the age of social media, misattributed quotes are often superimposed on photographs of his face, which are then traded as virtue-signaling currency.) For wherever Bonhoeffer stands as an imagined brother-in-arms for one's side, the other side is, well, Hitler.
What does it mean to call Dietrich Bonhoeffer an apocalyptic ethicist or theologian? Philip Ziegler, in his new important study on apocalytpic theology, Militant Grace: The Apocalyptic Turn and the Future of Christian Theology, contends against the grain that Bonhoeffer (=DB) was an apocalyptic ethicist.
Is Bonhoeffer's moral theology apocalyptic? This question is unsettled from L front to back. The texts that constitute Bonhoeffer's Ethics are unsteady though well-worked fragments of the actual theological ethics he hoped to write. More unsettled still is the meaning of "apocalyptic," whose popular and scholarly valences are as many as they are divergent and contested. Even if one could steady the question, prospects for a positive answer appear remote. Readers of the Ethics have not been led to the idea of "apocalyptic": quite the opposite. One possible exception here is Larry Rasmussen, who does associate Bonhoeffer with apocalyptic eschatology. Yet even he considers the association forced: turning to apocalyptic means diverging from Bonhoeffer, who was "almost immunized" against such an eschatological perspective by Lutheran confessional and German academic traditions, says Rasmussen." [SMcK: Criticism of Rasmussen was clear on this very point.]
Undeterred in going against the grain of DB scholarship, which is formidable, Ziegler says,
I want to argue that in draft upon draft of his Ethics manuscript, Bonhoeffer is definitely working out a theological ethic whose intent is to conform to the contours of Paul's apocalyptic gospel.
He is undeterred because of the rise of apocalyptic Pauline theology that fits more with Barthianism (and some would say is Barthianism) and therefore with DB.
I will attempt the impossible. In the course of two blog posts, I will try to understand Dietrich Bonhoeffer's infamous proposals for a "non-religious interpretation" of Christianity. There is a vast literature of academic discussion on Bonhoeffer's prison letters, especially these particular letters from April to July of 1944, and the continuity or discontinuity with his earlier works. For the sake of blogging brevity (my go-to excuse!), I will have to ignore most of that.
Below is part one, and I will soon post a follow-up next week, discussing Bonhoeffer's cryptic complaints about Barth's "posivitism of revelation." There, I will register some criticisms, not surprisingly.
In a letter to Eberhard Bethge from prison in Tegel, 30 April 1944, Bonhoeffer signals some new developments in his theological reflections, which then reappear in subsequent letters. And it is best that we label these as "reflections" or even "musings," given the suggestive and piecemeal nature of this epistolary material. Nonetheless, Bonhoeffer intends them to be taken seriously, as the most recent fruit of his fertile mind. He is quite aware of the radical nature of these suggestions, warning Bethge that he "would be surprised, and perhaps even worried by my theological thoughts and the conclusions that they lead to…." What are these thoughts and conclusions? They deal with Bonhoeffer's proposal for a "religionless" Christianity, or better yet, a "non-religious interpretation" of Christianity. We will look closely at the precise way in which Bonhoeffer expresses himself, focusing on this question of non-religious interpretation.
Bonhoeffer has spent his life discerning who is Christ and especially who is Christ for the church and for us today. He is imprisoned for his own commitment to the sole lordship of Christ and his demand for us now. He informs Bethge that these questions have been "bothering him incessantly," and it appears that the pressure to revisit these questions anew has come from his assessment of the society of his day. As Bonhoeffer sees it, "We are moving towards a completely religionless time; people as they are now simply cannot be religious any more." But what does he mean by "religious"? His explanation is grounded in the recent philosophical and cultural developments of Western society. There was once a "religious a priori," according to Bonhoeffer, which supported and sustained religious man, which is to say virtually every man in religious society. This a priori is the metaphysical foundation, or background, or framework upon or through which religious man understands himself and his relation to God. As such, it provided the "plausibility structure," to borrow from Peter Berger, for how the divine exists and interacts with the finite realm. It also provided the inwardness or self-consciousness of religious man in relation to spiritual matters, where God is a necessary and vital corollary. This religious man is disappearing, according to Bonhoeffer, and so the church must ask, "How do we speak of God – without religion, i.e. without the temporally conditioned presuppositions of metaphysics, inwardness, and so on? How do we speak (or perhaps we cannot now even 'speak' as we used to) in a 'secular' way about 'God'?" Moreover, this metaphysics for the last nineteen hundred years, in Bonhoeffer's view, has led us to consider ourselves as "specially favored," as belonging to another reality other than the concrete world to which we belong. And, thus, there is a moral component to Bonhoeffer's criticisms, namely that this metaphysics distracts and takes us away from our neighbor who wholly belongs to this world with us.
In a subsequent letter to Bethge, written on the same day, Bonhoeffer continues with his reflections about a Christianity without religion, further clarifying what he has in mind. It is here that Bonhoeffer expresses his dissatisfaction with apologetic theology and faith, where God only appears as the cause or sufficient explanation for the unknown or inexplicable. As Bonhoeffer explains:
Religious people speak of God when human knowledge (perhaps simply because they are too lazy to think) has come to an end, or when human resources fail – in fact it is always the deus ex machina that they bring on to the scene, wither for the apparent solution of insoluble problems, or as strength in human failure – always, that is to say, exploiting human weakness or human boundaries.
The problem with this sort of religious faith is that the boundaries are ever decreasing as humanity advances in its knowledge of the world. This God of the gaps is a desperate attempt to "reserve some space for God," even as the gaps continue to close. But more importantly for Bonhoeffer, it places God on the boundaries of life, in the ignorance or in the weaknesses of our fragile life. This is even true of those existentialist theologies that have acknowledged the failure of "the God of the gaps" approach.
How did a young man with no apparent power become a hero of the faith? A new biography explains.
Image: Mike Benny
Dietrich Bonhoeffer has always been one of my great heroes of the faith. Such appreciation, of course, hardly makes me distinct. Bonhoeffer, the German pastor-theologian who opposed the Nazis and was executed in a concentration camp, is passionately admired by millions of Christians.
One could even compare him to Athanasius, the defender of Christ's divinity whose brave stance also drew state persecution. The fourth-century bishop's unflinching willingness to defy even emperors and their armies was honored with the title "Athanasius contra mundum" (against the world).
Charles Marsh's welcome biography, Strange Glory: A Life of Dietrich Bonhoeffer (Knopf), paints a painstaking portrait of a faithful disciple every bit as resolute against Aryanism as Athanasius was against Arians. Marsh's exquisite eye for detail reveals the sheer unlikelihood of Bonhoeffer's emergence as the boldest opponent of efforts to Nazify the German church.
Athanasius was bishop of Alexandria, the most powerful ecclesiastical figure in the Eastern empire. He wielded so much influence that emperors were afraid of opposing him too forcefully, lest they provoke a popular uprising.
But what power did Bonhoeffer wield in 1933? He was 27 years old, financially dependent on his parents, and virtually bereft of experience in the working world. His sole professional appointment was an unpaid, non-tenure-track position as a voluntary lecturer. Adjunct professors don't normally stand athwart emperors.
Yet Bonhoeffer did. Within weeks of Adolf Hitler's rise to power, Bonhoeffer declared in public that the Führer was offering a false path to salvation—and, in private, that Hitler was an antichrist. When the Nazis called for ethnically Jewish Christians to be expelled from the churches, he alone insisted that the gospel was at stake. (Initially even Karl Barth, like other anti-Nazi dissenters who founded the Confessing Church, claimed that this was merely a question of church order, not a theological issue.) Marsh, director of the Project on Lived Theology at the University of Virginia, makes a convincing case that by 1933, Bonhoeffer was the most radical and outspoken opponent of Nazi church policy.
Quirky Humanity
I have read numerous books on Bonhoeffer. I have also seen documentaries and dramatizations and visited commemorative sites in Germany. For me, one of Marsh's greatest contributions is putting on display the quirky humanity of his subject. If you are used to accounts that emphasize the mythic Bonhoeffer of faith, this one will help you grapple with the eccentric Bonhoeffer of history.
To take a trivial example, Bonhoeffer was endearingly preoccupied with dressing well. You could illustrate almost every momentous turning point in his life with sartorial commentary. When he takes a pastoral internship in Spain, he bombards the senior minister with written inquiries regarding the proper formal wear for dinner parties. The poor, overworked man eventually remarked sarcastically that the new intern should bring his preaching robe.
A good post on Bonhoeffer and preaching…
Rick and Linda Reed
If you aren't familiar with the story of Detrich Bonhoffer, you should change that.
Bonhoffer's 
example of standing for Christ under the Nazi regime will inspire fresh courage in you (I'd recommend Eric Metaxas' book: Bonhoffer: Pastor, Martyr, Prophet, Spy).
A lesser-known part of Bonhoffer's ministry centers on the two years he headed up an underground seminary in Finkenwalde (1935-1937). During these years he trained future pastors—preparing them for ministry in a turbulent, hostile society.
Some of his lectures from Finkenwalde are preserved in Volume 14 of The Detrich Bonhoffer Works. I found his lecture on preaching to be fascinating. While I differ with some of his views (for example, he dismissed the need for sermon introductions, conclusions or applications), I'm convinced Bonhoffer has much pastoral and homiletical wisdom to pass on to all who preach or teach God's Word:
Here are a few of his insights that I…
View original post 351 more words
Coming to terms with the genocidal century just past, especially the unvarnished evil of Nazi Germany, has prompted theologians and philosophers to adjust and recalibrate much of what they thought they knew. Writers as diverse as Reinhold Niebuhr, John Pawlikowski, Richard Rubenstein and Elie Wiesel — some more successfully than others — have all struggled to reconcile the existence of the divine with unspeakable atrocities, many of them carried out in the name of God.
Few theologians witnessed the juggernaut of Nazi depravity at closer range than Dietrich Bonhoeffer. In "Strange Glory," Charles Marsh, a professor of religious studies at the University of Virginia, renders Bonhoeffer's life and thought in exquisite detail and with sympathetic understanding, and in the course of more than 500 pages, we see Bonhoeffer's transformation from pampered scion and theological dilettante to energetic churchman and Christian martyr, all against the backdrop of cataclysmic changes in Germany.
Born the sixth of eight children in Breslau, Prussia, in 1906 to a psychiatrist and his wife, Bonhoeffer grew up in a privileged environment but one that was not especially religious. When Dietrich announced at age 13 his intention to become a theologian, his siblings questioned and even belittled his choice, arguing that the church was hopelessly irrelevant. "In that case," the undeterred teenager replied, "I shall reform it!"
After his family moved to Berlin, Bonhoeffer attended the Grunewald Gymnasium, graduating at the precocious age of 17, and in 1923 settled in for a year of study at Tübingen University, while the Weimar Republic continued its downward economic spiral. Insulated by his family's wealth, Bonhoeffer barely noticed. The following year, he set off on an aesthetic summer in Italy. Whereas Martin Luther had been repulsed by the opulence and corruption he witnessed on his visit to Rome four centuries earlier, Bonhoeffer was rather enchanted with the Eternal City and even, in Marsh's telling, lured by the "beauty, exuberance and grandeur" of Roman Catholicism.
Bonhoeffer's theological training began in earnest under the tutelage of Karl Holl, Reinhold Seeberg and Adolf von Harnack at Friedrich Wilhelms University in 1924. These were tempestuous times, not only politically but theologically. Although the eminent theologian Karl Barth had also studied with Harnack, he rejected what he saw as Harnack's enervated liberalism, tethered as it was to nationalism and reduced to social utility. Barth sought a fresh understanding of divine transcendence.
Bonhoeffer was entranced, and in ensuing years he would seek to embellish Barth's insights by emphasizing the ethical and communal ramifications of doctrine, insisting that the Christian Gospel unfolds most authentically within community, "not through individual social or ethical experience." Bonhoeffer was searching, Marsh writes, "for a more embodied, vital and dynamic Protestantism." The danger in Bonhoeffer's ideas, as Marsh acknowledges, is that his notion of the kingdom of God, in the context of rising nationalism, could be commandeered in the service of Germany, especially when the German theological establishment "presumed the providential blessings of the warrior God."
Bonhoeffer's brief stint as an assistant pastor to the German Lutheran congregation in Barcelona provided a respite from the growing crisis in Germany and also exposed him to those less fortunate (although he continued to live comfortably). Even more formative was his year in the United States for postgraduate study in 1930. Although he was underwhelmed by his courses at Union Theological Seminary — and found that among his fellow students everyone "just blabs away so frightfully" — he responded to the Gospel he heard at Harlem's Abyssinian Baptist Church, where he became a pastoral assistant. And a road and rail trip through the South and into Mexico allowed him to see firsthand the effects of poverty and racism. Bonhoeffer came to admire the social conscience of Union students, although he found no more sustenance in the preaching of liberal Protestants in the United States than he had in Germany. "The sermon has been reduced to parenthetical church remarks about newspaper events," he lamented.
Back in Berlin in 1931, Bonhoeffer continued his engagement with the poor in parish work, but the Lutheran church in Germany was quickly capitulating to Hitler's regime. Nazi banners ornamented the churches; one minister declared, "Christ has come to us through Adolf Hitler." Bonhoeffer's initial protest centered on the so-called Aryan paragraph, passed by the Reichstag on April 7, 1933. It mandated the removal of all Jews, even baptized Jews, from civil service, which included the churches.
The protests were unavailing. As a leader of what would become the Confessing Church, Bonhoeffer organized a school for dissident seminarians at Finkenwalde, near the Baltic Sea. Until it was closed down by the Gestapo in 1937, Finkenwalde immersed Bonhoeffer in Christian community, a place where, in his words, "the pure doctrine, the Sermon on the Mount, and worship are taken seriously." It was also where Bonhoeffer developed a lifelong, homoerotic relationship with a student, Eberhard Bethge, although Marsh insists it was chaste.
Marsh is a bit less persuasive in making the case that Bonhoeffer in no way cooperated with the Nazi regime. An avowed pacifist, Bonhoeffer secured an appointment with German military intelligence, which allowed him remarkable freedom to travel both in and out of Germany. His complicity in a plot to assassinate Hitler, however, sealed his fate, although his principal involvement lay in providing moral justification for tyrannicide.