You are currently browsing the category archive for the 'Books' category.
He (Bonhoeffer) was a loner. His Tübingen friends were more interested in seeing him than he was in seeing them. It was hard for any group of people to live up the standards upheld by the home on Wangenheimstrasse. Bonhoeffer himself admitted that newcomers to his home were put under the microscope. With background, he sometimes gave the impression of being proud and standoffish. 
~ Eberhard Bethge, Dietrich Bonhoeffer: A Biography (Revised Edition); Chapter Two: Student Years: 1923-1927, 66.
In May of this year Ibram X. Kendi, director of the Antiracist Research and Policy Center at American University, published "An Antiracist Reading List" in the New York Times. His list popped my bubble of self-perceived, well-read, wokeness given that, to date, I've read one (yes, one) of the books on his list. I plan to correct that in the months ahead. His list, however, inspired me to come up with a list of my own. Not an antiracist reading list (I am not qualified to curate such a resource), but rather a books-that-inspire-me-to-be-better list.
"Life Together" by Dietrich Bonhoeffer. It takes brilliance and spiritual maturity to pack so much profound wisdom into so few pages. My copy dons various colors of highlighter and pen, revealing the many times I've returned to this book for a booster shot of biblically-shaped inspiration for not only my call to ministry but my call to human decency.
"The Color of Law: A Forgotten History of How Our Government Segregated America" by Richard Rothstein. Rothstein details policy after government policy that continues to shape our country, oppress people of color and render racial equity impossible. Every white person in America needs to read this book. The sin I must confess is that of my surprise. My African American siblings know all too well the reality and scourge of these long-standing laws.
"Dreaming America: Voices of Undocumented Youth in Maximum-Security Detention" edited by Seth Michelson. Read these poems and weep. Heart-wrenching and yet relentlessly hopeful, the words of these young people whose lives overflow with hardship humble and convict me. Christians should be flooding the halls of power and demanding better for the least of these languishing behind locked gates and prison bars.
"The Junkyard Wonders" by Patricia Polacco. This beautifully written and illustrated children's book speaks to young and old alike. Children with various disabilities are relegated to the classroom known as the "junkyard" only to be met there by a teacher who sees their value, giftedness and possibilities. Polacco based this book on her own childhood experience. Everything she writes unveils the glorious that lives within the junkyards of our world.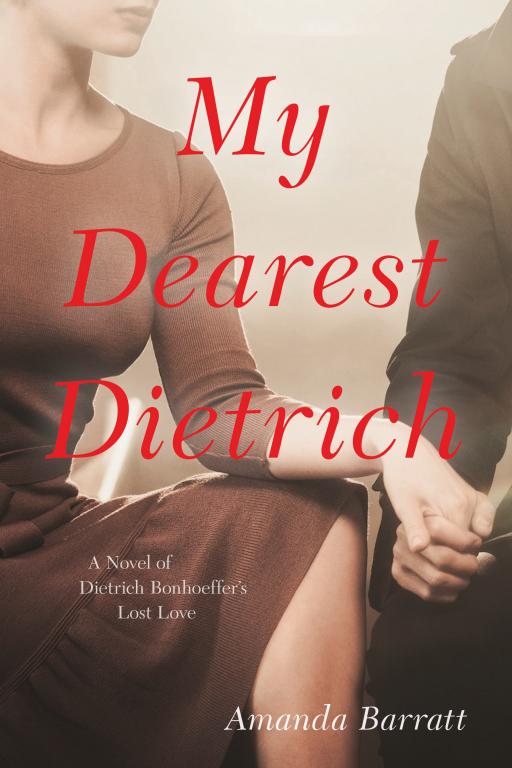 Did you know that Dietrich Bonhoeffer, the famous pastor martyred during World War II, planned to marry before he was captured and executed? Only after reading Eric Metaxas's biography of the World War II German pastor did I learn that. In her upcoming novel, Amanda Barrett explores what might have happened between Dietrich and his fiancée, Maria von Wedemeyer. She writes it as historical fiction, based on a true story but fills in gaps with literary license, what-ifs, and maybes. It looks fascinating.
I've invited her into this space to share some of what she learned during her research and writing of My Dearest Dietrich: A Novel of Dietrich Bonhoeffer's Lost Love. 
---
April 9, 1945.
It's early morning. For the guards at Flossenbürg Concentration Camp, it's a routine day, beginning with a routine task—preparing six prisoners for execution. Their crime? Participation in a conspiracy whose aim was the assassination of Adolf Hitler.
During his last days in school his family noticed how much he was looking forward to the study of theology. If he had any doubts about his calling, he did not mention them. He was attracted by the prospect of grappling with the as yet unexplored subject. He was not yet driven by any love of the church or an articulated theological system of beliefs, and certainly by a discovery of the Scriptures and their exegesis. His interest in the discipline of theology was still much more philosophical than religious.
~ Eberhard Bethge, Dietrich Bonhoeffer: A Biography (Revised Edition); Chapter 1: Childhood and Youth: 1906-1923, 44.
At the beginning of his eighth school year, he casually announced that he had chosen Hebrew as his elective, and the die was cast. He was fifteen years old at the time. In March 1921, when he and Klaus were invited to a party at their friends the Gilberts, he declined because Lent had begun. This made did an impression on his friends, who had not previously come across such a reason for refusing an invitation. He now sometimes went to church, occasionally accompanied by his mother.
~ Eberhard Bethge, Dietrich Bonhoeffer: A Biography (Revised Edition); Chapter 1: Childhood and Youth: 1906-1923, 37.
Bonhoeffer decided to be a minister and theologian when he was a boy, and he never seems to have wavered in this ambition. At home he made no bones about it. Even when his brothers and sisters refused to take him seriously, he did not let it disconcert him. When he was about fourteen, for instance, they tried to convince him that he was taking the path of least resistance, and the church to which he proposed to devote himself was a poor, feeble, boring, petty, and bourgeois institution, but he confidently replied: "In that case I shall reform it!" 
~ Eberhard Bethge, Dietrich Bonhoeffer: A Biography (Revised Edition); Chapter 1: Childhood and Youth: 1906-1923, 36.
Although the Bonhoeffers could not be described as churchgoers, it would be wrong to describe them as non-Christians. The opposite was true, at the very least for Dietrich's mother. When she was young she had spent months in Herrnhut, and had adopted the ideals of the Moravian Brethren with youthful enthusiasm. After her marriage, however, these things remained low below the surface. She would never have tolerated an oppressive devout attitude. 
~ Eberhard Bethge, Dietrich Bonhoeffer: A Biography (Revised Edition); Chapter 1: Childhood and Youth: 1906-1923, 35.
Popular and prolific Bible teacher Warren Wiersbe died on the evening of May 2, 2019, at the age of 89.
Warren Wendel Wiersbe was born on May 16, 1929, the third child of Fred and Gladys Anna (Forsberg) Wiersbe, in East Chicago, Indiana (25 miles southeast of Chicago). At that time, the steel town of East Chicago was the most industrialized city in the United States. His mother was of Swedish descent, and his father was of German descent. He was a lactose-intolerant milkman.
Wiersbe traced his conversion to May 1945 during high school sophomore. Just before his sixteenth birthday he attended a Youth for Christ rally and heard the ministry's first full-time evangelist, 26-year-old Billy Graham. Though he was raised in the church and had attended Vacation Bible School, he trusted in Christ for the first time that night in response to Graham's altar call.
A few years later, the president of Youth for Christ, Torrey Johnson, asked him what he wanted to do with his life. Wiersbe responded, "I wanted to go to school and get some Bible training and then preach the gospel." Johnson responded: "Young man, find the one thing you do that God blesses, and stick with it! Around that time, Wiersbe later wrote, "I had developed an insatiable appetite for the Word of God, and I wanted to study and understand the Bible more than anything else in all the world." He began acquiring and using his first books: the Scofield Reference Bible, Strong's Concordance, Cruden's Concordance, Smith's Bible Dictionary, The Christian Worker's Commentary by James M. Gray, Notes on the Pentateuch by C. H. MacIntosh, using tools from a dispensational perspective.
After attending Indiana University in Indianapolis for a year and then Roosevelt University in Chicago, Wiersbe enrolled at Northern Baptist Theological Seminary in Lombard, a northwest suburb of Chicago. He entered a five-year program that enabled him to get a college degree and seminary degree at the same time. As a seminary student, he was ordained in 1951 and began serving as pastor of Central Baptist Church, a blue-collar, 150-member neighborhood church in East Chicago. In June of 1953, he received his bachelor of divinity degree from Northern and married Betty Warren, whom he had met at Northern. (She was a librarian, and he practically lived in the library.) Together they had four children—two boys (David and Robert) and two girls (Carolyn and Judy). He once said of marriage: "Getting a wife is something like being saved. You make a decision and then you discover you've been chosen. And this is what happened. We just knew we were made for each other."
In 1957, he left his pastorate at Central to become Director of the Literature Division for Youth for Christ International.
From 1961 to 1971 he pastored Calvary Baptist Church of Covington, Kentucky, just across the river from Cincinnati, Ohio. A local Cincinnati radio stations broadcast his Sunday sermons as the "Calvary Hour." His Sunday During his tenure the church grew from a capacity of 800 people to one that could hold 2,000 worshipers.
In 1971 he received a call from the famed Moody Memorial Church in Chicago, succeeding George Sweeting, who became the president of Moody Bible Institute. Wiersbe's sermons were featured on Moody's "Songs in the Night" national radio program. Wiersbe served at Moody from 1971 to 1978, during which time he wrote for Moody Monthly, penning the "Insight for the Pastor" column, where he offered not only practical theology counsel but also wrote biographical sketches of noted figures in church history, which formed the basis for his books Listening to the Giants (1976) and Walking with the Giants (1980). Each of the entries included bibliographic information for further reading—a feature that encouraged and guided many pastors to explore primary sources for themselves. Phil Johnson, Executive Director of Grace to You, writes: "The backbone of my library today consists of books he introduced me to. He sparked my interest in Lloyd-Jones, the Puritans, and preaching—among other things."
During his time in Chicago, Wiersbe also served as board chairman for the Slavic Gospel Association.
The staff at Moody Church quickly discovered Wiersbe's sense of humor. He recalled:
God has a sense of humor. If you don't believe that, go to the shopping mall, sit there and look at the people. It will convince you that God has a sense of humor. Humor is based on contradiction, seeing the other side of a situation. In one of the churches I pastored, we would have our staff meeting on Monday morning. We'd spend the first twenty minutes laughing over what happened the day before. Because people are people and situations are situations. I remember the Sunday morning at Moody Church when John the Baptist came in. This guy came in wearing a white robe and carrying a big pole and he said he was John the Baptist. We knew he was a fraud because he had a head.
Beginning in 1978, Wiersbe began teaching practical theology classes at Trinity Evangelical Divinity School and authored materials for a DMin course on "Imagination and the Quest for Biblical Preaching," used at both Trinity and also Dallas.
In 1980 the Wiersbes moved to Lincoln, Nebraska, where he became Bible teacher at Back to the Bible Radio Ministries. In the course of the move, Mrs. Wiersbe told the real estate agent, "We are looking for a library with a house attached." Their house would eventually have the entire basement devoted to Warren's collection of more than 10,000 books. During that time he wrote a bi-weekly column for Christianity Today. From 1984 to 1990 he served as general director of Back to the Bible.