You are currently browsing the category archive for the 'Conspiracy and Imprisonment' category.
Dr. Jim Garlow has traveled the world imparting to global leaders the powerful truth that God's Word provides instructions for every area of life, including government.
In a recent interview with My Faith Votes, Dr. Jim Garlow, Founder and CEO of Well Versed, provided some great takeaways for us to bring biblical change to our spheres of influence.
1. Is America headed in the right direction?
"According to a Barna study from 2013, 90% of pastors acknowledge that the Bible speaks to the cultural, political, and social issues of the day. But ask those same pastors if they have or would speak on those issues, 90% said no. Therein lies the problem.
"It's really up to the church if the nation heads in the right direction. The problem is not the progressives and the liberals, it's not the baby killers and it's not the LGBTQ, the real problem is the pastors of America and the churches of America — will they rise to the occasion? So, I'm answering your question with an 'if.' That's what will determine whether or not this nation can be saved or not."
2. When you look at the culture and assess where things are headed, what concerns you the most?
"The absence of the understanding of the word of God and the lack of capacity to apply it. 92% of the people in the pew do not have a biblical worldview. What worldview do they have then? They have a secular worldview. If you go to millennials, you are down to only 4% having a biblical worldview.
"Those are really jolting numbers. Everyone is responsible to study the word and become a careful steward of the word, but where is the primary source of the word? It should be from the pulpit, from the church."
3. We've come out of a hyper election season with a record number of dollars spent and record turnout. How can Christians continue to take bold steps to change culture?
"Number one, care. Care about the nation. Care about what's happening in the community. We operate under this myth that the way things are are the way things are going to stay. That is not true.
"Cultures come and cultures go. Nations come and nations go. All the great nations that once existed never thought they would be done, but they ended, every one of them. America is not going to last forever. And we can bring it to a painstaking close by simply defaulting and not showing up for the game.
"For example, the reason we know the stories of Shadrach, Meshach, and Abednego? They were bold!
"The reason we know the story of Dietrich Bonhoeffer? He was bold! Everybody likes to preach about him, it's time to start acting like him. April 9, 1945, Bonhoeffer was stripped of his clothes in the German cold air and hung by a piano wire — killed. Why do we remember Dietrich Bonhoeffer? Was it because he had the largest church? Was the most popular guy? No. Wrote a bestseller? No. Had a big radio and TV ministry? No. We remember him because he stood for truth.
"On April 5, 1943, when Bonhoeffer called (brother-in-law) Hans von) Dohnanyi's home, a strange voice answered the phone. Bonhoeffer hung up. He then knew that the Gestapo had finally caught up with them. They were searching Dohnanyi's house right that very minute. His parent's house would be next.
Calmy he went next door, where his sister Ursula lived. He told her the Gestapo would soon arrive and arrest him.
She made him a hearty lunch.
It was the last home-cooked meal he would ever have!"
In the midst of Nazi resistance, this Christian martyr offered three models for the season of waiting…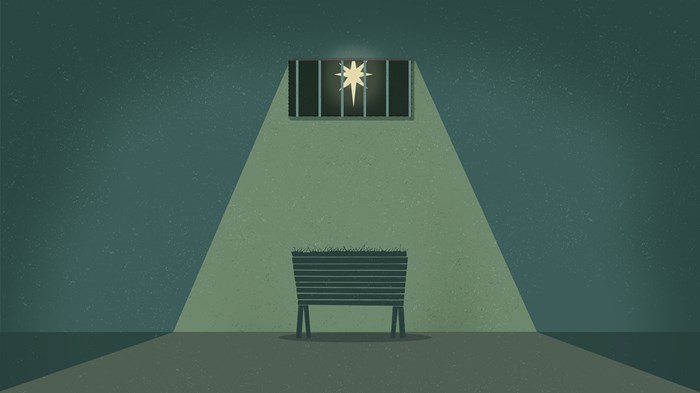 On November 21, 1943, Dietrich Bonhoeffer wrote a letter from Tegel Prison. "A prison cell like this is a good analogy for Advent," he said. "One waits, hopes, does this or that—ultimately negligible things—the door is locked and can only be opened from the outside."
The comparison between Advent and a prison cell may seem strange. It evokes powerlessness, perhaps even hopelessness. However, it is this particular type of waiting that Bonhoeffer believes best prepares us for Christ's coming.
Although a Nazi prison gave him this metaphor, the sermons he wrote during his time of active ministry also present a similar vision of Advent waiting. In these sermons, Bonhoeffer sees the season before Christmas as a sharpened liturgical expression of the tension that informs our entire lives as Christians. Celebrating it prepares us to live as people who have made a radical break with the present world of sin and death and are also preparing for the redeemed future that God has already, in one sense, accomplished. Through Advent, we learn how to live in these two concurrent realities: We have already been delivered, and yet our deliverance is still to come.
Bonhoeffer's Christmas and Advent sermons highlight three figures who exemplify life amid this tension and, by their example, might guide us through this season. Learning how to wait from these figures will not be warm and cozy but deep, dangerous, and shot through with sorrow and pain.
The first figure is Moses. This is not the triumphant Moses leading the people of Israel through a miraculously parted Red Sea or the lawgiver Moses carrying the stone tablets down the mountainside. Rather, the Advent Moses is the one found in Deuteronomy 32:48–52. Moses knows that God's promise will be fulfilled, but he also knows that the promise will not be fulfilled in his lifetime. Instead, he will die on Mount Nebo, gazing across the river into the land. This Moses seems at first like the very antithesis of Advent, since he is the one for whom the promise is never fulfilled.
However, Bonhoeffer finds in Moses' experience an expression of our own Advent waiting. Just like Moses, we know that the promise has been fulfilled—Jesus has come—but not yet completely. Through Moses' punishment—his death before entering the Promised Land—we are also reminded that Advent is the season for death, judgment, and repentance. In a reversal of the world's order, we pass from death into birth and new life. This awareness of our own death and judgment is crucial for us to understand that we only enter the Promised Land due to God's victory, not our own. As Bonhoeffer puts it, "God is with us and we are no longer homeless. A piece of the eternal home is grafted onto to us."
The second figure is Joseph

By M.T. Anderson; Oct. 5, 2018
For a man accursed by history, Adolf Hitler led a grimly charmed life. He survived several well-planned assassination attempts through sheer luck. The theologian Dietrich Bonhoeffer, a double agent claiming to spy for Hitler's Reich, was actually involved in the resistance movement that planned a few of these plots. John Hendrix's graphic biography, THE FAITHFUL SPY: Dietrich Bonhoeffer and the Plot to Kill Hitler (Amulet, 176 pp., $16.99; ages 10 and up), intertwines two stories: the insidious rise of Hitler with his creed of hatred and Bonhoeffer's development as an ethical thinker who believed that radical action was necessary, but that killing was a sin. Hendrix writes, "the conspirators needed to find a place where God would forgive them for plotting an assassination."
For young readers, one could easily play the near-miss attempts to kill Hitler as a straightforward thriller. The plots involve deception, gut-wrenching timing and concealed explosives: a bomb in a gift package, a rigged docent conducting a tour of captured Russian weaponry and an explosive briefcase spirited into the heart of Hitler's fortress, the Wolfsschanze. But Hendrix makes the bold and surprising decision to tell it as a tale of faith. He records Bonhoeffer's powerful experiences, for example, at the Abyssinian Baptist Church in Harlem, where the preacher Adam Clayton Powell fulminates: "Obeying God means challenging injustice! You don't just think about God. … You act!" Some readers will be irked by the focus on God in historical nonfiction; others will be soothed by it. Certainly, Hendrix's implication that at Bonhoeffer's execution, he met his God is more emotionally powerful than strictly verifiable. In an author's note, Hendrix offers a passionate defense of presenting the story through the lens of Bonhoeffer's Christianity: "If we look for a motivation for his decisions outside his furious belief in God's certainty, we will miss the very lesson he offers. "
What will catch the reader's eye immediately is Hendrix's striking three-color art. The book is not a panel-by-panel graphic novel, but rather an inventive combination of text blocks and illustration. Each spread has its own ingenious design, shuttling between the literal and the allegorical: As the text talks about Hitler undermining the power of President Hindenburg and the Reichstag ("teetering like a German spruce"), the illustration shows the Führer literally hacking down the tree of state, a startled German imperial eagle taking flight.