You are currently browsing the category archive for the 'Costly Grace' category.
"He who would learn to serve must first learn to think little of himself…
Only he who lives by the forgiveness of his sin in Jesus Christ will rightly think little of himself. He will know that his own wisdom reached the end of its tether when Jesus forgave him… He will know that it is good for his own will to be broken in the encounter with his neighbour…
But not only my neighbour's will, but also his honor is more important than mine… The desire for one's own honor hinders faith. One who seeks his own honor is no longer seeking God and his neighbour. What does it matter if I suffer injustice? Would I not have deserved even worse punishment from God, if He had not dealt with me according to His mercy?"
~ Dietrich Bonhoeffer, Life Together
. . . Jesus who delivers us from the wrath to come. (1 Thessalonians 1:10)
Do you remember the time you were lost as a child, or slipping over a precipice, or about to drown? Then suddenly you were rescued. You held on for "dear life." You trembled for what you almost lost. You were happy. Oh, so happy, and thankful. And you trembled with joy.
That's the way I feel at the end of the year about my rescue from God's wrath. All day Christmas we had a fire in the fireplace. Sometimes the coals were so hot that when I stoked it my hand hurt. I pulled back and shuddered at the horrendous thought of the wrath of God against sin in hell. Oh, how unspeakably horrible that will be!
Christmas afternoon I visited a woman who had been burned over 87 percent of her body. She has been in the hospital since August. My heart broke for her. How wonderful it was to hold out hope to her from God's word for a new body in the age to come! But I came away not only thinking about her pain in this life, but also about the everlasting pain I have been saved from through Jesus.
Test my experience with me. Is this trembling joy a fitting way to end the year? Paul was glad that "Jesus . . . delivers us from the wrath to come" (1 Thessalonians 1:10). He warned that "for those who . . . do not obey the truth . . . there will be wrath and fury" (Romans 2:8). And "because of [sexual immorality, impurity, and covetousness] the wrath of God comes upon the sons of disobedience" (Ephesians 5:6).
Here at the end of the year, I am finishing my trek through the Bible and reading the last book, Revelation. It is a glorious prophecy of the triumph of God, and the everlasting joy of all who "take the water of life without price" (Revelation 22:17). No more tears, no more pain, no more depression, no more sorrow, no more death, no more sin (Revelation 21:4).
But oh, the horror of not repenting and not holding fast to the testimony of Jesus! The description of the wrath of God by the "apostle of love" (John) is terrifying. Those who spurn God's love will "drink the wine of God's wrath, poured full strength into the cup of his anger, and he will be tormented with fire and sulfur in the presence of the holy angels and in the presence of the Lamb. And the smoke of their torment goes up forever and ever, and they have no rest, day or night" (Revelation 14:10–11).
"And if anyone's name was not found written in the book of life, he was thrown into the lake of fire" (Revelation 20:15). Jesus will "tread the winepress of the fury of the wrath of God the Almighty" (Revelation 19:15). And blood will flow "from the winepress, as high as a horse's bridle, for 184 miles" (Revelation 14:20). Whatever that vision signifies, it is meant to communicate something unspeakably terrible.
I tremble with joy that I am saved!
In the midst of Nazi resistance, this Christian martyr offered three models for the season of waiting…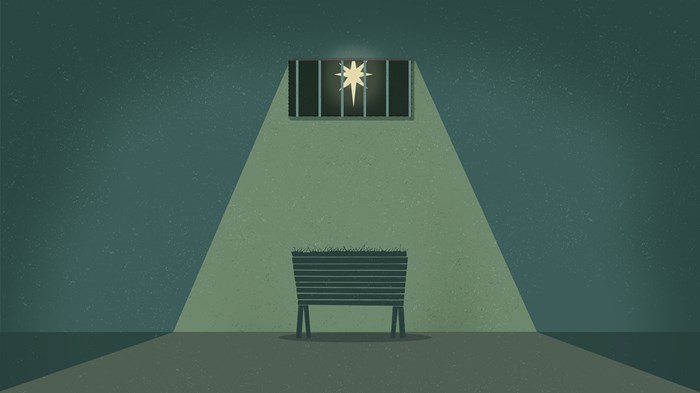 On November 21, 1943, Dietrich Bonhoeffer wrote a letter from Tegel Prison. "A prison cell like this is a good analogy for Advent," he said. "One waits, hopes, does this or that—ultimately negligible things—the door is locked and can only be opened from the outside."
The comparison between Advent and a prison cell may seem strange. It evokes powerlessness, perhaps even hopelessness. However, it is this particular type of waiting that Bonhoeffer believes best prepares us for Christ's coming.
Although a Nazi prison gave him this metaphor, the sermons he wrote during his time of active ministry also present a similar vision of Advent waiting. In these sermons, Bonhoeffer sees the season before Christmas as a sharpened liturgical expression of the tension that informs our entire lives as Christians. Celebrating it prepares us to live as people who have made a radical break with the present world of sin and death and are also preparing for the redeemed future that God has already, in one sense, accomplished. Through Advent, we learn how to live in these two concurrent realities: We have already been delivered, and yet our deliverance is still to come.
Bonhoeffer's Christmas and Advent sermons highlight three figures who exemplify life amid this tension and, by their example, might guide us through this season. Learning how to wait from these figures will not be warm and cozy but deep, dangerous, and shot through with sorrow and pain.
The first figure is Moses. This is not the triumphant Moses leading the people of Israel through a miraculously parted Red Sea or the lawgiver Moses carrying the stone tablets down the mountainside. Rather, the Advent Moses is the one found in Deuteronomy 32:48–52. Moses knows that God's promise will be fulfilled, but he also knows that the promise will not be fulfilled in his lifetime. Instead, he will die on Mount Nebo, gazing across the river into the land. This Moses seems at first like the very antithesis of Advent, since he is the one for whom the promise is never fulfilled.
However, Bonhoeffer finds in Moses' experience an expression of our own Advent waiting. Just like Moses, we know that the promise has been fulfilled—Jesus has come—but not yet completely. Through Moses' punishment—his death before entering the Promised Land—we are also reminded that Advent is the season for death, judgment, and repentance. In a reversal of the world's order, we pass from death into birth and new life. This awareness of our own death and judgment is crucial for us to understand that we only enter the Promised Land due to God's victory, not our own. As Bonhoeffer puts it, "God is with us and we are no longer homeless. A piece of the eternal home is grafted onto to us."
The second figure is Joseph
STRENGTH FOR TODAY
–
Dr. Harold J. Sala
(The Philippine Star) – October 21, 2018
"If anyone wishes to come after Me, he must deny himself, and take up his cross daily, and follow Me." – Luke 9:23, nasb
It was Scotch-taped to the cash register, a light green check with a happy face smiling at you. On the check in bold letters was the catchy slogan, "Smile, God Loves You!" But in much larger red letters was the rubber-stamped message that had come from the local bank, marked, "Insufficient Funds." It was one of a half-dozen bad checks taped to the register in a Christian bookstore, and what struck me as being so incongruous was that all bore Christian motifs – slogans, Icthus or fish symbols and catchy phrases.
How deep does Christian commitment go, anyway? According to the latest statistics, most people believe in God. Large numbers of them claim to have had a born-again experience. Yet families are in deep trouble today. In the past generation we have had a paradigm shift when it comes to cultural values. What was forbidden a generation ago is now tolerated, if not embraced. Sociologists are sitting with their stopwatches recording the disintegration of the family unit.
Lacking today is the clarion call to discipleship, to follow Christ no matter where He directs. "When Christ calls a man," wrote Dietrich Bonhoeffer a generation ago, "he calls him to come and die." By contrast, largely the call heard today is to overcome your fears, conquer your guilt, become successful and enjoy life. The theme of putting self to the stake has never been popular, but never has it been more needed.

By M.T. Anderson; Oct. 5, 2018
For a man accursed by history, Adolf Hitler led a grimly charmed life. He survived several well-planned assassination attempts through sheer luck. The theologian Dietrich Bonhoeffer, a double agent claiming to spy for Hitler's Reich, was actually involved in the resistance movement that planned a few of these plots. John Hendrix's graphic biography, THE FAITHFUL SPY: Dietrich Bonhoeffer and the Plot to Kill Hitler (Amulet, 176 pp., $16.99; ages 10 and up), intertwines two stories: the insidious rise of Hitler with his creed of hatred and Bonhoeffer's development as an ethical thinker who believed that radical action was necessary, but that killing was a sin. Hendrix writes, "the conspirators needed to find a place where God would forgive them for plotting an assassination."
For young readers, one could easily play the near-miss attempts to kill Hitler as a straightforward thriller. The plots involve deception, gut-wrenching timing and concealed explosives: a bomb in a gift package, a rigged docent conducting a tour of captured Russian weaponry and an explosive briefcase spirited into the heart of Hitler's fortress, the Wolfsschanze. But Hendrix makes the bold and surprising decision to tell it as a tale of faith. He records Bonhoeffer's powerful experiences, for example, at the Abyssinian Baptist Church in Harlem, where the preacher Adam Clayton Powell fulminates: "Obeying God means challenging injustice! You don't just think about God. … You act!" Some readers will be irked by the focus on God in historical nonfiction; others will be soothed by it. Certainly, Hendrix's implication that at Bonhoeffer's execution, he met his God is more emotionally powerful than strictly verifiable. In an author's note, Hendrix offers a passionate defense of presenting the story through the lens of Bonhoeffer's Christianity: "If we look for a motivation for his decisions outside his furious belief in God's certainty, we will miss the very lesson he offers. "
What will catch the reader's eye immediately is Hendrix's striking three-color art. The book is not a panel-by-panel graphic novel, but rather an inventive combination of text blocks and illustration. Each spread has its own ingenious design, shuttling between the literal and the allegorical: As the text talks about Hitler undermining the power of President Hindenburg and the Reichstag ("teetering like a German spruce"), the illustration shows the Führer literally hacking down the tree of state, a startled German imperial eagle taking flight.
"We are not to simply bandage the wounds of victims beneath the wheels of injustice, we are to drive a spoke into the wheel itself."
"Cheap grace is the preaching of forgiveness without requiring repentance, baptism without church discipline, Communion without confession, absolution without personal confession. Cheap grace is grace without discipleship, grace without the cross, grace without Jesus Christ."