You are currently browsing the category archive for the 'Discipleship' category.
The ministry of listening…
The first service that one owes to others in the fellowship consists in listening to them. Just as love to God begins with listening to His Word, so the beginning of love for the brethren is learning to listen to them… Listening can be a greater service than speaking…
One who cannot listen long and patiently will presently be talking beside the point and be never really speaking to others… Anyone who thinks his time is too valuable to spend keeping quiet will eventually have no time for God and his brother, but only for himself and for his own follies…
We should listen with the ears of God that we may speak the Word of God.
~ Dietrich Bonhoeffer, Life Together, 97-99.
This article is part of the 10 Things You Should Know series.
1. His ministry began in the year of his conversion as a young man.
Spurgeon was raised in a Christian home, but was converted in 1850 at fifteen years old. Caught in a snowstorm, he took refuge in a small Primitive Methodist chapel in Colchester. After about ten minutes, with only twelve to fifteen people present, the preacher fixed his eyes on Spurgeon and spoke to him directly:
"Young man, you look very miserable." Then, lifting up his hands, he shouted, "Young man, look to Jesus Christ. Look! Look! Look! You have nothin' to do but to look and live." Spurgeon later wrote, 'Oh! I looked until I could almost have looked my eyes away.' 1
The 'Prince of Preachers' was tricked into preaching his first sermon that same year. An older man had asked Spurgeon to go to the little village of Teversham the next evening, "for a young man was to preach there who was not much used to services, and very likely would be glad of company." It was only the next day that he realized the 'young man' was himself.2
2. He was a man of hard work and huge influence.
He went on to preach in person up to thirteen times per week, gathered the largest church of his day, and could make himself heard in a crowd of twenty-three thousand people (without amplification). In print he published some eighteen million words, selling over fifty-six million copies of his sermons in nearly forty languages in his own lifetime.
3. He was self-consciously a theological and doctrinal preacher.
While Spurgeon is not known as a theologian as such, he was nevertheless a deeply theological thinker and his sermons were rich in doctrine, and dripping with knowledge of historical theology – especially the Puritans.
Some preachers seem to be afraid lest their sermons should be too rich in doctrine, and so injure the spiritual digestions of their hearers. The fear is superfluous. . . . This is not a theological age, and therefore it rails at sound doctrinal teaching, on the principle that ignorance despises wisdom. The glorious giants of the Puritan age fed on something better than the whipped creams and pastries which are now so much in vogue.3
4. He was pre-eminently a theologian and preacher of the cross.
Spurgeon's was a cross-centered and cross-shaped theology, for the cross was "the hour" of Christ's glorification (John 12:23–24), the place where Christ was and is exalted, the only message able to overturn the hearts of men and women otherwise enslaved to sin. Along with Isaiah 45:22, one of Spurgeon's favorite Bible verses was John 12:32: "And I, when I am lifted up from the earth, will draw all people to myself."
He insisted on celebrating the Lord's Supper every Sunday, and often broke bread during the week as well. He believed his preaching of the crucified Christ was the only reason why such great crowds were drawn to his church for so many years.
Who can resist his charms? One look of his eyes overpowers us. See with your heart those eyes when they are full of tears for perishing sinners, and you are a willing subject. One look at his blessed person subjected to scourging and spitting for our sakes will give us more idea of his crown rights than anything besides. Look into his pierced heart as it pours out its life-flood for us, and all disputes about his sovereignty are ended in our hearts. We own him Lord because we see how he loved.4
5. He aimed his ministry and preaching at new birth.
Regeneration was one of the "three Rs" (ruin, redemption, and regeneration) Spurgeon always sought to preach. And regeneration was something he always expected to see as he preached the gospel. A friend of his once came to him, depressed because for three months of ministry he had not seen a single conversion. Spurgeon slyly asked, "Do you expect the Lord to save souls every time you open your mouth?" Embarrassed, the man answered "Oh, no, sir!" "Then," Spurgeon replied, "that is just the reason why you have not had conversions: 'According to your faith be it unto you.'"5
Regeneration, he saw, is a work of pure grace—and those the Lord regenerates, he will indwell. And "with such an indweller we need not fear, but that this poor heart of ours will yet become perfect as God is perfect; and our nature through his indwelling shall rise into complete meetness for the inheritance of the saints in light."6
6. He knew how to enjoy life.
Spurgeon loved life and saw the creation as a blessing from God to be enjoyed. For tired ministers, he recommended:
A day's breathing of fresh air upon the hills, or a few hours' ramble in the beech woods' umbrageous calm,' which 'would sweep the cobwebs out of the brain of scores of our toiling ministers who are now but half alive. A mouthful of sea air, or a stiff walk in the wind's face, would not give grace to the soul, but it would yield oxygen to the body, which is next best.'7
He couldn't resist walking outside in thunderstorms ('I like to hear my Heavenly Father's voice in the thunder'), he is known for his cigar smoking, and he had a keen interest in botany. Like us all, Spurgeon was uniquely himself. Yet his big-heartedness and joy as he walked through his Father's creation displays exactly the sort of life that will always grow from the theology he believed.
"He who would learn to serve must first learn to think little of himself…
Only he who lives by the forgiveness of his sin in Jesus Christ will rightly think little of himself. He will know that his own wisdom reached the end of its tether when Jesus forgave him… He will know that it is good for his own will to be broken in the encounter with his neighbour…
But not only my neighbour's will, but also his honor is more important than mine… The desire for one's own honor hinders faith. One who seeks his own honor is no longer seeking God and his neighbour. What does it matter if I suffer injustice? Would I not have deserved even worse punishment from God, if He had not dealt with me according to His mercy?"
~ Dietrich Bonhoeffer, Life Together
"Let him who cannot be alone beware of community. He will only do harm to himself and to the community. Alone you stood before God when He called you; alone you had to answer that call; alone you had to struggle and pray; and alone you will die and give an account to God. You cannot escape from yourself; for God has singled you out. If you refuse to be alone, you are rejecting Christ's call to you, and you can have no part in the community of those who are called… Let him who is not in community beware of being alone. Into the community you were called–the call was not meant for you alone; in the community of the called you bear your cross, you struggle, you pray. You are not alone even in death, and on the Last Day you will be only one member of the great congregation of Jesus Christ. If you scorn the fellowship of the brethren, you reject the call of Jesus Christ."
~ Dietrich Bonhoeffer (1906-1945), Life Together
From Bryan–Most recent articles that link Dietrich Bonhoeffer and Donald Trump will use Bonhoeffer to criticize the President. The truth does need to be expressed by both the left and the right.
JANUARY 12, 2019
BY VANCEMORGAN

Dietrich Bonhoeffer is one of the figures we will be studying in "'Love Never Fails': Grace, Truth, and Freedom in the Nazi Era," an interdisciplinary colloquium that I will be teaching with a colleague from the history department this coming semester. The first thing I read when on retreat last week was a new translation of Bonhoeffer's "Ten Years After," an essay Bonhoeffer wrote for colleagues and friends in 1942, reflecting on various aspects of the past decade in Germany as he and others had, in various ways, resisted the rise and entrenchment of the Nazis. Less than year after writing this essay, Bonhoeffer was arrested by the Nazis for his involvement in a plot to assassinate Adolf Hitler, for which he was executed in 1945, just weeks before the end of World War Two. "Ten Years After" is comparable to Martin Luther King, Jr.'s "Letter from Birmingham Jail" as a document addressing the specific challenges of their times by speaking to greater issues, including the human capacity for decency, courage, and engagement in political culture that honors integrity and these values. How is one to think beyond self-interest and toward the common good in challenging times?
In "Ten Years After," Bonhoeffer observes how easily human beings are swayed and seduced by peer pressure and crowd behaviors. Although his context was Nazi Germany, his observations about what happens to human decency and courage when a political culture begins to disintegrate and a social atmosphere becomes toxic read as if they were written this morning. Bonhoeffer wrestles with what happens to good people, what to the soul, and to the human sense of morality and responsibility, when evil becomes so embedded in a political culture that it is part of the very fabric of daily life, and it becomes impossible for good people to remain untouched by it.
One of the most written about and often quoted portions of Bonhoeffer's essay is "On Stupidity," a stupidity that Bonhoeffer claims "is a more dangerous enemy of the good than malice." By "stupidity," Bonhoeffer does not mean low IQ or lack of intelligence; indeed, "there are human beings who are of remarkably agile intellect yet stupid, and others who are intellectually quite dull, yet anything but stupid." By "stupid," Bonhoeffer means something that contemporary Americans encounter every day, from the White House to the local coffee shop.
Against stupidity, we are defenseless. Neither protests nor the use of force accomplish anything here; reasons fall on deaf ears; facts that contradict one's prejudgment simply need not be believed—in such moments the stupid person even becomes critical—and when facts are irrefutable they are just pushed aside as inconsequential.
When President Donald Trump denies saying something that was recorded less than a month ago on television (at his own insistence), when Vice President Mike Pence and White House Press Secretary Sarah Sanders spout numbers that a brief session on Google shows to be blatantly false, stupidity is in the ascendant. When millions of citizens are uninterested in fact-checking lies or changing their minds in the face of new evidence, stupidity reigns. And as Bonhoeffer notes, we misjudge the situation when we dismiss such believing persons with condescending pejoratives—persons with PhD's and people with no formal education are equally susceptible to stupidity as Bonhoeffer defines it. How can this be?
According to Bonhoeffer, people either consciously choose to become stupid or allow it to happen because their defenses are down.The impression one gains is not so much that stupidity is a congenital defect but that, under certain circumstances, people are made stupid or that they allow this to happen to them . . . Every strong upsurge of power in the public sphere, be it of a political or a religious nature, infects a large part of humankind with stupidity . . . The power of the one needs the stupidity of the other.
In our current political climate, stupidity ranges across the spectrum from the most obsessed Trumpster to the most avid Berniebot. Whether in support of or in opposition to any particular agenda or political figure, stupidity always dehumanizes, replacing thought and deliberation with soundbites and memes. Bonhoeffer's diagnosis seventy-five years ago could have been written this morning.
One virtually feels that one is dealing not at all with him as a person, but with slogans, catchwords, and the like that have taken possession of him . . . Having thus become a mindless tool, the stupid person will also be capable of any evil and at the same time incapable of seeing that it is evil.
So, what is to be done? Bonhoeffer expresses his prescription for stupidity in religious terms: "The internal liberation of human beings to live the responsible life before God is the only genuine way to overcome stupidity." This is not a call for everyone to become a person of faith, however; from a prison cell a couple of years later, Bonhoeffer will write that God wants people of faith to live as if God does not exist. Bonhoeffer's call is for people to take responsibility for who and what they are, rather than turning this responsibility over to others in exchange for perceived power or solidarity.
. . . Jesus who delivers us from the wrath to come. (1 Thessalonians 1:10)
Do you remember the time you were lost as a child, or slipping over a precipice, or about to drown? Then suddenly you were rescued. You held on for "dear life." You trembled for what you almost lost. You were happy. Oh, so happy, and thankful. And you trembled with joy.
That's the way I feel at the end of the year about my rescue from God's wrath. All day Christmas we had a fire in the fireplace. Sometimes the coals were so hot that when I stoked it my hand hurt. I pulled back and shuddered at the horrendous thought of the wrath of God against sin in hell. Oh, how unspeakably horrible that will be!
Christmas afternoon I visited a woman who had been burned over 87 percent of her body. She has been in the hospital since August. My heart broke for her. How wonderful it was to hold out hope to her from God's word for a new body in the age to come! But I came away not only thinking about her pain in this life, but also about the everlasting pain I have been saved from through Jesus.
Test my experience with me. Is this trembling joy a fitting way to end the year? Paul was glad that "Jesus . . . delivers us from the wrath to come" (1 Thessalonians 1:10). He warned that "for those who . . . do not obey the truth . . . there will be wrath and fury" (Romans 2:8). And "because of [sexual immorality, impurity, and covetousness] the wrath of God comes upon the sons of disobedience" (Ephesians 5:6).
Here at the end of the year, I am finishing my trek through the Bible and reading the last book, Revelation. It is a glorious prophecy of the triumph of God, and the everlasting joy of all who "take the water of life without price" (Revelation 22:17). No more tears, no more pain, no more depression, no more sorrow, no more death, no more sin (Revelation 21:4).
But oh, the horror of not repenting and not holding fast to the testimony of Jesus! The description of the wrath of God by the "apostle of love" (John) is terrifying. Those who spurn God's love will "drink the wine of God's wrath, poured full strength into the cup of his anger, and he will be tormented with fire and sulfur in the presence of the holy angels and in the presence of the Lamb. And the smoke of their torment goes up forever and ever, and they have no rest, day or night" (Revelation 14:10–11).
"And if anyone's name was not found written in the book of life, he was thrown into the lake of fire" (Revelation 20:15). Jesus will "tread the winepress of the fury of the wrath of God the Almighty" (Revelation 19:15). And blood will flow "from the winepress, as high as a horse's bridle, for 184 miles" (Revelation 14:20). Whatever that vision signifies, it is meant to communicate something unspeakably terrible.
I tremble with joy that I am saved!
In the midst of Nazi resistance, this Christian martyr offered three models for the season of waiting…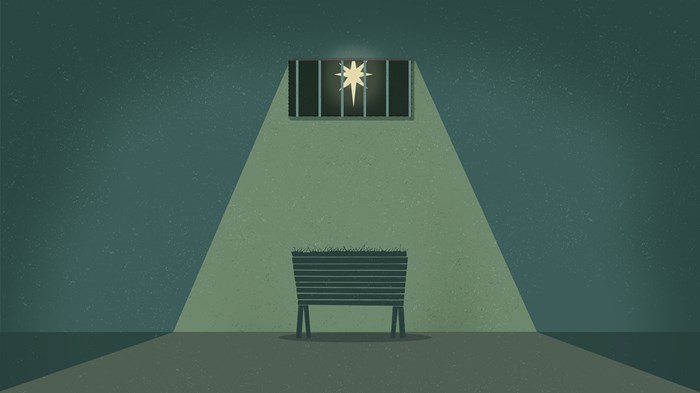 On November 21, 1943, Dietrich Bonhoeffer wrote a letter from Tegel Prison. "A prison cell like this is a good analogy for Advent," he said. "One waits, hopes, does this or that—ultimately negligible things—the door is locked and can only be opened from the outside."
The comparison between Advent and a prison cell may seem strange. It evokes powerlessness, perhaps even hopelessness. However, it is this particular type of waiting that Bonhoeffer believes best prepares us for Christ's coming.
Although a Nazi prison gave him this metaphor, the sermons he wrote during his time of active ministry also present a similar vision of Advent waiting. In these sermons, Bonhoeffer sees the season before Christmas as a sharpened liturgical expression of the tension that informs our entire lives as Christians. Celebrating it prepares us to live as people who have made a radical break with the present world of sin and death and are also preparing for the redeemed future that God has already, in one sense, accomplished. Through Advent, we learn how to live in these two concurrent realities: We have already been delivered, and yet our deliverance is still to come.
Bonhoeffer's Christmas and Advent sermons highlight three figures who exemplify life amid this tension and, by their example, might guide us through this season. Learning how to wait from these figures will not be warm and cozy but deep, dangerous, and shot through with sorrow and pain.
The first figure is Moses. This is not the triumphant Moses leading the people of Israel through a miraculously parted Red Sea or the lawgiver Moses carrying the stone tablets down the mountainside. Rather, the Advent Moses is the one found in Deuteronomy 32:48–52. Moses knows that God's promise will be fulfilled, but he also knows that the promise will not be fulfilled in his lifetime. Instead, he will die on Mount Nebo, gazing across the river into the land. This Moses seems at first like the very antithesis of Advent, since he is the one for whom the promise is never fulfilled.
However, Bonhoeffer finds in Moses' experience an expression of our own Advent waiting. Just like Moses, we know that the promise has been fulfilled—Jesus has come—but not yet completely. Through Moses' punishment—his death before entering the Promised Land—we are also reminded that Advent is the season for death, judgment, and repentance. In a reversal of the world's order, we pass from death into birth and new life. This awareness of our own death and judgment is crucial for us to understand that we only enter the Promised Land due to God's victory, not our own. As Bonhoeffer puts it, "God is with us and we are no longer homeless. A piece of the eternal home is grafted onto to us."
The second figure is Joseph
"He who loves community destroys community; he who loves the brethren builds community"
I have been a fan of Dietrich Bonhoeffer since I was a student at Bethel College in St. Paul, MN back in 1970s. Over the years, the person and works of Dietrich Bonhoeffer have been embraced by evangelicals, liberals, Jews and Catholics. He is also the champion of both the right and the left. He has been described as a "flamingly gay".
No matter the issue, people from both sides of the issue look to Bonhoeffer for wisdom and guidance. The issue may be same-sex marriage, gun control, abortion, immigration, politics and politicians.
If Dietrich Bonhoeffer lived today, let's say in America, what side would he take? Back in 2016, would he vote for Hillary or Trump? Voters for both candidates would build a case that Bonhoeffer would certainly see their point of view.
My thesis for my Doctor of Ministry degree focused on the impact of Dietrich Bonhoeffer on twenty-first century preachers, but I am far from being an expert on Bonhoeffer. But I did do enough research then and since then to say that Dietrich Bonhoeffer cannot be boxed in.
He was only 39 years old when he was hung. Imagine if he lived another thirty or forty years and was able to develop his ideas and theology further.
What side would he take? My take is this: Dietrich Bonhoeffer would teach us to pray, read the Bible and meditate on God's Word. He would also not to place our trust in people (like Presidents) but in God alone. He would tell us to love others who are vastly different than us. I think he would say that even though, we live is an age of outrage, Christians, are to be at their very best and represent Jesus.
Bryan