You are currently browsing the category archive for the 'Serving Jesus in the Severest of Trials' category.
I have been a fan of Dietrich Bonhoeffer since I was a student at Bethel College in St. Paul, MN back in 1970s. Over the years, the person and works of Dietrich Bonhoeffer have been embraced by evangelicals, liberals, Jews and Catholics. He is also the champion of both the right and the left. He has been described as a "flamingly gay".
No matter the issue, people from both sides of the issue look to Bonhoeffer for wisdom and guidance. The issue may be same-sex marriage, gun control, abortion, immigration, politics and politicians.
If Dietrich Bonhoeffer lived today, let's say in America, what side would he take? Back in 2016, would he vote for Hillary or Trump? Voters for both candidates would build a case that Bonhoeffer would certainly see their point of view.
My thesis for my Doctor of Ministry degree focused on the impact of Dietrich Bonhoeffer on twenty-first century preachers, but I am far from being an expert on Bonhoeffer. But I did do enough research then and since then to say that Dietrich Bonhoeffer cannot be boxed in.
He was only 39 years old when he was hung. Imagine if he lived another thirty or forty years and was able to develop his ideas and theology further.
What side would he take? My take is this: Dietrich Bonhoeffer would teach us to pray, read the Bible and meditate on God's Word. He would also not to place our trust in people (like Presidents) but in God alone. He would tell us to love others who are vastly different than us. I think he would say that even though, we live is an age of outrage, Christians, are to be at their very best and represent Jesus.
Bryan
Sadly, but predictably, finger-pointing abounds as Americans seek answers and assign blame in the wake of the slaughter of 11 worshipers at the Tree of Life synagogue in Pittsburgh, Pennsylvania, on Oct. 27. But the rise of anti-Semitism in our culture is undeniable. According to the Anti-Defamation League, anti-Semitic attacks increased by almost 60 percent from 2016 to 2017. The ADL also announced that the Pittsburgh massacre was the deadliest assault on a Jewish community in our nation's history.
While no single factor ever explains the sociological, psychological and spiritual factors which contribute to such evil, the American church should also do some soul searching. Have we (myself included) promulgated a shallow theology, at times confusing and distorting Christianity's relationship with Judaism?
When I was a boy, a small Baptist church nearby went through a noisy controversy when the Vacation Bible School leader hatched a plan to have an area rabbi visit with the VBS children. "What?!" screamed the deacons, "Exposing our precious children to heresy?" The plan was quickly abandoned, because, after all, they were a Christian church. Why would the branches want to learn anything about the root (Romans 11:16ff)?
The church's neglect of sound teaching is like failing to pay our bills. We are still required to pay, but now with interest and penalties compounding. One of the tragedies of history is that demagogues and other unstable people rarely grasp the church's strong, clear teachings. But they almost always gravitate to the doctrines we neglect or muddle.
Adolph Hitler was not the last tyrant to blame the Jews for Jesus' death. How well have we in the evangelical wing of Protestantism clarified that all of humanity crucified our Lord? A power-crazed Gentile government in league with Judaism's corrupt church – the execution of Jesus was truly an equal opportunity event.
"Bonhoeffer told his students, 'Only he who cries out for the Jews may sing Gregorian chants.'"
I'm embarrassed by the need to point this out, but Jesus was probably not blue-eyed, blonde and fair-skinned; he was a Middle Eastern Jew. And he didn't come to wipe away Judaism and start over again with some new religion; he came to complete God's ancient promises through Israel to the world. (Many Bible verses come to mind, but for starters, read Matthew 5:17-18 and the first two chapters of Luke.)
The Apostle Paul did not abandon his Judaism when he turned to Christ. Instead, he fell in love with Jesus Christ precisely because he experienced this Jewish peasant rabbi as the fulfillment of God's plan for the ages. Don't forget: the name "Christ" means "Anointed One," and Paul's favorite description of himself was a person "in the Anointed One."
In an interesting coincidence of timing, just days before the Tree of Life murders, I took part in an area pastors' peer group discussion of recent trends in Pauline theology. David May of Central Baptist Theological Seminary led us in some thoughtful reflection on "Paul, the Judean." Noted scholars, including N.T. Wright (Paul: A Biography) and Mark Nanos (The Mystery of Romans), have written persuasively of the continuity as well as discontinuity in the Judeo-Christian message.
In these dark days when anti-Semitism is on the increase, some of us have been revisiting the life and writings of Dietrich Bonhoeffer. In the build-up to World War II and the Holocaust, Bonhoeffer was one of the first and the few to call the church to stand with the Jews.
I take some comfort, however, in the fact that not even Bonhoeffer always got it right. His twin sister, Sabine, was married to a Jew, Gerhard Leibholz. When Leibholz's father died, the family asked Bonhoeffer to officiate the funeral. After agonizing over the invitation, he declined, a decision he almost immediately regretted (Eberhard Bethge, Dietrich Bonhoeffer, p. 209). Bonhoeffer was ashamed and wrote honestly about his failure, a reminder that we are all captives of our culture, struggling to get free.
"The will of God, to which the law gives expression, is that men should defeat their enemies by loving them."

By M.T. Anderson; Oct. 5, 2018
For a man accursed by history, Adolf Hitler led a grimly charmed life. He survived several well-planned assassination attempts through sheer luck. The theologian Dietrich Bonhoeffer, a double agent claiming to spy for Hitler's Reich, was actually involved in the resistance movement that planned a few of these plots. John Hendrix's graphic biography, THE FAITHFUL SPY: Dietrich Bonhoeffer and the Plot to Kill Hitler (Amulet, 176 pp., $16.99; ages 10 and up), intertwines two stories: the insidious rise of Hitler with his creed of hatred and Bonhoeffer's development as an ethical thinker who believed that radical action was necessary, but that killing was a sin. Hendrix writes, "the conspirators needed to find a place where God would forgive them for plotting an assassination."
For young readers, one could easily play the near-miss attempts to kill Hitler as a straightforward thriller. The plots involve deception, gut-wrenching timing and concealed explosives: a bomb in a gift package, a rigged docent conducting a tour of captured Russian weaponry and an explosive briefcase spirited into the heart of Hitler's fortress, the Wolfsschanze. But Hendrix makes the bold and surprising decision to tell it as a tale of faith. He records Bonhoeffer's powerful experiences, for example, at the Abyssinian Baptist Church in Harlem, where the preacher Adam Clayton Powell fulminates: "Obeying God means challenging injustice! You don't just think about God. … You act!" Some readers will be irked by the focus on God in historical nonfiction; others will be soothed by it. Certainly, Hendrix's implication that at Bonhoeffer's execution, he met his God is more emotionally powerful than strictly verifiable. In an author's note, Hendrix offers a passionate defense of presenting the story through the lens of Bonhoeffer's Christianity: "If we look for a motivation for his decisions outside his furious belief in God's certainty, we will miss the very lesson he offers. "
What will catch the reader's eye immediately is Hendrix's striking three-color art. The book is not a panel-by-panel graphic novel, but rather an inventive combination of text blocks and illustration. Each spread has its own ingenious design, shuttling between the literal and the allegorical: As the text talks about Hitler undermining the power of President Hindenburg and the Reichstag ("teetering like a German spruce"), the illustration shows the Führer literally hacking down the tree of state, a startled German imperial eagle taking flight.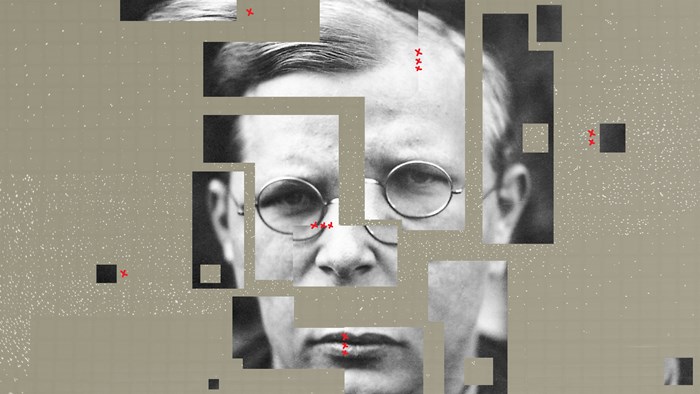 Image: CT Illustration
We Americans have fashioned many Dietrich Bonhoeffers for ourselves in the decades since the German theologian was put to death at the Flossenbürg concentration camp in 1945. In The Battle for Bonhoeffer: Debating Discipleship in the Age of Trump, Rhodes College professor Stephen R. Haynes offers a survey of the varied interpretations of that remarkable man, excavating the ways his name and legacy have been used—and too often misused—in American public discourse. Haynes holds up a mirror and asks, "Who do we need Bonhoeffer to be? And how is this need affected by the way 'we' define ourselves and the threats we face?" In other words, the battle is not really for Bonhoeffer, and the image in the mirror is our own.
Of course, with words like "battle" and "age of Trump" right there on the cover, this book crosses territory rich in minefields. Like an embedded journalist feverishly filing stories from the front, Haynes writes knowing that he cannot fully account for all the Bonhoeffer-ing happening around him, especially in our undulating political times. But because Bonhoeffer is employed for all kinds of ends in American political discourse, and his legacy used to burnish others' public profiles, Haynes balances a commitment to the protocols of the academy with a burden of responsibility to speak directly to our current political moment.
History and Hagiography
In the first part of the book, Haynes recounts the history of Bonhoeffer's reception by the American public through sketches he amassed in his 2004 volume The Bonhoeffer Phenomenon. He revisits and updates those earlier types, including the liberal, the radical, the evangelical, and the universal Bonhoeffer. To these Haynes adds a new sketch—the "populist Bonhoeffer." (More on this later.) Most illuminating for me was Haynes's discussion about Jewish evaluations of Bonhoeffer's legacy, especially that he has been reviewed by Yad Vashem (Israel's Holocaust memorial) and refused recognition as a "righteous Gentile," a term reserved for those who took extraordinary personal risk to save Jews.
Haynes devotes a full chapter to the history of how American evangelicals have received Bonhoeffer. While they tend to be familiar with the pastor's devotional writings (like The Cost of Discipleship or Life Together), Bonhoeffer's university lectures, sermons, and his later prison letters (where, for instance, he mulls over his idea of "religionless Christianity") presented real obstacles for evangelicals in the late 20th century. These theological concerns faded, however, as his life story became more widely known, feeding a steadily growing focus on his resistance work against the Nazis. Evangelicals creatively engaged his story in documentary films, an award-winning radio drama, and even a Christian romance novel in which, writes Haynes, "Bonhoeffer serves as the main character's spiritual inspiration."
Having sought himself to make Bonhoeffer's life and thought accessible to general readers—with Lori Brandt Hale, he co-authored the Bonhoeffer edition of the Armchair Theologian series—Haynes acknowledges value in some of the quirky ways Bonhoeffer's life has been interpreted for American evangelical audiences. Although he prefers history to hagiography, naming certain popular treatments with that derisive term, his posture is not one of an arrogant academic trying to raise the guild's drawbridge from storming peasants.
Bonhoeffer's name gained an even wider dissemination in American political discourse, Haynes notes, following the terror attacks of 9/11 and the growth of the internet as a means of communication. Politicians, public theologians, and other cultural leaders drew on Bonhoeffer with greater frequency, and urgency, in the post-9/11 national debate. Bonhoeffer was invoked both in support of and in opposition to the 2003 war with Iraq. Critics of the war referred to him again as the war continued far longer than the Bush administration anticipated. Online media elevated Bonhoeffer to a wider range of Americans. (And now, in the age of social media, misattributed quotes are often superimposed on photographs of his face, which are then traded as virtue-signaling currency.) For wherever Bonhoeffer stands as an imagined brother-in-arms for one's side, the other side is, well, Hitler.
"We are not to simply bandage the wounds of victims beneath the wheels of injustice, we are to drive a spoke into the wheel itself."
"The great masquerade of evil has played havoc with all our ethical concepts. For evil to appear disguised as light, charity, historical necessity or social justice is quite bewildering to anyone brought up on our traditional ethical concepts, while for the Christian who bases his life on the Bible, it merely confirms the fundamental wickedness of evil."
~ Dietrich Bonhoeffer, Letters and Papers from Prison