You are currently browsing the category archive for the 'Who is Dietrich Bonhoeffer?' category.
From his earliest childhood Dietrich Bonhoeffer was accustomed to being privileged, not the underdog. Admittedly, this was true only up to a point in terms of his position among his siblings. This position had some significance for his development, and probably for his choice of career as well. As the three "little ones," he and his sisters had all the advantages and disadvantages of youngest children. It was natural that the sturdy and gifted boy should sometimes try to rival or even surpass his big brothers and, indeed, in the field of music, he did surpass them. This secret rivalry helped to make theology attractive, since it offered something special of his own. The distance between the two groups of children was increased by the war, which confronted the older children with its terrible realities early, while the younger children remained at home. 
~ Eberhard Bethge, Dietrich Bonhoeffer: A Biography (Revised Edition); Chapter 1: Childhood and Youth: 1906-1923, 20.
As a small boy he (Dietrich) once a attacked a weaker classmate, whose mother expressed the grace suspicion that perhaps the Bonhoeffer children had been raised to be anti-Semitic. Dietrich's mother replied that that her son could not have heard of such a thing in her house. As someone capable of such violence, he was later particularly and carefully concerned about treating those in weaker positions considerately, and instilling self-confidence in them.    
~ Eberhard Bethge, Dietrich Bonhoeffer: A Biography (Revised Edition); Chapter 1: Childhood and Youth: 1906-1923, 19.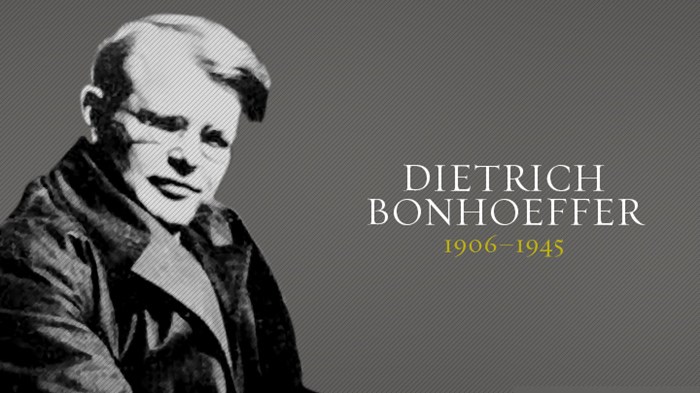 By M.T. Anderson; Oct. 5, 2018
For a man accursed by history, Adolf Hitler led a grimly charmed life. He survived several well-planned assassination attempts through sheer luck. The theologian Dietrich Bonhoeffer, a double agent claiming to spy for Hitler's Reich, was actually involved in the resistance movement that planned a few of these plots. John Hendrix's graphic biography, THE FAITHFUL SPY: Dietrich Bonhoeffer and the Plot to Kill Hitler (Amulet, 176 pp., $16.99; ages 10 and up), intertwines two stories: the insidious rise of Hitler with his creed of hatred and Bonhoeffer's development as an ethical thinker who believed that radical action was necessary, but that killing was a sin. Hendrix writes, "the conspirators needed to find a place where God would forgive them for plotting an assassination."
For young readers, one could easily play the near-miss attempts to kill Hitler as a straightforward thriller. The plots involve deception, gut-wrenching timing and concealed explosives: a bomb in a gift package, a rigged docent conducting a tour of captured Russian weaponry and an explosive briefcase spirited into the heart of Hitler's fortress, the Wolfsschanze. But Hendrix makes the bold and surprising decision to tell it as a tale of faith. He records Bonhoeffer's powerful experiences, for example, at the Abyssinian Baptist Church in Harlem, where the preacher Adam Clayton Powell fulminates: "Obeying God means challenging injustice! You don't just think about God. … You act!" Some readers will be irked by the focus on God in historical nonfiction; others will be soothed by it. Certainly, Hendrix's implication that at Bonhoeffer's execution, he met his God is more emotionally powerful than strictly verifiable. In an author's note, Hendrix offers a passionate defense of presenting the story through the lens of Bonhoeffer's Christianity: "If we look for a motivation for his decisions outside his furious belief in God's certainty, we will miss the very lesson he offers. "
What will catch the reader's eye immediately is Hendrix's striking three-color art. The book is not a panel-by-panel graphic novel, but rather an inventive combination of text blocks and illustration. Each spread has its own ingenious design, shuttling between the literal and the allegorical: As the text talks about Hitler undermining the power of President Hindenburg and the Reichstag ("teetering like a German spruce"), the illustration shows the Führer literally hacking down the tree of state, a startled German imperial eagle taking flight.
Since just about my first day at Wycliffe, I've wanted to find a good format for passing along some of the theological treasure I discover all the time in my studies here. I spend most of my days intensively reading theologians of every stripe, many of whose words invest my study here with an aura not only academic, but profoundly devotional and often wildly adventurous in nature.
Whether its Luther thundering down the centuries about grace, or Hans urs von Balthasar casting his splendid vision of a theology founded on beauty, I almost daily stumble over words that seem to reset my understanding of, oh, everything, or grip me with a challenge to faith, or simply refresh my eyes so that I perceive Christ at play in the world in countless ways.
I rarely have the time to write a full post about these gems. I'm too busy turning in research papers on them instead. But the need to share their soul-shaping splendor endures.
Thus, I welcome you to a new series of weekly(ish) posts: Theological Thursdays.
They won't be long or involved, but each will feature a theologian I'm loving (or wrestling with, or perhaps even questioning) with a few brief facts, a snippet or two of my own thoughts, and the main fare: my favorite quotes culled from the reading of that week.
In this way, I hope to begin to give out a little of the richness I have been so generously offered here. You know, when I came to Wycliffe, I didn't intend to stay more than a year. But within two weeks of delving into the core ideas of my own faith, I realized that theology changes everything. In studying the creeds, I realized how easy it is to embrace half heresies without even knowing it. In studying Incarnation, I felt as if I had come to faith all over again as I realized the all-encompassing redemption of Christ invading every aspect of human existence. (This is the book I want to write next!) In reading Rowan Williams on theology and language, I encountered a realm of study in which mystery met imagination, reason tangoed with revelation, all of it expressed through the artistry and diligence of people who gave their whole lives to learning about God, I was hooked. I was revived. I felt called afresh to Christ. I just can't keep that splendor to myself.
So welcome to Theological Thursday. (And let me just say I'd be tickled if the posts spark conversation. Your comments and thoughts and favorite theologians will be most welcome in return. Just sayin'.)
We'll begin with the subject of my essay this week: Dietrich Bonhoeffer, pastor, writer, and martyr. He is best known for his book The Cost of Discipleship in which he condemns the 'cheap grace' of churches that define grace as justification for sin, rather than total renewal and transformation 'of the sinner'. Bonhoeffer looked at the Sermon on the Mount and saw Christ's commands as a 'call' that every single person is required to encounter in the individuality of their own soul. That call provokes decision; we obey or we turn away, and if we obey, we are called into a moment by moment encounter of Christ who calls us afresh to action, to love, to work in every moment of our lives.
I must be honest and confess that when I first read Discipleship I didn't love it. I found it convicting, immediate, but somewhat blunt, sere, hard. I recognized its power, and knew it was the passionate plea of a pastor resisting the coming darkness of the Nazi regime, but I felt a bit intimidated by this 'tyrannical' (Bonhoeffer's own word to describe himself) German. Until I started this research paper and delved into the letters and papers Bonhoeffer wrote while in a Nazi prison, condemned to death for a conspiracy to assassinate Hitler (I'm afraid I don't have time to get into the ethics of a pastor plotting murder- but read Discipleship or his Ethics and you'll have somewhere to begin in understanding his thought). The Bonhoeffer I encountered there was a profoundly sensitive, insightful, compassionate man whose deep passion for Christ and determination to act rightly drove him to radical and ultimate conclusions.
In prison, Bonhoeffer questioned everything he knew, not in a despairing way, but in such a way as to test every idea he'd held about Christ before. He made his prison cell into a monastic cell, keeping prayer times daily, reading constantly, writing to those he loved, caring for other prisoners. Even as he wrote a poem in which he questioned who he was – the doubter who feared loss or the man whom everyone saw as strong and full of faith – he was described by a fellow prisoner almost as seeming to have 'a halo of light round his head – his soul really shone in the dark desperation of our prison' (S. Payne Best).
What does it mean to call Dietrich Bonhoeffer an apocalyptic ethicist or theologian? Philip Ziegler, in his new important study on apocalytpic theology, Militant Grace: The Apocalyptic Turn and the Future of Christian Theology, contends against the grain that Bonhoeffer (=DB) was an apocalyptic ethicist.
Is Bonhoeffer's moral theology apocalyptic? This question is unsettled from L front to back. The texts that constitute Bonhoeffer's Ethics are unsteady though well-worked fragments of the actual theological ethics he hoped to write. More unsettled still is the meaning of "apocalyptic," whose popular and scholarly valences are as many as they are divergent and contested. Even if one could steady the question, prospects for a positive answer appear remote. Readers of the Ethics have not been led to the idea of "apocalyptic": quite the opposite. One possible exception here is Larry Rasmussen, who does associate Bonhoeffer with apocalyptic eschatology. Yet even he considers the association forced: turning to apocalyptic means diverging from Bonhoeffer, who was "almost immunized" against such an eschatological perspective by Lutheran confessional and German academic traditions, says Rasmussen." [SMcK: Criticism of Rasmussen was clear on this very point.]
Undeterred in going against the grain of DB scholarship, which is formidable, Ziegler says,
I want to argue that in draft upon draft of his Ethics manuscript, Bonhoeffer is definitely working out a theological ethic whose intent is to conform to the contours of Paul's apocalyptic gospel.
He is undeterred because of the rise of apocalyptic Pauline theology that fits more with Barthianism (and some would say is Barthianism) and therefore with DB.
One of my favorite parts of Dietrich Bonhoeffer's life is the spiritual transformation he underwent in the early 30s. Prior to these years, Bonhoeffer had mainly pursued theological studies as an academic, intellectual endeavor. The Bonhoeffer family was Christian, but they weren't particularly devout by way of church attendance or personal devotion.
And while it may be strange to think of someone pursuing theology in a purely academic way, just attend AAR/SBL. Theologians and biblical scholars who have no faith in God are a dime a dozen.
That was Bonhoeffer before the early 30s. But then something happened to him. As Eberhard Bethge describes it, the theologian became a Christian.
What caused the change? Bonhoeffer's time in America seemed to have played an important part. Bonhoeffer spent a post-doctoral year in 1930 studying in New York at Union Theological. During that time, two critical things happened.
First, Bonhoeffer was exposed to the black church. During his year in New York, Bonhoeffer attended and taught Sunday School at Abyssinian Baptist Church in Harlem.
Second, through his relationship with the Frenchmen Jean Lasserre, who was also studying at Union, Bonhoeffer was exposed to the Sermon on the Mount as the Word of God. Prior to this time, Bonhoeffer had used his Lutheran theology to keep the Sermon on the Mount in a box. But after 1930, Bonhoeffer began to see the Sermon at a command to be obeyed.
And beyond his experiences in America, I also think Bonhoeffer's pastoral work with churches, like his confirmation class in the Wedding parish, also had a profound impact upon his faith.
All these experiences changed Bonhoeffer profoundly. Dietrich Bonhoeffer became a Christian. Here's how his best friend Eberhard Bethge describes the change:
He now went regularly to church…Also he engaged in systematic meditation on the Bible that was obviously very different from exegetic or homiletic use of it…He spoke of oral confession no longer merely theologically, but as an act to be carried out in practice. In his Lutheran ecclesiastical and academic environment this was unheard of. He talked more and more often of a community life of obedience and prayer…More and more frequently he quoted the Sermon on the Mount as a word to be acted on, not merely used as a mirror.