You are currently browsing the tag archive for the 'abwehr' tag.
I started 2020 with five New Year's resolutions and seven anticipations, things I was eagerly looking forward to, such as special social occasions and travel. I won't comment on my progress on the resolutions — my brother-in-law reckons New Year's resolutions are a to-do list for the first week in January, and I don't want to confirm his cynicism. But I will report that five of my seven anticipations have been canceled, with the two in November and December looking less likely every day.
For some of us, the personal cost of the coronavirus will be huge; for others less profound, but still troubling. But one form of suffering will afflict us all — namely, the experience of disappointment. With everything from meals out and sport to weddings and funerals being canceled, "cancel culture" is taking on a new meaning. No one will be immune from disappointments, the displeasure of having our anticipations unfulfilled.
For a case study in coping with disappointment in the context of isolation and social distancing, we find a surprising source of help in Dietrich Bonhoeffer — the pastor, author and church leader who was active in Germany in the 1930s and 1940s.
With the rise to power of Hitler in 1933, Bonhoeffer's fairy tale took a dangerous turn, transforming into a spy thriller. His opposition to National Socialism began early, when Bonhoeffer gave a radio broadcast on the dangers of charismatic leadership. It was abruptly ended by government censure. For the next ten years, Bonhoeffer worked for the good of his nation, eventually operating as a double agent. Employed by the Abwehr, a division of German Intelligence, Bonhoeffer used his contacts outside of Germany to support the insurgency. A man of impeccable integrity, Bonhoeffer also functioned as the conscience of the conspirators, commending their moral courage and bolstering their resolve.
Along with the spy thriller, Bonhoeffer's life was a tragic love story. In June 1942 Dietrich met Maria von Wedemeyer. Maria was beautiful, poised, cultured and filled with vitality, but only eighteen years of age — fully seventeen years younger than Dietrich. Bonhoeffer and Maria fell in love. Maria's father had been killed on the Russian Front and her mother insisted on a year's separation to test the couple's feelings. But Maria convinced her mother otherwise and in January 1943, with some restrictions in place, they were engaged to be married. Unfortunately, "happily ever after" is not the way their story ended.
Two key aspirations of Bonhoeffer's life — the renewal of the German church and people and his plans to marry his fiancée Maria von Wedemeyer — were both cruelly thwarted. In 1943 he was arrested by the Gestapo, incarcerated for two years, and finally executed at the order of Adolf Hitler.
If some disappointments are mild, Bonhoeffer's were crushing. How did Bonhoeffer handle his disappointments? Although he wrote a number of books, the answer to this question is found in the remarkable letters to and from his parents, relatives, fiancée and above all his best friend Eberhard Bethge, collected and published in the now classic volumes Letters and Papers from Prison and Love Letters from Cell 92. With social isolation ahead for all of us, at least in a physical sense, Bonhoeffer's prison musings offer sage advice and salient lessons.
First, focus on what really matters. According to Bonhoeffer not all disappointments are equal. He urged an ordering of priorities:
There is hardly anything that can make you happier than to feel that you count for something with other people. What matters here is not numbers, but intensity. In the long run, human relationships are the most important thing in life. God uses us in his dealings with others. Everything else is very close to hubris.
In the strange world of physical distancing, we do well to remember that we don't have to be relationally distant. There are still ways to cultivate community that don't involve getting up close and personal physically.
Second, stay cheerful. Bonhoeffer wrote to his fiancée Maria: "Go on being cheerful, patient and brave." And he told Bethge to "spread hilaritas." Even amid hardship, a joyful optimism can prevail. Cheerfulness was in fact one of Bonhoeffer's abiding qualities despite the horrors of prison. In his famous prison poem, "Who am I?" the opening stanza reads: "They often tell me I would step from my cell's confinement calmly, cheerfully, firmly, like a squire from his country-house."
Indeed, Bonhoeffer's letters from prison are surprisingly dotted with glimpses of humour. He quips: "Prison life brings home to one how nature carries on uninterruptedly its quiet, open life, and it gives one quite a special, perhaps a sentimental, attitude towards animal and plant life, except that my attitude towards the flies in my cell remains very unsentimental." Bonhoeffer and Bethge wrote back and forth over the naming of Bethge's first child. When the name "Dietrich" was floated, Dietrich wrote back to the couple amusingly: "You still seem to be thinking of 'Dietrich'. The name is good, the model less so."
Perhaps those corny coronavirus memes scattered across social media serve a purpose. In Bonhoeffer's case cheerfulness was no accident of temperament; it was born of his unshakeable confidence in God: "I'm travelling with gratitude and cheerfulness along the road where I'm being led. My past life is brim-full of God's goodness, and my sins are covered by the forgiving love of Christ crucified."
Third, embrace optimism. Bonhoeffer's approach to prison life was not to allow the confinement to restrict his activity. Quite literally, he did not sit still while waiting for his hope for freedom to materialize:
I read, meditate, write, pace up and down my cell — without rubbing myself sore against the walls like a polar bear. The great thing is to stick to what one still has and can do — there is still plenty left — and not to be dominated by the thought of what one cannot do, and the feelings of resentment and discontent.
This is good advice for anyone facing the frustrations of an ongoing disappointment and restrictive circumstances.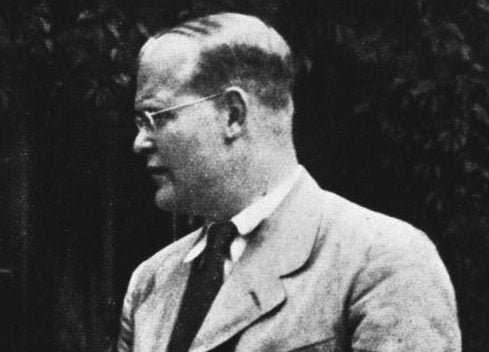 The great preacher, writer, theologian and witness to the faith, Dietrich Bonhoeffer,was executed on April 9, 1945, just days before the Nazi camp where he was held, Flossenbürg, was liberated. He was 39.
Here's what happened: 
On 4 April 1945, the diaries of Admiral Wilhelm Canaris, head of the Abwehr, were discovered, and in a rage upon reading them, Hitler ordered that the Abwehr conspirators [those who had plotted for Hitler's assassination] be destroyed. Bonhoeffer was led away just as he concluded his final Sunday service and asked an English prisoner, Payne Best, to remember him to Bishop George Bell of Chichester if he should ever reach his home: "This is the end—for me the beginning of life."

Bonhoeffer was condemned to death on 8 April 1945 by SS judge Otto Thorbeck at a drumhead court-martial without witnesses, records of proceedings or a defense in Flossenbürg concentration camp.  He was executed there by hanging at dawn on 9 April 1945, just two weeks before soldiers from the United States 90th and 97th Infantry Divisions liberated the camp,  three weeks before the Soviet capture of Berlin and a month before the surrender of Nazi Germany.

Bonhoeffer was stripped of his clothing and led naked into the execution yard where he was hanged, along with fellow conspirators Admiral Wilhelm Canaris, Canaris's deputy General Hans Oster, military jurist General Karl Sack, General Friedrich von Rabenau, businessman Theodor Strünck, and German resistance fighter Ludwig Gehre.

Eberhard Bethge, a student and friend of Bonhoeffer's, writes of a man who saw the execution: "I saw Pastor Bonhoeffer… kneeling on the floor praying fervently to God. I was most deeply moved by the way this lovable man prayed, so devout and so certain that God heard his prayer…In the almost fifty years that I worked as a doctor, I have hardly ever seen a man die so entirely submissive to the will of God."
"On April 5, 1943, when Bonhoeffer called (brother-in-law) Hans von) Dohnanyi's home, a strange voice answered the phone. Bonhoeffer hung up. He then knew that the Gestapo had finally caught up with them. They were searching Dohnanyi's house right that very minute. His parent's house would be next.
Calmy he went next door, where his sister Ursula lived. He told her the Gestapo would soon arrive and arrest him.
She made him a hearty lunch.
It was the last home-cooked meal he would ever have!"
DIETRICH BONHOEFFER was a twin. (He was born just before his twin sister, Sabine.)
Dietrich's father, Karl, was Berlin's leading psychiatrist and neurologist from 1912 until his death in 1948.
Dietrich was so skilled at playing the piano that for a time he and his parents thought he might become a professional musician.
At 14, Bonhoeffer announced matter-of-factly that he was going to become a theologian.
Bonhoeffer earned his doctorate in theology when he was only 21.
Though later he was an outspoken advocate of pacifism, Bonhoeffer was an enthusiastic fan of bullfighting. He developed the passion while serving as assistant pastor of a German-speaking congregation in Barcelona, Spain.
By the end of 1930, the year before Bonhoeffer was ordained, church seminaries were complaining that over half the candidates for ordination were followers of Hitler.
In 1933, when the government instigated a one-day boycott of Jewish-owned businesses, Bonhoeffer's grandmother broke through a cordon of SS officers to buy strawberries from a Jewish store.
In his short lifetime, Bonhoeffer traveled widely. He visited Cuba, Mexico, Italy, Libya, Denmark, and Sweden, among other countries, and he lived for a time in Spain, in England, and in the United States.
Bonhoeffer taught a confirmation class in what he described as "about the worst area of Berlin," yet he moved into that neighborhood so he could spend more time with the boys.
Bonhoeffer was fascinated by Gandhi's methods of nonviolent resistance. He asked for—and received—permission to visit Gandhi and live at his ashram. The two never met, however, because the crisis in Germany demanded Bonhoeffer's attention.
Bonhoeffer served as a member of the Abwehr, the military-intelligence organization under Hitler. (He was actually a double agent. While ostensibly working for the Abwehr, Bonhoeffer helped to smuggle Jews into Switzerland—and do other underground tasks.)
Bonhoeffer studied for a year in New York City.
I am surprised at how many of my students under the age of 30 have never heard of Dietrich Bonhoeffer. On the whole, when I mention Bonhoeffer, they look at me blankly, and when I say "German theologian," they glaze over and tune out. So I wrestle with the question of how we can persuade younger people that Bonhoeffer is relevant for the 21st century.
In my research, I have been struck by how little the world of religion has changed between Bonhoeffer's time and our own. When Bonheffer decided to become a theologian in the early 1920s, his father and older brothers derided that decision. The Bonhoeffers were a family like the Kennedys, meant to make a difference in society, and in that context, becoming a theologian seemed a waste of talent. The church appeared, then as now, to be dying, its place in the civic discourse largely irrelevant.
As Barry Harvey outlines in his book, Taking Hold of the Real, Bonhoeffer faced the same "world come of age" that we live in today, in which a worship of technology pushes theology to the margins. This is a discounting of God's presence in the world that Bonhoeffer fought against vigorously.
God is in the center of the village, Bonhoeffer insisted, Christ the only reality in the midst of a world of illusion. Yet today, we face the same battle he did to infuse a marginalized church with meaning.
Bonhoeffer also fought against mistaking the institutional structure of the church for the church itself.
Earlier this month, I posted that on June 17, 1940 (the day France surrendered to Germany), Dietrich Bonhoeffer was with his close friend Eberhard Bethge "in the Baltic village of Memel. They were relaxing in an "open-air café when suddenly a special announcement came over the loudspeaker that France had surrendered. This moment was a defining point for Bonhoeffer! Bethge "asserts that Bonhoeffer's 'double life' truly began. This Confessing Church pastor and theologian became deeply involved in the resistance movement against Hitler and the Nazis."
Also:
For the next three years, until his arrest on April 5, 1943, Bonhoeffer lived an unsettled life. He became a courier for the resistance group operating out of the Office of Military Intelligence (the Abwehr), even as he continued to teach and minister to the young seminarians and pastors of the Confessing Church.
DB was a seminary professor and involved in the resistance movement against Hitler. He was dedicated in preparing young men for the ministry and he was dedicated in stopping the Fuhrer.
~ Dietrich Bonhoeffer Works, Volume 16: Conspiracy and Imprisonment 1940-1945, 1-2.