You are currently browsing the tag archive for the 'adolf hitler' tag.
---
The Cost of Discipleship was one of those books that deeply influenced Betty and gave her courage in her darkest days. Dietrich Bonhoeffer, a young German theologian, wrote it in the 1930s to examine the intense struggle and serious implications of true belief in Christ. In the decades that followed, he was active in resisting the rise of Nazis in Germany, and in rejecting the Fuhrer as head of the Church. Jesus, not Adolf Hitler was the head.  Just a few weeks before the end of the war, Bonhoeffer was hanged by the Nazis in Flossenburg prison camp by direct order from Hitler. Eric Metaxas' biography, Bonhoeffer: Pastor, Martyr, Prophet, Spy, retells Bonhoeffer's final moments, which had been witnessed and shared years later by the camp doctor:
"Through the half-open door in one room of the huts I saw Pastor Bonhoeffer, before taking off his prison garb, kneeling on the floor praying fervently to his God. I was most deeply moved by the way this lovable man prayed, so devout and so certain that God heard his prayer. At the place of execution, he again said a short prayer and then climber the steps to the gallows, brave and composed. His death ensued after a few seconds. In the almost fifty years that I worked as a doctor, I have hardly ever seen a man die so submissively to the will of God."
In this most famous of his books, young Bonhoeffer wrote:
"But Jesus is no draughtsman of political blueprints, he is the one who vanquished evil through suffering… The passion of Christ is the victory of divine love over the powers of evil, and therefore it is the only supportable basis for Christian obedience. Once again, Jesus calls those who follow him to share his passion. How can we convince the world by our preaching and passion when we shrink from that passion in our own lives? On the cross Jesus fulfilled the law he himself established and thus graciously keeps his disciples in the fellowship of his suffering. The cross is the only power in the world which proves that suffering love can avenge and vanquish evil."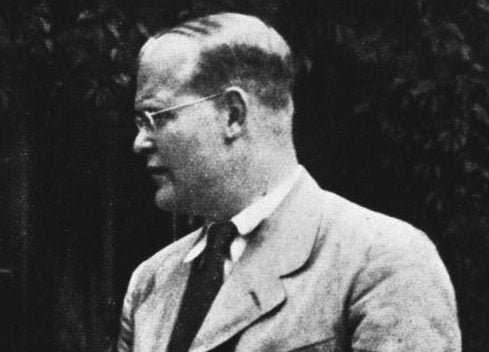 The great preacher, writer, theologian and witness to the faith, Dietrich Bonhoeffer,was executed on April 9, 1945, just days before the Nazi camp where he was held, Flossenbürg, was liberated. He was 39.
Here's what happened: 
On 4 April 1945, the diaries of Admiral Wilhelm Canaris, head of the Abwehr, were discovered, and in a rage upon reading them, Hitler ordered that the Abwehr conspirators [those who had plotted for Hitler's assassination] be destroyed. Bonhoeffer was led away just as he concluded his final Sunday service and asked an English prisoner, Payne Best, to remember him to Bishop George Bell of Chichester if he should ever reach his home: "This is the end—for me the beginning of life."

Bonhoeffer was condemned to death on 8 April 1945 by SS judge Otto Thorbeck at a drumhead court-martial without witnesses, records of proceedings or a defense in Flossenbürg concentration camp.  He was executed there by hanging at dawn on 9 April 1945, just two weeks before soldiers from the United States 90th and 97th Infantry Divisions liberated the camp,  three weeks before the Soviet capture of Berlin and a month before the surrender of Nazi Germany.

Bonhoeffer was stripped of his clothing and led naked into the execution yard where he was hanged, along with fellow conspirators Admiral Wilhelm Canaris, Canaris's deputy General Hans Oster, military jurist General Karl Sack, General Friedrich von Rabenau, businessman Theodor Strünck, and German resistance fighter Ludwig Gehre.

Eberhard Bethge, a student and friend of Bonhoeffer's, writes of a man who saw the execution: "I saw Pastor Bonhoeffer… kneeling on the floor praying fervently to God. I was most deeply moved by the way this lovable man prayed, so devout and so certain that God heard his prayer…In the almost fifty years that I worked as a doctor, I have hardly ever seen a man die so entirely submissive to the will of God."
(RNS) — The four saddest words in the English language are "what might have been.…"
Eighty years ago, as war clouds gathered over Europe, the 33-year-old Christian theologian Dietrich Bonhoeffer, then a faculty member at Union Theological Seminary in Manhattan, returned to his native Germany after a short stay in the United States.
At the time, Bonhoeffer believed his church's response to Hitler and Nazism was marked by weakness and cowardice. He saw his country consumed by a monstrous cancer that had devoured nations and had already murdered many hundreds of people on its way to murdering millions.
"On April 5, 1943, when Bonhoeffer called (brother-in-law) Hans von) Dohnanyi's home, a strange voice answered the phone. Bonhoeffer hung up. He then knew that the Gestapo had finally caught up with them. They were searching Dohnanyi's house right that very minute. His parent's house would be next.
Calmy he went next door, where his sister Ursula lived. He told her the Gestapo would soon arrive and arrest him.
She made him a hearty lunch.
It was the last home-cooked meal he would ever have!"