You are currently browsing the tag archive for the 'Advent sermons' tag.
In the midst of Nazi resistance, this Christian martyr offered three models for the season of waiting…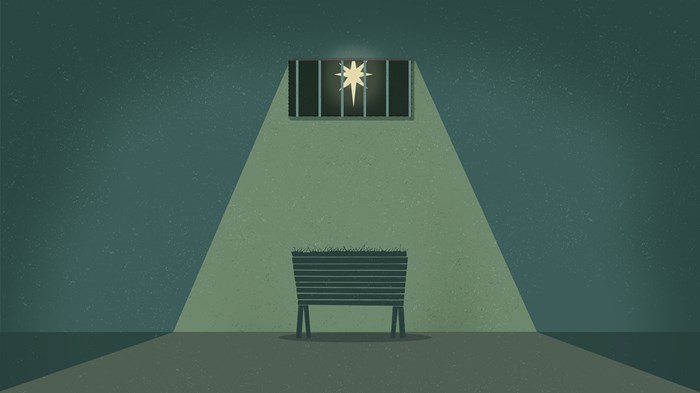 On November 21, 1943, Dietrich Bonhoeffer wrote a letter from Tegel Prison. "A prison cell like this is a good analogy for Advent," he said. "One waits, hopes, does this or that—ultimately negligible things—the door is locked and can only be opened from the outside."
The comparison between Advent and a prison cell may seem strange. It evokes powerlessness, perhaps even hopelessness. However, it is this particular type of waiting that Bonhoeffer believes best prepares us for Christ's coming.
Although a Nazi prison gave him this metaphor, the sermons he wrote during his time of active ministry also present a similar vision of Advent waiting. In these sermons, Bonhoeffer sees the season before Christmas as a sharpened liturgical expression of the tension that informs our entire lives as Christians. Celebrating it prepares us to live as people who have made a radical break with the present world of sin and death and are also preparing for the redeemed future that God has already, in one sense, accomplished. Through Advent, we learn how to live in these two concurrent realities: We have already been delivered, and yet our deliverance is still to come.
Bonhoeffer's Christmas and Advent sermons highlight three figures who exemplify life amid this tension and, by their example, might guide us through this season. Learning how to wait from these figures will not be warm and cozy but deep, dangerous, and shot through with sorrow and pain.
The first figure is Moses. This is not the triumphant Moses leading the people of Israel through a miraculously parted Red Sea or the lawgiver Moses carrying the stone tablets down the mountainside. Rather, the Advent Moses is the one found in Deuteronomy 32:48–52. Moses knows that God's promise will be fulfilled, but he also knows that the promise will not be fulfilled in his lifetime. Instead, he will die on Mount Nebo, gazing across the river into the land. This Moses seems at first like the very antithesis of Advent, since he is the one for whom the promise is never fulfilled.
However, Bonhoeffer finds in Moses' experience an expression of our own Advent waiting. Just like Moses, we know that the promise has been fulfilled—Jesus has come—but not yet completely. Through Moses' punishment—his death before entering the Promised Land—we are also reminded that Advent is the season for death, judgment, and repentance. In a reversal of the world's order, we pass from death into birth and new life. This awareness of our own death and judgment is crucial for us to understand that we only enter the Promised Land due to God's victory, not our own. As Bonhoeffer puts it, "God is with us and we are no longer homeless. A piece of the eternal home is grafted onto to us."
The second figure is Joseph
For many Christians like me, Christmas is a time of comfort, of peace, and of abundance.  We're fortunate if that is the case.  But what if Christmas is intended to be an annual reminder of our need for a Savior to break into our darkness, our "homelessness," and for us to be convicted of our lack of offensive faith?  What if Advent, the season leading up to the celebration of the Incarnation, ought not make us sentimental and satisfied but rather challenge us to live out our sentness as bold heralds of Christ's coming?
I picked up a Kindle deal this weekend on Dietrich Bonhoeffer's Advent sermons, preached between 1928 and his death in 1945.  In the first section, featuring a sermon preached in Barcelona on 2 December 1928, Bonhoeffer opened,
"Celebrating Advent means learning how to wait."
Related: Thats my kind of Santa Clause 
Then, he later made two statements that challenged my Advent meditations this year:
"Not all can wait – certainly not those who are satisfied, contented, and feel that they live in the best of all possible worlds!  Those who learn to wait are uneasy about their way of life, but yet have seen a vision of greatness in the world of the future and are patiently expecting its fulfillment.  The celebration of Advent is possible only to those who are troubled in soul, who know themselves to be poor and imperfect, and who look forward to something greater to come."