You are currently browsing the tag archive for the 'christian fellowship' tag.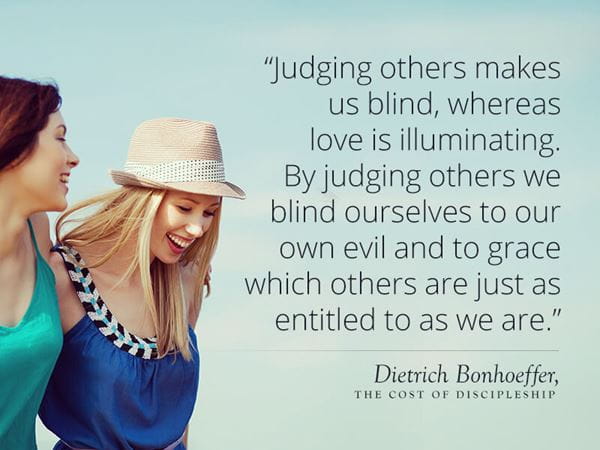 I love this photo because Dietrich Bonhoeffer appears to be engaged in a conversation. What was important to Bonhoeffer was listening to the other person…
The ministry of listening…
The first service that one owes to others in the fellowship consists in listening to them. Just as love to God begins with listening to His Word, so the beginning of love for the brethren is learning to listen to them… Listening can be a greater service than speaking…
One who cannot listen long and patiently will presently be talking beside the point and be never really speaking to others… Anyone who thinks his time is too valuable to spend keeping quiet will eventually have no time for God and his brother, but only for himself and for his own follies…
We should listen with the ears of God that we may speak the Word of God.
~ Dietrich Bonhoeffer, Life Together, 97-99.
"He who would learn to serve must first learn to think little of himself…
Only he who lives by the forgiveness of his sin in Jesus Christ will rightly think little of himself. He will know that his own wisdom reached the end of its tether when Jesus forgave him… He will know that it is good for his own will to be broken in the encounter with his neighbour…
But not only my neighbour's will, but also his honor is more important than mine… The desire for one's own honor hinders faith. One who seeks his own honor is no longer seeking God and his neighbour. What does it matter if I suffer injustice? Would I not have deserved even worse punishment from God, if He had not dealt with me according to His mercy?"
~ Dietrich Bonhoeffer, Life Together
"Let him who cannot be alone beware of community. He will only do harm to himself and to the community. Alone you stood before God when He called you; alone you had to answer that call; alone you had to struggle and pray; and alone you will die and give an account to God. You cannot escape from yourself; for God has singled you out. If you refuse to be alone, you are rejecting Christ's call to you, and you can have no part in the community of those who are called… Let him who is not in community beware of being alone. Into the community you were called–the call was not meant for you alone; in the community of the called you bear your cross, you struggle, you pray. You are not alone even in death, and on the Last Day you will be only one member of the great congregation of Jesus Christ. If you scorn the fellowship of the brethren, you reject the call of Jesus Christ."
~ Dietrich Bonhoeffer (1906-1945), Life Together
"He who loves community destroys community; he who loves the brethren builds community"
"Because Christian community is founded solely on Jesus Christ, it is a spiritual and not a psychic reality. It this it differs absolutely from all other communities…Christian brotherhood is not an ideal that we must realize; it is rather a reality created by God in Christ in which wee may participate. The more clearly we learn to recognize that the ground and strength and promise of all our fellowship in is Jesus Christ alone, the more serenely shall we think of our fellowship and pray and hope for it." 
~ Dietrich Bonhoeffer, Life Together.
Not every Sunday is a mountaintop. Our hearts often feel sluggish when we come to worship. Distractions around us may abound. Shame over sin can make us feel like hypocrites. Our lives in this fallen world are endlessly up and down. Even in corporate worship. Perhaps especially.
This is what makes our weekly gathering so important. We lift our voices together and turn from that week's "fleeting pleasures of sin" (Hebrews 11:25) to the superior pleasures to be had in Christ. We help each other move higher up the mountain. And in that process of being renewed, and gaining strength for the daily and weekly demands of life, we find our coming together in worship to be the single most important means of deep and enduring joy in God, even as coming to enjoy him can be an extended process.
But up or down, high or low, with what frame of mind and heart do we come to worship together?
Our God is the all-satisfying fountain of living waters (Jeremiah 2:13). When we seek to quench our deep soul-thirst in him, corporate worship becomes the stunning opportunity to gather together not just with fellow believers, but with fellow enjoyers of God.
Come to the Fountain
The prophet Isaiah raised his voice to summon God's people not simply as believers but enjoyers:
"Come, everyone who thirsts,
come to the waters;
and he who has no money,
come, buy and eat!
Come, buy wine and milk
without money and without price.
Why do you spend your money for that which is not bread,
and your labor for that which does not satisfy?
Listen diligently to me, and eat what is good,
and delight yourselves in rich food." (Isaiah 55:1–2)
In worship, we enjoy Jesus together as water for our thirsty souls, as milk to nourish our spirits, and as wine to gladden our hearts. God offers a banquet to the human soul — not mainly for individual snacking but for corporate feasting.
We do find encouragement in gathering consciously with fellow believers. In a world that suppresses the truth in unrighteousness (Romans 1:18) — and lies to us subtly and overtly at every turn that self, not God, is in control — finding ourselves in the assembly, in the congregation, of believers can have a powerful effect on reinforcing our faith. God exists. He made our world. He rules over its every detail, even our sin. And he sent his own Son to rescue us from our sins, and the punishment we justly deserve, by faith in him.
And yet, when we gather in corporate worship, we are more deeply knit together than simply the truths we affirm. A stronger tie that binds us is whom we enjoy. We share in a common joy with uncommon worth: the greatest treasure in the universe.
Come to the Faith
Is it assuming too much to think of your fellow worshipers as fellow enjoyers of Jesus? Not at all. Saving faith is not indifferent to its Savior.
"I am the bread of life," Jesus says, "whoever comes to me shall not hunger, and whoever believes in me shall never thirst" (John 6:35). Note the parallels in what Jesus says. Not hungering pairs with never thirsting. And coming to Jesus pairs with believing in him. What, then, according to John 6:35, is Christian faith? It is "coming to Jesus" — not bodily or geographically but in the soul — to have our soul-hunger satisfied and our soul-thirst quenched.
There is an irreducible aspect of enjoyment in such faith, whether the believer is conscious of it yet or not. There is a kind of "joy" that is not only the fruit of faith (Galatians 5:22) but an essential aspect of faith (Philippians 1:25; 2 Corinthians 1:24). Fellow believers in Jesus are fellow enjoyers, with us, of him. Our corporate worship truly is an enjoying Jesus together.
Come to the Father
Whether or not we come in worship as enjoyers, not just believers, may reflect how deeply we see God as our Father — a true Father who we know fundamentally as a giver, not taker.
"The Christian, however, must bear the burden of a brother. He must suffer and endure the brother. It is only when he is a burden that another person is really a brother and not merely an object to be manipulated. The burden of men was so heavy for God Himself that He had to endure the Cross. God verily bore the burden of men in the body of Jesus Christ."