You are currently browsing the tag archive for the 'DB' tag.
"When Christ calls a man, he bids him come and die."
~ Dietrich Bonhoeffer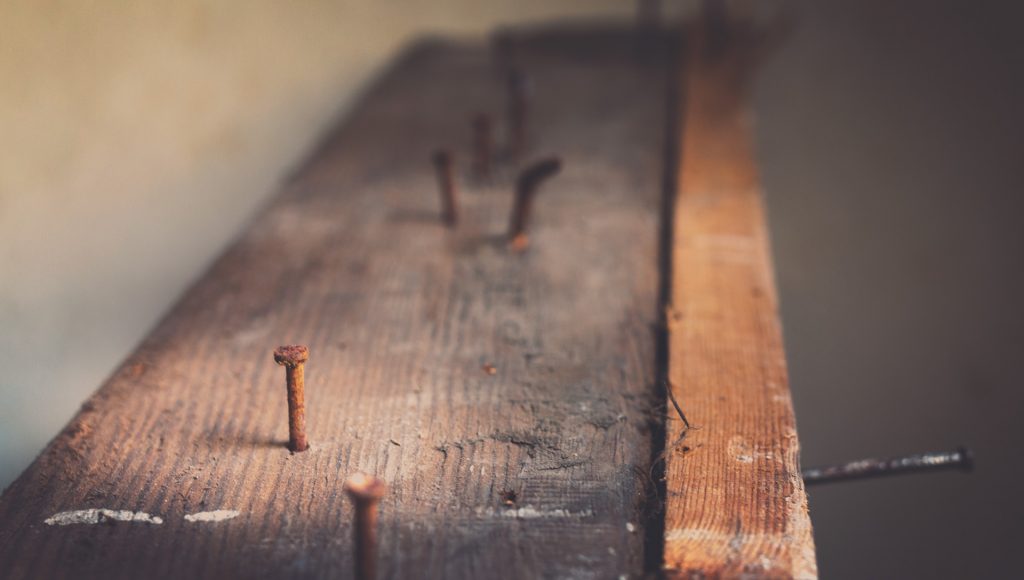 Dietrich Bonhoeffer (1906-45) was a German theologian and pastor who spoke out against the Nazi regime during World War II. His resistance against Hitler's regime culminated with him being hung in a concentration camp at Flossenbürg.
Today, Bonhoeffer's works are loved by many. His writing, despite time, is still youthful, enlightening, and inspirational.
Additionally, Bonhoeffer is most known for his rich writing on discipleship. In celebration of the Easter season, we thought it would be timely to share his comments on discipleship and the cross. [Plus, we asked if you all wanted to read something from Bonhoeffer on our Instagram account. The answer was a resounding: YES!]
So, check out Mark 8:31–38 because it's the passage Bonhoeffer discusses in the following excerpt. Then… read and be encouraged!
DISCIPLESHIP AND THE CROSS
The call to discipleship is connected here with the proclamation of Jesus' suffering. Jesus Christ has to suffer and be rejected. God's promise requires this, so that scripture may be fulfilled. Suffering and being rejected is not the same. Even in his suffering, Jesus could have been the celebrated Christ. Indeed, the entire compassion and admiration of the world could focus on the suffering. Looked upon as something tragic, the suffering could in itself convey its own value, its own honor, and dignity. But Jesus is the Christ who was rejected in his suffering. Rejection removed all dignity and honor from his suffering.
It had to be dishonorable suffering.
Suffering and rejection express in summary form the cross of Jesus. Death on the cross means to suffer and die as one rejected and cast out. It was by divine necessity that Jesus had to suffer and be rejected. Any attempt to hinder what is necessary is satanic. Even, or especially, if such an attempt comes from the circle of disciples because it intends to prevent Christ from being Christ.
The fact that it is Peter, the rock of the church, who makes himself guilty doing this just after he has confessed Jesus to be the Christ and has been commissioned by Christ, shows that from its very beginning the church has taken offense at the suffering Christ. It does not want that kind of Lord, and as Christ's church, it does not want to be forced to accept the law of suffering from its Lord. Peter's objection is his aversion to submitting himself to suffering. That is a way for Satan to enter the church.
Satan is trying to pull the church away from the cross of its Lord.
So Jesus has to make it clear and unmistakable to his disciples that the need to suffer now applies to them, too. Just as Christ is only Christ as one who suffers and is rejected, so a disciple is a disciple only in suffering and being rejected, thereby participating in crucifixion. Discipleship as allegiance to the person of Jesus Christ places the follower under the law of Christ, that is, under the cross.
---
The Cost of Discipleship was one of those books that deeply influenced Betty and gave her courage in her darkest days. Dietrich Bonhoeffer, a young German theologian, wrote it in the 1930s to examine the intense struggle and serious implications of true belief in Christ. In the decades that followed, he was active in resisting the rise of Nazis in Germany, and in rejecting the Fuhrer as head of the Church. Jesus, not Adolf Hitler was the head.  Just a few weeks before the end of the war, Bonhoeffer was hanged by the Nazis in Flossenburg prison camp by direct order from Hitler. Eric Metaxas' biography, Bonhoeffer: Pastor, Martyr, Prophet, Spy, retells Bonhoeffer's final moments, which had been witnessed and shared years later by the camp doctor:
"Through the half-open door in one room of the huts I saw Pastor Bonhoeffer, before taking off his prison garb, kneeling on the floor praying fervently to his God. I was most deeply moved by the way this lovable man prayed, so devout and so certain that God heard his prayer. At the place of execution, he again said a short prayer and then climber the steps to the gallows, brave and composed. His death ensued after a few seconds. In the almost fifty years that I worked as a doctor, I have hardly ever seen a man die so submissively to the will of God."
In this most famous of his books, young Bonhoeffer wrote:
"But Jesus is no draughtsman of political blueprints, he is the one who vanquished evil through suffering… The passion of Christ is the victory of divine love over the powers of evil, and therefore it is the only supportable basis for Christian obedience. Once again, Jesus calls those who follow him to share his passion. How can we convince the world by our preaching and passion when we shrink from that passion in our own lives? On the cross Jesus fulfilled the law he himself established and thus graciously keeps his disciples in the fellowship of his suffering. The cross is the only power in the world which proves that suffering love can avenge and vanquish evil."
(RNS) — The four saddest words in the English language are "what might have been.…"
Eighty years ago, as war clouds gathered over Europe, the 33-year-old Christian theologian Dietrich Bonhoeffer, then a faculty member at Union Theological Seminary in Manhattan, returned to his native Germany after a short stay in the United States.
At the time, Bonhoeffer believed his church's response to Hitler and Nazism was marked by weakness and cowardice. He saw his country consumed by a monstrous cancer that had devoured nations and had already murdered many hundreds of people on its way to murdering millions.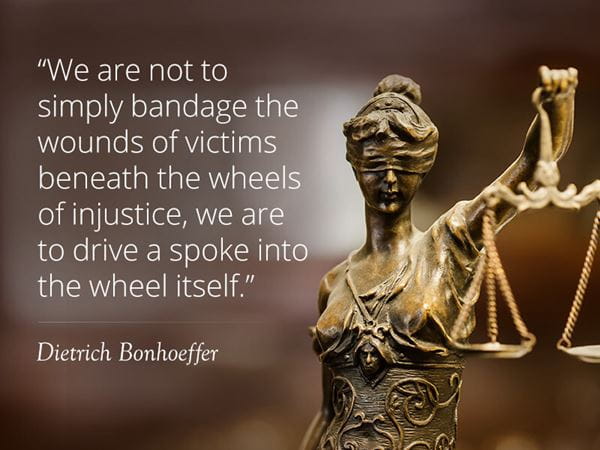 by Bill Leonard
In our better moments of spiritual self-awareness, we Christians are forced to acknowledge our capacity for actions and ideas that shatter an individual and collective "witness" as followers of Jesus. It's been like that from the start. Judas Iscariot betrayed him with a kiss. After declaring absolute loyalty, Simon Peter denied Jesus three times: "I never knew the man." The brothers James and John, perhaps anticipating the Prosperity Gospel, demanded "the best seats" in the coming kingdom. In every era of its history, certain Christian individuals and institutions have compelled an "orthodoxy" from others they refused to require of themselves. Dietrich Bonhoeffer called that kind of gospel cheap grace.
In The Cost of Discipleship (1937), Bonhoeffer called us all to account, warning:
Cheap grace is the deadly enemy of our Church. We are fighting to-day for costly grace. . . . Cheap grace means grace as a doctrine, a principle, a system. It means forgiveness of sins proclaimed as a general truth, the love of God taught as the Christian "conception" of God. An intellectual assent to that idea is held to be of itself sufficient to remission of sins. The Church which holds the correct doctrine of grace has, ipso facto, a part in that grace. In such a Church the world finds a cheap covering for its sins; no contrition is required, still less any real desire to be delivered from sin. Cheap grace therefore amounts to a denial of the living Word of God, in fact, a denial of the Incarnation of the Word of God (emphasis mine).
I returned to Bonhoeffer's admonition after reading a heartrending series of articles recently published in the Fort Worth Star-Telegram regarding years of sexual abuse perpetrated by various "Independent Fundamentalist Baptist" ministers, individuals often protected and "moved on" by their pastoral supervisors or church constituencies.
"Underneath it all is a powerful emphasis on ministerial authority, with pastor-figures as 'God's anointed' whose leadership is not to be questioned."
After months of research, a group of Star-Telegram investigative reporters documented "at least 412 allegations of sexual misconduct in 187 Independent Fundamentalist Baptist churches and their affiliated institutions" based in 40 states and Canada. Their study suggests that some 168 "church leaders" were accused or convicted of sex crimes against children, with as many as 45 of them continuing in ministry after being identified. The articles detail occasions when women and children were sexually molested by pastoral figures who were then moved on to other churches or church-related ministries. The accusers, almost all females, were often ignored, doubted or blamed for enticing the men.
The Independent Fundamentalist Baptist (IFB) movement has its origins in the 1920s and the infamous "Fundamentalist-Modernist Controversy" that divided American Protestants around issues of biblical authority, creationism, "new science" and the nature of Christian orthodoxy. By the 1950s, the movement claimed some of the country's largest congregations, many begun as "church start-ups," others through schism with older Baptist denominations. Although asserting their autonomy as free-standing congregations, most IFB churches participate in certain loose "fellowships," Bible colleges and evangelism programs.
For the rest of the post…