You are currently browsing the tag archive for the 'dr. bryan galloway' tag.
Soon there was no doubt that Dietrich did not share his elder brothers' scientific inclinations; he preferred thrilling books and made unusual progress in music. Not that his brothers and sisters were unmusical; Klaus later played the cello with great sensitivity, and none of his brothers or sisters ever wanted to miss the family musical evenings. But Dietrich made such musical and technical progress at the piano that for a time both he and his parents thought he might become a professional musician. 
~ Eberhard Bethge, Dietrich Bonhoeffer: A Biography (Revised Edition); Chapter 1: Childhood and Youth: 1906-1923, 25.
In the midst of Nazi resistance, this Christian martyr offered three models for the season of waiting…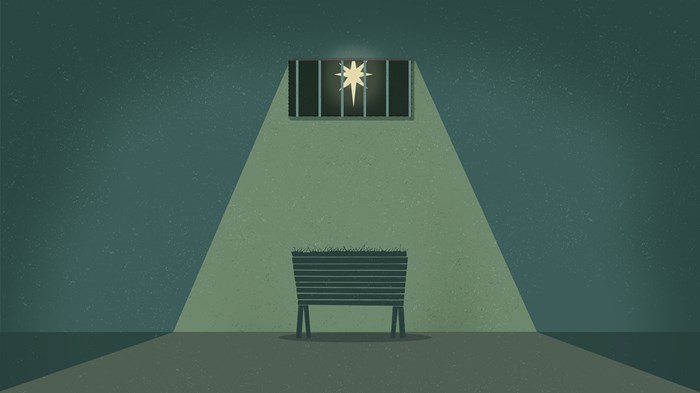 On November 21, 1943, Dietrich Bonhoeffer wrote a letter from Tegel Prison. "A prison cell like this is a good analogy for Advent," he said. "One waits, hopes, does this or that—ultimately negligible things—the door is locked and can only be opened from the outside."
The comparison between Advent and a prison cell may seem strange. It evokes powerlessness, perhaps even hopelessness. However, it is this particular type of waiting that Bonhoeffer believes best prepares us for Christ's coming.
Although a Nazi prison gave him this metaphor, the sermons he wrote during his time of active ministry also present a similar vision of Advent waiting. In these sermons, Bonhoeffer sees the season before Christmas as a sharpened liturgical expression of the tension that informs our entire lives as Christians. Celebrating it prepares us to live as people who have made a radical break with the present world of sin and death and are also preparing for the redeemed future that God has already, in one sense, accomplished. Through Advent, we learn how to live in these two concurrent realities: We have already been delivered, and yet our deliverance is still to come.
Bonhoeffer's Christmas and Advent sermons highlight three figures who exemplify life amid this tension and, by their example, might guide us through this season. Learning how to wait from these figures will not be warm and cozy but deep, dangerous, and shot through with sorrow and pain.
The first figure is Moses. This is not the triumphant Moses leading the people of Israel through a miraculously parted Red Sea or the lawgiver Moses carrying the stone tablets down the mountainside. Rather, the Advent Moses is the one found in Deuteronomy 32:48–52. Moses knows that God's promise will be fulfilled, but he also knows that the promise will not be fulfilled in his lifetime. Instead, he will die on Mount Nebo, gazing across the river into the land. This Moses seems at first like the very antithesis of Advent, since he is the one for whom the promise is never fulfilled.
However, Bonhoeffer finds in Moses' experience an expression of our own Advent waiting. Just like Moses, we know that the promise has been fulfilled—Jesus has come—but not yet completely. Through Moses' punishment—his death before entering the Promised Land—we are also reminded that Advent is the season for death, judgment, and repentance. In a reversal of the world's order, we pass from death into birth and new life. This awareness of our own death and judgment is crucial for us to understand that we only enter the Promised Land due to God's victory, not our own. As Bonhoeffer puts it, "God is with us and we are no longer homeless. A piece of the eternal home is grafted onto to us."
The second figure is Joseph
I have been a fan of Dietrich Bonhoeffer since I was a student at Bethel College in St. Paul, MN back in 1970s. Over the years, the person and works of Dietrich Bonhoeffer have been embraced by evangelicals, liberals, Jews and Catholics. He is also the champion of both the right and the left. He has been described as a "flamingly gay".
No matter the issue, people from both sides of the issue look to Bonhoeffer for wisdom and guidance. The issue may be same-sex marriage, gun control, abortion, immigration, politics and politicians.
If Dietrich Bonhoeffer lived today, let's say in America, what side would he take? Back in 2016, would he vote for Hillary or Trump? Voters for both candidates would build a case that Bonhoeffer would certainly see their point of view.
My thesis for my Doctor of Ministry degree focused on the impact of Dietrich Bonhoeffer on twenty-first century preachers, but I am far from being an expert on Bonhoeffer. But I did do enough research then and since then to say that Dietrich Bonhoeffer cannot be boxed in.
He was only 39 years old when he was hung. Imagine if he lived another thirty or forty years and was able to develop his ideas and theology further.
What side would he take? My take is this: Dietrich Bonhoeffer would teach us to pray, read the Bible and meditate on God's Word. He would also not to place our trust in people (like Presidents) but in God alone. He would tell us to love others who are vastly different than us. I think he would say that even though, we live is an age of outrage, Christians, are to be at their very best and represent Jesus.
Bryan
"The will of God, to which the law gives expression, is that men should defeat their enemies by loving them."
As a small boy he (Dietrich) once a attacked a weaker classmate, whose mother expressed the grace suspicion that perhaps the Bonhoeffer children had been raised to be anti-Semitic. Dietrich's mother replied that that her son could not have heard of such a thing in her house. As someone capable of such violence, he was later particularly and carefully concerned about treating those in weaker positions considerately, and instilling self-confidence in them.    
~ Eberhard Bethge, Dietrich Bonhoeffer: A Biography (Revised Edition); Chapter 1: Childhood and Youth: 1906-1923, 19.
Not every Sunday is a mountaintop. Our hearts often feel sluggish when we come to worship. Distractions around us may abound. Shame over sin can make us feel like hypocrites. Our lives in this fallen world are endlessly up and down. Even in corporate worship. Perhaps especially.
This is what makes our weekly gathering so important. We lift our voices together and turn from that week's "fleeting pleasures of sin" (Hebrews 11:25) to the superior pleasures to be had in Christ. We help each other move higher up the mountain. And in that process of being renewed, and gaining strength for the daily and weekly demands of life, we find our coming together in worship to be the single most important means of deep and enduring joy in God, even as coming to enjoy him can be an extended process.
But up or down, high or low, with what frame of mind and heart do we come to worship together?
Our God is the all-satisfying fountain of living waters (Jeremiah 2:13). When we seek to quench our deep soul-thirst in him, corporate worship becomes the stunning opportunity to gather together not just with fellow believers, but with fellow enjoyers of God.
Come to the Fountain
The prophet Isaiah raised his voice to summon God's people not simply as believers but enjoyers:
"Come, everyone who thirsts,
come to the waters;
and he who has no money,
come, buy and eat!
Come, buy wine and milk
without money and without price.
Why do you spend your money for that which is not bread,
and your labor for that which does not satisfy?
Listen diligently to me, and eat what is good,
and delight yourselves in rich food." (Isaiah 55:1–2)
In worship, we enjoy Jesus together as water for our thirsty souls, as milk to nourish our spirits, and as wine to gladden our hearts. God offers a banquet to the human soul — not mainly for individual snacking but for corporate feasting.
We do find encouragement in gathering consciously with fellow believers. In a world that suppresses the truth in unrighteousness (Romans 1:18) — and lies to us subtly and overtly at every turn that self, not God, is in control — finding ourselves in the assembly, in the congregation, of believers can have a powerful effect on reinforcing our faith. God exists. He made our world. He rules over its every detail, even our sin. And he sent his own Son to rescue us from our sins, and the punishment we justly deserve, by faith in him.
And yet, when we gather in corporate worship, we are more deeply knit together than simply the truths we affirm. A stronger tie that binds us is whom we enjoy. We share in a common joy with uncommon worth: the greatest treasure in the universe.
Come to the Faith
Is it assuming too much to think of your fellow worshipers as fellow enjoyers of Jesus? Not at all. Saving faith is not indifferent to its Savior.
"I am the bread of life," Jesus says, "whoever comes to me shall not hunger, and whoever believes in me shall never thirst" (John 6:35). Note the parallels in what Jesus says. Not hungering pairs with never thirsting. And coming to Jesus pairs with believing in him. What, then, according to John 6:35, is Christian faith? It is "coming to Jesus" — not bodily or geographically but in the soul — to have our soul-hunger satisfied and our soul-thirst quenched.
There is an irreducible aspect of enjoyment in such faith, whether the believer is conscious of it yet or not. There is a kind of "joy" that is not only the fruit of faith (Galatians 5:22) but an essential aspect of faith (Philippians 1:25; 2 Corinthians 1:24). Fellow believers in Jesus are fellow enjoyers, with us, of him. Our corporate worship truly is an enjoying Jesus together.
Come to the Father
Whether or not we come in worship as enjoyers, not just believers, may reflect how deeply we see God as our Father — a true Father who we know fundamentally as a giver, not taker.
The leaders of the transgender revolution revile the celebrated declaration, "It's a boy" or "It's a girl," when a baby is born. Transgender activists recognize that their revolution cannot succeed until doctors who deliver babies, or ultrasound technicians at women's cliques, stop labeling babies as a specific gender. The announcement of a baby's gender, however, still fills delivery rooms and doctor's offices with excitement. I predict that this practice will continue.
Recently, an article ran in "The Ethicist" column of the New York Times Magazine. The ethicist in this case is Professor Kwame Anthony Appiah. The headline in the article asked, "Should I Go to a Gender-Reveal Party?" The questioner who wrote in for advice posed to "The Ethicist" the following scenario:
"A close relation is pregnant with her first child and is having a gender-reveal party. She is overjoyed with the addition to our family, as am I. However, I am adamantly opposed to attending the gender-reveal party because it violates my moral code. I have worked in activism for my entire professional life and, though I am cisgender, I have strong feelings about gender politics and equality. Gender-reveal parties, where parents and guests learn a baby's gender together, violate my values because they reaffirm society's gender binarism and inadvertently perpetuate the stigma against non-binary genders. I know I will never experience firsthand the challenges of being gender-nonconforming, but when I think about how I might feel, I would be very hurt knowing my parents had a gender-reveal party for me before I was born with my incorrect gender. I know the non-binary community faces much deeper, more urgent problems than this hypothetical situation, but even so, I have a moral aversion to helping affirm society's gender binarism. Should I attend the party?"
This question represents just one more step towards cultural insanity. The questioner cannot fathom nor allow for a party where people celebrate politically incorrect labels like "boy" and "girl." Such a party violates the moral code of the transgender movement.
Indeed, the moral unction behind this question is breathtaking. Scenarios like this come, not on the leading edge of a moral revolution. Rather, the moral revolution must have made significant gains before an ethics column in the New York Times Magazine begins to get letters with this kind of moral outrage at a gender-reveal party.
Christians thinking about this moral confusion must first stop at the vocabulary used in this article—particularly the word, "cisgender." Using that term plays into the entire gender revolution. The term indicates that someone born a male is quite comfortable with being male. Even adopting the vocabulary, therefore, becomes an enormous problem because the vocabulary assumes that you accept the ideology of the transgender revolutionaries—that gender fluidity exists and that the gender assigned at one's birth may or may not be factual. "Cisgender" signifies that you buy into the idea that all of humanity must be identified on a spectrum, with cisgender at one end and gender-nonconforming, or, transgender at the other end.
Secondly, Christians need to note the kind of moral outrage indicated in the question. The questioner, filled with indignation, lashes out at a set of parents who had the audacity to throw a gender-reveal party—a party that apparently does nothing more than perpetuate binary stereotypes. Indeed, according to this article in the New York Times Magazine, gender-reveal parties could damage relationships between parents and their transgender children who find out that mom and dad threw a party which revealed an "incorrect gender." This argument asks the reader to make incredible leaps in logic and to possess an imaginative framework which obfuscates all reality.
But here's the third thing we come to understand about this article: It tells us that the writers, editors, and publishers of the New York Times Magazine believe that these are the kinds of questions we should be concerned about and that we too should experience the confliction, indeed, the outrage present in the question posed to "The Ethicist."
The question, by itself, poses enormous problems and reveals the erosion of any sane ethic.