You are currently browsing the tag archive for the 'dr. bryan galloway' tag.
"Without Christ there is discord between God and man and between man and man. Christ became the Mediator and made peace with God and among men." 
Dietrich Bonhoeffer, Life Together, 23.
But if there is so much blessing and joy even in a single encounter of brother with brother (or sister with sister), how inexhaustible are the riches that open up for those who by God's will are privileged to live in the daily fellowship of life with other Christians." 
The believer feels no shame, as though he were still living too much in the flesh, when he yearns for the physical presence of other Christians." 
"The physical presence of other Christians is a source of incomparable joy and strength to the believer." 
"Most parents today are too spineless. For fear of losing their children, they devalue themselves into their friends and cronies, and end by rendering themselves superfluous to them. I abhor that type of upbringing, which is not an upbringing at all."
~Dietrich Bonhoeffer quote in Eberhard Bethge, Dietrich Bonhoeffer: A Biography (Revised Edition); Chapter 1: Childhood and Youth: 1906-1923, 16.
By present-day standards the Bonhoeffer household was conducted on an inconceivably lavish scale; but, at the same time, the parents strongly disliked personal boasting or pretension. Money was never discussed in front of the children. The country house in Wolfelsgrund was spacious and airy, but its furnishings were Spartan; later, after they have moved to Berlin, the family's summer home in Friedrichsbrunn was wired for electricity only in autumn of 1943.  If one of the children dropped a toy on the dirty floor of the railway compartment on the way to the country, their mother was capable was dropping it straight out of the window, but suggestions for improving amenities in the country were ignored. There was never any question of fashionable extravagance, either in dress or in the home.   
~ Eberhard Bethge, Dietrich Bonhoeffer: A Biography (Revised Edition); Chapter 1: Childhood and Youth: 1906-1923, 16.
"So between the death of Christ and the Last Day, it is only by a gracious anticipation of the last things that Christians are privileged to live in visible fellowship with other Christians. It is by the grace of God that a congregation is permitted to gather visibly in this world to share God's Word and sacrament."
Martin Luther (1483–1546)
One of the great rediscoveries of the Reformation — especially of Martin Luther — was that the word of God comes to us in the form of a book, the Bible. Luther grasped this powerful fact: God preserves the experience of salvation and holiness from generation to generation by means of a book of revelation, not a bishop in Rome.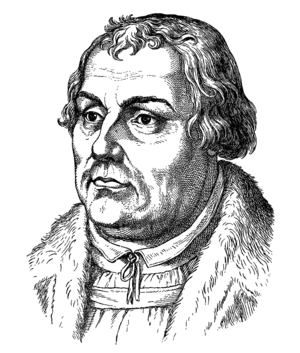 The life-giving and life-threatening risk of the Reformation was the rejection of the pope and councils as the infallible, final authority of the church. Luther's adversary, Sylvester Prierias, wrote, "He who does not accept the doctrine of the Church of Rome and pontiff of Rome as an infallible rule of faith, from which the Holy Scriptures, too, draw their strength and authority, is a heretic" (Luther, 193). It followed that Luther would be excluded from the Roman Catholic Church. "What is new in Luther," Heiko Oberman says, "is the notion of absolute obedience to the Scriptures against any authorities; be they popes or councils" (Luther, 204).
This rediscovery of the word of God above all earthly powers shaped Luther and the entire Reformation. But Luther's path to that rediscovery was a tortuous one, beginning with a lightning storm at age 21.
Fearful Monk
On July 2, 1505, on the way home from law school, Luther was caught in a thunderstorm and was hurled to the ground by lightning. He cried out, "Help me, St. Anne! I will become a monk." Fifteen days later, to his father's dismay, Luther left his legal studies and kept his vow.
He knocked at the gate of the Augustinian hermits in Erfurt and asked the prior to accept him into the order. At 21, he became an Augustinian monk. At his first Mass two years later, Luther was so overwhelmed at the thought of God's majesty that he almost ran away. The prior persuaded him to continue.
But this incident of fear and trembling would not be an isolated one in Luther's life. Luther himself would later remember of these years, "Though I lived as a monk without reproach, I felt that I was a sinner before God with an extremely disturbed conscience. I could not believe that he was placated by my satisfaction" (Selections, 12).
Luther would not be married for another twenty years — to Katharina von Bora on June 13, 1525 — which means he lived with sexual temptations as a single man till he was 42. But "in the monastery," he said, "I did not think about women, money, or possessions; instead my heart trembled and fidgeted about whether God would bestow his grace on me." His all-consuming longing was to know the happiness of God's favor. "If I could believe that God was not angry with me," he said, "I would stand on my head for joy."
Good News: God's Righteousness
In 1509, Luther's beloved superior and counselor and friend, Johannes von Staupitz, allowed Luther to begin teaching the Bible. Three years later, on October 19, 1512, at the age of 28, Luther received his doctor's degree in theology, and von Staupitz turned over to him the chair in biblical theology at the University of Wittenberg, which Luther held the rest of his life.
As Luther set to work reading, studying, and teaching Scripture from the original languages, his troubled conscience seethed beneath the surface — especially as he confronted the phrase "the righteousness of God" in Romans 1:16–17. To Luther, "the righteousness of God" could only mean one thing: God's righteous punishment of sinners. The phrase was not "gospel" to him; it was a death sentence.
But then, in the work of a moment, all Luther's hatred for the righteousness of God turned to love. He remembers,
At last, by the mercy of God, meditating day and night, I gave heed to the context of the words, namely, "In it the righteousness of God is revealed, as it is written, 'He who through faith is righteous shall live.'" . . . And this is the meaning: the righteousness of God is revealed by the gospel, namely, the passive righteousness with which [the] merciful God justifies us by faith, as it is written, "He who through faith is righteous shall live."
He concludes, "Here I felt that I was altogether born again and had entered paradise itself through open gates."
Standing on the Book
Luther was not the pastor of the town church in Wittenberg, but he did share the preaching with his pastor friend, Johannes Bugenhagen. The record bears witness to how utterly devoted he was to the preaching of Scripture. For example, in 1522 he preached 117 sermons, the next year 137 sermons. In 1528, he preached almost 200 times, and from 1529 we have 121 sermons. So the average in those four years was one sermon every two-and-a-half days.
Over the next 28 years, Luther would preach thousands of sermons, publish hundreds of pamphlets and books, endure scores of controversies, and counsel innumerable German citizens — all to spread the good news of God's righteousness to a people trapped in a system of their own merit. Through it all, Luther had one weapon with which to rescue this gospel from being sold in the markets of Wittenberg — Scripture. He drove out the moneychangers — the indulgence sellers — with the whip of the word of God, the Bible.
Luther said with resounding forcefulness in 1545, the year before he died, "Let the man who would hear God speak, read Holy Scripture."
"It is not simply to be taken for granted that the Christian has the privilege of living among other Christians. Jesus Christ lived in the midst of his enemies. At the end all his disciples deserted him. On the Cross he was utterly alone, surrounded by evildoers and mockers. For this cause he had come, to bring peace to the enemies of God. So the Christian, too, belongs not in the seclusion of a cloistered life but in the thick of foes."
Nearly seven decades since his execution at the hands of the Nazis, Bonhoeffer's influence lives on, largely because of his classic devotional writings (especially The Cost of Discipleshipand Life Together), his penetrating questions on what it means to live as a Christian in the modern world (found in his later writings Letter and Papers from Prison and Ethics), and his riveting and challenging biography. But at the center of Bonhoeffer's engagement with the world was his understanding of the prominent and unique role of preaching. Bonhoeffer's close friend Eberhard Bethge claimed that "Bonhoeffer acted and analyzed out of a responsibility for preaching . . . the Bonhoeffer who taught, the Bonhoeffer who was obedient to the Word, the Bonhoeffer who was involved, was governed by preaching and its majesty" (Fant 1975, 3). Further, Bethge explains, "Preaching was the great event in his life; the hard theologizing and all the critical love of his church were all for its sake, for in it the message of Christ, the bringer of peace, was proclaimed. To Bonhoeffer nothing in his calling competed in importance with preaching" (Fant 1975, 7-8). Similarly, John D. Godsey describes Bonhoeffer as "a man for whom preaching was an integral part of life" (Fant 1975, 6). Preaching played such an important role in the thought and life of Bonhoeffer that Victoria Barnett argues that we cannot "understand Bonhoeffer the resistance figure of Bonhoeffer the theologian without understanding Bonhoeffer the preacher" (Barnett 2012, x). Preaching stands as the central and unifying event that brings all of the facets of Bonhoeffer's life into focus.
This emphasis on preaching is surprising given the fact that Bonhoeffer spent very little time in a regular pulpit ministry. Although he preached consistently throughout his adult life, he spent only two periods serving in a congregational pastoral position, both of which were outside of Germany. While awaiting ordination in 1928, Bonhoeffer served as a pastoral assistant to a German-speaking congregation in Barcelona, Spain. He then returned to Berlinfor further academic writing and teaching, before accepting a pastoral call to two German-speaking congregations in London, which he would serve from the fall of 1933 to the spring of 1935.
He left London to return to Germany in order to establish an underground seminary for the training of pastors for the Confessing Church. When the seminary was shut down by the Nazis in 1937, he continued training pastors through collective pastorates. Eventually, because of the threat of military conscription, Bonhoeffer accepted a position in the Abwehr, a German military intelligence organization that was a center of the Resistance movement, in which he served until his arrest on April 5, 1943. Over the next two years he would be imprisoned until his execution, on April 9, 1945.
Because of the limited time that Bonhoeffer spent in a weekly preaching ministry, his entire collected works contain only seventy-one complete sermons (Barnett 2012, xi). He almost never spoke to large crowds, the only possible exceptions being his addresses given at ecumenical gatherings outside of Germany. But as Bethge comments, preaching to large groups of people did not really appeal to him. "He preferred a small, easily defined congregation that could move with him as he developed his train of thought" (Bethge 2000, 389).
Bonhoeffer the Preacher
Bonhoeffer's first attempts at preaching began in 1925 at the age of nineteen. He was excited by the opportunity because he realized the life-giving effect that a sermon can produce. His professor of practical theology, Friedrich Mahling, commended his effort, calling it very fine "in content and form, in its dashing masculine style and heartfelt goodness, pure truthfulness and conscientious seriousness" (Bethge 2000, 90). His examination sermon on Luke 9:51-56 contained the directness that would mark his preaching, as he declared, "the walls of the centuries separating us from this story have fallen away. We face Jesus eye to eye." But his examiners judged that he needed more work in his transition from the academy to the church, determining that he "will have to discard some things and learn some things before he is able to write a really finished sermon. . . . He is lacking in clarity" and must "cultivate a simple and noble simplicity" (Bethge 2000, 91).
During Bonhoeffer's time in Barcelona, he gained his first hands-on experience in congregational ministry. The pastor of the church, Fritz Olbricht, seemed grateful for the relief and gave Bonhoeffer frequent opportunities to preach. In addition to other responsibilities, he preached nineteen sermons. Bonhoeffer worked hard on his sermons, writing to his parents on November 27, 1928, "Writing sermons still takes up a great deal of my time. I work on them a whole week, devoting some time to them every day" (Fant 1975, 9). He struggled with his motivations when his preaching was well received, yet acknowledged, "But on the other hand, who wouldn't be pleased about a full church, or that people who haven't come for years" (Bethge 2000, 111). When Olbricht noticed that the number of worshippers would significantly increase on the Sundays when Bonhoeffer was scheduled to preach (regular attendance was only around 40 people), he stopped announcing the preaching schedule ahead of time (Bonhoeffer 2012, 7).
Bonhoeffer's Barcelona sermons contained many of the themes that he would continue to develop throughout his life. He spoke of man's absolute dependence upon God's grace and the direct opposition between true faith and religion, several times using Karl Barth's analogy of the Tower of Babel to describe the futility of religion. His preaching also evidences the demanding and serious nature of discipleship in this world. In a sermon preached on April 15, 1928, he said, "the world is full of God, this notion becomes threatening and frightening precisely because it demands responsibility. Our life and action are not to be meaningless. . . . Every moment of our life is related to God" (Bonhoeffer 2012, 5). In this sermon Bonhoeffer also emphasizes the centrality of the Bible by stating that there is "no moment in life when Jesus' word does not have something to say to us. Our entire life stands under that word and is sanctified by that word" (Bonhoeffer 2012, 4).
During Bonhoeffer's Barcelona ministry, his sermons were not as strongly biblical as they would increasingly become later in his ministry. For his texts he consistently selected brief, biblical phrases and topically developed the theme. Bethge says that in these sermons, Bonhoeffer's language "borders on flowery, and he made sweeping assertions" (Bethge 2000, 112). He also made more frequent use of personal references and illustrations than he would in the later years. Even though some sections of his sermons were too difficult for his congregation to fully grasp, the warmth of his pastoral concern that they received during the week increased their reception.
Several years later, while teaching at the University of Berlin in 1931, Bonhoeffer experienced a shift that would significantly influence his subsequent preaching and ministry. Bonhoeffer did not like to speak about conversion because of what he saw as the overemphasis of personal testimonies among the pietists; he consistently thought that telling any personal story was a distraction from speaking about Christ. Yet even Bonhoeffer described this event as when he became a Christian. One contributing factor in this change was his friendship with Franz Hildebrandt, who pushed Bonhoeffer further in the direction of the Bible and Luther. Bonhoeffer rarely mentioned this transformation but did describe it in a letter to a friend several years later in 1936:
Then something happened, something that has changed and transformed my life to the present day. For the first time I discovered the Bible . . . I had often preached, I had seen a great deal of the church, spoken and preached about it—but I had not yet become a Christian. . . . Also I had never prayed, or prayed only very little. For in all my loneliness, I was quite pleased with myself. Then the Bible, and in particular the Sermon on the Mount, freed me from that. Since then everything has changed. I have felt this plainly, and so have other people about me. It was a great liberation. It became clear to me that the life of a servant of Jesus Christ must belong to the church, and step by step it became clearer to me how far that must go. . . . The revival of the church and the ministry became my supreme concern (Bethge 2000, 205).
The effect of this event produced a remarkable change in the direction of Bonhoeffer's life. Prior to this his intention was to pursue an academic career, but now he began to move in the direction of parish ministry (a move that was at first resisted by his father, a university professor in neurology and psychiatry). Throughout his early life, he had not regularly attended church, but now he became an active churchgoer and longed for preaching and the sacraments. His own preaching became focused on the Bible, and he began to preach on longer passages rather than brief phrases. This experience also significantly impacted his writing, which moved away from discussing others' ideas to expounding the message of the Bible. According to James Woelfel, "his early interest was in the formal problems of dogmatic theology," but he began "increasingly to devote himself simply to the material dogmatic task of interpreting the Holy Scriptures." Woelfel further observes that in contrast to his earlier writings (The Communion of the Saints and Act and Being), "Bonhoeffer's writings after 1932 consist largely of theological exegesis and homiletics" (Woelfel 1970, 208). This is reflected in Klass Runia's assessment of The Cost of Discipleship as "one of the most penetrating expositions of the Sermon on the Mount" (Runia 1964, 16). Bonhoeffer's connection to the Christian faith had been as an intellectual studying theology; now he became a deeply committed Christian. Now his preaching had a newfound "urgency which had not been characteristic of them before, an urgency that insisted upon a single-minded devotion to Christ" (Fant 1975, 14).
In April 1936 Bonhoeffer further described these convictions in a letter to his brother-in-law, Rüdiger Schleicher, who, in contrast to Bonhoeffer, continued in the path of liberal theology:
Is it . . . intelligible to you if I say I am not at any point willing to sacrifice the Bible as the strange word of God, that on the contrary, I ask with all my strength what God is trying to say to us through it? Every other place outside the Bible has become too uncertain for me. I fear that there I will only bump into my own divine Doppelgänger. . . .
And I want to say something to you personally: since I learned to read the Bible this way—which has not been long at all—it becomes more wonderful to me with each day. . . .
You wouldn't believe how happy one is to find the way back from the wrong track of some theologies to this elemental thing (Bethge 2000, 206).
These deepening convictions led to an increased sense of the primacy of preaching since preaching is the way that God speaks his word to his people. In his first sermon in London on October 22, 1933, upon accepting the pastorate of the St. Paul's and Sydenham Churches, he described the criterion by which a congregation should assess a pastor's ministry: "There is really only one question for a congregation to ask of its pastor: Are you offering us the eternal world of God, the word of life, wherever you can, in the pulpit and in daily life? Or are you giving us stones instead of bread?" (Bonhoeffer 2012, 89). He then described the miraculous nature of preaching:
This is what makes a sermon something unique in all the world, so completely different from any other kind of speech. When a preacher opens the Bible and interprets the word of God, a mystery takes place, a miracle: the grace of God, who comes down from heaven into our midst and speaks to us, knocks on our door, asks questions, warns us, puts pressure on us, alarms us, threatens us, and makes us joyful again and free and sure. When the Holy Scriptures are brought to life in a church, the Holy Spirit comes down from the eternal throne, into our hearts, while the busy world outside sees nothing and knows nothing about it—that God could actually be found here. Out there they are all running after the latest sensations, the excitements of evening in the big city, never knowing that the real sensation, something infinitely more exciting, is happening in here: here, where eternity and time meet where the immortal God receives mortal human beings, through the holy Word, and cares for them, where human souls can taste the starkest terrors of despair and the ultimate depths of God's eternity (Bonhoeffer 2012, 90).
Bonhoeffer practiced and advocated the use of a simple and direct style in preaching so as not to distract from the word of God. In his homiletics lectures at the underground seminary for the Confessing Church at Finkenwalde, he passed this focused style on to his students. He warned that the "movement of the word to the congregation should not be hindered by the preacher, but rather he should acknowledge it. He should not let his own efforts to get in its way" (Fant 1975, 128). He further emphasized a strict restraint in preaching:
I must refuse to indulge in tricks and techniques, both the emotional ones and the rhetorical ones. I must not become pedantic and schoolmasterish, nor begging, entreating, urging. I do not try to make the sermon into a work of art. I do not become unctuous and self-centered or loud and boastful. By forsaking my personal ambitions I accompany the text along its own way into the congregation and thus remain natural, balanced, compassionate, and factual. This permits the Word's almost magnetic relationship to its congregation. I do not give life to it, but it gives life to me and to the congregation (Fant 1975, 138).
He advised his students to be well prepared before stepping into the pulpit because this "allows the greatest amount of factual, direct preaching from the pulpit. Only the unprepared preacher has to use the techniques of emotionalism, shouting, or exercising influences through pressure. These techniques betray his insecurity" (Fant 1975, 149). He again warned against the use of excessive expression because of the nature of the preaching task: "Truthfulness and factuality suggest simple methods. They discourage senseless shouting and emotional excitement in preaching and worship. We are witnesses, not the trumpets of the Last Judgment" (Fant 1975, 172).
Even though Bonhoeffer advocated a strict simplicity in preaching, that does not mean that he did not believe in using vivid language. Reflecting on his own sermons, he "noticed that the most effective sermons were those in which I spoke enticingly of the Gospel, like someone telling children a story of a strange country" (Fant 1975, 12). His Finkenwalde students recounted that he encouraged them "to speak colorfully" (Fant 1875, 38). He understood that the greatness of the message required that the preacher attempt to convey the greatness of that about which he spoke. In a sermon preached in Berlin in May 1932, he began:
One cannot understand and preach the gospel concretely enough. A real evangelical sermon must be like holding a pretty red apple in front of a child or a glass of cool water in front of a thirsty person and then asking: do you want it? We should be able to talk about matters of our faith in such a way that the hands reach out for it faster than we can fill them. People should run and not be able to rest when the gospel is talked about (Bonhoeffer 2012, 34).
An excellent example of the affection-stirring use of language can be found in the concluding sermon in a four week series on 1 Corinthians 13, which he preached to his congregations in London. When expounding the phrase "the greatest of these is love", he climaxes by asking a string of nine questions, all of which begin with the words "What can be greater than . . . ?"
For the rest of the post…