You are currently browsing the tag archive for the 'dr. john piper' tag.
. . . Jesus who delivers us from the wrath to come. (1 Thessalonians 1:10)
Do you remember the time you were lost as a child, or slipping over a precipice, or about to drown? Then suddenly you were rescued. You held on for "dear life." You trembled for what you almost lost. You were happy. Oh, so happy, and thankful. And you trembled with joy.
That's the way I feel at the end of the year about my rescue from God's wrath. All day Christmas we had a fire in the fireplace. Sometimes the coals were so hot that when I stoked it my hand hurt. I pulled back and shuddered at the horrendous thought of the wrath of God against sin in hell. Oh, how unspeakably horrible that will be!
Christmas afternoon I visited a woman who had been burned over 87 percent of her body. She has been in the hospital since August. My heart broke for her. How wonderful it was to hold out hope to her from God's word for a new body in the age to come! But I came away not only thinking about her pain in this life, but also about the everlasting pain I have been saved from through Jesus.
Test my experience with me. Is this trembling joy a fitting way to end the year? Paul was glad that "Jesus . . . delivers us from the wrath to come" (1 Thessalonians 1:10). He warned that "for those who . . . do not obey the truth . . . there will be wrath and fury" (Romans 2:8). And "because of [sexual immorality, impurity, and covetousness] the wrath of God comes upon the sons of disobedience" (Ephesians 5:6).
Here at the end of the year, I am finishing my trek through the Bible and reading the last book, Revelation. It is a glorious prophecy of the triumph of God, and the everlasting joy of all who "take the water of life without price" (Revelation 22:17). No more tears, no more pain, no more depression, no more sorrow, no more death, no more sin (Revelation 21:4).
But oh, the horror of not repenting and not holding fast to the testimony of Jesus! The description of the wrath of God by the "apostle of love" (John) is terrifying. Those who spurn God's love will "drink the wine of God's wrath, poured full strength into the cup of his anger, and he will be tormented with fire and sulfur in the presence of the holy angels and in the presence of the Lamb. And the smoke of their torment goes up forever and ever, and they have no rest, day or night" (Revelation 14:10–11).
"And if anyone's name was not found written in the book of life, he was thrown into the lake of fire" (Revelation 20:15). Jesus will "tread the winepress of the fury of the wrath of God the Almighty" (Revelation 19:15). And blood will flow "from the winepress, as high as a horse's bridle, for 184 miles" (Revelation 14:20). Whatever that vision signifies, it is meant to communicate something unspeakably terrible.
I tremble with joy that I am saved!
The assumption behind this article is that the preciousness and pleasures of Christmas will be deeper, stronger, and more intense if we experience Christmas as part of something vaster than all creation and endless ages. The wisdom of God that planned for Christmas existed before the universe and embraces all that happens.
The universe is a theater for the display of God's wisdom. Jesus Christ is the center and sum of that wisdom. It was executed by the Son of God and for the Son of God. Therefore, "all things were created through him and for him" (Colossians 1:16). God's purpose which guided his plan was "set forth in Christ as a plan for the fullness of time, to unite all things in him" (Ephesians 1:9–10).
This Christ-exalting plan for the universe was eternal — God had it in mind forever. The plan "was according to the eternal purpose that he has realized in Christ Jesus our Lord" (Ephesians 3:11). It was a "mystery that was kept secret for long ages" (Romans 16:25) — "the mystery hidden for ages and generations but now revealed to his saints" (Colossians 1:26). Imbedded in the long-hidden mystery was a promise of eternal life which God "promised before the ages began" (Titus 1:2).
Unfolding in God's Theater
It was a plan that would turn the cosmos into a theater, with angels and devils seated in the heavenly galleries to watch the plan unfold. The plan was to put God's wisdom on display with Christ at the center. The infinite divine wisdom would be seen in Christ's great achievement — a bride for the Son of God, snatched from Satan's hold, redeemed and beautified by the incarnation, death, and resurrection of the second person of the Trinity.
At last "the mystery hidden for ages in God would come to light, so that through the church the manifold wisdom of God might now be made known to the rulers and authorities in the heavenly places" (Ephesians 3:9–10). This is the eternal wisdom of God "which God decreed before the ages for our glory" (1 Corinthians 2:7).
This eternal, divine, cosmically displayed wisdom was summed up in the wonder of the God-man, Jesus Christ. "God's mystery is Christ, in whom are hidden all the treasures of wisdom and knowledge" (Colossians 2:2–3). Thus, in the incarnation, God "made known to us the mystery of his will, according to his purpose, which he set forth in Christ as a plan for the fullness of time" (Ephesians 1:9–10).
In other words, Christmas is a central act in a cosmic "plan" (oikonomian, Ephesians 1:10; 3:9) and cosmic "purpose" (prothesin, Ephesians 1:9, 11; 3:11). The plan existed before creation. It was not a response to sin in creation. Creation and redemption were pursued with sin and redemption in full view as part of the plan. Grace was not an afterthought to creation-gone-wrong. God gave us grace "in Christ Jesus before the ages began" (2 Timothy 1:9). Christmas, Good Friday, Easter, Second Coming, and Consummation were the eternal purpose and plan of creation, not a response to its fall.
Throughout his 82-year life, John Newton was a depraved sailor; a miserable outcast on the coast of West Africa; a slave-trading sea captain; a well-paid surveyor of tides in Liverpool; a beloved pastor of two congregations in Olney and London for 43 years; a devoted husband to Mary for 40 years until she died; a personal friend to William Wilberforce, John Wesley, and George Whitefield; and finally, the author of the most famous hymn in the English language, "Amazing Grace."
Why am I interested in this man? Because one of my great desires is to see Christians become as strong and durable as redwood trees, and as tender and fragrant as a field of clover — unshakably rugged "in the defense and confirmation of the gospel" (Philippians 1:7), and relentlessly humble and patient and merciful in dealing with people.
Tender Hearts, Tough Roots
It seems to me that we are always falling off the horse on one side or the other in this matter of being tough and tender, durable and delightful, courageous and compassionate — wimping out on truth when we ought to be lionhearted, or wrangling when we ought to be weeping. How rare are the Christians who speak with a tender heart and have a theological backbone of steel.
John Newton did not always get the balance right. But though he had feet of clay, like every hero other than Christ, his great strength was "speaking the truth in love" (Ephesians 4:15). He carried in his heart a tenderness that loved the lost, lifted the downcast, welcomed children, and prayed for enemies. And his tenderness had roots as tough as a redwood's.
Voting is like marrying and crying and laughing and buying. We should do it, but only as if we were not doing it. That's because "the present form of this world is passing away" and, in God's eyes, "the time has grown very short." Here's the way Paul puts it:
The appointed time has grown very short. From now on, let those who have wives live as though they had none, and those who mourn as though they were not mourning, and those who rejoice as though they were not rejoicing, and those who buy as though they had no goods, and those who deal with the world as though they had no dealings with it. For the present form of this world is passing away. (1 Corinthians 7:29–31)
Let's take these one at a time and compare them to voting.
1. "Let those who have wives live as though they had none."
This doesn't mean move out of the house, don't have sex, and don't call her Honey. Earlier in this chapter Paul says, "The husband should give to his wife her conjugal rights" (1 Corinthians 7:3). He also says to love her the way Christ loved the church, leading and providing and protecting (Ephesians 5:25–30). It means this: Marriage is momentary. It's over at death, and there is no marriage in the resurrection. Wives and husbands are second priorities, not first. Christ is first. Marriage is for making much of him.
It means: If she is exquisitely desirable, beware of desiring her more than Christ. And if she is deeply disappointing, beware of being hurt too much. This is temporary — only a brief lifetime. Then comes the never-disappointing life which is life indeed.
So it is with voting. We should do it. But only as if we were not doing it. Its outcomes do not give us the greatest joy when they go our way, and they do not demoralize us when they don't. Political life is for making much of Christ whether the world falls apart or holds together.
2. "Let those who mourn [do so] as though they were not mourning.
Christians mourn with real, deep, painful mourning, especially over losses — loss of those we love, loss of health, loss of a dream. These losses hurt. We cry when we are hurt. But we cry as though not crying. We mourn knowing we have not lost something so valuable we cannot rejoice in our mourning. Our losses do not incapacitate us. They do not blind us to the possibility of a fruitful future serving Christ. The Lord gives and takes away. But he remains blessed. And we remain hopeful in our mourning.
So it is with voting. There are losses. We mourn. But not as those who have no hope. We vote and we lose, or we vote and we win. In either case, we win or lose as if we were not winning or losing. Our expectations and frustrations are modest. The best this world can offer is short and small. The worst it can offer has been predicted in the book of Revelation. And no vote will hold it back. In the short run, Christians lose (Revelation 13:7). In the long run, we win (Revelation 21:4).
3. "Let those who rejoice [do so] as though they were not rejoicing."
Christians rejoice in health (James 5:13) and in sickness (James 1:2). There are a thousand good and perfect things that come down from God that call forth the feeling of happiness. Beautiful weather. Good friends who want to spend time with us. Delicious food and someone to share it with. A successful plan. A person helped by our efforts.
But none of these good and beautiful things can satisfy our soul. Even the best cannot replace what we were made for, namely, the full experience of the risen Christ (John 17:24). Even fellowship with him here is not the final and best gift. There is more of him to have after we die (Philippians 1:21–23) — and even more after the resurrection. The best experiences here are foretastes. The best sights of glory are through a mirror dimly. The joy that rises from these previews does not and should not rise to the level of the hope of glory. These pleasures will one day be as though they were not. So, we rejoice remembering this joy is a foretaste and will be replaced by a vastly better joy.
So it is with voting. There are joys. The very act of voting is a joyful statement that we are not under a tyrant. And there may be happy victories. But the best government we get is a foreshadowing. Peace and justice are approximated now. They will be perfect when Christ comes. So our joy is modest. Our triumphs are short-lived — and shot through with imperfection. So we vote as though not voting.
4. "Let those who buy [do so] as though they had no goods."
Let Christians keep on buying while this age lasts. Christianity is not withdrawal from business. We are involved, but as though not involved. Business simply does not have the weight in our hearts that it has for many. All our getting and all our having in this world is getting and having things that are not ultimately important. Our car, our house, our books, our computers, our heirlooms — we possess them with a loose grip. If they are taken away, we say that in a sense we did not have them. We are not here to possess. We are here to lay up treasures in heaven.
This world matters. But it is not ultimate. It is the stage for living in such a way to show that this world is not our God, but that Christ is our God. It is the stage for using the world to show that Christ is more precious than the world.
So it is with voting. We do not withdraw. We are involved — but as if not involved. Politics does not have ultimate weight for us. It is one more stage for acting out the truth that Christ, and not politics, is supreme.
5. "Let those who deal with the world [do so] as though they had no dealings with it."
Christians should deal with the world. This world is here to be used. Dealt with. There is no avoiding it. Not to deal with it is to deal with it that way. Not to weed your garden is to cultivate a weedy garden. Not to wear a coat in Minnesota is to freeze — to deal with the cold that way. Not to stop when the light is red is to spend your money on fines or hospital bills and deal with the world that way. We must deal with the world.
But as we deal with it, we don't give it our fullest attention. We don't ascribe to the world the greatest status. There are unseen things that are vastly more precious than the world. We use the world without offering it our whole soul. We may work with all our might when dealing with the world, but the full passions of our heart will be attached to something higher — Godward purposes. We use the world, but not as an end in itself. It is a means. We deal with the world in order to make much of Christ.
So it is with voting
Joy in Christ Kept Him in China
Hudson Taylor (1832–1905)
"Depend upon it, God's work done in God's way will never lack God's supplies" (Hudson Taylor's Spiritual Secret, 121). When Hudson Taylor wrote that sentence, he meant every kind of need that we have — money and health and faith and peace and strength. And that is my prayer for this article: that you will see and experience new possibilities for your life — more faith, more joy, more peace, more love, and all the money you need to do his will (which may be none).
And all of that is because of your union with Christ, as is put so well in one of Taylor's favorite texts: "My God will supply every need of yours according to his riches in glory in Christ Jesus" (Philippians 4:19). And then, because of all that, I pray you will launch into some venture, some dream of ministry, beyond all your real or perceived inadequacies, for the glory of Christ.
Conversion and Call to China
Hudson Taylor was born May 21, 1832, at Barnsley, England, into a devout Methodist home. At the age of seventeen, he was dramatically converted through the prayers of his mother. Four years later, on September 19, 1853, Taylor sailed for China with the Chinese Evangelisation Society. He had no formal training in theology or missions. He landed in Shanghai five and a half months later.
He learned the language quickly and, in his first two years in China, engaged in ten extended evangelistic journeys to the interior. Then, on January 20, 1858, when he had been in China almost five years, Taylor married another missionary, Maria Dyer. They were married for twelve years. Before Maria died at age thirty-three, she had given birth to eight children. Three died at birth and two in childhood, and the ones who lived to adulthood all became missionaries with the mission their father founded, the China Inland Mission.
Decisive Moment
Five years later, after Taylor had begun his own mission agency — the China Inland Mission — and in the midst of prolonged frustration with his own temptations and failures in holiness, the epoch-making experience happened. Notice what he was experiencing leading up to the great change. He wrote to his mother,
[The need for your prayer] has never been greater than at present. Envied by some, despised by many, hated by others, often blamed for things I never heard of or had nothing to do with, an innovator on what have become established rules of missionary practice, an opponent of mighty systems of heathen error and superstition, working without precedent in many respects and with few experienced helpers, often sick in body as well as perplexed in mind and embarrassed by circumstances — had not the Lord been specially gracious to me, had not my mind been sustained by the conviction that the work is His and that He is with me . . . I must have fainted or broken down. But the battle is the Lord's, and He will conquer. (Hudson Taylor's Spiritual Secret, 140–41)
The stage was set for the crisis that happened on September 4, 1869, in Zhenjiang. What happened that day was not ephemeral. He looked back almost thirty years later, giving thanks for the abiding experience of it:
We shall never forget the blessing we received through the words, in John iv. 14, "Whosoever drinketh of the water that I shall give him SHALL NEVER THIRST," nearly thirty years ago. As we realized that Christ literally meant what He said — that "shall" meant shall, and "never" meant never, and "thirst" meant thirst — our heart overflowed with joy as we accepted the gift. Oh, the thirst with which we had sat down, but oh, the joy with which we sprang from our seat, praising the Lord that the thirsting days were all past, and past for ever! (Separation and Service, 46)
We should beware of being cynical here. Taylor was not naïve. He was speaking of a thirty-year-long experience in which he battled with some very low times. "The thirsting days were all past" does not mean he never had desires for Jesus again. We will turn to what it does mean shortly. But for now, we should simply be aware that, as his most thorough biographer wrote, his whole life "came to be revolutionized" by this experience (The Shaping of Modern China, Vol. 2, 109).
Kept by Union with Christ.
And just in time, too. The next year, 1870, was the most difficult of his life. His son Samuel died in January. Then in July, Maria gave birth to a son, Noel, who died two weeks later. And to crown Hudson's sorrows, on July 23, Maria died of cholera. She was thirty-three years old, and left the thirty-eight-year-old Hudson with four living children.
It was as though God had given Taylor his extraordinary experience of the all-satisfying Christ not as a kind of icing on the cake of conversion, but rather as a way of surviving and thriving in the worst of sorrows, which came to him almost immediately.
A year later, Taylor sailed for England. While he was there, on November 28, 1871, he married the woman with whom he would spend nearly the rest of his life, Jennie Faulding. They were married for thirty-three years before she died in 1904, the year before he did.
In February 1905, Taylor sailed for China for the last time. After a tour of some of the mission stations, he died on June 3 at Changsha, Hunan, at the age of seventy-three. The year 2015 marked the 150th anniversary of the mission that Taylor founded. In 1900, there were one hundred thousand Christians in China, and today there are probably around 150 million. This growth is God's work: one plants, another waters, but God gives the growth (1 Corinthians 3:6). Nevertheless, it is the fruit of faithful labor. And Taylor labored longer and harder than most. That labor was sustained by union with Christ. So we turn to look at what this union meant for Taylor.
Scales Fall
September 4, 1869, when he was thirty-seven years old, Taylor found a letter waiting for him at Zhenjiang from John McCarthy. God used the letter to revolutionize Taylor's life. "When my agony of soul was at its height, a sentence in a letter from dear McCarthy was used to remove the scales from my eyes, and the Spirit of God revealed to me the truth of our oneness with Jesus as I had never known it before" (Hudson Taylor's Spiritual Secret, 149).
The prayer of Ephesians 1:18 was answered as never before: "having the eyes of your hearts enlightened, that you may know . . ." Taylor said, "As I read, I saw it all! . . . I looked to Jesus and saw (and when I saw, oh, how joy flowed!) that He had said, 'I will never leave thee.'"
I saw not only that Jesus will never leave me, but that I am a member of His body, of His flesh and of His bones. The vine is not the root merely, but all — root, stem, branches, twigs, leaves, flowers, fruit. And Jesus is not that alone — He is soil and sunshine, air and showers, and ten thousand times more than we have ever dreamed, wished for, or needed. Oh, the joy of seeing this truth! (Hudson Taylor's Spiritual Secret, 149–50)
Taylor experienced such a powerful revelation of the inexpressible reality of union with Christ, as an absolute and glorious fact of security and sweetness and power, that it carried in it its own effectiveness. "How to get faith strengthened? Not by striving after faith, but by resting on the Faithful One" (Hudson Taylor's Spiritual Secret, 149).
The racial world I grew up in, and the one we live in today, are amazingly different. Racism remains in many forms in America and around the world. In fact, the last two years have brought a disheartening setback, as advocates of white supremacy have been emboldened to be overt.
But in the days of my youth in South Carolina, it was worse. So much worse. The segregation was almost absolute, its manifestations utterly degrading, and the defense of it rang not only from street mobs, but also from the halls of political power — without shame.
In 1954, seventeen states required segregated public schools (America in Black and White, 99);
In 1956, 85% of all white southerners rejected the statement, "White students and Negro students should go to the same schools";
73% said that there should be "separate sections for Negros on streetcars and buses";
62% did not want a Negro "with the same income and education" as them to move into their neighborhood (144);
In 1963, 82% of all white southerners opposed a federal law that would give "all persons, Negros as well as white, the right to be served in public places such as hotels, restaurants, and similar establishments" (139);
And in 1952 (when I was six years old), only 20% of southern blacks of voting age were registered to vote.
The upshot of those statistics was an unjust, unsafe, condescending, unwelcoming, demeaning, and humiliating world for blacks. Have you ever paused to ask yourself what separate water fountains and separate restrooms could possibly mean except, You are unclean — like lepers? It was an appalling world.
Enter MLK
Between that racially appalling world and this racially imperfect one strode Martin Luther King, Jr. We don't know if the world would have changed without him, but we do know he was a rod in the hand of the all-ruling God. Leave aside his theology and his moral flaws. They do not nullify the massive good God wrought through this man. He was used in the mighty hand of Providence to change the world so that the most appalling, blatant, degrading, public (and usually legal) expressions of racism have gone away.
For that alone, the fiftieth anniversary of Martin Luther King's tragic assassination, and loss to the cause of justice, is worthy of heartfelt focus.
Martin Luther King gave his life to change the world. And toward the end, he was increasingly aware that "the Movement" would cost him his life. The night before he was assassinated by James Earl Ray outside room 306 of the Lorraine Motel in Memphis on April 4, 1968, he preached at the Bishop Charles Mason Temple. He had come to Memphis to support the badly underpaid black sanitation workers.
His message came to be called "I've Been to the Mountaintop." He began it by surveying world history in response to a question from God, "When would you have liked to be alive?" King answered, "If you allow me to live just a few years in the second half of the twentieth century, I will be happy." Why? Because "I see God working in this period of the twentieth century in a way that men in some strange way are responding. Something is happening in our world."
What was happening? "We are determined to be men. We are determined to be people." We are standing up. "A man can't ride your back unless it is bent." For a brief window of time — just long enough — MLK was able to use his voice to restrain violence and overcome hate: "We are masters in our nonviolent movement in disarming police forces. They don't know what to do." He kindled a kind of fire that no firehoses could put out, and a kind of courage that no dogs could defeat.
Oh yes, there was violence in the sixties. But three years before his final message, when King was asked whether the riots occurred because the leadership of his people was no longer effective, surely King was right to say, "The riots we have had are minute compared to what would have happened without their effective and restraining leadership."
To the Promised Land
He continued on that last night: We have pursued "a dangerous kind of unselfishness." Like the Good Samaritan. "The Levite asked, 'If I stop to help this man, what will happen to me?' But the Good Samaritan reversed the question: 'If I do not stop to help this man, what will happen to him?' That's the question before you tonight."
A dangerous unselfishness.
'God Did the Work, Period'
My Tribute to Billy Graham (1918–2018)
I recalled this morning (with more emotion than I expected) that one of the fears of my life as a boy growing up in Greenville, South Carolina, was that Billy Graham would die. I know there was a good deal of immature failure in that fear to trust the God who is quite able to run the world without Billy Graham. But it does give you a glimpse of the role he played as a kind of sun holding the planets in place in the solar system of my religious world in the late 1950s.
Now I am 72 in Minneapolis (remember "Box 123"?!), not a teenager in South Carolina. And Billy died today at the age of 99. This morning I have been singing his songs ("Just as I Am" and "How Great Thou Art"). The flood of emotion they awaken, after a lifetime of profound associations, is a sweet sorrow. Thank you, Lord, that you answered my boyish prayers and preserved his life as long as you did. And not just his life, but his faith and his witness.
'I Surrender All'
Billy Graham was born on November 7, 1918, in North Carolina. In 1934, under the preaching of evangelist Mordecai Ham, Billy was converted to Christ. He attended Bob Jones University in Cleveland, Tennessee, for one year and spent three and a half years at Florida Bible Institute in Tampa. In March of 1938, he first sensed God's calling to preach.
One night in March, 1938, Billy Graham returned from his walk and reached the 18th green immediately before the school's front door. "The trees were loaded with Spanish moss, and in the moonlight it was like a fairyland." He sat on the edge of the green, looking up at the moon and stars, aware of a warm breeze from the south. The tension snapped. "I remember getting on my knees and saying, 'God, if you want me to preach, I will do it.' Tears streamed down my cheeks as I made this great surrender to become an ambassador for Jesus Christ." (John Pollock, Billy Graham, 17)
In the summer vacation of 1937, he had asked Emily Cavanaugh to marry him. In May of 1938, she said no.
Billy was ordained in 1939. The first time he gave his own "altar call" he was at a little church on the Gulf Coast, with 100 people present. Thirty-two young men and women came forward (Pollock, 22).
In the fall of 1940, he entered Wheaton College. He met Ruth Bell in the lobby of Williston Hall — the same dormitory where my wife Noël lived as we were dating at Wheaton.
Ruth told Billy that she was unsure after all. She feared that her desire to be his wife denied a clear missionary call, unless he were bound for Tibet. "He went and prayed about the mission field, and he just had no leading whatsoever. Finally he said, 'Well, do you think God brought us together?' — and I had to admit I felt God had." Billy pointed out that the husband is head of the wife: "The Lord leads me and you follow." Ruth agreed, in faith. (Pollock, 26)
They were married August 13, 1943.
His Crisis of Faith
In August, 1949, his faith in the Bible was put to the test. It came to a climax at a student conference in the San Bernardino mountains of California. Charles Templeton had asked questions about the Bible's truthfulness that Billy could not answer.
Billy went out in the forest and wandered up the mountain, praying as he walked, "Lord, what shall I do? What shall be the direction of my life?"

He had reached what he believed to be a crisis.

He saw that intellect alone could not resolve the question of authority. You must go beyond intellect. He thought of the faith used constantly in daily life: he did not know how a train or plane or car worked, but he rode them. . . . Was it only in things of the spirit that such faith was wrong?

"So I went back and I got my Bible, and I went out in the moonlight. And I got to a stump and put the Bible on the stump, and I knelt down, and I said, 'Oh, God; I cannot prove certain things. I cannot answer some of the questions Chuck is raising and some of the other people are raising, but I accept this book by faith as the Word of God.'" (Pollock, 53)
That next month came the decisive turning point in Billy's global evangelism, the Los Angeles Crusade. Overnight he became a nationally known figure. One year later, Newsweek called him "America's greatest living evangelist" (May 1, 1950).
'Sheer Sovereignty Chose Me'
He never lost the unshakable conviction that God had called him sovereignly to the work of evangelism and that he owed everything to God's initiative.
"With all my heart as I look back on my life, [I believe] I was chosen to do this particular work [of evangelizing] as a man might have been chosen to go into East Harlem and work there, or to the slums of London like General Booth was. I believe that God in his sovereignty — I have no other answer for this — sheer sovereignty, chose me to do this work and prepared me in his own way." (Christopher Catherwood, Five Evangelical Leaders, 234)
For all the technology he employed, he relied profoundly on the Holy Spirit in the work of evangelism.
He told students in 1964 at Harvard Divinity School . . . "I used to think that in evangelism I had to do it all, but now I approach evangelism with a totally different attitude. I approach it with complete relaxation. First of all, I don't believe that any man can come to Christ unless the Holy Spirit has prepared his heart. Secondly, I don't believe any man can come to Christ unless God drives him. My job is to proclaim the message. It's the Holy Spirit's job to do the work, period." (Catherwood, 230)
When it was not yet the politically correct thing to do, he was an advocate for racial integration and respect.
In 1972, Graham accepted an invitation to speak in Durban and Johannesburg provided that the audiences were racially integrated. The South African government disliked this and only reluctantly agreed. . . . Howard Jones recalls [Martin Luther] King telling Graham, "Your crusades have done more to help race relations than anything else I know." (Catherwood, 209)
Two Roots of His Message
He is famous for saying that he preached too much and studied too little.
One of my great regrets is that I have not studied enough. I wish I had studied more and preached less. People have pressured me into speaking to groups when I should have been studying and preparing. Donald Barnhouse said that if he knew the Lord was coming in three years, he would spend two of them studying and one preaching. I'm trying to make it up. (Christianity Today, September 23, 1977)
This is especially ironic in view of Pollock's 1966 description of Billy's habits of study:
Beyond all else Billy Graham studies the Bible, the supreme authority for his belief and action. Every day he reads five Psalms, covering the psalter in a month, and one chapter of Proverbs, the book that "shows us how to relate our own lives to our fellow men." He reads through a Gospel each week, using commentaries and modern translations, and constantly returns to the Acts of the Apostles. He annotates throughout the Bible. "Sometimes His word makes such an impact on me that I have to put the Bible down and walk around for a few moments to catch my breath." (Pollock, 248)
All of this was saturated with prayer. "I have so many decisions to make each day, and so many problems, that I have to pray all the time" (Pollock, 248).
Surely John Pollock is right that "prayer and Bible reading, inextricably intertwined, are the tap roots of Billy Graham's character and of his message" (248).
Into Everlasting Joy
There are different ways to measure the greatness of a man's impact. One would be the institutions that were created in the wake of his influence. Another would be the shaping power of his ideas in the culture at large. Another would be the methodological and stylistic impact of his way of doing things on the religious life of America.
The impact of R.C. Sproul on my life and ministry is owing to an incomparable combination of his unashamed allegiance to the absolute sovereignty and centrality of God, his total devotion to the inerrancy and radical relevance of the Christian Scriptures, his serious and rigorous attention to the actual text of Scripture in shaping his views, and his jolting formulations of biblical truth in relation to contemporary reality.
Let me illustrate. I can remember the very room in which I was standing when this incomparable combination landed on me for the first time. It was a back room of our house, listening to a cassette tape on a Walkman, while doing some chores. The text that R.C. was preaching on was Luke 13:1–5.
I had chosen to listen to it because I was struck by the title of the message printed on the cassette: "The Misplaced Locus of Amazement" (re-preached in recent years as "The Locus of Astonishment"). I had no idea what he meant. Even when I thought about the content of Luke 13:1–5, I didn't have the wisdom to discern what he would be getting at. Then I began to listen. And as so often happens in listening to his expository messages, I was riveted.
Our Misplaced Amazement
Some people had come to Jesus and confronted him with the horror that Pilate had slaughtered some Galileans and mingled their blood with their own sacrifices. Interestingly, those who came to Jesus didn't ask any questions. They simply expressed amazement. But inside their amazement was a question: What horrible sin had these Galileans committed that brought down such a judgment?
"This was R.C.'s goal: a heart stunned and humbled by the transcendent greatness and purity of God."
Jesus answered, "Do you think that these Galileans were worse sinners than all the other Galileans, because they suffered in this way? No, I tell you; but unless you repent, you will all likewise perish" (Luke 13:2–3). And to make sure they knew he saw such horrors in the world, he added this: "Or those eighteen on whom the tower in Siloam fell and killed them: do you think that they were worse offenders than all the others who lived in Jerusalem? No, I tell you; but unless you repent, you will all likewise perish" (Luke 13:4–5).
Then R.C. made a devastating — jolting — observation. He said that these crowds, who were so amazed that some people had been judged for their sin, had put their amazement entirely in the wrong place — "a misplaced locus of amazement." They were amazed that something horrible had happened to a few Galileans. What they should have been amazed at was that something equally horrible hasn't happened to everybody in Jerusalem — indeed, R.C. added, everybody in the world.
"Do you think that these Galileans were worse sinners than all the other Galileans, because they suffered in this way? No, I tell you; but unless you repent, you will all likewise perish." (Luke 13:2–3)
The meaning of these calamities that happened to others is that I should repent. The amazing thing is that I am not now, at this moment, in hell for my sin. Jolting.
Incomparable Combination
As time went by, I came to realize that the impact of such preaching was owing to R.C.'s incomparable combination of allegiances.
First, he had a serious and rigorous attention to the actual text of Scripture. He was not making his points in general, as his sermon floated in a fog above the text. He was reading the text. He was pushing my nose into the clauses. He was showing me what is really there. The shocking realities were real because they were really in the text.
Second, over time, when you heard R.C. do this kind of thing repeatedly, you realized such serious and rigorous attention to the text was owing to his total devotion to the inerrancy and radical relevance of the Scriptures. He didn't believe that the message of biblical texts was innocuous and unexciting, and therefore in need of artificial verbal boosters to make the thunder crack. Oh no. If you take the text seriously, and you realize this is the very word of God, you may expect that its relevance will be repeatedly shocking.
Third, therefore, the jolting formulations of biblical truth that were sprinkled so liberally through R.C.'s preaching and writing were not artificially concocted to add effect, but strategically chosen to express reality. And he would say that the jolting expressions, if anything, fall short of, rather than exaggerate, the reality of the text.
Fourth, emerging from the exegesis, and rising in my heart, was an unashamed allegiance to the absolute sovereignty of God to show mercy or to judge according to his infinite wisdom. This was R.C.'s goal: a heart that is stunned and humbled and captivated by the transcendent greatness and purity of God.
Holy God, Humble Man
Consider one other illustration of this kind of jolting exposition. King David decided to bring the ark of God from Kiriath-jearim to the city of David. But contrary to the law of God, it was carried on an ox-drawn cart, not on poles by the priests (Numbers 4:15). The oxen stumbled, the ark tipped, Uzzah put out his hand to steady the ark, and God struck him dead (1 Chronicles 13:10).
"If you take the Bible seriously, you may expect that its relevance will be repeatedly shocking."
R.C. suggested that the issue here was deeper than a failure to follow Mosaic stipulations. It was a failure to see the depth of human defilement. Why, he asked, should Uzzah presume that his hands were cleaner than the soil on which the ark was about to fall? Soil is only ceremonially unclean. The hands of sinful men are morally and spiritually unclean — a vastly more serious uncleanness.
To the objection that this seems harsh, R.C. answered that there are, according to Jewish tradition, 23 breaches of the law that receive capital punishment in the Mosaic law. This is an absolutely astonishing and merciful limitation on God's part since, at the beginning of human history, allsins were punishable by death!
Again and again, I heard him draw out such jolting observations from Scripture — all of it in the service of magnifying the holiness of God, and the humility of man. I marveled. The effect was to make me want to handle the Bible with blood-earnestness, to submit to it absolutely, to preach it faithfully, and to unashamedly herald the greatness of God's sovereign grace.
For me, it was this faithfulness to biblical texts, and this high view of God's sovereignty and holiness, that made R.C.'s fight for the imputation of Christ's righteousness so credible and compelling. The bigger and more central and more sovereign and more holy God is in our eyes, the more clearly we see our desperate need for justification by faith alone.
Someday, when the official biography is written, and the best studies of his life and ministry are done, there will, I believe, emerge a remarkably coherent body of truth and devotion. He never allowed himself to go down marginally important rabbit trails (excluding aberrations like a devotion to the Pittsburgh Steelers!). He stayed close to the great doctrines of Scripture and their profound impact on life and ministry and church and missions. These have been the girders from which he has built a coherent, God-centered worldview.
"I Love the Chair"
Martin Luther (1483–1546)
One of the great rediscoveries of the Reformation — especially of Martin Luther — was that the word of God comes to us in the form of a book, the Bible. Luther grasped this powerful fact: God preserves the experience of salvation and holiness from generation to generation by means of a book of revelation, not a bishop in Rome.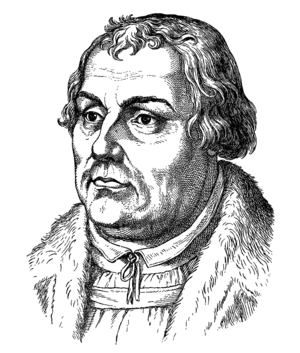 The life-giving and life-threatening risk of the Reformation was the rejection of the pope and councils as the infallible, final authority of the church. Luther's adversary, Sylvester Prierias, wrote, "He who does not accept the doctrine of the Church of Rome and pontiff of Rome as an infallible rule of faith, from which the Holy Scriptures, too, draw their strength and authority, is a heretic" (Luther, 193). It followed that Luther would be excluded from the Roman Catholic Church. "What is new in Luther," Heiko Oberman says, "is the notion of absolute obedience to the Scriptures against any authorities; be they popes or councils" (Luther, 204).
This rediscovery of the word of God above all earthly powers shaped Luther and the entire Reformation. But Luther's path to that rediscovery was a tortuous one, beginning with a lightning storm at age 21.
Fearful Monk
On July 2, 1505, on the way home from law school, Luther was caught in a thunderstorm and was hurled to the ground by lightning. He cried out, "Help me, St. Anne! I will become a monk." Fifteen days later, to his father's dismay, Luther left his legal studies and kept his vow.
He knocked at the gate of the Augustinian hermits in Erfurt and asked the prior to accept him into the order. At 21, he became an Augustinian monk. At his first Mass two years later, Luther was so overwhelmed at the thought of God's majesty that he almost ran away. The prior persuaded him to continue.
But this incident of fear and trembling would not be an isolated one in Luther's life. Luther himself would later remember of these years, "Though I lived as a monk without reproach, I felt that I was a sinner before God with an extremely disturbed conscience. I could not believe that he was placated by my satisfaction" (Selections, 12).
Luther would not be married for another twenty years — to Katharina von Bora on June 13, 1525 — which means he lived with sexual temptations as a single man till he was 42. But "in the monastery," he said, "I did not think about women, money, or possessions; instead my heart trembled and fidgeted about whether God would bestow his grace on me." His all-consuming longing was to know the happiness of God's favor. "If I could believe that God was not angry with me," he said, "I would stand on my head for joy."
Good News: God's Righteousness
In 1509, Luther's beloved superior and counselor and friend, Johannes von Staupitz, allowed Luther to begin teaching the Bible. Three years later, on October 19, 1512, at the age of 28, Luther received his doctor's degree in theology, and von Staupitz turned over to him the chair in biblical theology at the University of Wittenberg, which Luther held the rest of his life.
As Luther set to work reading, studying, and teaching Scripture from the original languages, his troubled conscience seethed beneath the surface — especially as he confronted the phrase "the righteousness of God" in Romans 1:16–17. To Luther, "the righteousness of God" could only mean one thing: God's righteous punishment of sinners. The phrase was not "gospel" to him; it was a death sentence.
But then, in the work of a moment, all Luther's hatred for the righteousness of God turned to love. He remembers,
At last, by the mercy of God, meditating day and night, I gave heed to the context of the words, namely, "In it the righteousness of God is revealed, as it is written, 'He who through faith is righteous shall live.'" . . . And this is the meaning: the righteousness of God is revealed by the gospel, namely, the passive righteousness with which [the] merciful God justifies us by faith, as it is written, "He who through faith is righteous shall live."
He concludes, "Here I felt that I was altogether born again and had entered paradise itself through open gates."
Standing on the Book
Luther was not the pastor of the town church in Wittenberg, but he did share the preaching with his pastor friend, Johannes Bugenhagen. The record bears witness to how utterly devoted he was to the preaching of Scripture. For example, in 1522 he preached 117 sermons, the next year 137 sermons. In 1528, he preached almost 200 times, and from 1529 we have 121 sermons. So the average in those four years was one sermon every two-and-a-half days.
Over the next 28 years, Luther would preach thousands of sermons, publish hundreds of pamphlets and books, endure scores of controversies, and counsel innumerable German citizens — all to spread the good news of God's righteousness to a people trapped in a system of their own merit. Through it all, Luther had one weapon with which to rescue this gospel from being sold in the markets of Wittenberg — Scripture. He drove out the moneychangers — the indulgence sellers — with the whip of the word of God, the Bible.
Luther said with resounding forcefulness in 1545, the year before he died, "Let the man who would hear God speak, read Holy Scripture."
The most ultimate and the most central and most foundational reality that exists is God. Before there was a universe, there was God. God is eternal with no beginning and no ending. He said to Moses, "Tell them I Am sent you. I Am who I Am." He's absolute. Everything else is derivative. Everything else is dependent including all human beings us. Therefore, God is the most important being and the most valuable being that exists. Everything else has meaning and everything else has worth because of its connection to and its derivation from God and his worth. Everything has meaning and worth because it mirrors more or less God's worth and God's truth. His truth, his goodness, his beauty define all that is really true, all that is really good, and all that is beautiful. That's what it means to be God.
In His Image
That absolute all-creating, all-originating, all-sustaining God created everything else including human beings, and he created us human beings in his own image (Genesis 1:27), which means that he created us with the rational and the moral and the affectional capacities to image him. Images are made to image. The meaning of being created in the image of God is that we have a destiny or a design or a capacity to image God, to mirror God, to reflect God. That's what I mean to be created in the image of God. We are to magnify our Maker, so his goodness and his beauty and his truth are defined. Expression and echo mirror in us.
For His Glory
The Bible says, "Bring my sons from afar, my daughters from the ends of the earth, everyone whom I created for my glory." Every human being is created to make much of God, to put his glory on display. That's why every human being that is in New York is in New York — to display the glory of God for what he really is like according to his infinite value or 1 Corinthians 10:31 that was Isaiah 43:7. First Corinthians 10:31: "Whatever you do, whether you eat or drink, do everything to the glory of God."
Absolutely every person in every aspect of their lives from the biggest to the little is to live out the worth of God, the value of God, the beauty and goodness of God. Since God is most glorified in us when we are most satisfied in him, he designed us so that he himself and only he would be our supreme happiness because that's the way you bring his glory to fullest expression.
If you're bored with God, he's not honored by you or glorified by you. If you are thrilled with God and deeply satisfied with God in the moment of your greatest suffering, then he has shown to be valuable in your life. God designed you for his glory, that is he designed you to be happy supremely in him above all other things. Knowing God, admiring God, treasuring God, trusting God, being near God, reflecting God, that's what we were made for. All the people everywhere in every ethnic group on the planet have that as their God-appointed calling and reason for being. God is utterly supreme in our affections and we are utterly satisfied in his perfections. That's the way he set it up.
The Greatest Issue in the World
The greatest issue in the world, therefore, is that not a single person in this room or on this planet fulfills that design, none. That's the biggest problem in New York City, Minneapolis, Bangkok, and Beijing. It is the biggest problem in the world by far. We have all sinned. We've all exchanged that glory that we were made to enjoy and magnify. We've exchanged it for images — especially the one in the mirror — and we find our satisfaction not in knowing God or admiring God or treasuring God or trusting or reflecting God, but we find our pleasure in ourselves being exalted. We want to be made much of ourselves. It feels so good to be made much of and it does not feel good to human beings to make much of God. We are all fallen.
We are bent away from God. We are rebels. We are blind, treasuring the creature over the Creator thus belittling the creator and committing treason against our King. Every one of you has done that. Every person on the planet is guilty of treason. That's the biggest problem in the world. When a whole planet commits treason against her King, that's the biggest problem. Now in God's unimpeachable justice, he opposes us therefore with great wrath. He is very angry at the human race, which means that we would be utterly and eternally lost, undone, desperate, going to hell.
Love Intervenes
We would be undone eternally if God weren't more than unimpeachably just, if God didn't somehow undertake for this rebellious planet with all of us rebels, selfish, self-exalting human beings to intervene somehow on a rescue operation that made it possible for those rebels to have amnesty and be reconciled back to making much of him and being supremely happy in it forever. That's what he did. He entered history 2,000 years ago in the person of Jesus Christ — fully divine, fully and perfectly human Son of God, Jesus Christ. He said this when he came, "The Son of Man came not to be served, but to serve and to give his life as a ransom for many" (Matthew 20:28). Isaiah said,
Surely he has borne our griefs and carried our sorrows, yet we esteemed him stricken, smitten by God, and afflicted. He was wounded for our transgressions. He was bruised for our iniquities. Upon him was the chastisement that made us whole and by his stripes, we are healed. We have all like sheep gone astray and turned every one to his own way, and the Lord God Almighty has laid on him the iniquity of us all. (Isaiah 53:4–6)
That's 700 years before it happened. Or Paul said, "Christ redeemed us from the curse of the law by becoming a curse for us, cursed it is everyone who hangs on a tree" (Galatians 3:13). He did that intentionally to take that anger and that wrath and that curse on himself so that he can assemble a people who are forgiving when there's no wrath against them anymore.
Or Paul in Romans 8:3: "What the law could not do, weak as it was through the flesh, God did, sending his own son in the likeness of sinful flesh and for sin. He condemned sin in the flesh." Whose sin? Jesus didn't have any. Mine. Whose flesh? Not mine, Jesus's. This is called substitution. Jesus sent by the Father to be a substitute so that all the punishment I deserved went on him, all the righteousness I couldn't but should have performed, he completed, and the death I should have died, he walked into, and it spits him out and he triumphs. He climbs over it. That is what he did for his people: punished and canceled all their sin in Christ, performed and provided all their righteousness in Christ, absorbed and removed all the wrath of God against them, and purchased and secured their adoption into the family and their eternal happiness.
Free for You, and for Me
Christ did that by dying and rising again for them. That's the gospel of Jesus Christ, the good news of God for this rebellious planet. It comes to consummation in individual lives when they ask: "You said he did that for his family?" That's right I did. He did that for his elect. Yes. He did that for his redeemed people. Yes. "How do I get in? I mean can I get in?" And the answer is Yes. By grace are you saved through faith and that not of yourselves, it is the gift of God, not of works lest anyone should boast, so by grace through faith (Ephesians 2:8). Faith means when I hear that message, I say that is the best news I've ever heard for a rebel like me with the wrath of God on him, and you embrace it and receive it for the treasure that it is. That's faith, and it's free for the having for anybody in this room or anybody watching. Anybody who will receive it as their supreme treasure has it and all of that is valid for them.
The Gospel Explains and Undermines Racism