You are currently browsing the tag archive for the 'Eberhard Bethge.' tag.
Bonhoeffer decided to be a minister and theologian when he was a boy, and he never seems to have wavered in this ambition. At home he made no bones about it. Even when his brothers and sisters refused to take him seriously, he did not let it disconcert him. When he was about fourteen, for instance, they tried to convince him that he was taking the path of least resistance, and the church to which he proposed to devote himself was a poor, feeble, boring, petty, and bourgeois institution, but he confidently replied: "In that case I shall reform it!" 
~ Eberhard Bethge, Dietrich Bonhoeffer: A Biography (Revised Edition); Chapter 1: Childhood and Youth: 1906-1923, 36.
Of the Bonhoeffer brothers, Dietrich, the youngest, was the one most drawn to try the Youth movement. His episode in the Boy Scouts was a first attempt advance to move beyond the sphere of family and school, and to discover his own areas of experience not shared by his brothers and sisters. Many of his classmates did the same thing, and he did not want to be different from them in everything. 
~ Eberhard Bethge, Dietrich Bonhoeffer: A Biography (Revised Edition); Chapter 1: Childhood and Youth: 1906-1923, 33.
In 1917 Karl-Friedrich and Walter were called up. Because of their numerous contacts, the Bonhoeffers could have influenced the course of their sons' military career to some extent, but the boys insisted on enlisting in the infantry, where the need was greatest. They joined the Fifth Regiment of Guards at Spandau, with no intention of becoming officers. With a heavy heart their parents let them do so; they did not want "to try to play Providence."
After a short time of training, they were sent to the front.
…Walter was wounded in the advance on 23 April 1918. (He died from injuries on April 28)
…His death seemed to break his mother's spirit. She spent weeks in bed at time…
…Karl-Friedrich was wounded in the October battles of 1918, but his injuries proved to be slight.
Seventeen-year-old Klaus was also called up and, after a brief period of training, served as an orderly at General Headquarters in Spa.
~ Eberhard Bethge, Dietrich Bonhoeffer: A Biography (Revised Edition); Chapter 1: Childhood and Youth: 1906-1923, 27-28.
Gradually, however, the war began to have a grim impact on the Bonhoeffer family. In 1914 their uncle Otto Bonhoeffer in Dussedorf and their mother's sister, Aunt Hanna Countess von der Goltz, received bad news, and the children heard of cousins killed or severely wounded in action. As the war dragged on, the older brothers, who were still in school, approached military age.
At the end of 1916 faint hopes clung to the possibility of peace. 
~ Eberhard Bethge, Dietrich Bonhoeffer: A Biography (Revised Edition); Chapter 1: Childhood and Youth: 1906-1923, 26.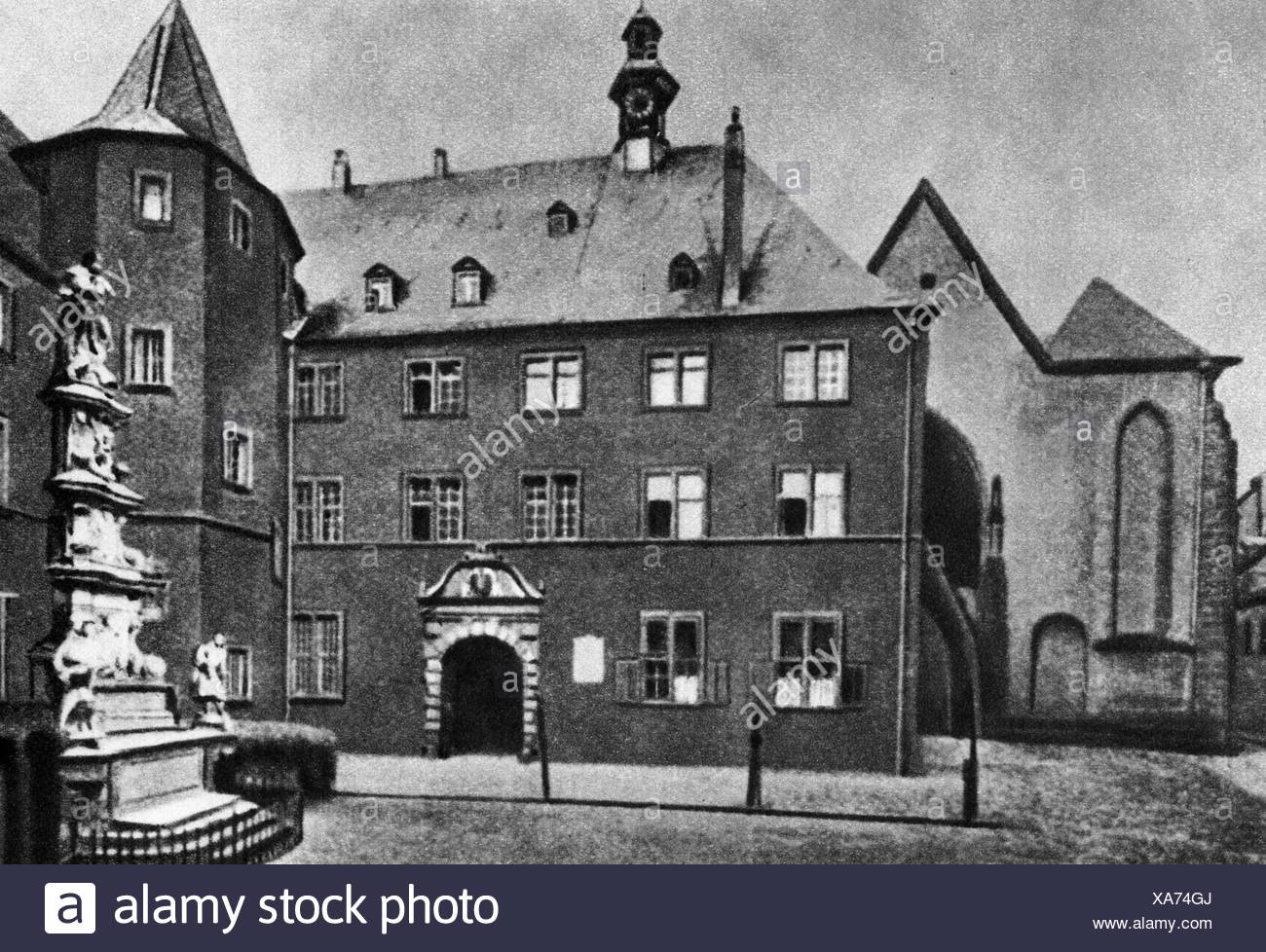 In the autumn of 1913 Dietrich, like his brothers, went to Friedrich Werder Gymnasium. Despite the scientific bent of their father and the older brothers, as a matter of course all the children, including Christine attended schools with a strong humanities curriculum. Dietrich had shown occasional signs of nervousness and shyness earlier, and was initially quite unhappy on his way to school, but this soon changed. He was put in the eighth form, and found the work child's play. In his 1915, New Year's diary his father wrote: "Dietrich does his work naturally and tidily. He likes fighting, and does a great deal of it. 
~ Eberhard Bethge, Dietrich Bonhoeffer: A Biography (Revised Edition); Chapter 1: Childhood and Youth: 1906-1923, 24.
…Dietrich Bonhoeffer, like his brothers and sisters, grew up to be a citizen of Berlin, despite the Swabian, Thuringian, and Silesian influences. His eventful life cannot be considered apart from this background. All the other places that were important to him in the course of his life–Breslau, Tubingen, New York, London, or Finkenwalde–certainly influenced him. The decisive influence, however, was Berlin and its complex diversity… 
~ Eberhard Bethge, Dietrich Bonhoeffer: A Biography (Revised Edition); Chapter 1: Childhood and Youth: 1906-1923, 23.
Sadly, but predictably, finger-pointing abounds as Americans seek answers and assign blame in the wake of the slaughter of 11 worshipers at the Tree of Life synagogue in Pittsburgh, Pennsylvania, on Oct. 27. But the rise of anti-Semitism in our culture is undeniable. According to the Anti-Defamation League, anti-Semitic attacks increased by almost 60 percent from 2016 to 2017. The ADL also announced that the Pittsburgh massacre was the deadliest assault on a Jewish community in our nation's history.
While no single factor ever explains the sociological, psychological and spiritual factors which contribute to such evil, the American church should also do some soul searching. Have we (myself included) promulgated a shallow theology, at times confusing and distorting Christianity's relationship with Judaism?
When I was a boy, a small Baptist church nearby went through a noisy controversy when the Vacation Bible School leader hatched a plan to have an area rabbi visit with the VBS children. "What?!" screamed the deacons, "Exposing our precious children to heresy?" The plan was quickly abandoned, because, after all, they were a Christian church. Why would the branches want to learn anything about the root (Romans 11:16ff)?
The church's neglect of sound teaching is like failing to pay our bills. We are still required to pay, but now with interest and penalties compounding. One of the tragedies of history is that demagogues and other unstable people rarely grasp the church's strong, clear teachings. But they almost always gravitate to the doctrines we neglect or muddle.
Adolph Hitler was not the last tyrant to blame the Jews for Jesus' death. How well have we in the evangelical wing of Protestantism clarified that all of humanity crucified our Lord? A power-crazed Gentile government in league with Judaism's corrupt church – the execution of Jesus was truly an equal opportunity event.
"Bonhoeffer told his students, 'Only he who cries out for the Jews may sing Gregorian chants.'"
I'm embarrassed by the need to point this out, but Jesus was probably not blue-eyed, blonde and fair-skinned; he was a Middle Eastern Jew. And he didn't come to wipe away Judaism and start over again with some new religion; he came to complete God's ancient promises through Israel to the world. (Many Bible verses come to mind, but for starters, read Matthew 5:17-18 and the first two chapters of Luke.)
The Apostle Paul did not abandon his Judaism when he turned to Christ. Instead, he fell in love with Jesus Christ precisely because he experienced this Jewish peasant rabbi as the fulfillment of God's plan for the ages. Don't forget: the name "Christ" means "Anointed One," and Paul's favorite description of himself was a person "in the Anointed One."
In an interesting coincidence of timing, just days before the Tree of Life murders, I took part in an area pastors' peer group discussion of recent trends in Pauline theology. David May of Central Baptist Theological Seminary led us in some thoughtful reflection on "Paul, the Judean." Noted scholars, including N.T. Wright (Paul: A Biography) and Mark Nanos (The Mystery of Romans), have written persuasively of the continuity as well as discontinuity in the Judeo-Christian message.
In these dark days when anti-Semitism is on the increase, some of us have been revisiting the life and writings of Dietrich Bonhoeffer. In the build-up to World War II and the Holocaust, Bonhoeffer was one of the first and the few to call the church to stand with the Jews.
I take some comfort, however, in the fact that not even Bonhoeffer always got it right. His twin sister, Sabine, was married to a Jew, Gerhard Leibholz. When Leibholz's father died, the family asked Bonhoeffer to officiate the funeral. After agonizing over the invitation, he declined, a decision he almost immediately regretted (Eberhard Bethge, Dietrich Bonhoeffer, p. 209). Bonhoeffer was ashamed and wrote honestly about his failure, a reminder that we are all captives of our culture, struggling to get free.
As a small boy he (Dietrich) once a attacked a weaker classmate, whose mother expressed the grace suspicion that perhaps the Bonhoeffer children had been raised to be anti-Semitic. Dietrich's mother replied that that her son could not have heard of such a thing in her house. As someone capable of such violence, he was later particularly and carefully concerned about treating those in weaker positions considerately, and instilling self-confidence in them.    
~ Eberhard Bethge, Dietrich Bonhoeffer: A Biography (Revised Edition); Chapter 1: Childhood and Youth: 1906-1923, 19.
One of my favorite parts of Dietrich Bonhoeffer's life is the spiritual transformation he underwent in the early 30s. Prior to these years, Bonhoeffer had mainly pursued theological studies as an academic, intellectual endeavor. The Bonhoeffer family was Christian, but they weren't particularly devout by way of church attendance or personal devotion.
And while it may be strange to think of someone pursuing theology in a purely academic way, just attend AAR/SBL. Theologians and biblical scholars who have no faith in God are a dime a dozen.
That was Bonhoeffer before the early 30s. But then something happened to him. As Eberhard Bethge describes it, the theologian became a Christian.
What caused the change? Bonhoeffer's time in America seemed to have played an important part. Bonhoeffer spent a post-doctoral year in 1930 studying in New York at Union Theological. During that time, two critical things happened.
First, Bonhoeffer was exposed to the black church. During his year in New York, Bonhoeffer attended and taught Sunday School at Abyssinian Baptist Church in Harlem.
Second, through his relationship with the Frenchmen Jean Lasserre, who was also studying at Union, Bonhoeffer was exposed to the Sermon on the Mount as the Word of God. Prior to this time, Bonhoeffer had used his Lutheran theology to keep the Sermon on the Mount in a box. But after 1930, Bonhoeffer began to see the Sermon at a command to be obeyed.
And beyond his experiences in America, I also think Bonhoeffer's pastoral work with churches, like his confirmation class in the Wedding parish, also had a profound impact upon his faith.
All these experiences changed Bonhoeffer profoundly. Dietrich Bonhoeffer became a Christian. Here's how his best friend Eberhard Bethge describes the change:
He now went regularly to church…Also he engaged in systematic meditation on the Bible that was obviously very different from exegetic or homiletic use of it…He spoke of oral confession no longer merely theologically, but as an act to be carried out in practice. In his Lutheran ecclesiastical and academic environment this was unheard of. He talked more and more often of a community life of obedience and prayer…More and more frequently he quoted the Sermon on the Mount as a word to be acted on, not merely used as a mirror.