You are currently browsing the tag archive for the 'Martin Luther' tag.
This timely response to a global pandemic was penned almost 500 years ago.
Sixteenth century Reformer Martin Luther wrote almost 500 years ago about responding to pandemics. When Luther was confronted by questions about how to respond to The Black Death Plague, he responded in words that should serve to inform our approach to the pandemic crisis our nation and the world is now facing today.
In a letter to Rev. Dr. John Hess, found in Luther's Works, Volume 43 p. 132, as "Whether one may flee from a Deadly Plague," Luther writes:
"I shall ask God mercifully to protect us. Then I shall fumigate, help purify the air, administer medicine and take it. I shall avoid places and persons where my presence is not needed in order not to become contaminated and thus perchance inflict and pollute others and so cause their death as a result of my negligence. If God should wish to take me, he will surely find me and I have done what he has expected of me and so I am not responsible for either my own death or the death of others. If my neighbor needs me however I shall not avoid place or person but will go freely as stated above. See this is such a God-fearing faith because it is neither brash no foolhardy and does not tempt God."
At Watermark Community Church in Dallas, where I'm privileged to serve as pastor, there's a sign in a back room that I made when teaching through 2 Peter:
Divine Physician's General Warning:
Ingesting false teaching will complicate your life, possibly eternally. Examine the Scriptures to see if the things you hear are true.
Here's the obvious message: Evaluate everything against God's Word, which includes both the teaching we hear and also the lyrics we sing in corporate worship.
This discipline is especially relevant today, given the popularity of songs from Bethel Music and the increasing concerns over Bethel's theology, practices, leadership, teachings, and school of "supernatural ministry." Given that we should "examine everything carefully; hold fast to that which is good" (1 Thess. 5:21), it's worth asking whether churches concerned with orthodoxy should sing songs associated with individuals or organizations with a history of errant beliefs or practices.
Not a New Issue
For generations Christians have embraced truth-filled hymns composed by authors who have held to unsupportable beliefs or who have fallen away from the faith. Here are just three examples.
"A Mighty Fortress Is Our God," penned by reformer Martin Luther, who wrote the 95 Theses that rightly protested corruption in the Roman Catholic Church and set off the Protestant Reformation, but who also wrote The Jews and Their Lies and On the Ineffable Name, which were rooted in hostility and horrific views toward Jews. (See Bernard Howard's article, "Luther's Jewish Problem.")
"Come, Thou Fount of Every Blessing," written in 1757 by Methodist preacher Robert Robinson, who later fulfilled the "prone to wander" line by drifting away from the faith.
"It Is Well with My Soul," written by Horatio Gates Spafford after he lost his four children in the sinking of the SS Ville du Havre in November 1873. While his most famous work is this anthem to the truth of God's sovereignty, his teachings on eternal punishment and the Holy Spirit were at best ill-informed, and at worst heretical.
So, should songs that strongly proclaim the truth of God's Word no longer be used in corporate worship given other errant beliefs or practices by the authors or associated churches?
Here are four questions that might help when assessing whether a song, book, or any form of communication should be used.
1. Are you examining everything you consume (sermons, books, music, movies) through the lens of God's Word?
It's important that all believers are equipped with Scripture so they may accurately discern (1 John 4:1–3) whether a sermon, song, book, website, or other media aligns with Scripture and the Spirit. Every believer should be equipped to discern truth from error and live in fellowship with mature believers who hold them accountable in their discerning (Prov. 15:22).
Just because something feels right doesn't mean it stands the test of God's Word.
2. Does the song stand on its own, proclaiming the truth of God's Word without explanation?
Every song a church sings should be grounded in Scripture and sound doctrine and should edify the body of Christ (Eph. 4:29). Right worship is a form of equipping, and if the song is communicating unbiblical ideas, then it shouldn't be welcomed in the church. Every song is the responsibility of the shepherds, and shepherds are to be on guard so that savage wolves (Acts 20:28) with snappy melodies don't come into the flock.
Over the years at Watermark we have examined countless songs for clarity, from "Away in a Manger" to "Reckless Love." We constantly ask ourselves questions like, "Is it accurate to describe God's love as 'overwhelming, never-ending, and reckless?"—as the chorus of "Reckless Love" says? It's the responsibility of the spiritual leaders in every church to make these calls. It's not an overstatement to say that their protection of their people (Acts 20:28–30) and their own future judgment (Heb. 13:17) depend on it.
3. Is it possible to separate the truth being sung from the error of its associations?
A church is never in more danger than when a false teacher communicates under the guise of proclaiming truth (2 Cor. 11:14; Acts 16:16–18). In addition to false teachers, we must be aware of directing others toward ministries of well-meaning individuals consistently associated with false or errant theology and practices.
The leadership of Bethel and the teachings and practices embraced by its members, students, and ministry partners would, at a minimum, fall into this category. Promoting their songs—even though the songs themselves are theologically accurate—could open others to additional messages and ideas that are errant in practice and theology.
Historically, there is at least one significant example of music and lyrics being a means through which heresy was propagated. Arius (AD 250–336) was a capable songwriter and a theologian who denied Christ's deity. He wrongly asserted that Jesus was a finite, created being with some divine attributes—not the eternal God. The popularity of his melodies and songs led to the rapid spread of his heretical ideas.
We must acknowledge that a well-written song can quickly lead others to a truth-forsaken place. While it's unlikely that many today will dig up Horatio Spafford sermons if they sing "It Is Well," many people will want to know more about Bethel's "supernatural school of ministry" because of their excellent music.
4. Would using the song cause us to actively support an errant ministry?
Perhaps the most unavoidable implication is that using songs from these ministries and artists supports them financially. Even if you protect your flock from future influence, you unavoidably will be strengthening the ministries. The cost-benefit of the truths should be weighed in your ultimate decision.
Examine Everything
"See how much he has been able to accomplish through me, though I did no more than pray and preach. The Word did it all" (Here I Stand, 212). On this date, now more than five hundred years ago, the word of God waged a serious war against threats to the gospel emerging from the Roman Catholic Church, when Martin Luther posted his Ninety-Five Theses to the door of the Castle Church in Wittenberg, Germany.
The Ninety-Five Theses may not have been nailed to the door, as the scene has been famously painted. They were probably pasted with glue. Pieces like these were often posted to the door, which served as a bulletin board for the university. Luther likely did not even post the theses himself. But his ninety-five nails drove deeper than any metal might have, because they were forged for this emerging war in the fire of divine revelation.
His Ears Led the Way
Timothy George writes,
What Luther did do, what he was called to do, was to listen to the Word. "The nature of the Word is to be heard," he remarked. . . . He listened to the Word because it was his job to do so and because he had come to believe his soul's salvation depended upon it. Luther did not become a reformer because he attacked indulgences. He attacked indulgences because the Word had already taken deep root in his heart. (Theology of the Reformers, 55–56)
George goes on to quote Luther: "If you were to ask a Christian what his task is and by what he is worthy of the name of Christian, there could be no other response than hearing the Word of God, that is, faith. Ears are the only organs of the Christian" (56). We often remember Luther for his extraordinary mouth, but it was first and foremost his ears that led to his challenging the Roman Church. He launched a revival of faithful and valiant listening — to God.
Long before he composed "A Mighty Fortress," before he was driven into exile, before he stood fast at the Diet of Worms, before he courageously debated Eck at Leipzig, before he posted his ninety-five theses at the Castle Church, Martin Luther listened. And while he listened to God, he gave birth to centuries of lionhearted listeners.
How Luther Listened
The listening began for Luther long before the reforming, while he still lived and served as a devoted monk in the cloister at Erfurt. Herman Selderhuis writes,
While in the monastery, Luther learned that Bible reading is actually 'listening to the Bible': a text had to be read but also heard, again and again, as frequently as necessary until one gained an understanding of what the text said. . . . The goal was to read and listen until one heard God's voice in the Word. (Luther: Spiritual Biography, 59)
Luther himself explains the importance of good listening: "If you want to become a Christian, you must take the word of Christ, realizing that you will never be finished learning, and then with me, you will recognize that you still do not even know the ABCs. If one was to boast, then I could certainly do that about myself, because day and night I was busy studying the Bible, and yet I have remained a student. Every day I begin like someone in the primary school" (Spiritual Biography, 59).
Behind the brilliant rhetoric and revolutionary leadership was a tenacious humility to hear from God. Luther did not pretend to have mastered Scripture, even as one of the greatest theologians in history, but considered himself always a student, and an elementary school student at that. And by opening the Bible as if he had not seen anything yet, he saw far more than most — certainly far more than the respected priests and scholars of his day.
Selderhuis continues, "Luther searched in the Bible, he 'knocked' on the texts, he shook them like the branch of a fruit tree, and then he listened to find words of comfort and reassurance to drive away his fears" (59). Good listeners search and knock and shake the word of God until they hear God speak — until he gives the long-awaited answer, or whispers their fears away, or leads them with clear direction, or breathes fresh inspiration and strength into their life and ministry, or reassures them with his promises. Listening to the very words of God in the Scriptures is not only the quiet key to the Protestant Reformation, but to the faithful, fruitful, and happy Christian life.
Martin Luther (1483–1546)
One of the great rediscoveries of the Reformation — especially of Martin Luther — was that the word of God comes to us in the form of a book, the Bible. Luther grasped this powerful fact: God preserves the experience of salvation and holiness from generation to generation by means of a book of revelation, not a bishop in Rome.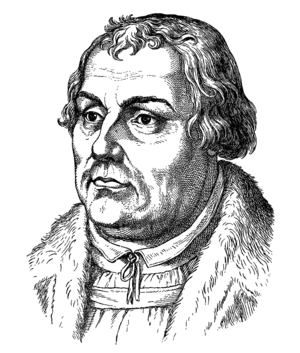 The life-giving and life-threatening risk of the Reformation was the rejection of the pope and councils as the infallible, final authority of the church. Luther's adversary, Sylvester Prierias, wrote, "He who does not accept the doctrine of the Church of Rome and pontiff of Rome as an infallible rule of faith, from which the Holy Scriptures, too, draw their strength and authority, is a heretic" (Luther, 193). It followed that Luther would be excluded from the Roman Catholic Church. "What is new in Luther," Heiko Oberman says, "is the notion of absolute obedience to the Scriptures against any authorities; be they popes or councils" (Luther, 204).
This rediscovery of the word of God above all earthly powers shaped Luther and the entire Reformation. But Luther's path to that rediscovery was a tortuous one, beginning with a lightning storm at age 21.
Fearful Monk
On July 2, 1505, on the way home from law school, Luther was caught in a thunderstorm and was hurled to the ground by lightning. He cried out, "Help me, St. Anne! I will become a monk." Fifteen days later, to his father's dismay, Luther left his legal studies and kept his vow.
He knocked at the gate of the Augustinian hermits in Erfurt and asked the prior to accept him into the order. At 21, he became an Augustinian monk. At his first Mass two years later, Luther was so overwhelmed at the thought of God's majesty that he almost ran away. The prior persuaded him to continue.
But this incident of fear and trembling would not be an isolated one in Luther's life. Luther himself would later remember of these years, "Though I lived as a monk without reproach, I felt that I was a sinner before God with an extremely disturbed conscience. I could not believe that he was placated by my satisfaction" (Selections, 12).
Luther would not be married for another twenty years — to Katharina von Bora on June 13, 1525 — which means he lived with sexual temptations as a single man till he was 42. But "in the monastery," he said, "I did not think about women, money, or possessions; instead my heart trembled and fidgeted about whether God would bestow his grace on me." His all-consuming longing was to know the happiness of God's favor. "If I could believe that God was not angry with me," he said, "I would stand on my head for joy."
Good News: God's Righteousness
In 1509, Luther's beloved superior and counselor and friend, Johannes von Staupitz, allowed Luther to begin teaching the Bible. Three years later, on October 19, 1512, at the age of 28, Luther received his doctor's degree in theology, and von Staupitz turned over to him the chair in biblical theology at the University of Wittenberg, which Luther held the rest of his life.
As Luther set to work reading, studying, and teaching Scripture from the original languages, his troubled conscience seethed beneath the surface — especially as he confronted the phrase "the righteousness of God" in Romans 1:16–17. To Luther, "the righteousness of God" could only mean one thing: God's righteous punishment of sinners. The phrase was not "gospel" to him; it was a death sentence.
But then, in the work of a moment, all Luther's hatred for the righteousness of God turned to love. He remembers,
At last, by the mercy of God, meditating day and night, I gave heed to the context of the words, namely, "In it the righteousness of God is revealed, as it is written, 'He who through faith is righteous shall live.'" . . . And this is the meaning: the righteousness of God is revealed by the gospel, namely, the passive righteousness with which [the] merciful God justifies us by faith, as it is written, "He who through faith is righteous shall live."
He concludes, "Here I felt that I was altogether born again and had entered paradise itself through open gates."
Standing on the Book
Luther was not the pastor of the town church in Wittenberg, but he did share the preaching with his pastor friend, Johannes Bugenhagen. The record bears witness to how utterly devoted he was to the preaching of Scripture. For example, in 1522 he preached 117 sermons, the next year 137 sermons. In 1528, he preached almost 200 times, and from 1529 we have 121 sermons. So the average in those four years was one sermon every two-and-a-half days.
Over the next 28 years, Luther would preach thousands of sermons, publish hundreds of pamphlets and books, endure scores of controversies, and counsel innumerable German citizens — all to spread the good news of God's righteousness to a people trapped in a system of their own merit. Through it all, Luther had one weapon with which to rescue this gospel from being sold in the markets of Wittenberg — Scripture. He drove out the moneychangers — the indulgence sellers — with the whip of the word of God, the Bible.
Luther said with resounding forcefulness in 1545, the year before he died, "Let the man who would hear God speak, read Holy Scripture."
Editors' note
: A version of this article appeared at 
9Marks
.
---
The chime rang out from the bell tower. Time to gather for Mass.
Yet this was not a regular Sunday. Someone told us we would hear a homily. Usually we only heard homilies at Lent or Advent, as well as on the feast day of our church's namesake. But this was October, and we weren't sure why we would hear a homily in October.
Then Jonas, the cloth merchant, explained. Last week's business took him to the town across the ridge. All his customers there were still reeling from what they had heard last Sunday. Their priest read a homily that could only be described as a tale of horror. He described dead relatives screaming out in pain in purgatory. He put his hand to his ear and bent down toward the ground as if he could hear the groans. He depicted flames so real that everyone in the pews thought they felt the temperature rising. One customer told Jonas that women had actually swooned. Afterward, no one dared to utter a single word. All shuffled out in silence.
All this happened last Sunday, Jonas said. Then on Monday a monk named Tetzel pulled into the same town in a grand wagon. Trumpets blew and banners unfurled. The archbishop's own guards surrounded him. In the shadow of the steeple in the middle of the town square, his attendants set up a table. They piled a stack of parchment high on the one side and cautiously placed a chest on the other. The chest had three locks. Everyone knows that if a chest has three locks it's owned by three people who don't trust each other.
Then Tetzel cried out, "Friends of this town, you have heard how your loved ones suffer in purgatory. You have heard their cries. The flames have reached up and licked your very own boots."
"How shamefully," Tetzel continued, "you go about your business. You spend your money on every little trifle. And, oh, how your loved ones suffer. Enough. Step forward. Leo X, the Pontifex Maximus, Vicar of Christ on earth, has been gracious and merciful to you and has affixed his seal to this indulgence. Now come and do your duty. And now you have a very special deal reserved for you. For a little extra guilder you can free yourself from purgatory. Yes, God be praised, give to the church your mite and the gracious Holy Father in Rome will see to it that you and all your dead relatives will be in Paradise itself, not enduring for a moment the purging flames of purgatory."
Then he added with a rhythm in his voice:
Every time a coin in the coffer rings,
A soul from purgatory springs.
---
---
Almost certainly, the most striking practical change at the time of the Reformation was the rise of expository preaching in local churches.
In the centuries preceding the Reformation, preaching had been in steady decline. Eclipsed by the Mass and rendered non-essential by the theology of medieval Roman Catholicism, preaching had lost the primacy it once enjoyed in the days of the early post-apostolic church.
By the 15th century, only a small percentage of people could expect to hear their priest preach to them regularly in their local parish church. The English reformer Hugh Latimer spoke of "strawberry parsons" who, like strawberries, appeared but once a year. Even then, the homily would often be in Latin, unintelligible to the people (and, perhaps, to the priest).
The most striking practical change at the time of the Reformation was the rise of expository preaching in local churches.
As for the content of these rare delicacies, they were unlikely to go anywhere near Scripture. The vast majority of the clergy simply didn't have the scriptural knowledge to make the attempt. Instead, John Calvin wrote, pre-Reformation sermons were usually divided according to this basic pattern:
The first half was devoted to those misty questions of the schools which might astonish the rude populace, while the second contained sweet stories, or not unamusing speculations, by which the hearers might be kept on the alert. Only a few expressions were thrown in from the Word of God, that by their majesty they might procure credit for these frivolities.
As a result, ignorance of God's Word and gospel was profound and widespread.
Centrality of the Sacred Desk
In eye-catching contrast, the reformers made the sermon the focal point of the church's regular worship, even emphasizing it architecturally through the physical and conspicuous centrality of the pulpit. And while today we tend to think of the leading reformers as theologians (and therefore, not preachers), it was preaching—especially expository preaching—that normally defined and took up the bulk of their ministry.
For a quarter-century in Wittenberg, Luther preached through the Bible, usually at least twice on Sundays and three times total each week.
If you've heard much about the 500th anniversary of the Protestant Reformation, you've probably heard the word hero.
Martin Luther, the hero of Wittenberg, who took his stand against corrupt priests, cardinals, and the pope himself. John Calvin, the hero of Geneva, who wrote the Institutes of the Christian Religion. Ulrich Zwingli, the hero of Zurich, who outdebated the city's Catholic leaders and persuaded the people to join the Reformation.
But anyone who knows the history well enough may balk at that word hero. The Reformers were not only courageous men and women who recovered the gospel, but also inconsistent men and women whose lives often betrayed the gospel. Consider some well-known examples from Luther, Calvin, and Zwingli, the Reformation's three brightest lights.
Luther repeatedly leveled vicious insults at his opponents, including Catholics, Jews, Anabaptists, and others. Although Luther attacked Jews primarily for theological rather than ethnic reasons, many have understandably accused him of anti-Semitism.
Calvin allowed Geneva's city council to execute Michael Servetus, a heretic on the run from Roman Catholic authorities.
Zwingli, in similar fashion to Calvin, approved of the drowning of Felix Manz, one of his former students and a leader in the budding Anabaptist movement.
If you read biographies of the Reformation's other leaders, you'll find that many harbored character flaws as devastating as Luther's, Calvin's, and Zwingli's. Each goes down in history with their own glaring asterisk. One might begin to wonder if we should celebrate these men and women at all.
The Right Kind of Celebration
But the difficulty is at least as old as the book of Hebrews. In Hebrews 11, the author celebrates a band of believers just as flawed as our Reformers. Consider Noah, who got drunk off his own vineyard and lay naked in his tent (Genesis 9:20–21). Or Moses, whose disobedience left him dead outside the promised land (Deuteronomy 34:4–5). Or David, who wielded his royal authority to commit adultery and murder (2 Samuel 11:1–27).
Somehow, the author of Hebrews gazed out across these walking contradictions and saw a group of heroes. I believe we can see the same in Luther, Calvin, Zwingli, and the rest of our Reformers. But in order to process their failures and praise their victories as we ought, we would do well to follow a three-step process: understand their context, name their sin, and celebrate their faith.
1. Understand Their Context
First, we should try to learn what we can about the figure's historical context and the particular situations that provoked their sinful responses. As we do so, we are not looking to minimize, excuse, or explain away their sin; instead, we're placing ourselves alongside them as fellow sinners and seeking to grasp why it happened. It's remarkably easy to cast stones across the centuries before we've tried to travel there ourselves.
For example, let's attempt to inhabit Geneva in 1553, the year Calvin approved of Servetus's execution. For the last twelve centuries, the Church has locked hands with the state, a marriage that has made unorthodox beliefs a threat to both parties. Under this arrangement, Church and state authorities often did not merely excommunicate heretics; they executed them. Calvin breathed this political and ecclesial air his whole life.
Calvin, who knew Servetus and had labored to persuade him of orthodox theology, warned Servetus not to come to Geneva. When he came anyway, Catholic authorities had already condemned the man to be burned at the stake for heresy, a decision that placed Geneva in a corner. Historian Mark Talbot writes, "Not to execute Servetus, if he did not repent and retract his views, would make the Protestant territories seem dangerously soft both religiously and politically" (With Calvin in the Theater of God, 151).
We could say more, but from these facts alone, we should admit that the Servetus affair would look a little different to a sixteenth-century Genevan than it does to a twenty-first century American. If we faithfully uncover the historical context of our leaders' sins, we will often be left saying, "That could have been me. I could have done that."
2. Name Their Sin
None of this circumstantial information, however, removes the Reformers' responsibility. And we don't do anyone a favor by pretending that it does.
If we try to whitewash Luther, Calvin, Zwingli, and others, we hide a lesson all of us need to hear — namely, that Satan and our own hearts can deceive us so thoroughly that we cannot even see the ways our lives contradict our message. As John Piper writes in his short biography of Luther, "the devil is real and can trip a great man into graceless behavior, even as he recovers grace from centuries of obscurity" (Legacy of Sovereign Joy, 32). Studying the Reformers should humble us and send us searching for our own flaws that we fail to see — the sins that may scar history books written five centuries from now.
Even more importantly, when we downplay the Reformers' flaws, we obscure the heart and soul of the Reformation itself. Even at their best, the Reformers were object lessons for the gospel they preached: Jesus came for failing, broken people. God does not search for beautiful people to save; instead, he searches for broken people to make beautiful through his Son, Jesus Christ (Matthew 9:13; Luke 19:10).
If the gospel is only for the beautiful, or only for saints who leap from peak to peak on their way to glory, then the gospel isn't for you and me. A gospel that promises instant and total transformation is a sentimental lie, a rose hiding its thorn, a vain attempt to varnish the canvas of history and human hearts so we don't look so desperately wicked. In other words, it's no gospel at all.
To be sure, people who make a practice of sinning will not enter God's kingdom (1 Corinthians 6:9–10; 1 John 3:8). But if we dig deeply enough into these Reformers' historical context and personal lives, we will find (in most if not all cases) that they did not make a practice of high-handed sin. Their culture and times may have blinded them to their particular evils; rarely (if ever) did they walk in conscious, unrepentant rebellion.
The Reformation was never about a cast of holy characters, but instead about one holy Christ, the Son of God, whose suffering and resurrection fully cover his people's sins — including the sins they commit when they should certainly know better. Jesus has washed our Reformers white with his own precious blood. You and I don't have to.
3. Celebrate Their Faith
Now we're in a position to celebrate these Reformers with our eyes wide open. We may have to denounce Luther's runaway tongue. We may have to lament Calvin's and Zwingli's complicity with the state. But once we've done so, we can step back and recognize that these tangled men also modeled lives of spectacular faithfulness. And along with the author of Hebrews, we can celebrate the faith of God's flawed heroes.
We can celebrate Luther's faith in God's word as he stood before the imperial assembly of the Holy Roman Empire and said, "My conscience is captive to the word of God. Thus I cannot and will not recant, because acting against one's conscience is neither safe nor sound. God help me. Amen."