You are currently browsing the tag archive for the 'nazi germany' tag.
In a letter on July 21, 1944, to his longtime friend, Eberhard Bethge, Dietrich Bonhoeffer, while in prison, recalled a conversation he had some years ago with a young French pastor. They discussed what they both wanted out of life.
The pastor opined that he aspired to eventually become a saint. Bonhoeffer disagreed, stating that he would like to have faith by attempting to live a holy life. It's possible that both men were on target with their desires, though we'll never know that will be the case. (See "Dietrich Bonhoeffer," edited by Robert Cole, Maryknoll, New York Orbis Books, 1998).
Who exactly was Dietrich Bonhoeffer? Dietrich, born in 1906, one of seven siblings, came from a prominent aristocratic family in Breslau, Germany, that moved to Berlin. Dietrich studied theology at Tübingen University and then at Berlin University where he received the doctoral degree in theology with a dissertation on "The Communion of Saints." He was an outstanding student who played the piano brilliantly and was an excellent tennis player, to boot.
In 1928, Bonhoeffer took a position as a curate in a Lutheran church in Barcelona where he enjoyed taking care of the spiritual needs of blue-collar workers. They loved the talks he gave because they were thoughtful and punctured with biblical verses. For example, he once stated that Christ had been left out of a person's life, if that person only gave to Christ a tiny part of his/her spiritual life. Bonhoeffer told his audience that one needs to give one's life entirely to Christ, if they wanted to really understand their spiritual life.
In 1930, Bonhoeffer decided to go to Union Theological Seminary in Manhattan as a Sloan Fellow where he gained the respect of outstanding theological faculty like Paul Lehmann, with whom he developed a close friendship. After the year was up, Bonhoeffer returned to Berlin University as a lecturer in theology, while working on his second doctorate. 
Two days after Hitler rose to power as German Chancellor in 1933, Bonhoeffer railed against Hitler and the Nazi party on the radio, when suddenly he was cut off in the middle of his remarks. That same year, inspired by Pastor Martin Niemoeller, Bonhoeffer again spoke out against Nazi rule. Many members of the Lutheran Church, including bishops and pastors supported Hitler and some even wore brown Nazi shirts, to the dismay of Bonhoeffer and Pastor Niemoeller who helped organize the "Confessing Church" that opposed the Nazis.
Bonhoeffer had to leave Berlin in 1938, and in 1941, the Nazi government forbade him to write. He then became part of an anti-resistance movement, along with six military officers who tried to overthrow the Nazi government by force. In April 1943, Bonhoeffer became a prisoner at the Tegel Prison and then at Flossenbürg, a small village in the Oberpfalz region of Bavaria.
Flossenbürg had a barracks that held 1,000 prisoners, but was built to hold 250 prisoners. Both Jews and special enemies of the state were housed in Flossenbürg. Special enemies like Bonhoeffer received "special treatment' such as interrogation, torture and execution. Bonhoeffer was hanged in this prison — witnessed by Dr. H. Fischer who said that Bonhoeffer knelt on the floor and prayed before he was hanged.
What made Bonhoeffer a special person?
Pastor Niemöller spoke out against Nazism. In 1937 he was sent to the camps for "misusing the pulpit."
By Doris Bergen
Niemöller's only meeting with Adolf Hitler was a fiasco. It was January 1934, and Hitler had been in power for just under a year. The chancellor, obsessed with his image, was irritated about strife in the German Protestant church and the foreign press coverage it attracted. Disunity made him look weak. To manage the situation, Hitler summoned a dozen prominent clergymen to his presence. Among them was the Lutheran pastor and former submarine captain Martin Niemöller.
A junior member of the group, Niemöller stood near the back. When Hermann Göring, head of the newly formed Gestapo, spoke he pulled a sheaf of papers from his briefcase and began to read the transcript of a phone call recorded that very morning. It was a conversation between Niemöller and a friend. Frozen with dread, the churchmen heard how a cocky Niemöller had promised that everything would be fine. Hitler would come to see that the people he considered opponents within the church were in fact loyal Germans. Anyway, President Hindenburg would take their side, Niemöller predicted gleefully, and by the end of the meeting the old man would be "administer[ing] the last rites" to the upstart Hitler.
The meeting thus torpedoed, the future of the outspoken Niemöller quivered in the balance. Would the devout Christian emerge a champion against the moral evil of Nazism? Or would the ardent nationalist, who voted for Hitler in 1924 and again in March 1933, redouble his efforts to prove that he could serve both his country and his faith and in the process become complicit in Nazi crimes? The answer, Matthew Hockenos reveals in a gripping biography, is "yes" and "yes," or, more precisely, "yes but." Niemöller was heroic but flawed, and his life and legacy challenge the popular notion of the individual hero as society's best hope. In its place, "the pastor who defied the Nazis" offers two modest messages for those under threat in our own troubled times: help one another and don't wait too long.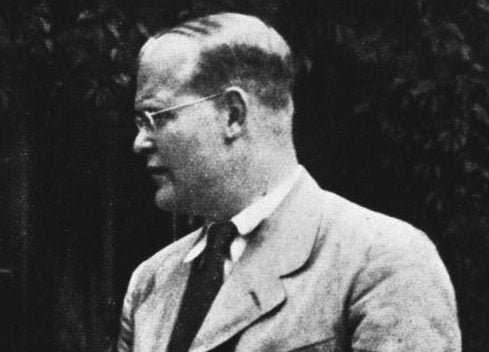 The great preacher, writer, theologian and witness to the faith, Dietrich Bonhoeffer,was executed on April 9, 1945, just days before the Nazi camp where he was held, Flossenbürg, was liberated. He was 39.
Here's what happened: 
On 4 April 1945, the diaries of Admiral Wilhelm Canaris, head of the Abwehr, were discovered, and in a rage upon reading them, Hitler ordered that the Abwehr conspirators [those who had plotted for Hitler's assassination] be destroyed. Bonhoeffer was led away just as he concluded his final Sunday service and asked an English prisoner, Payne Best, to remember him to Bishop George Bell of Chichester if he should ever reach his home: "This is the end—for me the beginning of life."

Bonhoeffer was condemned to death on 8 April 1945 by SS judge Otto Thorbeck at a drumhead court-martial without witnesses, records of proceedings or a defense in Flossenbürg concentration camp.  He was executed there by hanging at dawn on 9 April 1945, just two weeks before soldiers from the United States 90th and 97th Infantry Divisions liberated the camp,  three weeks before the Soviet capture of Berlin and a month before the surrender of Nazi Germany.

Bonhoeffer was stripped of his clothing and led naked into the execution yard where he was hanged, along with fellow conspirators Admiral Wilhelm Canaris, Canaris's deputy General Hans Oster, military jurist General Karl Sack, General Friedrich von Rabenau, businessman Theodor Strünck, and German resistance fighter Ludwig Gehre.

Eberhard Bethge, a student and friend of Bonhoeffer's, writes of a man who saw the execution: "I saw Pastor Bonhoeffer… kneeling on the floor praying fervently to God. I was most deeply moved by the way this lovable man prayed, so devout and so certain that God heard his prayer…In the almost fifty years that I worked as a doctor, I have hardly ever seen a man die so entirely submissive to the will of God."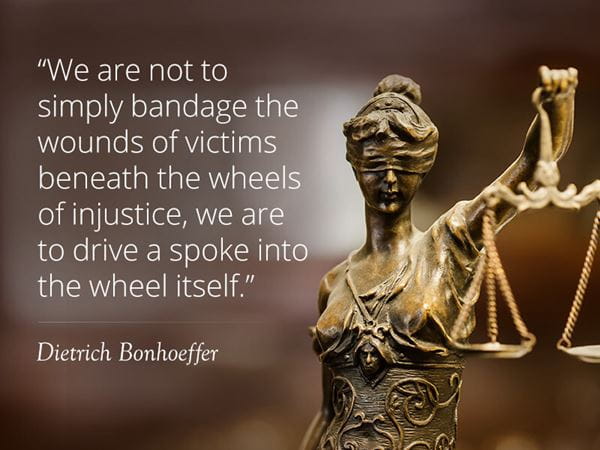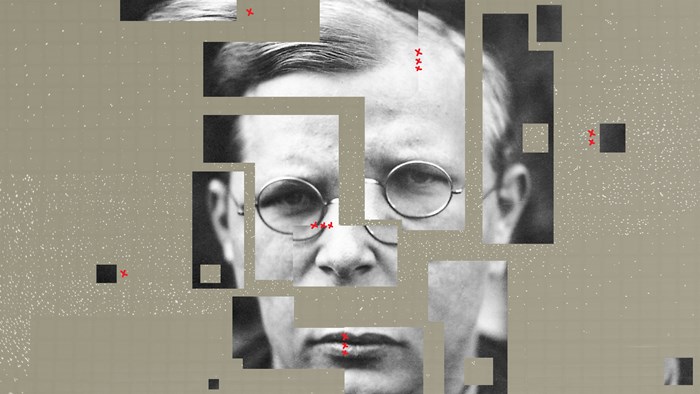 Image: CT Illustration
We Americans have fashioned many Dietrich Bonhoeffers for ourselves in the decades since the German theologian was put to death at the Flossenbürg concentration camp in 1945. In The Battle for Bonhoeffer: Debating Discipleship in the Age of Trump, Rhodes College professor Stephen R. Haynes offers a survey of the varied interpretations of that remarkable man, excavating the ways his name and legacy have been used—and too often misused—in American public discourse. Haynes holds up a mirror and asks, "Who do we need Bonhoeffer to be? And how is this need affected by the way 'we' define ourselves and the threats we face?" In other words, the battle is not really for Bonhoeffer, and the image in the mirror is our own.
Of course, with words like "battle" and "age of Trump" right there on the cover, this book crosses territory rich in minefields. Like an embedded journalist feverishly filing stories from the front, Haynes writes knowing that he cannot fully account for all the Bonhoeffer-ing happening around him, especially in our undulating political times. But because Bonhoeffer is employed for all kinds of ends in American political discourse, and his legacy used to burnish others' public profiles, Haynes balances a commitment to the protocols of the academy with a burden of responsibility to speak directly to our current political moment.
History and Hagiography
In the first part of the book, Haynes recounts the history of Bonhoeffer's reception by the American public through sketches he amassed in his 2004 volume The Bonhoeffer Phenomenon. He revisits and updates those earlier types, including the liberal, the radical, the evangelical, and the universal Bonhoeffer. To these Haynes adds a new sketch—the "populist Bonhoeffer." (More on this later.) Most illuminating for me was Haynes's discussion about Jewish evaluations of Bonhoeffer's legacy, especially that he has been reviewed by Yad Vashem (Israel's Holocaust memorial) and refused recognition as a "righteous Gentile," a term reserved for those who took extraordinary personal risk to save Jews.
Haynes devotes a full chapter to the history of how American evangelicals have received Bonhoeffer. While they tend to be familiar with the pastor's devotional writings (like The Cost of Discipleship or Life Together), Bonhoeffer's university lectures, sermons, and his later prison letters (where, for instance, he mulls over his idea of "religionless Christianity") presented real obstacles for evangelicals in the late 20th century. These theological concerns faded, however, as his life story became more widely known, feeding a steadily growing focus on his resistance work against the Nazis. Evangelicals creatively engaged his story in documentary films, an award-winning radio drama, and even a Christian romance novel in which, writes Haynes, "Bonhoeffer serves as the main character's spiritual inspiration."
Having sought himself to make Bonhoeffer's life and thought accessible to general readers—with Lori Brandt Hale, he co-authored the Bonhoeffer edition of the Armchair Theologian series—Haynes acknowledges value in some of the quirky ways Bonhoeffer's life has been interpreted for American evangelical audiences. Although he prefers history to hagiography, naming certain popular treatments with that derisive term, his posture is not one of an arrogant academic trying to raise the guild's drawbridge from storming peasants.
Bonhoeffer's name gained an even wider dissemination in American political discourse, Haynes notes, following the terror attacks of 9/11 and the growth of the internet as a means of communication. Politicians, public theologians, and other cultural leaders drew on Bonhoeffer with greater frequency, and urgency, in the post-9/11 national debate. Bonhoeffer was invoked both in support of and in opposition to the 2003 war with Iraq. Critics of the war referred to him again as the war continued far longer than the Bush administration anticipated. Online media elevated Bonhoeffer to a wider range of Americans. (And now, in the age of social media, misattributed quotes are often superimposed on photographs of his face, which are then traded as virtue-signaling currency.) For wherever Bonhoeffer stands as an imagined brother-in-arms for one's side, the other side is, well, Hitler.
"If I sit next to a madman as he drives a car into a group of innocent bystanders, I can't, as a Christian, simply wait for the catastrophe, then comfort the wounded and bury the dead. I must try to wrestle the steering wheel out of the hands of the driver."