You are currently browsing the tag archive for the 'nazi germany' tag.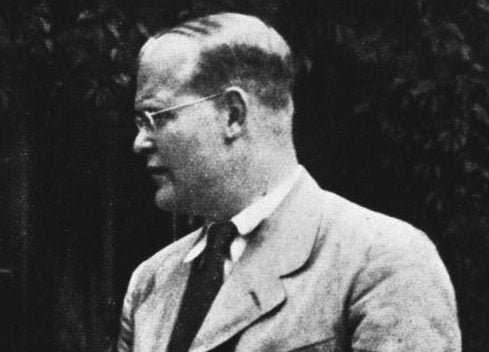 The great preacher, writer, theologian and witness to the faith, Dietrich Bonhoeffer,was executed on April 9, 1945, just days before the Nazi camp where he was held, Flossenbürg, was liberated. He was 39.
Here's what happened: 
On 4 April 1945, the diaries of Admiral Wilhelm Canaris, head of the Abwehr, were discovered, and in a rage upon reading them, Hitler ordered that the Abwehr conspirators [those who had plotted for Hitler's assassination] be destroyed. Bonhoeffer was led away just as he concluded his final Sunday service and asked an English prisoner, Payne Best, to remember him to Bishop George Bell of Chichester if he should ever reach his home: "This is the end—for me the beginning of life."

Bonhoeffer was condemned to death on 8 April 1945 by SS judge Otto Thorbeck at a drumhead court-martial without witnesses, records of proceedings or a defense in Flossenbürg concentration camp.  He was executed there by hanging at dawn on 9 April 1945, just two weeks before soldiers from the United States 90th and 97th Infantry Divisions liberated the camp,  three weeks before the Soviet capture of Berlin and a month before the surrender of Nazi Germany.

Bonhoeffer was stripped of his clothing and led naked into the execution yard where he was hanged, along with fellow conspirators Admiral Wilhelm Canaris, Canaris's deputy General Hans Oster, military jurist General Karl Sack, General Friedrich von Rabenau, businessman Theodor Strünck, and German resistance fighter Ludwig Gehre.

Eberhard Bethge, a student and friend of Bonhoeffer's, writes of a man who saw the execution: "I saw Pastor Bonhoeffer… kneeling on the floor praying fervently to God. I was most deeply moved by the way this lovable man prayed, so devout and so certain that God heard his prayer…In the almost fifty years that I worked as a doctor, I have hardly ever seen a man die so entirely submissive to the will of God."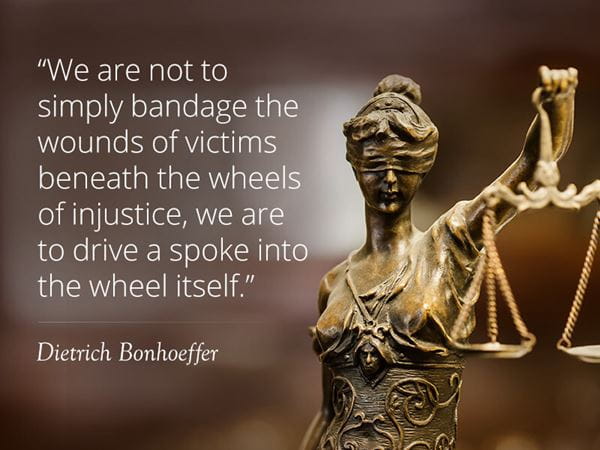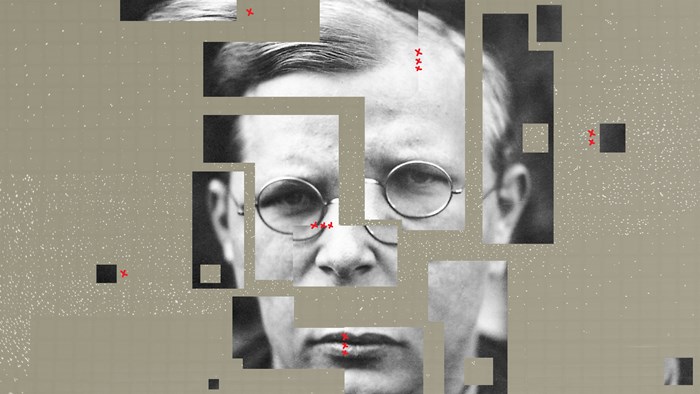 Image: CT Illustration
We Americans have fashioned many Dietrich Bonhoeffers for ourselves in the decades since the German theologian was put to death at the Flossenbürg concentration camp in 1945. In The Battle for Bonhoeffer: Debating Discipleship in the Age of Trump, Rhodes College professor Stephen R. Haynes offers a survey of the varied interpretations of that remarkable man, excavating the ways his name and legacy have been used—and too often misused—in American public discourse. Haynes holds up a mirror and asks, "Who do we need Bonhoeffer to be? And how is this need affected by the way 'we' define ourselves and the threats we face?" In other words, the battle is not really for Bonhoeffer, and the image in the mirror is our own.
Of course, with words like "battle" and "age of Trump" right there on the cover, this book crosses territory rich in minefields. Like an embedded journalist feverishly filing stories from the front, Haynes writes knowing that he cannot fully account for all the Bonhoeffer-ing happening around him, especially in our undulating political times. But because Bonhoeffer is employed for all kinds of ends in American political discourse, and his legacy used to burnish others' public profiles, Haynes balances a commitment to the protocols of the academy with a burden of responsibility to speak directly to our current political moment.
History and Hagiography
In the first part of the book, Haynes recounts the history of Bonhoeffer's reception by the American public through sketches he amassed in his 2004 volume The Bonhoeffer Phenomenon. He revisits and updates those earlier types, including the liberal, the radical, the evangelical, and the universal Bonhoeffer. To these Haynes adds a new sketch—the "populist Bonhoeffer." (More on this later.) Most illuminating for me was Haynes's discussion about Jewish evaluations of Bonhoeffer's legacy, especially that he has been reviewed by Yad Vashem (Israel's Holocaust memorial) and refused recognition as a "righteous Gentile," a term reserved for those who took extraordinary personal risk to save Jews.
Haynes devotes a full chapter to the history of how American evangelicals have received Bonhoeffer. While they tend to be familiar with the pastor's devotional writings (like The Cost of Discipleship or Life Together), Bonhoeffer's university lectures, sermons, and his later prison letters (where, for instance, he mulls over his idea of "religionless Christianity") presented real obstacles for evangelicals in the late 20th century. These theological concerns faded, however, as his life story became more widely known, feeding a steadily growing focus on his resistance work against the Nazis. Evangelicals creatively engaged his story in documentary films, an award-winning radio drama, and even a Christian romance novel in which, writes Haynes, "Bonhoeffer serves as the main character's spiritual inspiration."
Having sought himself to make Bonhoeffer's life and thought accessible to general readers—with Lori Brandt Hale, he co-authored the Bonhoeffer edition of the Armchair Theologian series—Haynes acknowledges value in some of the quirky ways Bonhoeffer's life has been interpreted for American evangelical audiences. Although he prefers history to hagiography, naming certain popular treatments with that derisive term, his posture is not one of an arrogant academic trying to raise the guild's drawbridge from storming peasants.
Bonhoeffer's name gained an even wider dissemination in American political discourse, Haynes notes, following the terror attacks of 9/11 and the growth of the internet as a means of communication. Politicians, public theologians, and other cultural leaders drew on Bonhoeffer with greater frequency, and urgency, in the post-9/11 national debate. Bonhoeffer was invoked both in support of and in opposition to the 2003 war with Iraq. Critics of the war referred to him again as the war continued far longer than the Bush administration anticipated. Online media elevated Bonhoeffer to a wider range of Americans. (And now, in the age of social media, misattributed quotes are often superimposed on photographs of his face, which are then traded as virtue-signaling currency.) For wherever Bonhoeffer stands as an imagined brother-in-arms for one's side, the other side is, well, Hitler.
"If I sit next to a madman as he drives a car into a group of innocent bystanders, I can't, as a Christian, simply wait for the catastrophe, then comfort the wounded and bury the dead. I must try to wrestle the steering wheel out of the hands of the driver."
BY BILL HUGHES · MARCH 27, 2017
Bonhoeffer, a film of a one-man play, was screened  Saturday in the sanctuary at Bolton Hill's Memorial Episcopal Church, in Baltimore, MD.
The film starred the late actor Peter Krummeck, who also produced the play. He was born in London in 1947, and emigrated to Cape Town, South Africa, in 1969. He died there in 2013. Archbishop Desmond Tutu was one of the patrons of Krummeck's Cape Town-based African Community Theatre Service.
Bonhoeffer, the play, originally debuted in Washington, D.C. in the early 2000s. It also was performed in Canada, South Africa and at Baltimore's Theater Project. It was televised in Canada.
Backstory on Dietrich Bonhoeffer (1906-45). He was a German Lutheran pastor, theologian and author, who opposed the Nazi regime. He was active in the resistance movement and in a plot to kill Adolf Hitler, the German dictator. Bonhoeffer was arrested in April, 1943, and jailed at Tegel prison. He was subsequently hanged by the Nazis — at Flossenburg — just weeks before WWII ended.
The  program was hosted by The Rev. Grey Maggiano of Memorial Episcopal. After the presentation of the film, John Kiess, professor of the Theology Department at Loyola College, The Rev. Dr. C. Anthony Hunt of United Methodist Church, Senior Pastor, and Judith Krummeck of classical radio station WBJC, participated in a panel discussion.
They each shared their views on Bonhoeffer. A spirited Q&A from the audience followed.
In her remarks, Krummeck, a sister of Peter Krummeck, talked about the background of her brother's work, especially in the area of the role of theater, and the church, too, in "promoting social justice and reconciliation." She has been the popular "evening drive time host" for WBJC, since 1998. Krummeck is a native of South Africa. She is also an actress, educator and author. Her latest book, Beyond the Baobab, is a collection of essays about her immigrant experience.
I must add that I thought Peter Krummeck's portrayal of Bonhoeffer in the 45-minute edited film version of the play was simply riveting. He captured the essence of the doomed, but courageous cleric.
"I have come to the conclusion that I made a mistake in coming to America. I must live through this difficult period in our national history with the people of Germany. I will have no right to participate in the reconstruction of Christian life in Germany after the war if I do not share the trials of this time with my people."
Gary Blount, psychiatrist-turned-producer, has created a remarkable new film about the last days of Dietrich Bonhoeffer in a Nazi concentration camp, told through the eyes of a British broadcast team.
Question: You have just produced a film about influential theologian and anti-Nazi dissident Dietrich Bonhoeffer after years of studying his work. What has kept you so interested in Bonhoeffer?
Answer: Since first hearing the story more than 50 years ago, I've never hit a roadblock or detour.  (That is, once I got used to my Christian hero being a chain smoker.)
As with all of my heroes, I've constantly tried in one way or another to relate to Bonhoeffer, and I suppose this has gotten a bit easier as I've become acquainted with a few members of his family in Germany and England.
From the beginning, I've loved his hard-core faith and courage, but I confess I've also been increasingly wowed by his good taste:  Bechstein piano, Audi (okay DKW), and pet Saint Bernard.  And it was easy to relate to his need to move back in with his parents and his willingness to accept an adult allowance.  Dare I mention his eagerness to marry a girl half his age who was possibly smarter than he was  and a lot better looking?
You work as a psychiatrist in Minnesota. Do you have a particular interest in theology? Does your expertise in psychiatry give you particular insights into Bonhoeffer and his still-discussed ideas?
It seems to me there is a kinship between theology and psychiatry.  Many people seem convinced that neither one requires a degree or even specialized study.
Seriously, I love theological insights and, in fact, really look forward to hearing them occasionally from the pulpit.
You know, Bonhoeffer said some harsh things about mental health treatment, but some of his actions in prison reveal a more open stance.  For instance, recently I read that when he would learn from a fellow inmate in Tegel that a family member might benefit from a psychiatric consultation either to address a condition or simply mitigate what otherwise might seem to be a hopeless forensic situation, Bonhoeffer would find a way to refer the person to his father, the recently retired psychiatrist Karl Bonhoeffer.  I would put that in the practical theology column.
I recall a legendary professor of medicine at the University of Minnesota who would tell his residents and students:  "With this new patient, I don't care who does the physical exam; I'll do the history."  That's what I want to continue doing — focus on the dynamic story.
What is your film Come Before Winter about?
Our story is about the final chapter in Dietrich Bonhoeffer's life and what must have been the aching for deliverance by the Allies, who were rapidly closing in.  We felt our time frame might extract something of the essence of his life and the perspective which he seemed to seek — "the view from below."  This view now includes more uncertainty, wartime cruelty, and vengeance.
Bonhoeffer had long been an outspoken foe of Hitler, and we chose to tell the story with the help of a couple of other anti-Nazis: seriously broken vessels Sefton Delmer and Otto John.  The latter has been called "the living link" between Bonhoeffer's last days and the storyteller in England.
Posted:
Friday, March 11, 2016 7:00 am
My father remarked the other day that my grandfather, a Presbyterian minister, would occasionally invite faculty from the Columbia Theological Seminary in Decatur to preach at the church where he ministered.
Dad remembers one Sunday during the McCarthy era of our national life when a faculty member preached a sermon titled "My Country, Right or Wrong."
Dad did not remember the content of the sermon or the biblical text from which the professor preached, but the title of the sermon was firmly written in his long-term memory. The title presents a troubling choice.
I am proud to be an American and am grateful for the gifts and benefits of that citizenship, but "my country, right or wrong?"
First and foremost I am a citizen of God's Kingdom. Those of us who profess to follow Jesus are ourselves resident aliens.
Yes, we are in the words of God to the exiles in Babylon (Jeremiah 29:1-8) to settle down, build houses, plant gardens, engage in the life of the country. We are to pray for and work for the welfare of the country, and to understand that when the country thrives we will thrive. But our citizenship is in God's Kingdom, our ultimate allegiance is to King Jesus, not to this country or to any leader of this country.
A pastor who wrestled deeply with the implications of this choice was Dietrich Bonhoeffer.
Many of the faculty at Bonhoeffer's university embraced the Nazi party. Bonhoeffer protested that the church had forgotten where her ultimate allegiance lies. He insisted that the church had an obligation to challenge the legitimacy of the state's actions; that the church had an obligation to render aid to the victims of the state's actions even if those victims were not a part of the Christian community; and if the state turned justice into injustice, order into disorder, the church was obliged to move from indirect action to direct political means.