You are currently browsing the tag archive for the 'nazism' tag.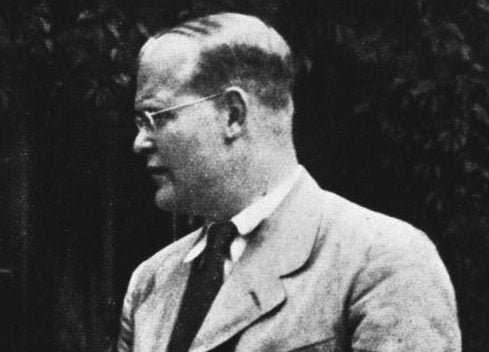 The great preacher, writer, theologian and witness to the faith, Dietrich Bonhoeffer,was executed on April 9, 1945, just days before the Nazi camp where he was held, Flossenbürg, was liberated. He was 39.
Here's what happened: 
On 4 April 1945, the diaries of Admiral Wilhelm Canaris, head of the Abwehr, were discovered, and in a rage upon reading them, Hitler ordered that the Abwehr conspirators [those who had plotted for Hitler's assassination] be destroyed. Bonhoeffer was led away just as he concluded his final Sunday service and asked an English prisoner, Payne Best, to remember him to Bishop George Bell of Chichester if he should ever reach his home: "This is the end—for me the beginning of life."

Bonhoeffer was condemned to death on 8 April 1945 by SS judge Otto Thorbeck at a drumhead court-martial without witnesses, records of proceedings or a defense in Flossenbürg concentration camp.  He was executed there by hanging at dawn on 9 April 1945, just two weeks before soldiers from the United States 90th and 97th Infantry Divisions liberated the camp,  three weeks before the Soviet capture of Berlin and a month before the surrender of Nazi Germany.

Bonhoeffer was stripped of his clothing and led naked into the execution yard where he was hanged, along with fellow conspirators Admiral Wilhelm Canaris, Canaris's deputy General Hans Oster, military jurist General Karl Sack, General Friedrich von Rabenau, businessman Theodor Strünck, and German resistance fighter Ludwig Gehre.

Eberhard Bethge, a student and friend of Bonhoeffer's, writes of a man who saw the execution: "I saw Pastor Bonhoeffer… kneeling on the floor praying fervently to God. I was most deeply moved by the way this lovable man prayed, so devout and so certain that God heard his prayer…In the almost fifty years that I worked as a doctor, I have hardly ever seen a man die so entirely submissive to the will of God."
(RNS) — The four saddest words in the English language are "what might have been.…"
Eighty years ago, as war clouds gathered over Europe, the 33-year-old Christian theologian Dietrich Bonhoeffer, then a faculty member at Union Theological Seminary in Manhattan, returned to his native Germany after a short stay in the United States.
At the time, Bonhoeffer believed his church's response to Hitler and Nazism was marked by weakness and cowardice. He saw his country consumed by a monstrous cancer that had devoured nations and had already murdered many hundreds of people on its way to murdering millions.
In the midst of Nazi resistance, this Christian martyr offered three models for the season of waiting…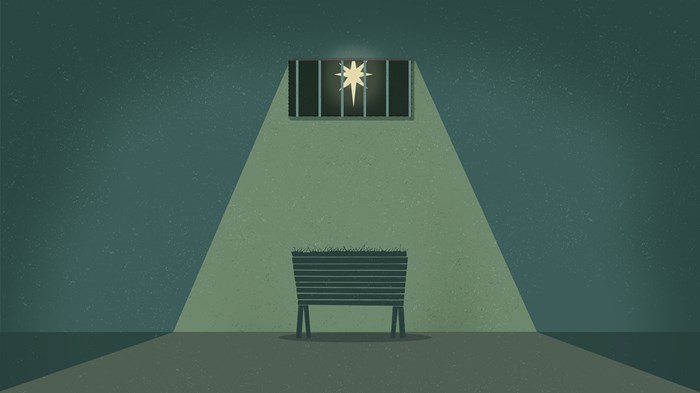 On November 21, 1943, Dietrich Bonhoeffer wrote a letter from Tegel Prison. "A prison cell like this is a good analogy for Advent," he said. "One waits, hopes, does this or that—ultimately negligible things—the door is locked and can only be opened from the outside."
The comparison between Advent and a prison cell may seem strange. It evokes powerlessness, perhaps even hopelessness. However, it is this particular type of waiting that Bonhoeffer believes best prepares us for Christ's coming.
Although a Nazi prison gave him this metaphor, the sermons he wrote during his time of active ministry also present a similar vision of Advent waiting. In these sermons, Bonhoeffer sees the season before Christmas as a sharpened liturgical expression of the tension that informs our entire lives as Christians. Celebrating it prepares us to live as people who have made a radical break with the present world of sin and death and are also preparing for the redeemed future that God has already, in one sense, accomplished. Through Advent, we learn how to live in these two concurrent realities: We have already been delivered, and yet our deliverance is still to come.
Bonhoeffer's Christmas and Advent sermons highlight three figures who exemplify life amid this tension and, by their example, might guide us through this season. Learning how to wait from these figures will not be warm and cozy but deep, dangerous, and shot through with sorrow and pain.
The first figure is Moses. This is not the triumphant Moses leading the people of Israel through a miraculously parted Red Sea or the lawgiver Moses carrying the stone tablets down the mountainside. Rather, the Advent Moses is the one found in Deuteronomy 32:48–52. Moses knows that God's promise will be fulfilled, but he also knows that the promise will not be fulfilled in his lifetime. Instead, he will die on Mount Nebo, gazing across the river into the land. This Moses seems at first like the very antithesis of Advent, since he is the one for whom the promise is never fulfilled.
However, Bonhoeffer finds in Moses' experience an expression of our own Advent waiting. Just like Moses, we know that the promise has been fulfilled—Jesus has come—but not yet completely. Through Moses' punishment—his death before entering the Promised Land—we are also reminded that Advent is the season for death, judgment, and repentance. In a reversal of the world's order, we pass from death into birth and new life. This awareness of our own death and judgment is crucial for us to understand that we only enter the Promised Land due to God's victory, not our own. As Bonhoeffer puts it, "God is with us and we are no longer homeless. A piece of the eternal home is grafted onto to us."
The second figure is Joseph
MEET THE CHRISTIAN THEOLOGIAN WHO TRIED TO ASSASSINATE ADOLF HITLER
In the 1930s, Dietrich Bonhoeffer was one of Germany's most famous pastors and theologians—at a time when German clergy were increasingly capitulating and buying into Hitler's anti-Semitism. Bonhoeffer joined the Confessing Church, a movement resisting Nazism, and eventually joined a plot to assassinate Hitler.
DIETRICH BONHOEFFER was a twin. (He was born just before his twin sister, Sabine.)
Dietrich's father, Karl, was Berlin's leading psychiatrist and neurologist from 1912 until his death in 1948.
Dietrich was so skilled at playing the piano that for a time he and his parents thought he might become a professional musician.
At 14, Bonhoeffer announced matter-of-factly that he was going to become a theologian.
Bonhoeffer earned his doctorate in theology when he was only 21.
Though later he was an outspoken advocate of pacifism, Bonhoeffer was an enthusiastic fan of bullfighting. He developed the passion while serving as assistant pastor of a German-speaking congregation in Barcelona, Spain.
By the end of 1930, the year before Bonhoeffer was ordained, church seminaries were complaining that over half the candidates for ordination were followers of Hitler.
In 1933, when the government instigated a one-day boycott of Jewish-owned businesses, Bonhoeffer's grandmother broke through a cordon of SS officers to buy strawberries from a Jewish store.
In his short lifetime, Bonhoeffer traveled widely. He visited Cuba, Mexico, Italy, Libya, Denmark, and Sweden, among other countries, and he lived for a time in Spain, in England, and in the United States.
Bonhoeffer taught a confirmation class in what he described as "about the worst area of Berlin," yet he moved into that neighborhood so he could spend more time with the boys.
Bonhoeffer was fascinated by Gandhi's methods of nonviolent resistance. He asked for—and received—permission to visit Gandhi and live at his ashram. The two never met, however, because the crisis in Germany demanded Bonhoeffer's attention.
Bonhoeffer served as a member of the Abwehr, the military-intelligence organization under Hitler. (He was actually a double agent. While ostensibly working for the Abwehr, Bonhoeffer helped to smuggle Jews into Switzerland—and do other underground tasks.)
Bonhoeffer studied for a year in New York City.
Above the Great West Door of Westminster Abbey are arrayed ten great statues of the martyrs of the Church. Not Peter, Stephen, James or the familiar names of the saints sacrificed during the great Roman persecution before Constantine's conversion. No: these are martyrs of the twentieth century, when the age of faith was, in the minds of many in the West, already tottering towards its collapse.
One of those honoured above the Great West Door is Dietrich Bonhoeffer, the German theologian, pastor and peace activist. Bonhoeffer is, without doubt, the man I admire most in the history of the twentieth century. He was a man of faith. He was a man of reason. He was a man of letters who was as well read in history and literature as he was in the intensely academic Lutheran theology of the German university tradition. He was never a nationalist, always an internationalist. And above all, he was a man of action who wrote prophetically in 1937 that "when Christ calls a man, he bids him come and die." For Bonhoeffer, whatever the personal cost, there was no moral alternative other than to fight the Nazi state with whatever weapons were at his disposal.
Three weeks before the end of World War II, Bonhoeffer was hanged by the SS because of his complicity in the plot to assassinate Adolf Hitler. This year marks the centenary of his birth. This essay seeks both to honour Bonhoeffer and to examine what his life, example and writings might have to say to us, 60 years after his death, on the proper relationship between Christianity and politics in the modern world.
In both George Bush's America and John Howard's Australia, we see today the political orchestration of various forms of organised Christianity in support of the conservative incumbency. In the US, the book God's Politics, by Reverend Jim Wallis, has dragged this phenomenon out of the shadows (where it is so effectively manipulated by the pollsters and spin-doctors) and into the searching light of proper public debate. US Catholic, Evangelical and Pentecostal Christians are now engaged in a national discussion on the role of the religious Right. The same debate must now occur here in Australia. As Wallis notes in his introduction:
God is not partisan: God is not a Republican or a Democrat. When either party tries to politicize God, or co-opt religious communities for their political agendas, they make a terrible mistake. The best contribution of religion is precisely not to be ideologically predictable nor loyally partisan. Both parties, and the nation, must let the prophetic voice of religion be heard. Faith must be free to challenge both right and left from a consistent moral ground.
---
Had Dietrich Bonhoeffer been at Oxford, he would have been one of the gods. He was at 21 a doctoral graduate and at 23 the youngest person ever appointed to a lectureship in systematic theology at the University of Berlin, in 1929. His contemporaries saw his career as made in heaven. Along Unter den Linden, just beyond the faculty walls, however, the living hell of the Nazi storm-troopers was being born.
At the core of Bonhoeffer's theological and therefore political life was a repudiation of the doctrine of the Two Kingdoms. As James Woelfel has noted:
According to this doctrine, the proper concern of the gospel is the inner person, the sphere where the Kingdom of God reigns; the Kingdom of the State, on the other hand, lies in the outer sphere, the realm of law, and is not subject to the gospel's message. German Christians used this argument to justify devotion to race and fatherland as 'orders of creation' to be obeyed until the final consummation.
These debates may seem arcane in twenty-first-century secular Australia, but in the Germany of the 1930s they were central to the decision of the majority of German Lutheran ministers to submit to the Reichskirche (resplendent with swastikas on their ecclesiastical stoles) and to retreat into a politically non-threatening quietism as the political repression of Hitler's post-1933 chancellorship unfolded. Equally, it was Bonhoeffer's theological dissent from the perversion of this Two Kingdoms doctrine that led him, at the tender age of 29, to establish in 1935 the German Confessing Church, with its underground seminary.
Bonhoeffer For Us?
"Yet one may wonder how Bonhoeffer should be read by those in the ministry in our time. The challenges he faced are so different from the everyday tasks incumbent on those in the ministry in our day. Bonhoeffer confronted the Nazis and Hitler – it is hard to imagine a more dramatic conflict. Dangerous though it may have been, those confronted by the Nazi's knew what sides they needed to be on. We seldom enjoy such clarity. The result is often a stark divide between activities associated with pastoral care and the social witness of the church.
Those in the ministry today must negotiate a very different world than the world Bonhoeffer encountered. We are unsure who our enemy is, or even if we have an enemy. We lack the clarity Bonhoeffer enjoyed – which, of course, is not a bad thing. But it leaves us confused about how to discern in the world in which we live what the primary challenge facing the church may be. Bonhoeffer saw quite early who the enemy was, though he was surrounded by many who did not see what he saw in the Nazis. Indeed, one of the interesting questions for Bonhoeffer's relevance for pastors in our time is what enabled him to see the threat Hitler represented."
Dietrich Bonhoeffer and the Confessing Church
by Wendy McElroy
A destructive myth haunts World War II. It is that a flaw within the German character allowed the rise of Hitler and Nazism. How else can you explain the Holocaust coming from one of the world's most cultured nations? Oddly, no one seems to consider Mussolini to indicate a flaw within Italians or view Stalin as proof of a Russian defect.
The 'German character flaw' is a destructive myth because it deflects attention from the crucial task of analyzing the dynamics that allowed Nazism to rise. It permits other nations to believe "it could never happen here." But totalitarianism can happen anywhere, to any nationality. Understanding the evolution of totalitarianism involves institutional analysis, especially of the interrelation between institutions that were active or complicit in creating tyranny.
Two institutions are commonplace and powerful around the globe: the state and the church. In Hitler's Germany, most churches went along with the Nazis. Some did so reluctantly, many were enthusiastic. But there was also dramatic resistance by churches and religious leaders who opposed Hitler at great personal risk. For example, the German Protestant Church became a battleground between the majority who supported the Nazis, either explicitly or implicitly, and a minority who resisted them. At the core of the conflict was the question of how the church should respond to the "Jewish question."
No man spoke more eloquently on behalf of the civil liberties of Jews than the Protestant pastor and theologian Dietrich Bonhoeffer. He became a prominent voice in 'the Confessing Church' that was founded when approximately 3,000 Protestant pastors broke off from the main religious body in protest.(Konfession is German for denomination.) Bonhoeffer reminds us that there are people of conscience and moral courage in every nation. He is also a window into the institutional dynamics of church and state that both facilitated and hindered Hitler.