You are currently browsing the tag archive for the 'nazism' tag.
Cheap grace the real enemy
"When God calls a man, he bids him come and die," wrote Dietrich Bonhoeffer during the dark days for the church under Nazi Germany.
At age 39, he was hanged on the gallows for his stand against Nazism.
He wrote, "Cheap grace is the deadly enemy of our church. We are fighting today for costly grace.
"Cheap grace means grace sold on the market like cheapjacks' wares.
"The sacraments, the forgiveness of sin, and consolations of faith are thrown away at cut prices. In such a church the world finds a cheap covering for its sins; no contrition is required, still less any real desire to be delivered from sin.
"Cheap grace means the justification of sin without the justification of the sinner. Cheap grace is grace without discipleship, grace without the cross, grace without Jesus Christ, living and incarnate."
With these words and a life to back them up, Bonhoeffer became a powerful spokesman for a form of vibrant Christianity that would not bow to Hitler.
This man who called the church back to its mission for Christ became a martyr for his stand for God and against Hitler. Thousands of average people were inspired by his example and became a credit to the Christ they served.
Pastor Niemöller spoke out against Nazism. In 1937 he was sent to the camps for "misusing the pulpit."
By Doris Bergen
Niemöller's only meeting with Adolf Hitler was a fiasco. It was January 1934, and Hitler had been in power for just under a year. The chancellor, obsessed with his image, was irritated about strife in the German Protestant church and the foreign press coverage it attracted. Disunity made him look weak. To manage the situation, Hitler summoned a dozen prominent clergymen to his presence. Among them was the Lutheran pastor and former submarine captain Martin Niemöller.
A junior member of the group, Niemöller stood near the back. When Hermann Göring, head of the newly formed Gestapo, spoke he pulled a sheaf of papers from his briefcase and began to read the transcript of a phone call recorded that very morning. It was a conversation between Niemöller and a friend. Frozen with dread, the churchmen heard how a cocky Niemöller had promised that everything would be fine. Hitler would come to see that the people he considered opponents within the church were in fact loyal Germans. Anyway, President Hindenburg would take their side, Niemöller predicted gleefully, and by the end of the meeting the old man would be "administer[ing] the last rites" to the upstart Hitler.
The meeting thus torpedoed, the future of the outspoken Niemöller quivered in the balance. Would the devout Christian emerge a champion against the moral evil of Nazism? Or would the ardent nationalist, who voted for Hitler in 1924 and again in March 1933, redouble his efforts to prove that he could serve both his country and his faith and in the process become complicit in Nazi crimes? The answer, Matthew Hockenos reveals in a gripping biography, is "yes" and "yes," or, more precisely, "yes but." Niemöller was heroic but flawed, and his life and legacy challenge the popular notion of the individual hero as society's best hope. In its place, "the pastor who defied the Nazis" offers two modest messages for those under threat in our own troubled times: help one another and don't wait too long.
Eighty years ago, a 33-year-old Christian theologian named Dietrich Bonhoeffer returned to his native Germany after a short stay in the United States. He would not live to see his 40th birthday.
The Lutheran and Episcopal Churches, as well as other religious bodies worldwide, recently commemorated the annual remembrance of German Lutheran pastor, theologian, and resister of Nazi totalitarianism and terrorism. On April 9, 1945, after being in held prisoner for two years, Bonhoeffer was hanged for his association with others who resisted Hitler and the atrocities his party committed against Jews, Germans, among others.
Evidence showed the group he worked with also plotted to assassinate Hitler. A week later the Allies liberated that very POW Camp. As he was being led away to what all knew would be his death, Bonhoeffer said, "This is the end – for me, the beginning of life."
Bonhoeffer wrote a book "The Cost of Discipleship," that is now a classic. He compares "cheap grace," which is like a head nod or an "atta boy" to the ethics of following Jesus, without actually getting in the water and risking a swim – with "costly grace," that throws people into the deep end because they are formed by and live out the ethics of Jesus.
This is not a church and state issue. It is the involvement of a person of faith, regardless of religion, using politics, political action, and involvement to change the world for the poor, needy, oppressed, voiceless and powerless. Such costly grace brought Bonhoeffer into the resistance movement against the Nazis.
For the rest of the post..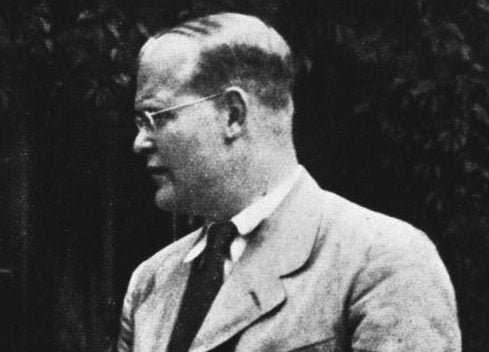 The great preacher, writer, theologian and witness to the faith, Dietrich Bonhoeffer,was executed on April 9, 1945, just days before the Nazi camp where he was held, Flossenbürg, was liberated. He was 39.
Here's what happened: 
On 4 April 1945, the diaries of Admiral Wilhelm Canaris, head of the Abwehr, were discovered, and in a rage upon reading them, Hitler ordered that the Abwehr conspirators [those who had plotted for Hitler's assassination] be destroyed. Bonhoeffer was led away just as he concluded his final Sunday service and asked an English prisoner, Payne Best, to remember him to Bishop George Bell of Chichester if he should ever reach his home: "This is the end—for me the beginning of life."

Bonhoeffer was condemned to death on 8 April 1945 by SS judge Otto Thorbeck at a drumhead court-martial without witnesses, records of proceedings or a defense in Flossenbürg concentration camp.  He was executed there by hanging at dawn on 9 April 1945, just two weeks before soldiers from the United States 90th and 97th Infantry Divisions liberated the camp,  three weeks before the Soviet capture of Berlin and a month before the surrender of Nazi Germany.

Bonhoeffer was stripped of his clothing and led naked into the execution yard where he was hanged, along with fellow conspirators Admiral Wilhelm Canaris, Canaris's deputy General Hans Oster, military jurist General Karl Sack, General Friedrich von Rabenau, businessman Theodor Strünck, and German resistance fighter Ludwig Gehre.

Eberhard Bethge, a student and friend of Bonhoeffer's, writes of a man who saw the execution: "I saw Pastor Bonhoeffer… kneeling on the floor praying fervently to God. I was most deeply moved by the way this lovable man prayed, so devout and so certain that God heard his prayer…In the almost fifty years that I worked as a doctor, I have hardly ever seen a man die so entirely submissive to the will of God."
(RNS) — The four saddest words in the English language are "what might have been.…"
Eighty years ago, as war clouds gathered over Europe, the 33-year-old Christian theologian Dietrich Bonhoeffer, then a faculty member at Union Theological Seminary in Manhattan, returned to his native Germany after a short stay in the United States.
At the time, Bonhoeffer believed his church's response to Hitler and Nazism was marked by weakness and cowardice. He saw his country consumed by a monstrous cancer that had devoured nations and had already murdered many hundreds of people on its way to murdering millions.
In the midst of Nazi resistance, this Christian martyr offered three models for the season of waiting…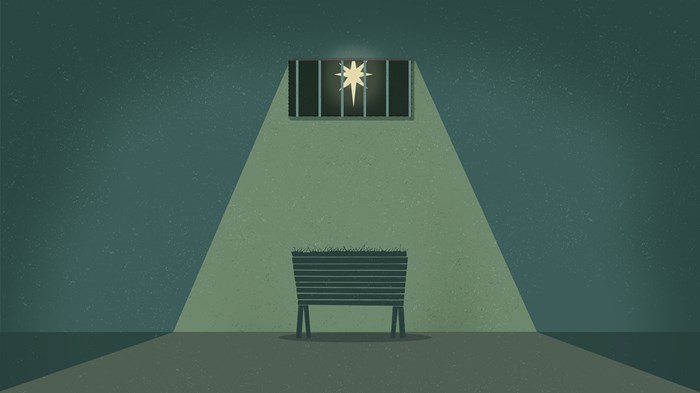 On November 21, 1943, Dietrich Bonhoeffer wrote a letter from Tegel Prison. "A prison cell like this is a good analogy for Advent," he said. "One waits, hopes, does this or that—ultimately negligible things—the door is locked and can only be opened from the outside."
The comparison between Advent and a prison cell may seem strange. It evokes powerlessness, perhaps even hopelessness. However, it is this particular type of waiting that Bonhoeffer believes best prepares us for Christ's coming.
Although a Nazi prison gave him this metaphor, the sermons he wrote during his time of active ministry also present a similar vision of Advent waiting. In these sermons, Bonhoeffer sees the season before Christmas as a sharpened liturgical expression of the tension that informs our entire lives as Christians. Celebrating it prepares us to live as people who have made a radical break with the present world of sin and death and are also preparing for the redeemed future that God has already, in one sense, accomplished. Through Advent, we learn how to live in these two concurrent realities: We have already been delivered, and yet our deliverance is still to come.
Bonhoeffer's Christmas and Advent sermons highlight three figures who exemplify life amid this tension and, by their example, might guide us through this season. Learning how to wait from these figures will not be warm and cozy but deep, dangerous, and shot through with sorrow and pain.
The first figure is Moses. This is not the triumphant Moses leading the people of Israel through a miraculously parted Red Sea or the lawgiver Moses carrying the stone tablets down the mountainside. Rather, the Advent Moses is the one found in Deuteronomy 32:48–52. Moses knows that God's promise will be fulfilled, but he also knows that the promise will not be fulfilled in his lifetime. Instead, he will die on Mount Nebo, gazing across the river into the land. This Moses seems at first like the very antithesis of Advent, since he is the one for whom the promise is never fulfilled.
However, Bonhoeffer finds in Moses' experience an expression of our own Advent waiting. Just like Moses, we know that the promise has been fulfilled—Jesus has come—but not yet completely. Through Moses' punishment—his death before entering the Promised Land—we are also reminded that Advent is the season for death, judgment, and repentance. In a reversal of the world's order, we pass from death into birth and new life. This awareness of our own death and judgment is crucial for us to understand that we only enter the Promised Land due to God's victory, not our own. As Bonhoeffer puts it, "God is with us and we are no longer homeless. A piece of the eternal home is grafted onto to us."
The second figure is Joseph
MEET THE CHRISTIAN THEOLOGIAN WHO TRIED TO ASSASSINATE ADOLF HITLER
In the 1930s, Dietrich Bonhoeffer was one of Germany's most famous pastors and theologians—at a time when German clergy were increasingly capitulating and buying into Hitler's anti-Semitism. Bonhoeffer joined the Confessing Church, a movement resisting Nazism, and eventually joined a plot to assassinate Hitler.