You are currently browsing the tag archive for the 'patheos' tag.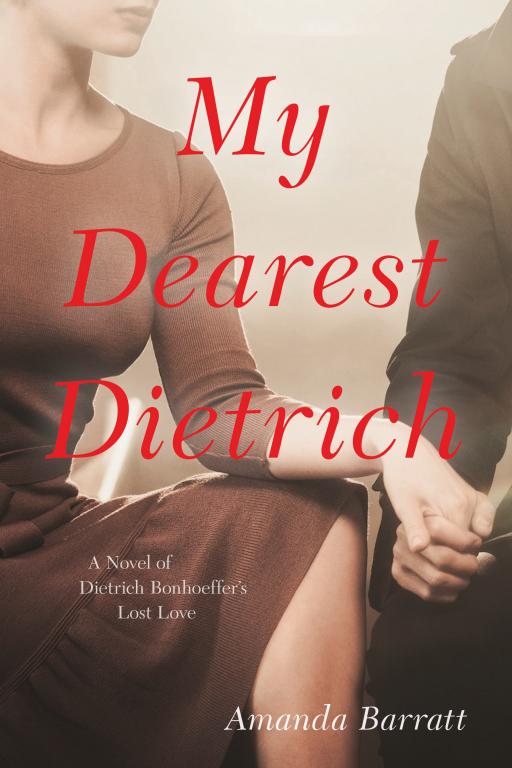 Did you know that Dietrich Bonhoeffer, the famous pastor martyred during World War II, planned to marry before he was captured and executed? Only after reading Eric Metaxas's biography of the World War II German pastor did I learn that. In her upcoming novel, Amanda Barrett explores what might have happened between Dietrich and his fiancée, Maria von Wedemeyer. She writes it as historical fiction, based on a true story but fills in gaps with literary license, what-ifs, and maybes. It looks fascinating.
I've invited her into this space to share some of what she learned during her research and writing of My Dearest Dietrich: A Novel of Dietrich Bonhoeffer's Lost Love. 
---
April 9, 1945.
It's early morning. For the guards at Flossenbürg Concentration Camp, it's a routine day, beginning with a routine task—preparing six prisoners for execution. Their crime? Participation in a conspiracy whose aim was the assassination of Adolf Hitler.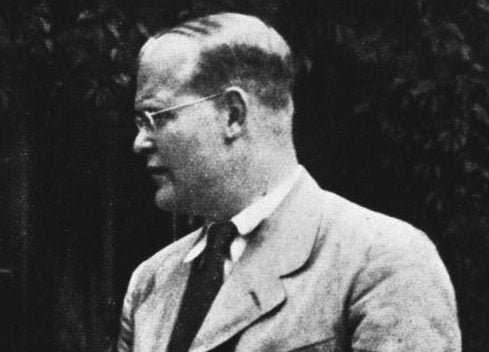 The great preacher, writer, theologian and witness to the faith, Dietrich Bonhoeffer,was executed on April 9, 1945, just days before the Nazi camp where he was held, Flossenbürg, was liberated. He was 39.
Here's what happened: 
On 4 April 1945, the diaries of Admiral Wilhelm Canaris, head of the Abwehr, were discovered, and in a rage upon reading them, Hitler ordered that the Abwehr conspirators [those who had plotted for Hitler's assassination] be destroyed. Bonhoeffer was led away just as he concluded his final Sunday service and asked an English prisoner, Payne Best, to remember him to Bishop George Bell of Chichester if he should ever reach his home: "This is the end—for me the beginning of life."

Bonhoeffer was condemned to death on 8 April 1945 by SS judge Otto Thorbeck at a drumhead court-martial without witnesses, records of proceedings or a defense in Flossenbürg concentration camp.  He was executed there by hanging at dawn on 9 April 1945, just two weeks before soldiers from the United States 90th and 97th Infantry Divisions liberated the camp,  three weeks before the Soviet capture of Berlin and a month before the surrender of Nazi Germany.

Bonhoeffer was stripped of his clothing and led naked into the execution yard where he was hanged, along with fellow conspirators Admiral Wilhelm Canaris, Canaris's deputy General Hans Oster, military jurist General Karl Sack, General Friedrich von Rabenau, businessman Theodor Strünck, and German resistance fighter Ludwig Gehre.

Eberhard Bethge, a student and friend of Bonhoeffer's, writes of a man who saw the execution: "I saw Pastor Bonhoeffer… kneeling on the floor praying fervently to God. I was most deeply moved by the way this lovable man prayed, so devout and so certain that God heard his prayer…In the almost fifty years that I worked as a doctor, I have hardly ever seen a man die so entirely submissive to the will of God."
From Bryan–Most recent articles that link Dietrich Bonhoeffer and Donald Trump will use Bonhoeffer to criticize the President. The truth does need to be expressed by both the left and the right.
JANUARY 12, 2019
BY VANCEMORGAN

Dietrich Bonhoeffer is one of the figures we will be studying in "'Love Never Fails': Grace, Truth, and Freedom in the Nazi Era," an interdisciplinary colloquium that I will be teaching with a colleague from the history department this coming semester. The first thing I read when on retreat last week was a new translation of Bonhoeffer's "Ten Years After," an essay Bonhoeffer wrote for colleagues and friends in 1942, reflecting on various aspects of the past decade in Germany as he and others had, in various ways, resisted the rise and entrenchment of the Nazis. Less than year after writing this essay, Bonhoeffer was arrested by the Nazis for his involvement in a plot to assassinate Adolf Hitler, for which he was executed in 1945, just weeks before the end of World War Two. "Ten Years After" is comparable to Martin Luther King, Jr.'s "Letter from Birmingham Jail" as a document addressing the specific challenges of their times by speaking to greater issues, including the human capacity for decency, courage, and engagement in political culture that honors integrity and these values. How is one to think beyond self-interest and toward the common good in challenging times?
In "Ten Years After," Bonhoeffer observes how easily human beings are swayed and seduced by peer pressure and crowd behaviors. Although his context was Nazi Germany, his observations about what happens to human decency and courage when a political culture begins to disintegrate and a social atmosphere becomes toxic read as if they were written this morning. Bonhoeffer wrestles with what happens to good people, what to the soul, and to the human sense of morality and responsibility, when evil becomes so embedded in a political culture that it is part of the very fabric of daily life, and it becomes impossible for good people to remain untouched by it.
One of the most written about and often quoted portions of Bonhoeffer's essay is "On Stupidity," a stupidity that Bonhoeffer claims "is a more dangerous enemy of the good than malice." By "stupidity," Bonhoeffer does not mean low IQ or lack of intelligence; indeed, "there are human beings who are of remarkably agile intellect yet stupid, and others who are intellectually quite dull, yet anything but stupid." By "stupid," Bonhoeffer means something that contemporary Americans encounter every day, from the White House to the local coffee shop.
Against stupidity, we are defenseless. Neither protests nor the use of force accomplish anything here; reasons fall on deaf ears; facts that contradict one's prejudgment simply need not be believed—in such moments the stupid person even becomes critical—and when facts are irrefutable they are just pushed aside as inconsequential.
When President Donald Trump denies saying something that was recorded less than a month ago on television (at his own insistence), when Vice President Mike Pence and White House Press Secretary Sarah Sanders spout numbers that a brief session on Google shows to be blatantly false, stupidity is in the ascendant. When millions of citizens are uninterested in fact-checking lies or changing their minds in the face of new evidence, stupidity reigns. And as Bonhoeffer notes, we misjudge the situation when we dismiss such believing persons with condescending pejoratives—persons with PhD's and people with no formal education are equally susceptible to stupidity as Bonhoeffer defines it. How can this be?
According to Bonhoeffer, people either consciously choose to become stupid or allow it to happen because their defenses are down.The impression one gains is not so much that stupidity is a congenital defect but that, under certain circumstances, people are made stupid or that they allow this to happen to them . . . Every strong upsurge of power in the public sphere, be it of a political or a religious nature, infects a large part of humankind with stupidity . . . The power of the one needs the stupidity of the other.
In our current political climate, stupidity ranges across the spectrum from the most obsessed Trumpster to the most avid Berniebot. Whether in support of or in opposition to any particular agenda or political figure, stupidity always dehumanizes, replacing thought and deliberation with soundbites and memes. Bonhoeffer's diagnosis seventy-five years ago could have been written this morning.
One virtually feels that one is dealing not at all with him as a person, but with slogans, catchwords, and the like that have taken possession of him . . . Having thus become a mindless tool, the stupid person will also be capable of any evil and at the same time incapable of seeing that it is evil.
So, what is to be done? Bonhoeffer expresses his prescription for stupidity in religious terms: "The internal liberation of human beings to live the responsible life before God is the only genuine way to overcome stupidity." This is not a call for everyone to become a person of faith, however; from a prison cell a couple of years later, Bonhoeffer will write that God wants people of faith to live as if God does not exist. Bonhoeffer's call is for people to take responsibility for who and what they are, rather than turning this responsibility over to others in exchange for perceived power or solidarity.
by Tim Suttle
Worry:
"Do not worry! Earthly goods deceive the human heart into believing that they give it security and freedom from worry. But in truth, they are what cause anxiety. The heart which clings to goods receives with them the choking burden of worry. Worry collects treasures, and treasures produce more worries. We desire to secure our lives with earthly goods; we want our worrying to make us worry-free, but the truth is the opposite. The chains which bind us to earthly goods, the clutches which hold the goods tight, are themselves worries."
Violence: 
"Jesus' followers are called to peace. When Jesus called them, they found their peace. Jesus is their peace. Now they are not only to have peace, but they are to make peace. To do this they renounce violence and strife. Those things never help the cause of Christ. Christ's kingdom is a realm of peace, and those in Christ's community greet each other with a greeting of peace. Jesus' disciples maintain peace by choosing to suffer instead of causing others to suffer. They preserve community when others destroy it. They renounce self-assertion and are silent in the face of hatred and injustice. That is how they overcome evil with good. That is how they are makers of divine peace in a world of hatred and war."
Loving Our Enemies: 
May 24, 2016
Called to Community: The Life Jesus Wants for His People is a collection of 52 readings, with accompanying discussion questions, that lay claim to a fundamental truth:  Christian faith is connecting faith. As a direct challenge to the individualism and isolationism of contemporary secular notions of "freedom," Charles Moore has brought together some seminal thinkers for reflecting on the abundant life, the life together, that Jesus envisions for those who follow him. And make no doubt about it, those who follow him are bound together in a "mystical union" that takes flesh and blood in the life of the Church.
Gerhard Lohfink, Dietrich Bonhoeffer, Dorothy Day, Joan Chittister, St Benedict, Richard Foster, Mother Teresa, Jean Vanier – among so many others – are all given lengthy selections (most are around 5 pages, but several have much more) that offer us deep meditations on the connection that Christ makes in the Spirit to create that spiritual community that is the Church.