You are currently browsing the tag archive for the 'SS' tag.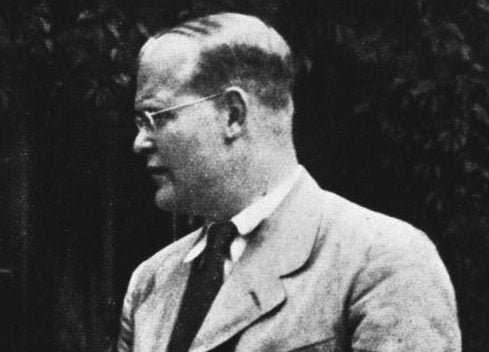 The great preacher, writer, theologian and witness to the faith, Dietrich Bonhoeffer,was executed on April 9, 1945, just days before the Nazi camp where he was held, Flossenbürg, was liberated. He was 39.
Here's what happened: 
On 4 April 1945, the diaries of Admiral Wilhelm Canaris, head of the Abwehr, were discovered, and in a rage upon reading them, Hitler ordered that the Abwehr conspirators [those who had plotted for Hitler's assassination] be destroyed. Bonhoeffer was led away just as he concluded his final Sunday service and asked an English prisoner, Payne Best, to remember him to Bishop George Bell of Chichester if he should ever reach his home: "This is the end—for me the beginning of life."

Bonhoeffer was condemned to death on 8 April 1945 by SS judge Otto Thorbeck at a drumhead court-martial without witnesses, records of proceedings or a defense in Flossenbürg concentration camp.  He was executed there by hanging at dawn on 9 April 1945, just two weeks before soldiers from the United States 90th and 97th Infantry Divisions liberated the camp,  three weeks before the Soviet capture of Berlin and a month before the surrender of Nazi Germany.

Bonhoeffer was stripped of his clothing and led naked into the execution yard where he was hanged, along with fellow conspirators Admiral Wilhelm Canaris, Canaris's deputy General Hans Oster, military jurist General Karl Sack, General Friedrich von Rabenau, businessman Theodor Strünck, and German resistance fighter Ludwig Gehre.

Eberhard Bethge, a student and friend of Bonhoeffer's, writes of a man who saw the execution: "I saw Pastor Bonhoeffer… kneeling on the floor praying fervently to God. I was most deeply moved by the way this lovable man prayed, so devout and so certain that God heard his prayer…In the almost fifty years that I worked as a doctor, I have hardly ever seen a man die so entirely submissive to the will of God."
Jan 27th 2014 9:01AM
Germany Himmler Letters
FILE – The undated file photo shows German Nazi party official and head of the SS, Heinrich Himmler. at unknown location in Germany. German newspaper Welt am Sonntag has published a trove of letters believed to be written by Nazi SS leader Heinrich Himmler. On seven full pages the paper on Sunday Jan. 26,2014 showed pictures of Himmler and his family smiling into the camera during a fishing trip, the top Nazi taking a bath in a lake or feeding a little fawn. The newspaper, which says the material is contained in an eight-part series it plans to publish, also quotes excerpts from Himmler's love letters addressing his wife as "my sweet, beloved little woman." Welt said it worked together with Israeli film director Vanessa Lapa, whose family had the documents in its possession. (AP Photo/str/file)
A newspaper in Germany published a collection of personal letters from one of the most notorious Nazi leaders.
The German paper "Welt am Sonntag" featured seven full pages of Heinrich Himmler's letters, along with pictures of a smiling family shot during the war.
Himmler, who was one of the most powerful Nazi leaders that organized the ruthless killing of millions, reportedly wrote several love letters to his wife during the war. He signs one, "I'm off to Auschwitz. Kisses! Yours, Hiney," never mentioning the horrific events that he was in charge of overseeing.
The Mirror explains the letters reveal Himmler "…as an insecure romantic fantasist who kept his mass murder program from those closest to him. He was happy to have millions killed, but did not want to upset wife…"
The pictures and letters are part of an eight-part series that re-examines the life of Himmler.