You are currently browsing the tag archive for the 'the reformation' tag.
Martin Luther (1483–1546)
One of the great rediscoveries of the Reformation — especially of Martin Luther — was that the word of God comes to us in the form of a book, the Bible. Luther grasped this powerful fact: God preserves the experience of salvation and holiness from generation to generation by means of a book of revelation, not a bishop in Rome.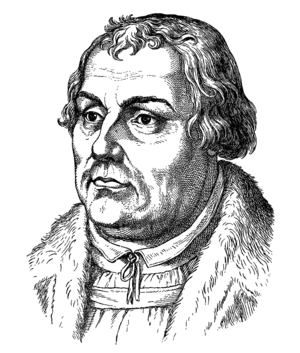 The life-giving and life-threatening risk of the Reformation was the rejection of the pope and councils as the infallible, final authority of the church. Luther's adversary, Sylvester Prierias, wrote, "He who does not accept the doctrine of the Church of Rome and pontiff of Rome as an infallible rule of faith, from which the Holy Scriptures, too, draw their strength and authority, is a heretic" (Luther, 193). It followed that Luther would be excluded from the Roman Catholic Church. "What is new in Luther," Heiko Oberman says, "is the notion of absolute obedience to the Scriptures against any authorities; be they popes or councils" (Luther, 204).
This rediscovery of the word of God above all earthly powers shaped Luther and the entire Reformation. But Luther's path to that rediscovery was a tortuous one, beginning with a lightning storm at age 21.
Fearful Monk
On July 2, 1505, on the way home from law school, Luther was caught in a thunderstorm and was hurled to the ground by lightning. He cried out, "Help me, St. Anne! I will become a monk." Fifteen days later, to his father's dismay, Luther left his legal studies and kept his vow.
He knocked at the gate of the Augustinian hermits in Erfurt and asked the prior to accept him into the order. At 21, he became an Augustinian monk. At his first Mass two years later, Luther was so overwhelmed at the thought of God's majesty that he almost ran away. The prior persuaded him to continue.
But this incident of fear and trembling would not be an isolated one in Luther's life. Luther himself would later remember of these years, "Though I lived as a monk without reproach, I felt that I was a sinner before God with an extremely disturbed conscience. I could not believe that he was placated by my satisfaction" (Selections, 12).
Luther would not be married for another twenty years — to Katharina von Bora on June 13, 1525 — which means he lived with sexual temptations as a single man till he was 42. But "in the monastery," he said, "I did not think about women, money, or possessions; instead my heart trembled and fidgeted about whether God would bestow his grace on me." His all-consuming longing was to know the happiness of God's favor. "If I could believe that God was not angry with me," he said, "I would stand on my head for joy."
Good News: God's Righteousness
In 1509, Luther's beloved superior and counselor and friend, Johannes von Staupitz, allowed Luther to begin teaching the Bible. Three years later, on October 19, 1512, at the age of 28, Luther received his doctor's degree in theology, and von Staupitz turned over to him the chair in biblical theology at the University of Wittenberg, which Luther held the rest of his life.
As Luther set to work reading, studying, and teaching Scripture from the original languages, his troubled conscience seethed beneath the surface — especially as he confronted the phrase "the righteousness of God" in Romans 1:16–17. To Luther, "the righteousness of God" could only mean one thing: God's righteous punishment of sinners. The phrase was not "gospel" to him; it was a death sentence.
But then, in the work of a moment, all Luther's hatred for the righteousness of God turned to love. He remembers,
At last, by the mercy of God, meditating day and night, I gave heed to the context of the words, namely, "In it the righteousness of God is revealed, as it is written, 'He who through faith is righteous shall live.'" . . . And this is the meaning: the righteousness of God is revealed by the gospel, namely, the passive righteousness with which [the] merciful God justifies us by faith, as it is written, "He who through faith is righteous shall live."
He concludes, "Here I felt that I was altogether born again and had entered paradise itself through open gates."
Standing on the Book
Luther was not the pastor of the town church in Wittenberg, but he did share the preaching with his pastor friend, Johannes Bugenhagen. The record bears witness to how utterly devoted he was to the preaching of Scripture. For example, in 1522 he preached 117 sermons, the next year 137 sermons. In 1528, he preached almost 200 times, and from 1529 we have 121 sermons. So the average in those four years was one sermon every two-and-a-half days.
Over the next 28 years, Luther would preach thousands of sermons, publish hundreds of pamphlets and books, endure scores of controversies, and counsel innumerable German citizens — all to spread the good news of God's righteousness to a people trapped in a system of their own merit. Through it all, Luther had one weapon with which to rescue this gospel from being sold in the markets of Wittenberg — Scripture. He drove out the moneychangers — the indulgence sellers — with the whip of the word of God, the Bible.
Luther said with resounding forcefulness in 1545, the year before he died, "Let the man who would hear God speak, read Holy Scripture."
Editors' note
: A version of this article appeared at 
9Marks
.
---
The chime rang out from the bell tower. Time to gather for Mass.
Yet this was not a regular Sunday. Someone told us we would hear a homily. Usually we only heard homilies at Lent or Advent, as well as on the feast day of our church's namesake. But this was October, and we weren't sure why we would hear a homily in October.
Then Jonas, the cloth merchant, explained. Last week's business took him to the town across the ridge. All his customers there were still reeling from what they had heard last Sunday. Their priest read a homily that could only be described as a tale of horror. He described dead relatives screaming out in pain in purgatory. He put his hand to his ear and bent down toward the ground as if he could hear the groans. He depicted flames so real that everyone in the pews thought they felt the temperature rising. One customer told Jonas that women had actually swooned. Afterward, no one dared to utter a single word. All shuffled out in silence.
All this happened last Sunday, Jonas said. Then on Monday a monk named Tetzel pulled into the same town in a grand wagon. Trumpets blew and banners unfurled. The archbishop's own guards surrounded him. In the shadow of the steeple in the middle of the town square, his attendants set up a table. They piled a stack of parchment high on the one side and cautiously placed a chest on the other. The chest had three locks. Everyone knows that if a chest has three locks it's owned by three people who don't trust each other.
Then Tetzel cried out, "Friends of this town, you have heard how your loved ones suffer in purgatory. You have heard their cries. The flames have reached up and licked your very own boots."
"How shamefully," Tetzel continued, "you go about your business. You spend your money on every little trifle. And, oh, how your loved ones suffer. Enough. Step forward. Leo X, the Pontifex Maximus, Vicar of Christ on earth, has been gracious and merciful to you and has affixed his seal to this indulgence. Now come and do your duty. And now you have a very special deal reserved for you. For a little extra guilder you can free yourself from purgatory. Yes, God be praised, give to the church your mite and the gracious Holy Father in Rome will see to it that you and all your dead relatives will be in Paradise itself, not enduring for a moment the purging flames of purgatory."
Then he added with a rhythm in his voice:
Every time a coin in the coffer rings,
A soul from purgatory springs.
Matthew Levering—a Roman Catholic theologian who teaches at the University of Saint Mary on the Lake in Illinois—has a number of books to his credit. His newest book,
Was the Reformation a Mistake? Why Catholic Doctrine Is Not Unbiblical
, was written at the invitation of Zondervan. Levering offers an introduction then nine chapters on the following doctrines: Scripture, Mary, the Eucharist, the seven sacraments, monasticism, justification and merit, purgatory, saints, and the papacy. Each chapter consists of two parts, "Luther's Concern" and "Biblical Reflection." A lengthy response by Kevin Vanhoozer, titled "A Mere Protestant Response," closes out the book.
On the first page of the introduction, Levering gives his answer to the book title's question: "I do not call the Reformation a mistake," (15, all page references to advanced reading copy). He adds that he's grateful for many of the Reformation's theological emphases. He contends, however, that "the [r]eformers made some doctrinal mistakes" (15).
In his rebuttal of the reformers, with Luther as the main focus, Levering seeks to show Roman Catholic doctrine is "not unbiblical." It's worth noting that isn't the same as being biblical. It's also worth noting Levering's theological method or, as he puts it, his "mode of biblical reasoning." He writes, "Rather than presenting his twelve disciples with a list of doctrinal truths, the Lord Jesus made clear that his disciples would need to learn the truth about him in a communal and liturgical way, by living with him over a period of time and by being intimately related to him" (21).
He further speaks of a "liturgically situated mode of reasoning about the realities described in the Bible" (25), adding that "the Holy Spirit may guide the church in Spirit-guided modes of biblical reasoning" (27).
Reasoning on Doctrine
This mode of reasoning is immediately pursued in chapter one on Scripture. Levering posits that "the church is the faithful interpreter of Scripture" (35), adding that if the church fails in being faithful, then "Scripture itself would fail in its truth" (35). Of course, for Levering the Bible can't fail so, therefore, it must be true that the church can't fail as interpreter. Levering does admit that church leaders err, but he maintains they are "preserved . . . from an error that would negate the church's mediation of the true gospel to each generation."
Now the reader can decide. Was Luther making a mistake at the Diet of Worms in 1521 when he claimed popes and councils may err and that his conscience was captive to the Word of God? Levering needs to reconcile his pronouncement of de facto gospel fidelity on behalf of Rome against the data of the 16th century (and other centuries for that matter).
Would Levering endorse the systemic abuse of indulgences as practiced in the church at the time of the Reformation? The fact that Levering doesn't address this challenge to his thesis in a book on the Reformation is a serious gap, if not a death blow to his argument. At the very least, this chapter demonstrates clearly the distinction between sola scriptura and the Roman Catholic view.
Levering then turns to eight Catholic doctrines. He makes the point that Mary's suffering was "uniquely united with her Son's suffering," and from there asks, "Did Mary receive a unique share in his exaltation?" (71). He then employs "typological reasoning" to see Mary in many exalted roles and places—including as the "Queen Mother" in Jeremiah 13:18.
On the saints, Levering acknowledges that Paul uses saints to refer to all Christians, but then notes how Rome identifies certain individuals as "saints in a particular sense" (157). Levering ends the chapter by declaring, "To love the saints and to ask regularly for their prayers is to love Christ and the Father who sent him" (171).
On the papacy, he offers no attempt to show the evidence of apostolic succession from Peter onward. He simply states, "The form that this Petrine ministry takes in the church develops over the centuries under the guidance of the Spirit" (186). That's not an argument; it's a supposition. Given the role of the papacy in the Roman curia, Levering is going to have to do better.
Shared Gospel?
As important as these doctrinal differences are, the central issue is the gospel. At various points Levering speaks of Catholic and Protestant communion around the gospel, but such communion doesn't exist. Regarding purgatory, Levering says, "Christ has paid the penalty of sin and has perfectly forgiven us, but we nonetheless must go through the penitential experience of suffering and death so as to be fully configured to him in love" (154). The "but" there is damning. The gospel is Christ's finished work plus nothing, yet Levering here holds to Christ's finished work plus something: extra suffering after death if life's sufferings didn't fully purify you.
But Luther's fear wasn't purgatory; he feared the final judgment on the last day. Purgatory is actually a distraction from the real threat to humanity: eternity in hell under the just wrath of God. Either Christ removed the curse from us and we're reconciled to a holy God and will be with him at the moment of our death, or the curse isn't removed and we'll be separated from God in this life and forever. Purgatory isn't only unbiblical; it's an affront to the gospel.
In chapter six on justification and merit, Levering rejects imputation. He asks if it's possible that "we are made truly just and not merely imputed to be just?" (133). This is a crucial distinction. If we're made just, then we work with the grace God gives us, and our justification is a result of both God's grace and our works. There could be no more crucial place for a distinction than between justification and sanctifciation. The doctrine of imputation is key to that distinction. Justification is apart from works, apart from merit—and apart from penitential suffering in purgatory.
Necessary Reformation
Was the Reformation a mistake? No, it wasn't, for there are clear and crucial differences between Rome and the reformers on Scripture and the gospel, not to mention the other seven doctrines in this book.