You are currently browsing the category archive for the 'Conspiracy and Imprisonment' category.
In the midst of Nazi resistance, this Christian martyr offered three models for the season of waiting…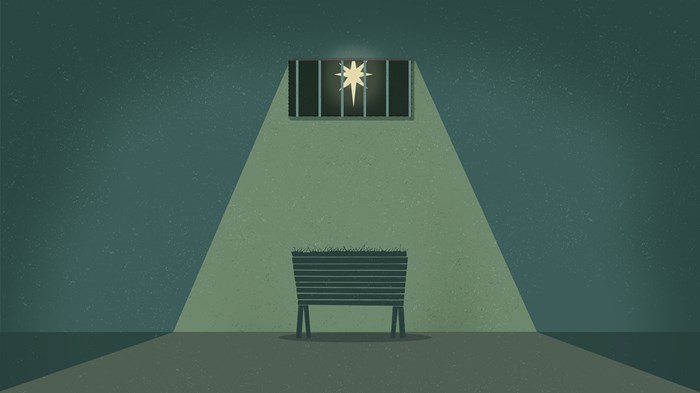 On November 21, 1943, Dietrich Bonhoeffer wrote a letter from Tegel Prison. "A prison cell like this is a good analogy for Advent," he said. "One waits, hopes, does this or that—ultimately negligible things—the door is locked and can only be opened from the outside."
The comparison between Advent and a prison cell may seem strange. It evokes powerlessness, perhaps even hopelessness. However, it is this particular type of waiting that Bonhoeffer believes best prepares us for Christ's coming.
Although a Nazi prison gave him this metaphor, the sermons he wrote during his time of active ministry also present a similar vision of Advent waiting. In these sermons, Bonhoeffer sees the season before Christmas as a sharpened liturgical expression of the tension that informs our entire lives as Christians. Celebrating it prepares us to live as people who have made a radical break with the present world of sin and death and are also preparing for the redeemed future that God has already, in one sense, accomplished. Through Advent, we learn how to live in these two concurrent realities: We have already been delivered, and yet our deliverance is still to come.
Bonhoeffer's Christmas and Advent sermons highlight three figures who exemplify life amid this tension and, by their example, might guide us through this season. Learning how to wait from these figures will not be warm and cozy but deep, dangerous, and shot through with sorrow and pain.
The first figure is Moses. This is not the triumphant Moses leading the people of Israel through a miraculously parted Red Sea or the lawgiver Moses carrying the stone tablets down the mountainside. Rather, the Advent Moses is the one found in Deuteronomy 32:48–52. Moses knows that God's promise will be fulfilled, but he also knows that the promise will not be fulfilled in his lifetime. Instead, he will die on Mount Nebo, gazing across the river into the land. This Moses seems at first like the very antithesis of Advent, since he is the one for whom the promise is never fulfilled.
However, Bonhoeffer finds in Moses' experience an expression of our own Advent waiting. Just like Moses, we know that the promise has been fulfilled—Jesus has come—but not yet completely. Through Moses' punishment—his death before entering the Promised Land—we are also reminded that Advent is the season for death, judgment, and repentance. In a reversal of the world's order, we pass from death into birth and new life. This awareness of our own death and judgment is crucial for us to understand that we only enter the Promised Land due to God's victory, not our own. As Bonhoeffer puts it, "God is with us and we are no longer homeless. A piece of the eternal home is grafted onto to us."
The second figure is Joseph

By M.T. Anderson; Oct. 5, 2018
For a man accursed by history, Adolf Hitler led a grimly charmed life. He survived several well-planned assassination attempts through sheer luck. The theologian Dietrich Bonhoeffer, a double agent claiming to spy for Hitler's Reich, was actually involved in the resistance movement that planned a few of these plots. John Hendrix's graphic biography, THE FAITHFUL SPY: Dietrich Bonhoeffer and the Plot to Kill Hitler (Amulet, 176 pp., $16.99; ages 10 and up), intertwines two stories: the insidious rise of Hitler with his creed of hatred and Bonhoeffer's development as an ethical thinker who believed that radical action was necessary, but that killing was a sin. Hendrix writes, "the conspirators needed to find a place where God would forgive them for plotting an assassination."
For young readers, one could easily play the near-miss attempts to kill Hitler as a straightforward thriller. The plots involve deception, gut-wrenching timing and concealed explosives: a bomb in a gift package, a rigged docent conducting a tour of captured Russian weaponry and an explosive briefcase spirited into the heart of Hitler's fortress, the Wolfsschanze. But Hendrix makes the bold and surprising decision to tell it as a tale of faith. He records Bonhoeffer's powerful experiences, for example, at the Abyssinian Baptist Church in Harlem, where the preacher Adam Clayton Powell fulminates: "Obeying God means challenging injustice! You don't just think about God. … You act!" Some readers will be irked by the focus on God in historical nonfiction; others will be soothed by it. Certainly, Hendrix's implication that at Bonhoeffer's execution, he met his God is more emotionally powerful than strictly verifiable. In an author's note, Hendrix offers a passionate defense of presenting the story through the lens of Bonhoeffer's Christianity: "If we look for a motivation for his decisions outside his furious belief in God's certainty, we will miss the very lesson he offers. "
What will catch the reader's eye immediately is Hendrix's striking three-color art. The book is not a panel-by-panel graphic novel, but rather an inventive combination of text blocks and illustration. Each spread has its own ingenious design, shuttling between the literal and the allegorical: As the text talks about Hitler undermining the power of President Hindenburg and the Reichstag ("teetering like a German spruce"), the illustration shows the Führer literally hacking down the tree of state, a startled German imperial eagle taking flight.
MEET THE CHRISTIAN THEOLOGIAN WHO TRIED TO ASSASSINATE ADOLF HITLER
In the 1930s, Dietrich Bonhoeffer was one of Germany's most famous pastors and theologians—at a time when German clergy were increasingly capitulating and buying into Hitler's anti-Semitism. Bonhoeffer joined the Confessing Church, a movement resisting Nazism, and eventually joined a plot to assassinate Hitler.
Dietrich Bonhoeffer, a German pastor and theologian most known for his book The Cost of Discipleship and his involvement in the plot to assassinate Nazi dictator Adolf Hitler, suffered a great deal at the hands of the Nazis, including his eventual execution. In the summer of 1937, just as the Gestapo was arresting Bonhoeffer's friends, the pastor preached about God's judgment in Psalm 58 — but he didn't say what a modern American might expect.
"The wicked are perverse from the womb; liars go astray from their birth. … O God, break their teeth in their mouths; pull the fangs of the young lions, O LORD. Let them vanish like water that runs off; let the arrows they aim break in two. … The righteous will be glad when they see the vengeance; they will bathe their feet in the blood of the wicked. And they will say, 'Surely, there is a reward for the righteous, surely, there is a God who rules in the earth'" (Psalm 58:3, 6-7, 10-11).
So how did Bonhoeffer, a Christian who lost his life trying to assassinate Hitler, apply this verse to his own life? Did he rail against Hitler's evil? Not exactly. (For the full letter, read Meditating on the Word, a compilation of Bonhoeffer's works compiled and translated by David McI. Gracie.)
"Is this fearful psalm of vengeance to be our prayer? May we pray in this way? Certainly not! We bear much guilt of our own for the action of any enemies who cause us suffering," Bonhoeffer declared in a sermon on July 11, 1937
This message is powerful, given what had happened to Bonhoeffer in the months — and even days — before. In January 1936, he lost his grandmother — who defied a Nazi boycott of Jews by shoving through brownshirts to buy strawberries from a Jew. Throughout 1937, the Gestapo carried out interrogations, house searches, confiscations, and arrests against Bonhoeffer's seminary students. Ten days before this sermon, they arrested his friend and fellow pastor Martin Niemöller (the man famous for the "first they came for the Jews …" poem).
"If I sit next to a madman as he drives a car into a group of innocent bystanders, I can't, as a Christian, simply wait for the catastrophe, then comfort the wounded and bury the dead. I must try to wrestle the steering wheel out of the hands of the driver."
Dietrich Bonhoeffer and the Confessing Church
by Wendy McElroy
A destructive myth haunts World War II. It is that a flaw within the German character allowed the rise of Hitler and Nazism. How else can you explain the Holocaust coming from one of the world's most cultured nations? Oddly, no one seems to consider Mussolini to indicate a flaw within Italians or view Stalin as proof of a Russian defect.
The 'German character flaw' is a destructive myth because it deflects attention from the crucial task of analyzing the dynamics that allowed Nazism to rise. It permits other nations to believe "it could never happen here." But totalitarianism can happen anywhere, to any nationality. Understanding the evolution of totalitarianism involves institutional analysis, especially of the interrelation between institutions that were active or complicit in creating tyranny.
Two institutions are commonplace and powerful around the globe: the state and the church. In Hitler's Germany, most churches went along with the Nazis. Some did so reluctantly, many were enthusiastic. But there was also dramatic resistance by churches and religious leaders who opposed Hitler at great personal risk. For example, the German Protestant Church became a battleground between the majority who supported the Nazis, either explicitly or implicitly, and a minority who resisted them. At the core of the conflict was the question of how the church should respond to the "Jewish question."
No man spoke more eloquently on behalf of the civil liberties of Jews than the Protestant pastor and theologian Dietrich Bonhoeffer. He became a prominent voice in 'the Confessing Church' that was founded when approximately 3,000 Protestant pastors broke off from the main religious body in protest.(Konfession is German for denomination.) Bonhoeffer reminds us that there are people of conscience and moral courage in every nation. He is also a window into the institutional dynamics of church and state that both facilitated and hindered Hitler.