You are currently browsing the tag archive for the 'flossenburg' tag.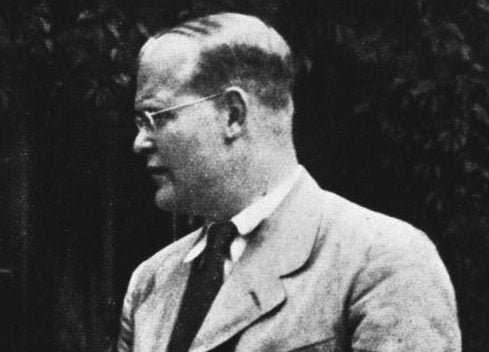 The great preacher, writer, theologian and witness to the faith, Dietrich Bonhoeffer,was executed on April 9, 1945, just days before the Nazi camp where he was held, Flossenbürg, was liberated. He was 39.
Here's what happened: 
On 4 April 1945, the diaries of Admiral Wilhelm Canaris, head of the Abwehr, were discovered, and in a rage upon reading them, Hitler ordered that the Abwehr conspirators [those who had plotted for Hitler's assassination] be destroyed. Bonhoeffer was led away just as he concluded his final Sunday service and asked an English prisoner, Payne Best, to remember him to Bishop George Bell of Chichester if he should ever reach his home: "This is the end—for me the beginning of life."

Bonhoeffer was condemned to death on 8 April 1945 by SS judge Otto Thorbeck at a drumhead court-martial without witnesses, records of proceedings or a defense in Flossenbürg concentration camp.  He was executed there by hanging at dawn on 9 April 1945, just two weeks before soldiers from the United States 90th and 97th Infantry Divisions liberated the camp,  three weeks before the Soviet capture of Berlin and a month before the surrender of Nazi Germany.

Bonhoeffer was stripped of his clothing and led naked into the execution yard where he was hanged, along with fellow conspirators Admiral Wilhelm Canaris, Canaris's deputy General Hans Oster, military jurist General Karl Sack, General Friedrich von Rabenau, businessman Theodor Strünck, and German resistance fighter Ludwig Gehre.

Eberhard Bethge, a student and friend of Bonhoeffer's, writes of a man who saw the execution: "I saw Pastor Bonhoeffer… kneeling on the floor praying fervently to God. I was most deeply moved by the way this lovable man prayed, so devout and so certain that God heard his prayer…In the almost fifty years that I worked as a doctor, I have hardly ever seen a man die so entirely submissive to the will of God."
Flossenbürg is a short distance off the main road between Nurnberg and Prague, not far from the border between Germany and the Czech Republic. I've driven that road numerous times back and forward to Amsterdam or the UK. This summer we travelled in the motorhome to Germany on our way to Prague and took the opportunity to visit Flossenbürg.
The main reason many are aware of the existence of Flossenbürg is the link with Dietrich Bonhoeffer, the German Lutheran Pastor.
Bonhoeffer's story has had a profound impact on many people. Coming from a large, academic and well connected family Bonhoeffer lectured in theology before being ordained as a Lutheran pastor in 1931. For the rest of his relatively short life his work portrayed the qualities of theologian and pastor, thinker and practitioner.
Bonhoeffer was strongly opposed to the Nazi ideology and, as with other members of his family, was recruited into a resistance movement whose intention was to assassinate Hitler and overthrow the Third Reich. He was arrested in April 1943 and eventually executed at Flossenbürg on 9th April 1945, two weeks before the camp was liberated by the Americans.
Unlike some of the concentration camps built by the Nazis, such as Auschwitz and Birkenau, where vast numbers of Jews were detained and executed, Flossenbürg was built to detain German male criminals and others perceived as 'asocial', or antisocial. It soon became home to German, Czech and Polish political prisoners and members of resistance groups. Eventually Soviet prisoners of war and some 20,000 Jews were incarcerated in Flossenbürg or one of the satellite camps associated with Flossenbürg. Ultimately 100,000 peo­ple from 47 coun­tries were in­terned at Floss­en­bürg or one of its sub­camps: 84,000 men, 16,000 wom­en and child­ren. Some 30,000 of them died in the camp from illness or hard labour, many were executed. You will find more details on the history of the camp at the websites listed below.