You are currently browsing the tag archive for the 'flossenburg' tag.
In a letter on July 21, 1944, to his longtime friend, Eberhard Bethge, Dietrich Bonhoeffer, while in prison, recalled a conversation he had some years ago with a young French pastor. They discussed what they both wanted out of life.
The pastor opined that he aspired to eventually become a saint. Bonhoeffer disagreed, stating that he would like to have faith by attempting to live a holy life. It's possible that both men were on target with their desires, though we'll never know that will be the case. (See "Dietrich Bonhoeffer," edited by Robert Cole, Maryknoll, New York Orbis Books, 1998).
Who exactly was Dietrich Bonhoeffer? Dietrich, born in 1906, one of seven siblings, came from a prominent aristocratic family in Breslau, Germany, that moved to Berlin. Dietrich studied theology at Tübingen University and then at Berlin University where he received the doctoral degree in theology with a dissertation on "The Communion of Saints." He was an outstanding student who played the piano brilliantly and was an excellent tennis player, to boot.
In 1928, Bonhoeffer took a position as a curate in a Lutheran church in Barcelona where he enjoyed taking care of the spiritual needs of blue-collar workers. They loved the talks he gave because they were thoughtful and punctured with biblical verses. For example, he once stated that Christ had been left out of a person's life, if that person only gave to Christ a tiny part of his/her spiritual life. Bonhoeffer told his audience that one needs to give one's life entirely to Christ, if they wanted to really understand their spiritual life.
In 1930, Bonhoeffer decided to go to Union Theological Seminary in Manhattan as a Sloan Fellow where he gained the respect of outstanding theological faculty like Paul Lehmann, with whom he developed a close friendship. After the year was up, Bonhoeffer returned to Berlin University as a lecturer in theology, while working on his second doctorate. 
Two days after Hitler rose to power as German Chancellor in 1933, Bonhoeffer railed against Hitler and the Nazi party on the radio, when suddenly he was cut off in the middle of his remarks. That same year, inspired by Pastor Martin Niemoeller, Bonhoeffer again spoke out against Nazi rule. Many members of the Lutheran Church, including bishops and pastors supported Hitler and some even wore brown Nazi shirts, to the dismay of Bonhoeffer and Pastor Niemoeller who helped organize the "Confessing Church" that opposed the Nazis.
Bonhoeffer had to leave Berlin in 1938, and in 1941, the Nazi government forbade him to write. He then became part of an anti-resistance movement, along with six military officers who tried to overthrow the Nazi government by force. In April 1943, Bonhoeffer became a prisoner at the Tegel Prison and then at Flossenbürg, a small village in the Oberpfalz region of Bavaria.
Flossenbürg had a barracks that held 1,000 prisoners, but was built to hold 250 prisoners. Both Jews and special enemies of the state were housed in Flossenbürg. Special enemies like Bonhoeffer received "special treatment' such as interrogation, torture and execution. Bonhoeffer was hanged in this prison — witnessed by Dr. H. Fischer who said that Bonhoeffer knelt on the floor and prayed before he was hanged.
What made Bonhoeffer a special person?
---
Is his small book, Chiamati per essere inviati (Called to be dent), Amedeo Cencini builds on Dietrich Bonhoeffer's reflection about "grace with a cheap price" and "grace with a costly price", an important theme of the late German Lutheran theologian.
Bonhoeffer said that: "Grace with a cheap price is a great enemy of the Church as it entails the preaching of forgiveness without requiring repentance, baptism without Church discipline, communion without confession, absolution without personal confession. Cheap grace is grace without discipleship, grace without the cross, and grace without Jesus Christ, living and incarnate… Cheap grace means grace sold on the market like cheapjacks' wares…. The sacraments, the forgiveness of sin, and the consolations of religion are thrown away at cut prices."
"Today," wrote Bonhoeffer more than 70 years ago, "we are encountering a 'grace' for which we have to pay a costly price." He spoke truly then, and his words are timely now.
Because of his faith, Bonhoeffer was captured by the Gestapo and sent to a concentration camp of Flossenbürg in 1943 to await his execution on April 8, 1945. In paying the ultimate price, he gave rich and authentic witness to this precious grace.
Bonhoeffer wrote that "costly grace is the treasure hidden in the field; for the sake of it a man will go and sell all that he has. It is the pearl of great price for which a merchant is willing to sell all he possesses. It is the kingly rule of Christ, for whose sake a man will pluck out the eye which causes him to stumble; it is the call of Jesus Christ at which the disciple leaves his nets and follows Him.
"Costly grace is the Gospel which must be sought again and again, the gift which must be asked for, the door at which a man must knock."
From Bonhoeffer's reflection it is easy to see that the 'cheap grace' is grace without sequela, a vocation without a mission, Christian life without conscience or responsibility.
Where there is no appreciation for 'costly grace', or when this is eclipsed by 'cheap grace', there cannot be that decision with which one assumes responsibility for the particular mission for which he is called by God.
Grace which, once accepted, carries a certain price triggers a mechanism by which one gives of himself in order to become a grace for others. Filled with a sense of gratitude for this kind of grace, one inevitably strives to be a gift to others.
It is a pity that in our days the 'grace with a costly price' is not much appreciated. Our pervasively materialistic culture allows it little space; people are assisted in escaping from responsibility and commitment.
In our days the 'grace with a costly price' is not much appreciated. Our pervasively materialistic culture allows it little space
Being a fatherless culture, ours is a sad culture, an orphan in many ways. It substitutes authentic freedom, which protects innocence with undisciplined licence, thus lowering in reality people's dignity. It appears that the West, which over many centuries built a civilisation on the beauty of holiness and the dignity of the human person, has fallen under the enchantment of media-driven ideologies and products to buy.
The lure of quick fixes and immediate gratification has caused our modern culture to tire of shouldering Judeo-Christian principles; glamorous alternatives seem to have exhausted their cycle.
It is the fashion nowadays to find solutions on paper. By so doing, even in the educational field, we pretend to have solved our problems. A psychiatrist determines that his client's mental state depends on the history of the family, or the excessive intrusion of the mother or due to a weak or authoritarian father. A teacher assures parents that their son is bright but, poor child, he has to make "some effort to start believing in himself".
And if a teacher dares to caution a child or resort to some discipline for the latter's benefit, in all probability the parents will come to the defence of the child, saying that he has been warned unjustly. The whole matter may end up in an adversarial relationship, with the teacher being wrongly censored by the parents.
Culture is contagious, and it can sneak nicely even in environments of religious formation where the air of justification is being felt. One refrains from drawing the necessary attention to misdeeds so as not to hurt anyone and does not dare to take measures of discipline. On the excuse of hereditary traits, family background and circumstances, it can end up in mediocre vocations. And we should keep in mind that young people who today are in the process of formation will be our educators in a few years' time.
Cheap grace has been tagged as "living room Christianity", meaning an ineffective, cosy set of niceties: good manners and a feeling-based personal spirituality, flavoured with the search for indulgences to be added to our account in the hypothetical "Bank of Grace".
Cheap grace is a mix of fruitless holiness and indifference; it is a return to a devotional religiosity which bears little or no relation to generous self-giving to others and where relationships are accidental. Cheap grace promotes educational learning aimed at "me" rather than others, for "me" to be better but not with the scope of being useful to "my brothers" as shown by our all-gracious Lord in the Gospel that we know so well.
It is a Christianity which is separated from the drama of salvation and does not feel the suffering of others. Such a devalued Christianity cannot possibly understand the value of mission nor be open to the responsibility needed to answer the call.
If we lose the radical dimension of Christianity, the culture of taking everything lightly will eventually take over, as if costly grace is optional. In certain circumstances we may find ourselves reasoning: "If you think that there is no harm in this, by all means take the initiative."
Or: "See what they do and close one eye." This is how the culture of aesthetics takes the upper hand when religiosity degenerates into a ritual exhibition, appreciated just because things are done in a nice way. This leads to a religiosity of consumption, where everyone is pleased because one pays and gets what he needs. It is a religiosity of spectators at a play which is interpreted by others but does not raise personal enthusiasm. When one becomes used to it, it does not offer interest any more.
Cheap grace is the infantile, indifferent and passive way to follow Christ.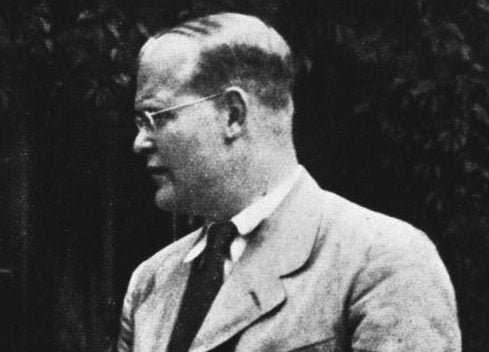 The great preacher, writer, theologian and witness to the faith, Dietrich Bonhoeffer,was executed on April 9, 1945, just days before the Nazi camp where he was held, Flossenbürg, was liberated. He was 39.
Here's what happened: 
On 4 April 1945, the diaries of Admiral Wilhelm Canaris, head of the Abwehr, were discovered, and in a rage upon reading them, Hitler ordered that the Abwehr conspirators [those who had plotted for Hitler's assassination] be destroyed. Bonhoeffer was led away just as he concluded his final Sunday service and asked an English prisoner, Payne Best, to remember him to Bishop George Bell of Chichester if he should ever reach his home: "This is the end—for me the beginning of life."

Bonhoeffer was condemned to death on 8 April 1945 by SS judge Otto Thorbeck at a drumhead court-martial without witnesses, records of proceedings or a defense in Flossenbürg concentration camp.  He was executed there by hanging at dawn on 9 April 1945, just two weeks before soldiers from the United States 90th and 97th Infantry Divisions liberated the camp,  three weeks before the Soviet capture of Berlin and a month before the surrender of Nazi Germany.

Bonhoeffer was stripped of his clothing and led naked into the execution yard where he was hanged, along with fellow conspirators Admiral Wilhelm Canaris, Canaris's deputy General Hans Oster, military jurist General Karl Sack, General Friedrich von Rabenau, businessman Theodor Strünck, and German resistance fighter Ludwig Gehre.

Eberhard Bethge, a student and friend of Bonhoeffer's, writes of a man who saw the execution: "I saw Pastor Bonhoeffer… kneeling on the floor praying fervently to God. I was most deeply moved by the way this lovable man prayed, so devout and so certain that God heard his prayer…In the almost fifty years that I worked as a doctor, I have hardly ever seen a man die so entirely submissive to the will of God."
Flossenbürg is a short distance off the main road between Nurnberg and Prague, not far from the border between Germany and the Czech Republic. I've driven that road numerous times back and forward to Amsterdam or the UK. This summer we travelled in the motorhome to Germany on our way to Prague and took the opportunity to visit Flossenbürg.
The main reason many are aware of the existence of Flossenbürg is the link with Dietrich Bonhoeffer, the German Lutheran Pastor.
Bonhoeffer's story has had a profound impact on many people. Coming from a large, academic and well connected family Bonhoeffer lectured in theology before being ordained as a Lutheran pastor in 1931. For the rest of his relatively short life his work portrayed the qualities of theologian and pastor, thinker and practitioner.
Bonhoeffer was strongly opposed to the Nazi ideology and, as with other members of his family, was recruited into a resistance movement whose intention was to assassinate Hitler and overthrow the Third Reich. He was arrested in April 1943 and eventually executed at Flossenbürg on 9th April 1945, two weeks before the camp was liberated by the Americans.
Unlike some of the concentration camps built by the Nazis, such as Auschwitz and Birkenau, where vast numbers of Jews were detained and executed, Flossenbürg was built to detain German male criminals and others perceived as 'asocial', or antisocial. It soon became home to German, Czech and Polish political prisoners and members of resistance groups. Eventually Soviet prisoners of war and some 20,000 Jews were incarcerated in Flossenbürg or one of the satellite camps associated with Flossenbürg. Ultimately 100,000 peo­ple from 47 coun­tries were in­terned at Floss­en­bürg or one of its sub­camps: 84,000 men, 16,000 wom­en and child­ren. Some 30,000 of them died in the camp from illness or hard labour, many were executed. You will find more details on the history of the camp at the websites listed below.